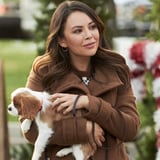 Janel Parrish knows a good holiday movie sometimes makes you laugh and cry, which is why she was so drawn to Hallmark's Holly & Ivy. The film - which premieres on Nov. 1 on Hallmark Movies & Mysteries - follows the Pretty Little Liars actress as a young woman named Melody who creates a special bond with her new next-door neighbor Nina (Marisol Nichols) and her two daughters, Holly and Ivy. However, when Nina finds out an illness has returned, their lives are changed forever, and Melody quickly becomes part of their little family.
As a big fan of Christmas movies herself, Parrish was excited to make her Hallmark debut. "It's my favorite holiday," she told POPSUGAR. "I have so many traditions in my family. Christmas movies are always playing in the house even as early as right around Thanksgiving time. So I'm excited to start even earlier this year because our movie airs Nov. 1. To be able to bring Christmas cheer to people, especially right now, is really wonderful. Especially in a crazy time where we're all going through crazy things. Even this movie, the message of trauma, sometimes bringing about the most beautiful things if you let it, that message really stuck with me."
Even though the film's storyline is bittersweet as Melody, a former foster child herself, promises to take care of Nina's kids in the event that something happens, Parrish said she was drawn to the story because "it has so much heart." "I really love the idea of chosen family, that she meets these people and immediately forms this bond with them," she said. "Even though they're not her flesh and blood, she chooses them as family. When we have people in our lives that are family, we do anything for them. I also loved how they spoke about adoption. I feel like that doesn't get touched upon a lot in movies, and it's just really wonderful to watch a film about that."
Parrish was also inspired by how resilient her character is. "[My favorite part about playing Melody was] how strong she is," she said. "She hasn't had the easiest life and the easiest upbringing, but no matter what, she still perseveres. She's very much a woman who knows what she wants out of life. [She] hasn't had the best cards dealt to her, but she believes that she is going to have the life that she deserves, and she finds that no matter what. I loved her inner strength."
"We all have the capacity to feel joy, even when things are hard."
Though Parrish admitted she cried her eyes out over the ending, she hopes the film "brings much-needed cheer." "We're all in need of it," she said. "It reminds us of the things that are so important that we all have, which is family time. We all have the capacity to feel joy, even when things are hard. This movie will be a great reminder of that. Christmas is a time where you snuggle up with your family and you spend time with them and be together. I hope that people have a good therapeutic happy cry when they see this film."
Source: POPSUGAR Celebrity https://www.popsugar.com/entertainment/janel-parrish-interview-about-hallmark-holly-and-ivy-47926898