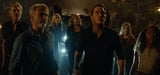 Finally, after years of waiting, "Jurassic World: Dominion" will arrive in theaters this summer. The film - now the third movie in the "Jurassic World" series and sixth in "Jurassic Park"'s sequence - comes four years after 2018's "Jurassic World: Fallen Kingdom." Fans of the beloved film series rejoiced when the official trailer for the movie released on Feb. 10, showing both old and new faces from the franchise.
In the trailer for "Jurassic World: Dominion," the film is set in present day and comes just after the Jurassic World theme park is destroyed. Dinosaurs are now freely wandering the planet and humans have adapted to living with them. But humans will have to face an eye-opening realization and find a way to reverse the hierarchy if they want to save themselves from extinction. "Humans and dinosaurs can't coexist," Bryce Dallas Howard's Claire Dearing says in the trailer. "We created an ecological disaster."
"Jurassic World: Dominion" was originally set to debut in June 2021, but COVID-19 halted the movie's production. Now the movie will finally premiere on June 10 with "Jurassic World" franchise stars Howard and Chris Pratt, along with the return of original "Jurassic Park" stars Sam Neill as Dr. Alan Grant, Laura Dern as Dr. Ellie Sattler, and Jeff Goldblum as Dr. Ian Malcolm. DeWanda Wise, Justice Smith, BD Wong, Mamoudou Athie, and others also join the cast.
We can't wait to see what our heroes will get up to this summer, so ahead, find out everything you need to know about "Jurassic World: Dominion" - including the full cast, plot, trailer, and poster.
Source: POPSUGAR Celebrity https://www.popsugar.com/entertainment/Jurassic-World-3-Details-44605733