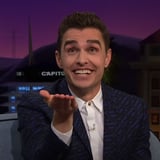 Dave Franco put a lot of sentiment into his proposal to now-wife Alison Brie. However, because of one small caveat, it quickly went from cute to sort of creepy. Franco appeared on "The Late Late Show With James Corden" on Thursday and recalled the moment he asked Brie to marry him. The star of "The Afterparty" explained that when the pair met during Mardi Gras in New Orleans in 2011, Brie had a silver mask that he would playfully try to take away from her. When the weekend was up, Brie left the mask alongside a note. "So, what she didn't know is I kept the mask," he shared. Years later, the mask was a central part of his proposal in Big Sur, CA, in 2015.
Franco noted that he got a vintage "placeholder ring" for roughly $10 to use to pop the question because he knew Brie wanted to pick out her own ring. But that's not where things went wrong. "So, we go up to Big Sur, we're on the back patio, she's out overlooking the ocean. She turns around, I'm on one knee, I'm wearing the mask, I'm holding up the ring. And because it had been five years, she couldn't place the mask. She didn't know what it was," the actor revealed. "So, what she sees is me wearing this weird, stupid mask, holding up this janky stone ring. And so, the entire proposal is her saying, 'What is happening right now?' And it's me trying to explain how sweet it is that I kept the mask for five years." It really was the thought that counted!
Franco and Brie got married in March 2017. Watch the video above for more on Franco and Brie's relationship.
Source: POPSUGAR Celebrity https://www.popsugar.com/celebrity/dave-franco-alison-brie-proposal-video-48706166