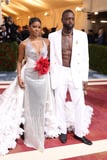 The queen and king have entered the building. On May 2, Gabrielle Union and Dwyane Wade made a stylish appearance at the 2022 Met Gala. Gracing the stairs of the Metropolitan Museum of Art, Kaavia's parents posed for photos and looked fabulous for the "Gilded Glamour" event. Union wore a silver Atelier Versace dress that featured a plunging neckline; a long, white feathered train; and a red, embellished flower wrapped around her waist. Wade opted for a modern, regal look in a white Versace suit adorned with gold buttons and a large brooch. He commanded attention with his open blazer and shirtless look as he carried a black Versace walking stick.
Union is a red carpet expert, but at this year's Met Gala, her style choice had a deeper meaning. In an interview with Vogue, she said her outfit honored the late actress Diahann Carroll, "a symbol of opulence and if you will, a gilded glamour." Union said, "When you think about the Gilded Age and Black and brown people in this country, this country is built off of our backs, our blood, sweat, and tears. So we added these red crystals to represent the blood spilled during the accumulation of gross wealth by a few during the Gilded Age."
The couple also spoke to Variety about being LGBTQ+ allies and supporting their daughter Zaya. When asked if Wade had advice for a father whose child just came out as trans, he opened up about their unrelenting support. "I say, the moment that you were in the hospital and you grabbed your daughter and you looked at your daughter, and all the emotions that went through your mind, and how much love filled your heart at that moment. Don't let that ever leave you, no matter what." Beautiful.
Source: POPSUGAR Celebrity https://www.popsugar.com/celebrity/gabrielle-union-dwyane-wade-met-gala-2022-48810764