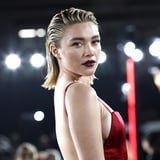 Florence Pugh has some thoughts about why so many people had strong reactions to her relationship with Zach Braff. The pair broke up sometime in 2022 after dating since around 2019. They remain friends, and she even stars in his upcoming film, "A Good Person." But in a new interview with Vogue published Jan. 12, Pugh explains how criticism of their relationship affected her.
"We weren't in anyone's faces. It was just that people didn't like it," Pugh says. Braff is 21 years older than the actor, who was 23 when they began dating. "They imagined me with someone younger and someone in blockbusters. I think young relationships in Hollywood are so easily twisted because they add to the gossip sites. It's exciting to watch. And I think I was in a relationship that didn't do any of that."
Pugh is still adjusting to no longer living with Braff, the article notes, still calling the house where they used to live hers. "It's all very new," she says. "My breakup has been very new, so I'm figuring that out."
Pugh and Braff hunkered down in that LA home during the pandemic, where Braff's friend Nick Cordero was living in the guest house with his wife Amanda Kloots and their baby. Cordero eventually died of COVID-19, and Kloots's documentation of his story made headlines around the world. Braff said Kloots's steadfastness inspired "A Good Person," but that he also wrote the part specifically for Pugh.
"I quite simply think she's one of the greatest actors of her generation," he tells Vogue of his former partner. "She's just magnetic. You cannot take your eyes off of her. And it's not just her beauty and it's not just her acting ability, it's that thing, that magic thing that transcends the screen, where anyone and everyone goes: I want to see whatever this person does."
On Jan. 4, Braff posted a message for Pugh's 27th birthday, writing on Instagram, "Happy Birthday, legend."
Pugh first confirmed her and Braff's split back in August 2022. "We've been trying to do this separation without the world knowing, because it's been a relationship that everybody has an opinion on," Pugh told Harper's Bazaar at the time. "We just felt something like this would really do us the benefit of not having millions of people telling us how happy they are that we're not together. So we've done that. I automatically get a lumpy throat when I talk about it."
Source: POPSUGAR Celebrity https://www.popsugar.com/celebrity/florence-pugh-zach-braff-backlash-49060707