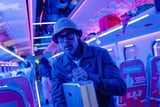 "Bullet Train" is packed with blink-and-you'll-miss-it death scenes that may leave you stepping out of the theater asking, "Wait, was that character killed with the knife, the gun, or the snake venom?" The star-studded film - which includes a few surprising celebrity cameos - takes us on a brutal, fast-paced ride on a Japanese bullet train as rival assassins, fueled by greed and vengeance, pick each other off one by one.
In the first act of the film, Ladybug (Brad Pitt) sets out on a mission to steal a briefcase full of money from a moving train. As soon as he boards, his missing ticket becomes the least of his worries. Before he's able to step off the train with the briefcase, Ladybug finds himself being pursued by adversaries who are armed and out for vengeance, including The Wolf (Bad Bunny), The Hornet (Zazie Beetz), The Prince (Joey King), and more. While each villain has their own preferred method of causing mayhem - mind games, explosives, hand-to-hand-combat - it's difficult to keep track of who's still in the game, and if not, who killed them. Needless to say, not every character - no matter how skilled - makes it to the end of the line.
With characters' true fates kept hidden until the very last scene, the film doesn't spare a second keeping us in suspense. Check out our rundown of the major character deaths in "Bullet Train" ahead.
Source: POPSUGAR Celebrity https://www.popsugar.com/entertainment/bullet-train-movie-deaths-48914627