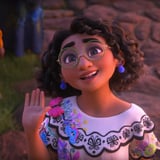 "Encanto" is getting all the shine it deserves, from two Oscar nominations to its soundtrack reaching No. 1 on the Billboard chart. Following Lin-Manuel Miranda's Oscar nomination for "Dos Oruguitas," the multi-hyphenate teased the possibility of a Broadway future for the production. "I think it weirdly lends itself well . . . I think there's a world for that," he told "E! News." He noted that movies like "Moana," which earned him a Grammy Award win in 2017 and an Oscar nomination, wouldn't work on Broadway due to all the ocean moments.
Miranda added that he'd originally written a seven-minute version of the ending song, "All of You," but that he'd been forced to cut it because it was so late in production. "I've got the Broadway finale like in the chamber," he teased. "There's so many stories in that house that it would be wonderful to expand on it, whether it's a stage version, whether it's a series, whether it's another movie. . . ."
"Encanto" is a celebratory story of the multigenerational Madrigal family in Colombia, which is blessed with unique gifts of magic. Mirabel (Stephanie Beatriz) is the only family member who doesn't have powers, but she ends up being a huge asset to the family after she discovers their magic is in danger. The film is currently in theaters and streaming on Disney+.
Source: POPSUGAR Celebrity https://www.popsugar.com/entertainment/lin-manuel-miranda-encanto-broadway-48711770