Downton Abbey star Laura Carmichael on the glamour of shooting in world-famous castle as beloved show gets film sequel
Published: in Celebrity News by 1news.info.
For Downton Abbey star Laura Carmichael, filming inside the spectacular castle where the Crawleys live comes with a number of very strict rules."A lot of the furniture you can't sit on, and that's something you have to remind yourself because some of t…
For Downton Abbey star Laura Carmichael, filming inside the spectacular castle where the Crawleys live comes with a number of very strict rules.
"A lot of the furniture you can't sit on, and that's something you have to remind yourself because some of these chairs are ancient and delicate so you have to watch out," Carmichael laughs, speaking to 9Honey Celebrity from London (watch above).
"Anyone who has been on a film set will know it's difficult to keep that in mind so there are people from the house, Highclere staff, keeping an eye on us and making sure people aren't dragging things through in a rough manner."
READ MORE: Meghan 'gave Harry the tools to leave' royal family, book claims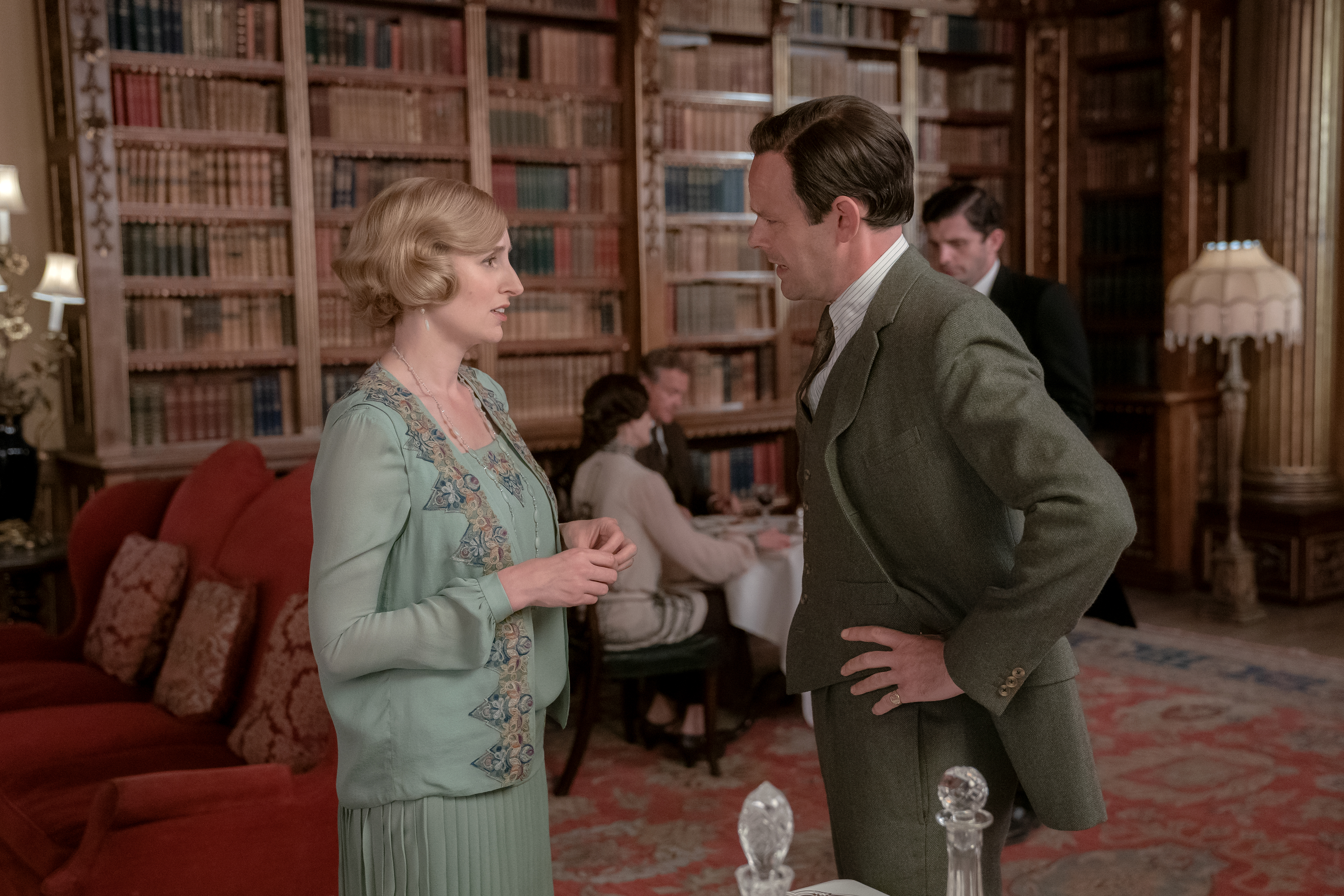 The hit show ran for six seasons, and Carmichael was in all 52 episodes in her role as Lady Edith.
The cast returned for a film in 2019 and are back again for a second go on the silver screen.
Downton Abbey: A New Era departs from the usual format of the Crawleys at their imposing home in England, with half the cast remaining at the castle while the other heads to the south of France for a holiday.
Carmichael describes herself as "very fortunate" that she's been able to "come to know the castle so well" in the years since the show began, in 2010.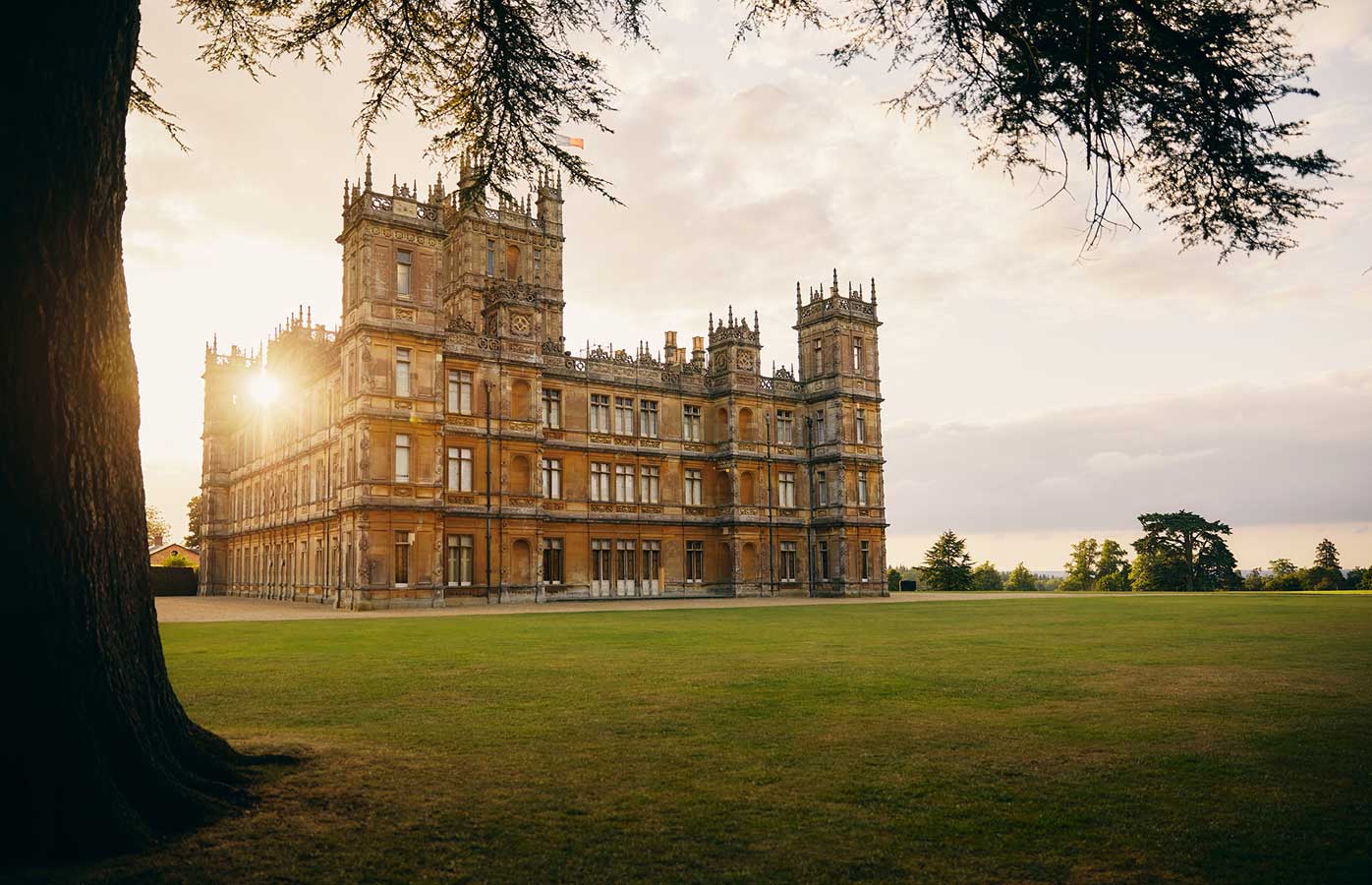 The real Downton Abbey is actually Highclere Castle in Hampshire, just over an hour's drive south-west of London.
It is home to the Earl and Countess of Carnarvon, the descendants of the 5th Earl of Carnarvon who, alongside Howard Carter, discovered the tomb of Tutankhamun in the Valley of the Kings in Egypt in November 1922.
The castle is arguably one of Downton Abbey's biggest stars and attracts thousands of guests to its grounds every year, keen to walk in the footsteps of the Crawleys and experience the history for themselves.
"I would encourage anyone to go because it's such an amazing experience when you enter the grounds, you drive along this long driveway and then it just pops up over the hills, it takes your breath away," Carmichael, 35, says.
"Even as long as I've been there, it's just so stunning and the grounds around it are just as important as the building. It's an incredible setting."
Moving away from Highclere for the second film brought a whole new level of excitement for Carmichael and her co-stars – and a lot of anxiety.
The family decides to journey to the south of France to uncover the mystery of the Dowager Countess' (played by Dame Maggie Smith) newly-inherited villa.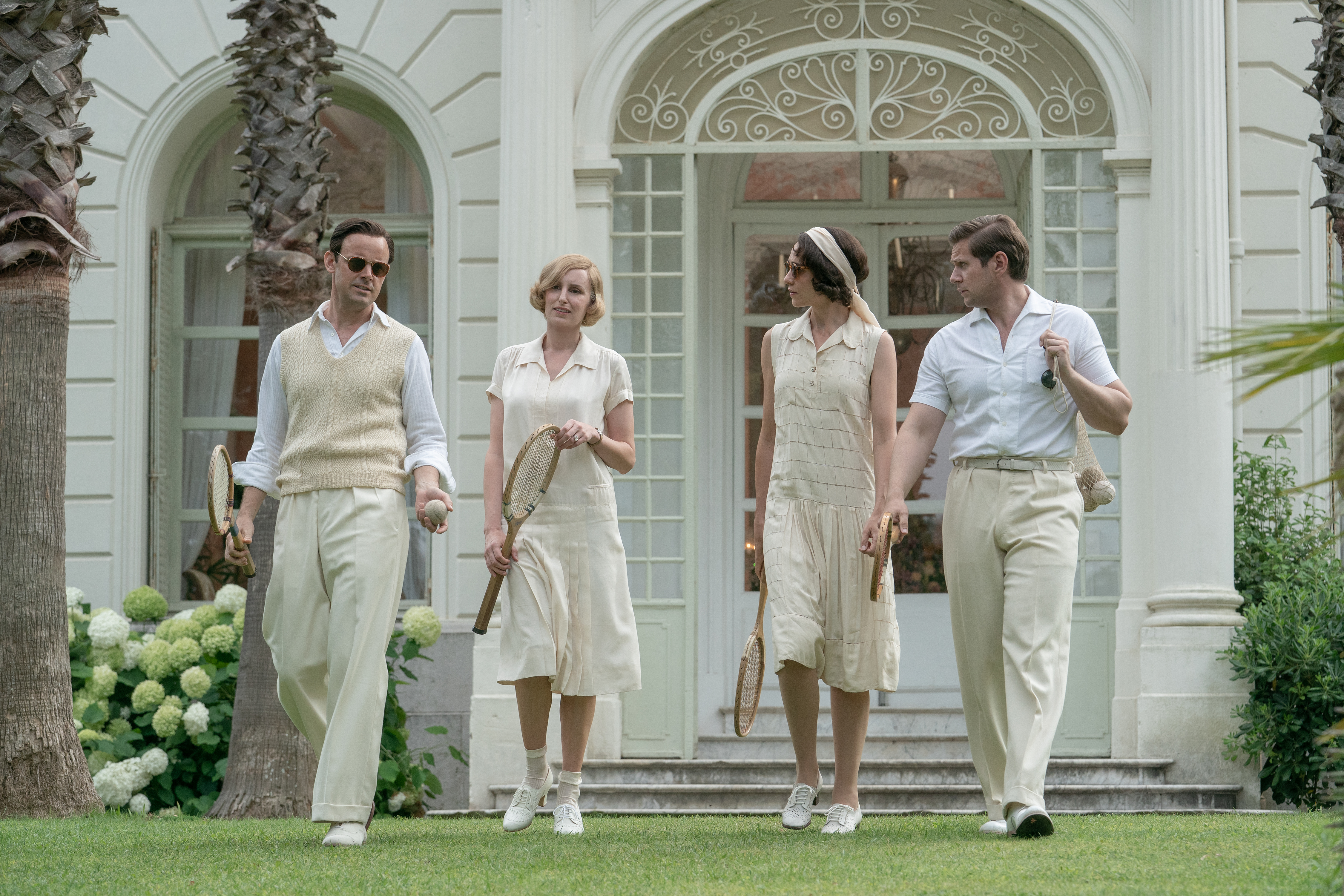 Filming during the coronavirus pandemic meant travelling to France was "touch and go" Carmichael says.
"We'd all been locked down for months, so the fact that we were getting together to do the film was so exciting and then the fact that we got to travel felt like such a luxury, but it was touch and go whether or not we were going to get to go.
"Things were changing so much at the time, the week before we got the confirmation. 
"It could have been parts of the UK pretending to be the south of France, which I think we were all quite skeptical about whether that was going to work."
"It doesn't have the same temperatures. We were all concerned we'd be trying to act warm when we weren't," she laughs.
Thankfully for Carmichael, she and the cast were able to film at Rocabella, a stunning villa in La Pradet in the Provence-Alpes-Côte d'Azur region.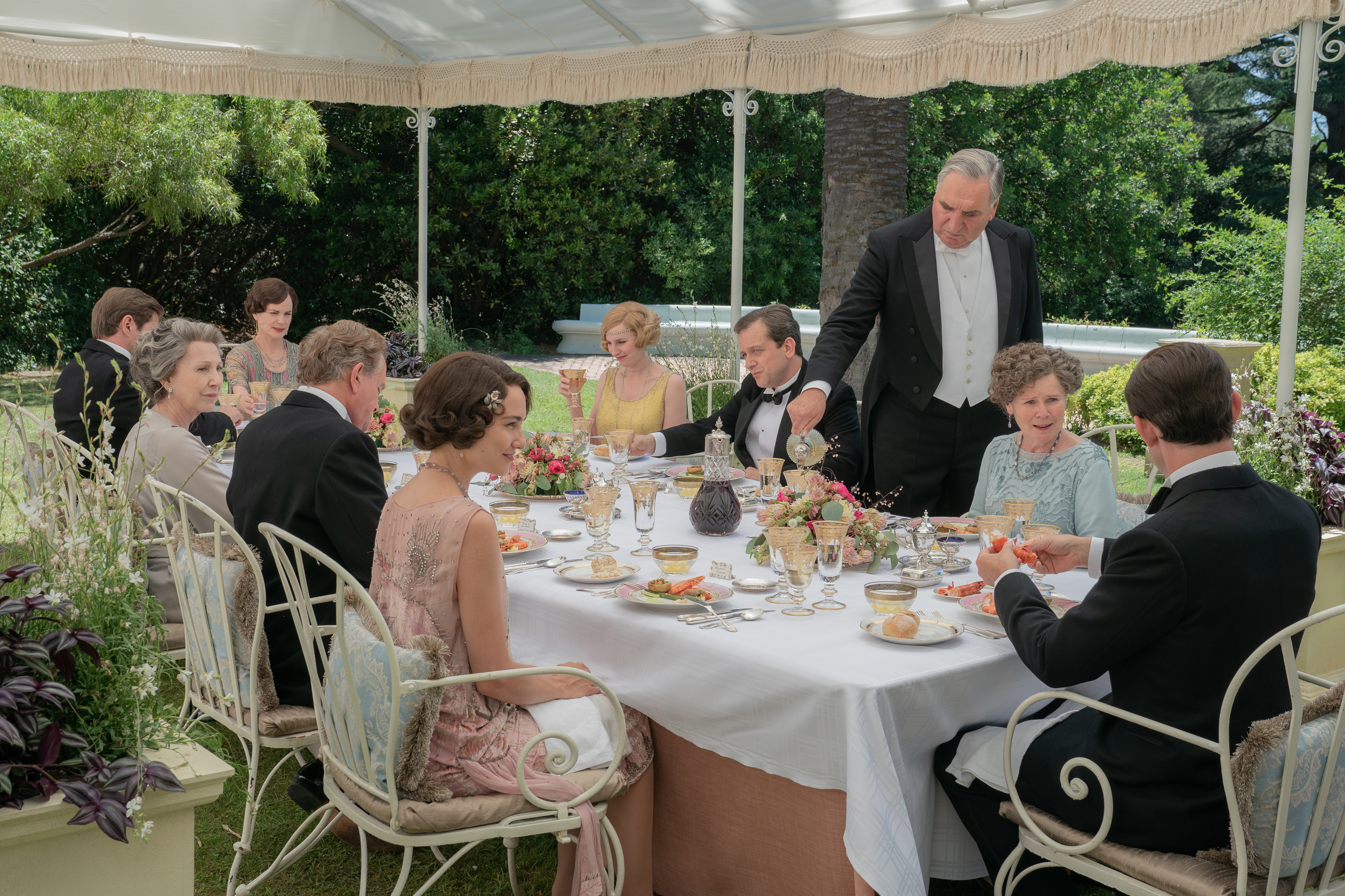 "It was stunning, it brings so much to the film. We all felt the change that happens when you go there, your shoulders drop, and for all these characters that we're used to seeing in this very British, kind of stiff environment, suddenly they felt so free and at ease. It was very special."
The change of scenery also meant the characters were able to dress in a way they could never in England, within the formal confines of their own castle.
READ MORE: The surprising place you've seen tiaras made by the Queen's jewellers
Along with the grandeur of Highclere Castle, Downton Abbey is adored by fans because of its opulent costumes.
The film is set in 1928, when the emerging fashion trends of the 1930s were about to dominate the world.
Filming on the French Riviera brought a new glamour, and freedom, that Carmichael enjoyed.
"I loved the south of France wardrobe, I get to wear trousers, which is a new thing for Edith," Carmichael laughs.
"And they are very special, white silk pants that I thought were amazing, and kimonos and headscarves. It's all very free and easy, and an evening dress that's really kind of risqué, it's pretty daring, really. 
"That all comes from the change of location. These are not outfits you would get away with in the British aristocracy circles they live in back home. In the south of France there's glamour and it feels much more daring."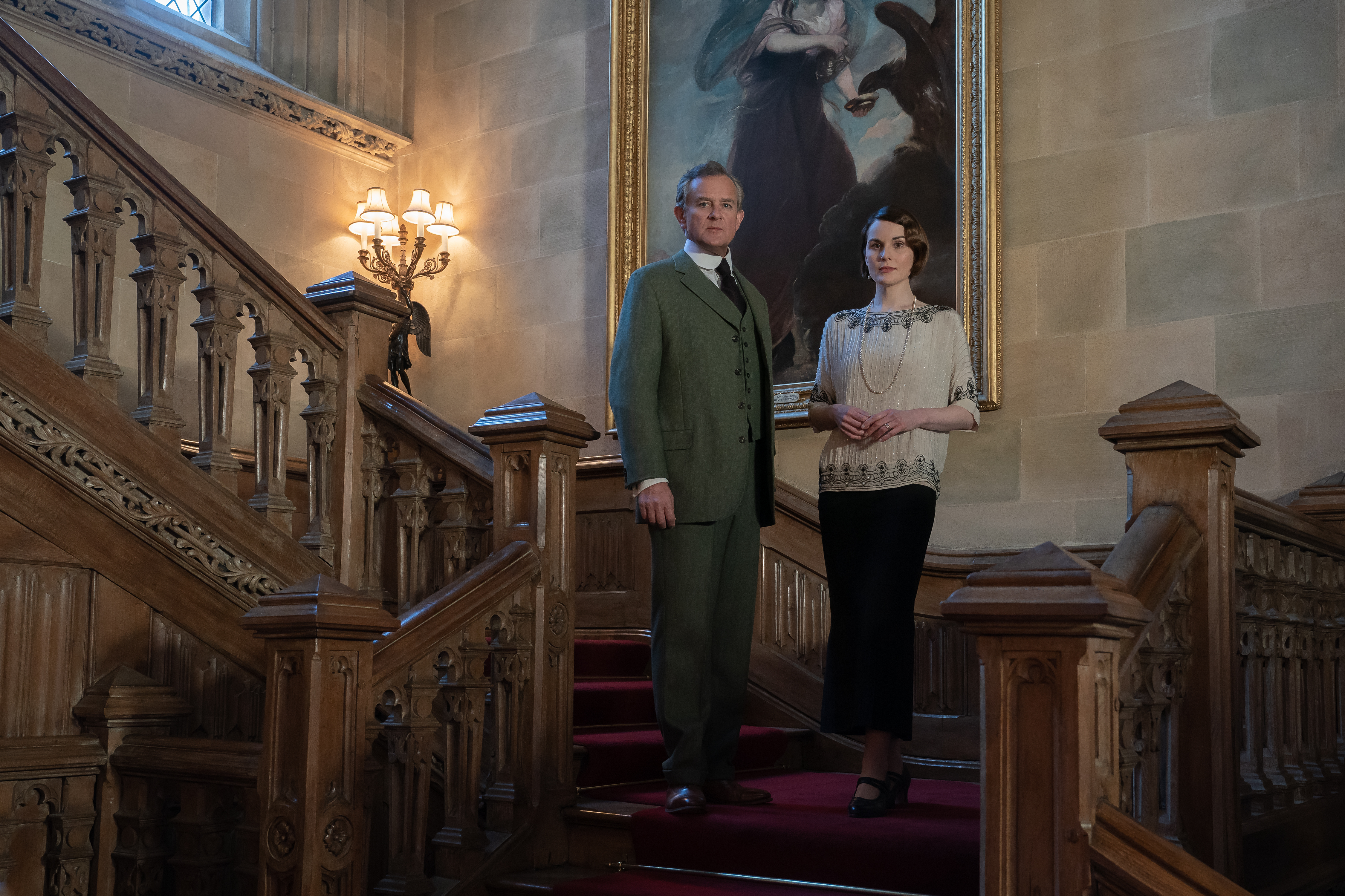 But does she ever get costume envy with her co-stars, particularly the elegant but haughty Lady Mary – Edith's sister – played by Michelle Dockery?
"We all do, we all look at each other thinking 'oh, that is very nice'," Carmichael says.
The film also gets to explore the fashions of 1875 when a crew filming a silent movie chooses Downton Abbey as its star location.
That storyline sends the servants into a tizzy, eager to catch a glimpse of the silent movie's stars, played by Dominic West and Laura Haddock.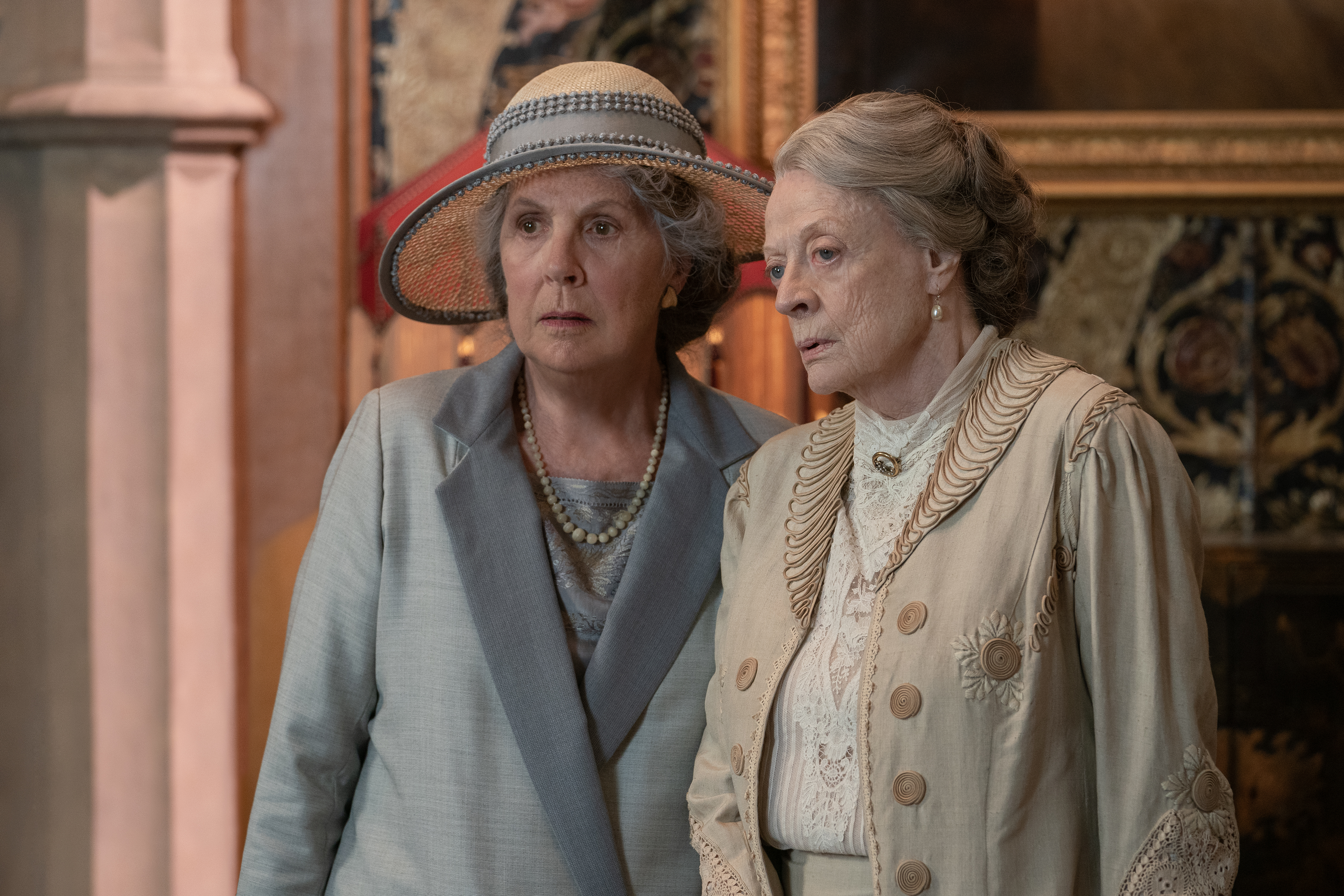 But it's Lady Mary who finds herself in an unexpected, but perfectly cast, role.
Downton Abbey 2 sees most of the cast reunite, including the aforementioned Smith (Violent Crawley), Elizabeth McGovern (Cora Grantham), Hugh Bonneville (Robert Grantham), Penelope Wilton (Isobel Merton), Joanne Froggat (Anna Bates), Allen Leech (Tom Branson), Jim Carter (Mr Carson) and Lesley Nicol (Mrs Patmore).
Carmichael says they've "become a family" in the 12 years since the show began.
"That's a long working relationship but also it's been an intense one, we've been on this journey which has been so joyful, we've been through a lot together, I think that is part of the gift of the show, we are all really genuinely close."
READ MORE: Why Alison Brie was in 'good company' while filming new Apple TV+ feminist anthology series Roar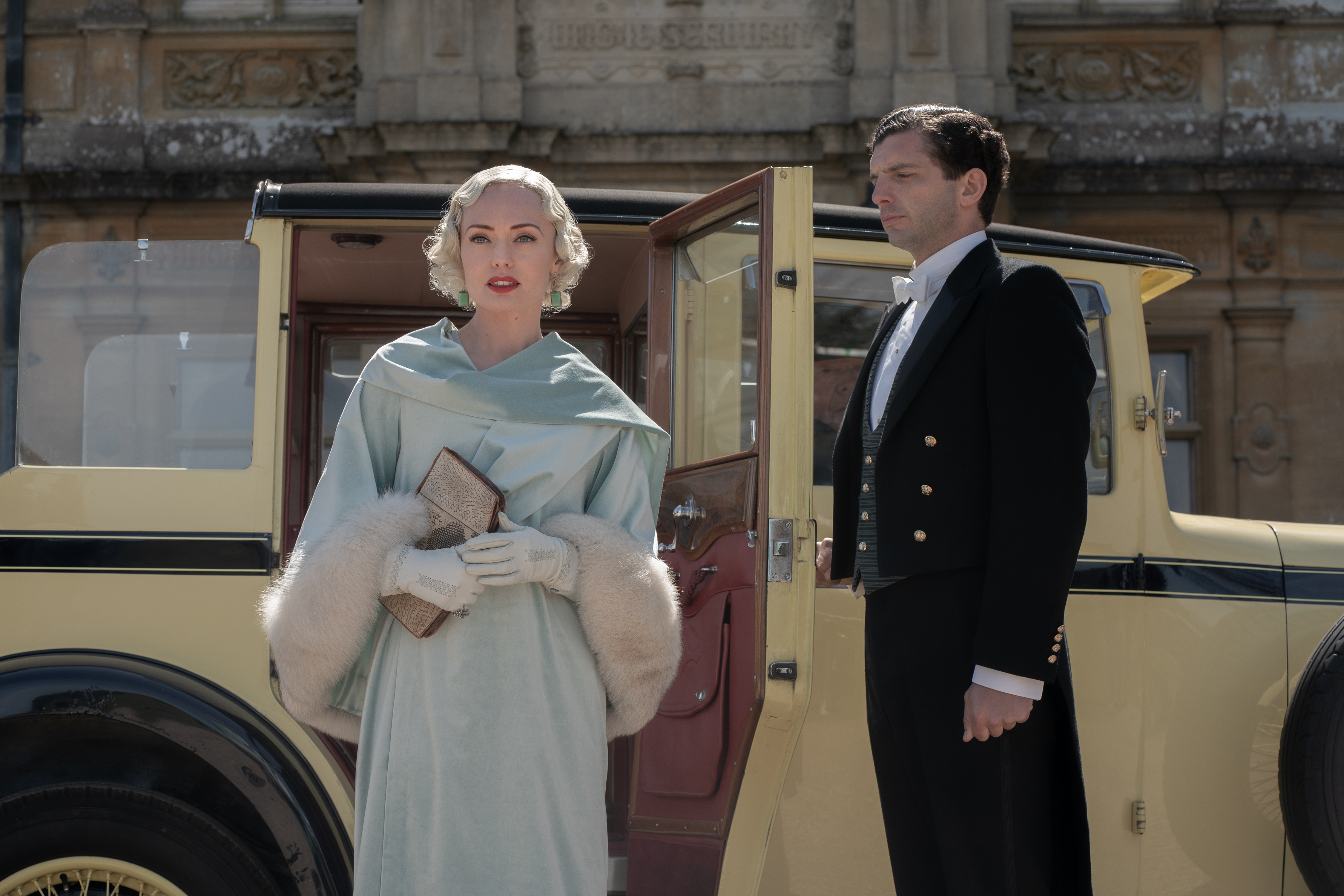 As for this film, it's an emotional one and Carmichael says there's "lots that the audience will be moved by".
"And for us there wasn't much acting required in some parts of the film, it felt very real."
For Carmichael, playing Lady Edith has been one she has enjoyed, in part due to the character's forward-thinking attitude and her job as a journalist.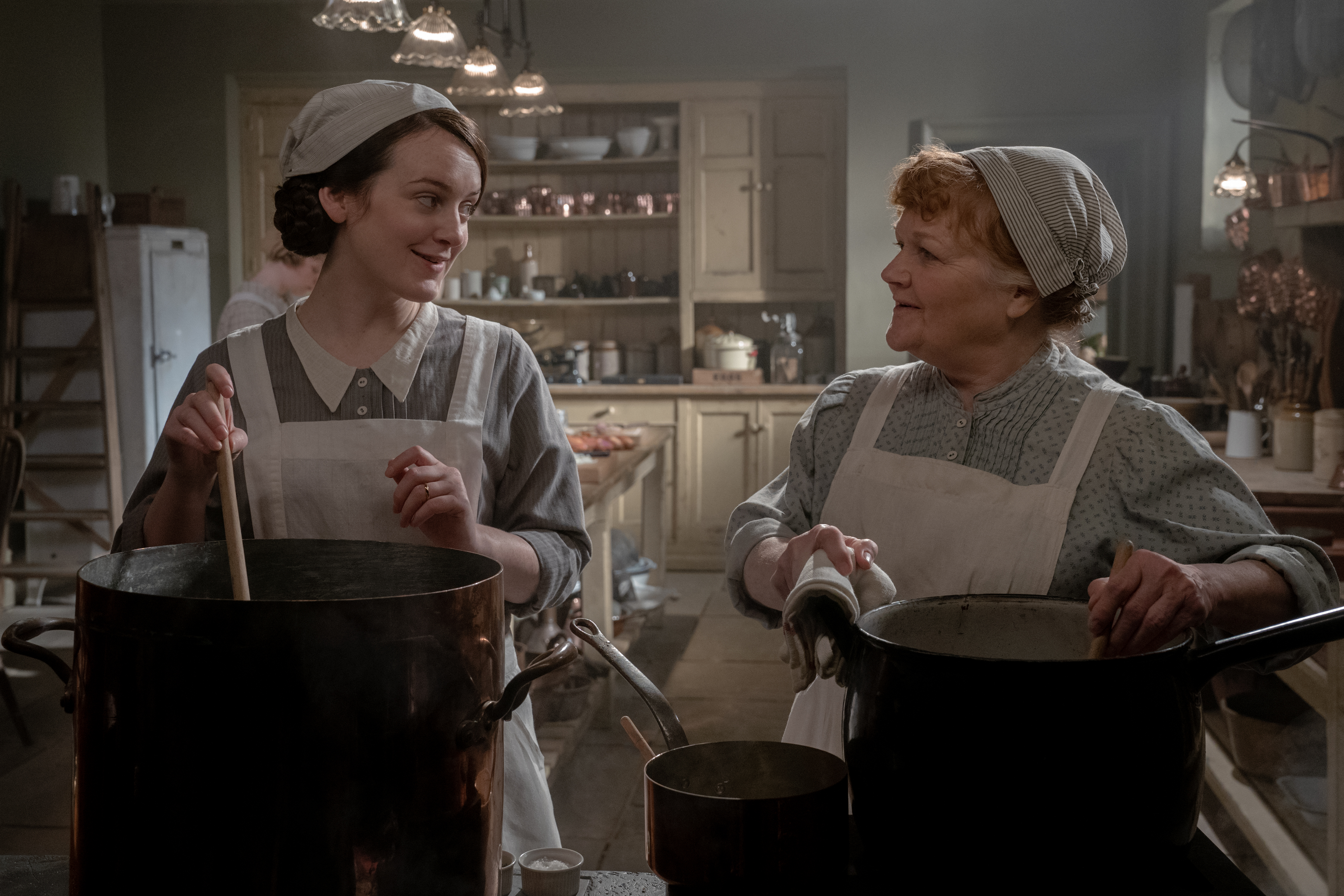 "I loved this story for Edith. In the last film she told Bertie [Lady Edith's husband, played by Harry Hadden-Paton] she was pregnant, and they've had a baby boy, and in this film you see how she's really keen to get back to work," Carmichael explains.
"It's a story a lot of people can relate to, she doesn't want to stop working even though she has just had a child.
"She's not just content to be the Marchioness and married with children. She doesn't want to let go of her writing and, encouraged by her mum and encouraged by her husband, she just casually makes it a bit of a work trip, she uses it as an opportunity to write about the new trend of travelling to the south of France."
Downton Abbey: A New Era is in cinemas now
Source: Entertainment News, TV and Celebrity Gossip - 9Celebrity https://celebrity.nine.com.au/movies/downton-abbey-a-new-era-laura-carmichael-interview-playing-lady-edith-and-working-at-famous-highclere-castle/6001b539-ce9c-4b96-96c5-78fd2744bf1f