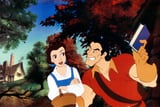 Gaston's villain origin story is about to be revealed. The live-action "Beauty and the Beast" film has inspired a prequel series dedicated to Gaston and LeFou, according to The Hollywood Reporter. Luke Evans (Gaston) and "Frozen's" Josh Gad, who worked together previously on Disney's live-action "Beauty and the Beast" film, will star in the eight-episode Disney series, giving us a glimpse at Gaston's villainous past. Like the original Disney movie and 2017's live-action reboot, the series will be set to musical numbers, and you know what they say: no one sings like Gaston.
What Is the Beauty and the Beast Prequel About?
Set years before the Disney movie many of us know and love, "Beauty and the Beast" (working title) takes a look back at Gaston's life before he got swept up with Belle, Prince Adam, and the talking furniture in the Beast's castle. Determined, Gaston sets out with LeFou and LeFou's stepsister, Tilly (Briana Middleton) to solve a mystery "after a surprising revelation from her past comes to light."
Who Is in the Beauty and the Beast Prequel Series Cast?
Luke Evans will star as Gaston in the upcoming Disney prequel, alongside Josh Gad, who will play Gaston's longtime, accident-prone sidekick, LeFou. According to "Variety,"Rita Ora will also star as "a fugitive with surprising abilities who carries with her a secret that could potentially affect an entire kingdom." Gad is also signed on as a writer, cocreator, and showrunner, and Once Upon a Time's Eddy Kitsis and Adam Horowitz will join him as executive producers, coshowrunners, and cowriters.
When Will the Beauty and the Beast Prequel Premiere?
While Disney has yet to announce a premiere date for the series, we can only hope that means there's time for even more of the live-action cast to sign on as part of the project. See the official cast ahead.
Source: POPSUGAR Celebrity https://www.popsugar.com/entertainment/disney-beauty-beast-prequel-is-all-about-gaston-47288001