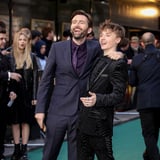 During the Sept. 25 episode of "House of the Dragon," viewers got to meet a preteen Prince Aegon, the eldest son of King Viserys (Paddy Considine) and Queen Alicent (Olivia Cooke). The mischievous boy got into his share of hijinks with his nephews Jacaerys, aka Jace, (Leo Hart) and Lucerys, aka Luke (Harvey Sadler). The newest incarnation of the character, 10 years older than the toddler viewers met in early episodes, is played by Ty Tennant, the son of David Tennant and his wife Georgia.
Ty, who's 20, was born to his mom Georgia when she as 17. When Georgia married David in 2011, he adopted Ty. The couple have five kids in total. Ty has been following in his parents' footsteps for a few years now. He starred in the TV series "War of the Worlds" for three years and also appeared in series and movies like "Tolkein" and "Doom Patrol." Ty's 11-year-old sister Olive is also an actor and appeared in the movie "Belfast" last year. Ty walked the red carpet with his sister and wrote about how proud he was of her on his Instagram.
Image Source: HBO
David first rose to fame when he took on the title role in "Doctor Who" back in 2005. That's also how he met Georgia; in 2008, she played the Doctor's daughter in an episode. It was particularly ironic since Georgia is actually the Doctor's daughter in real life - her father, Peter Davison, was the fifth person to play The Doctor. Her mother, Sandra Dickinson, is also an actor, giving Ty a majorly successful lineage of artists.
It's not clear how many episodes of "House of the Dragon" Ty will appear in, since the show uses frequent time jumps. HBO announced before the season premiered that the character would ultimately be played by Tom Glynn-Carney. It seems likely that Ty will appear in at least one more episode, though. David and Georgia tend to stay pretty private about their personal lives and family. Georgia did share an image of Ty in costume on her Instagram before the episode's premiere.
Sign up for HBO Max now to watch "House of the Dragon."
Source: POPSUGAR Celebrity https://www.popsugar.com/celebrity/ty-tennant-house-of-the-dragon-48960796