Comedian Heather McDonald has shared a message to her fans from her hospital bed in the emergency room after collapsing on stage.
The 51-year-old passed out during her comedy performance in Tempe, Arizona on Saturday night local time after she delivered her second joke of the night.
"So I'm in the emergency room. I look weird. I'm so so so so sorry," McDonald said via her Instagram Stories. Watch above.
READ MORE: Courteney Cox reveals Elton John recording was 'scariest' moment of her life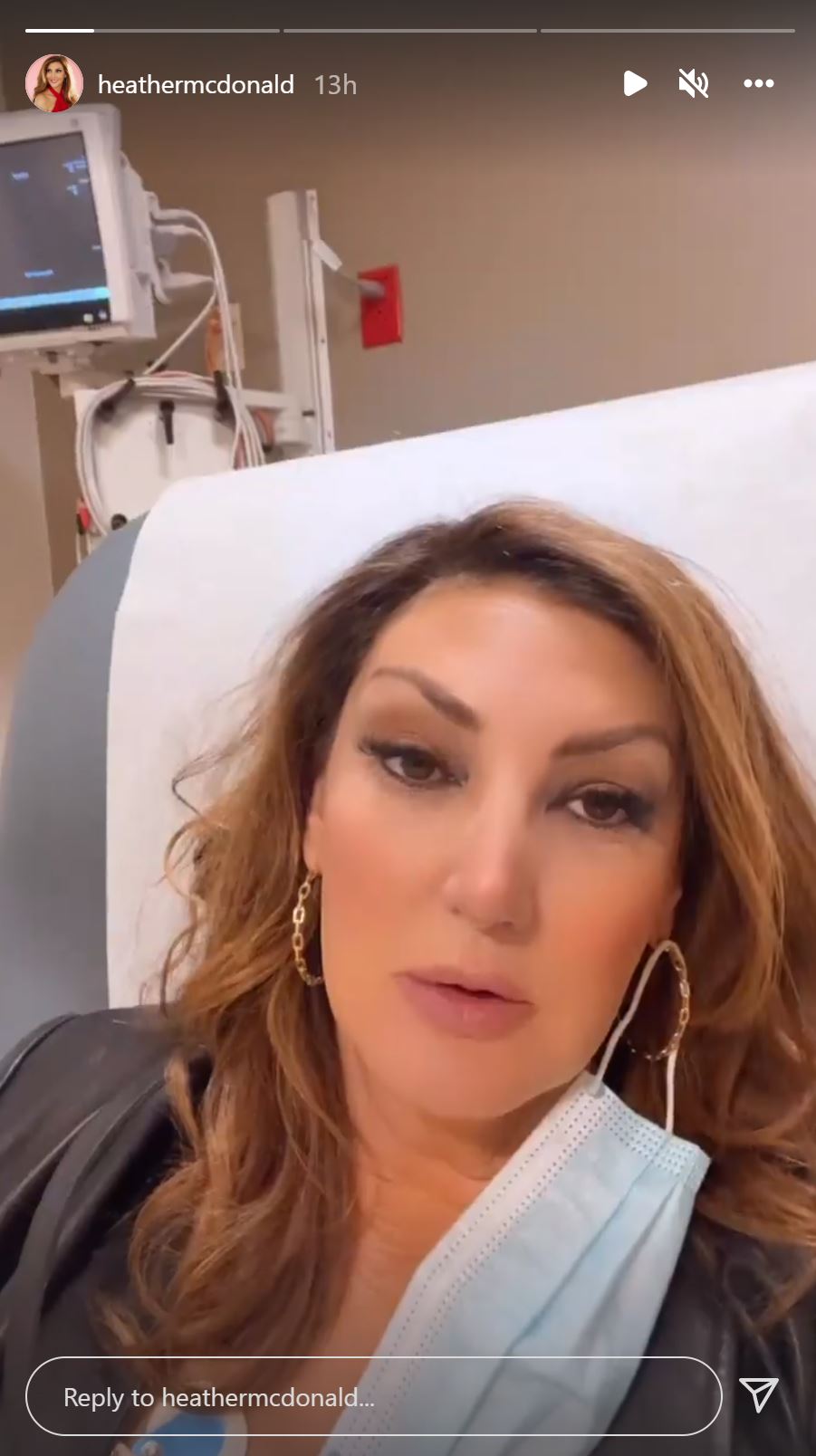 "I passed out on stage. I got up, I did one joke and I felt so dizzy," she continued.
McDonald then pointed to her slightly swollen and bruised eye, saying, "You can see my eye, I fell on my eye."
"I cannot believe this happened. I feel so terrible that they had to tell everyone to leave and then cancel the second show."
READ MORE: Actor Javier Bardem confesses to his very strange childhood crush
McDonald concluded with a message saying she had "never, ever fainted in [her] life" and a vow to return to Tempe to continue her show.
Per TMZ, who first reported the news of McDonald's medical emergency, the comedian collapsed mid-performance just after she delivered her second joke.
"I'm vaxxed, double-vaxxed, boosted and flu shot and shingle shot and haven't gotten COVID-19 and Jesus loves me most," she reportedly said mere moments before passing out. The cause of her emergency is not known currently.
READ MORE: Andrew Garfield recalls 'generosity' of crew when filming shut down following his mother's admission into hospice care
https://www.instagram.com/p/CZmzMGvPRy2/
According to eyewitnesses, audience members thought McDonald's fall was part of her comedy routine, but it became clear it was an emergency and she needed medical attention quickly.
A nurse and an EMT who had been sitting in the audience rushed onto the stage to provide first aid to McDonald prior to the arrival of paramedics at the scene.
McDonald was performing her second show of a three-night performance schedule in Arizona. She is meant to perform in Los Angeles next month.
For a daily dose of 9Honey, subscribe to our newsletter here.
Source: Entertainment News, TV and Celebrity Gossip - 9Celebrity https://celebrity.nine.com.au/latest/comedian-heather-mcdonald-collapses-on-stage-hospitalised/279f42e8-3a99-4455-a80c-f68f2ebab41c