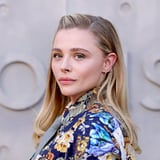 In a new interview with Hunger magazine, Chloë Grace Moretz opened up about some of the more challenging aspects of growing up famous.
The 25-year-old rose to prominence as a child after starring in "Kick-Ass" in 2010 and continued to make waves as a teen with movies like "Carrie" and "If I Stay." The first time she realized how famous she was, it hit her "like a ton of bricks." "I was 18 and doing a red carpet," she said. "I walked off of it and I felt so much self-loathing and was really confused about the experience that just went down. I was really unwell after that. There was this complete jarring shift in my consciousness, I questioned who I was. What am I doing? Who am I? Why am I doing this? Like, what does this mean?"
She also recalled her first intense experience with paparazzi, which occurred a few years earlier. "It was 10 to 15 adult guys surrounding a 12-year-old girl," she said. "They pushed my mom and she ended up falling into traffic - she didn't get hurt, but the situation was really chaotic. It's an assault on all the senses, with screaming and flashes. I got into the car afterwards and I just burst into tears. I think that's my marker of before and after."
But some of her most intense issues with fame arose when she was older. "There was one meme that really affected me, of me walking into a hotel with a pizza box in my hand. And this photo got manipulated into a character from 'Family Guy' with the long legs and the short torso, and it was one of the most widespread memes at the time," she said in the Sept. 20 feature. "Everyone was making fun of my body and I brought it up with someone and they were like, 'Oh, shut the f*ck up, it's funny.' And I just remember sitting there and thinking, my body is being used as a joke and it's something that I can't change about who I am, and it is being posted all over Instagram. It was something so benign as walking into a hotel with leftovers. And to this day, when I see that meme, it's something very hard for me to overcome."
The meme incident exacerbated her body-image issues, she said, while damaging her self-esteem. "It took a layer of something that I used to enjoy, which was getting dressed up and going to a carpet and taking a photo, and made me super self-conscious," she said. "And I think that body dysmorphia - which we all deal with in this world - is extrapolated by the issues of social media," she explained. "It's a headf*ck."
To heal, she said, she "basically became a recluse" and began to disguise herself in public. She also said she's been trying to "work through" her experiences in therapy. "There's always gonna be the darkness that comes with fame," she told the magazine. But acting - the source of her fame - has also been a form of healing.
"I've always used acting as a form of therapy," she added. During the pandemic, she worked on the forthcoming Amazon Prime series "The Peripheral," which follows a woman living in a poverty-stricken small town who discovers a connection to an alternate reality. Filming took place in Asheville, NC, where her father and her father's family are from. Her father passed away during the pandemic, she said, and making the movie there was a cathartic full-circle moment.
"Being able to use that in this project was wonderful and really healing," she said. "My dad and I had a very tumultuous relationship, so by the time that release happened, it was just really meaningful. To say that these past two years have been transformative is an understatement, to say the least. I'm a very different girl than I was. I feel like a woman now."
Source: POPSUGAR Celebrity https://www.popsugar.com/celebrity/chloe-grace-moretz-early-fame-meme-trauma-48962615