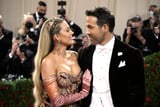 The 2022 Met Gala didn't just bring the fashion this year; it brought the romance, too. Some celebrities attended the event for the first time, while others made a grand return, but the sweetest part about this year's Met Gala was the celebrity pairs who showed up in style.
This year's theme, "Gilded Glamour," is a continuation of 2021's homage to American history, and the stars didn't hold back with their stellar looks. Met Gala cohost Blake Lively, joined by her husband/cohost, Ryan Reynolds, unveiled her custom color-changing gown, while Joe Jonas and an expectant Sophie Turner showed up in matching black-and-white outfits. Kacey Musgraves and her new boyfriend, Cole Schafer, also made their red carpet debut as a couple.
Ahead, check out all the celebrity couples who attended the 2022 Met Gala.
Source: POPSUGAR Celebrity https://www.popsugar.com/celebrity/celebrity-couples-met-gala-2022-pictures-48808937