Celebrities React to Trump's Historic Second Impeachment
3 min read
<p>"Twice."</p> <p>It's official: Donald Trump is the greatest President in US history.... at getting impeached.</p> <p>On Wednesday, the House of Representatives voted 232-197 in favor — including ten Republicans — making him the first ever POTUS to be impeached twice.</p> <p>Reaction among celebrity Twitter was as swift as it was brutal.</p> <p>Moments after Wednesday's vote, Senate majority leader Mitch McConnell rejected calls to summon Senators back to Washington early for the second impeachment trial, instead waiting until at their first regular meeting at the very earliest on January 19.</p> <p>He claimed there was "simply no chance that a fair or serious trial" before the inauguration of Joe Biden on January 20.</p> <p>"This is not a decision I am making; it is a fact," he said. "The President-Elect himself stated last week that his inauguration on January 20 is the 'quickest' path for any change in the occupant of the presidency."</p> <p>Unlike the simple majority of the House, a two-thirds majority is needed in the Senate to convict Trump. This would require the support of several GOP Senators, many of whom have not ruled that out — including McConnell himself.</p>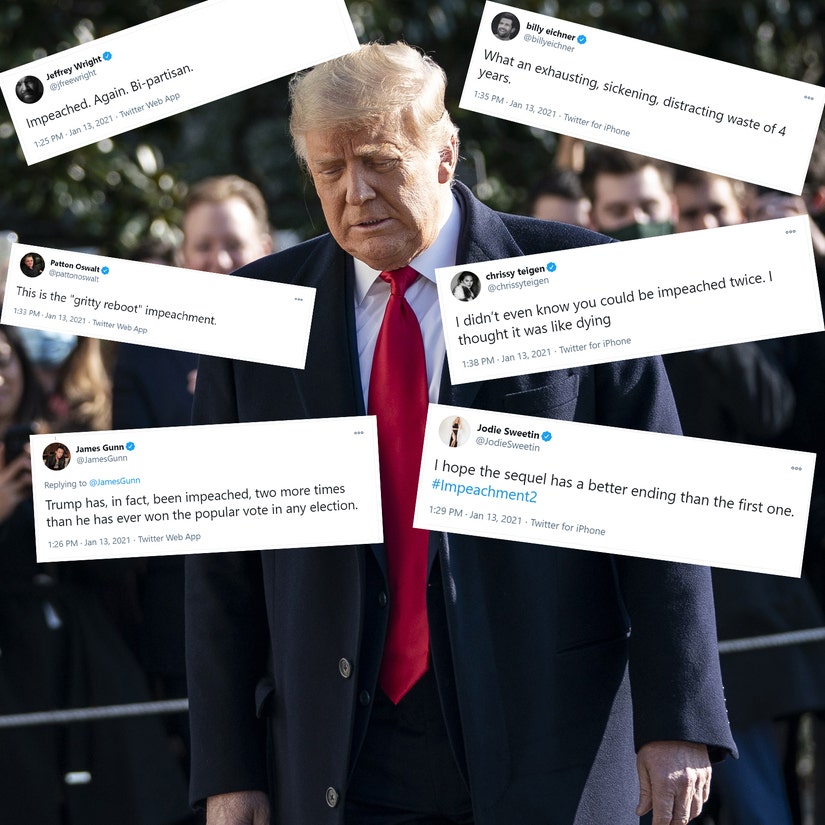 "Twice."
It's official: Donald Trump is the greatest President in US history.... at getting impeached.
On Wednesday, the House of Representatives voted 232-197 in favor — including ten Republicans — making him the first ever POTUS to be impeached twice.
Reaction among celebrity Twitter was as swift as it was brutal.
Even Geraldo Rivera Has Turned on Donald Trump
I didn't even know you could be impeached twice. I thought it was like dying

— chrissy teigen (@chrissyteigen) January 13, 2021
This is the "gritty reboot" impeachment.

— Patton Oswalt (@pattonoswalt) January 13, 2021
When one impeachment won't suffice,
Damn his new crimes- impeach him twice!#DarnOldDonald pic.twitter.com/LVDfyAopai

— Mark Hamill (@HamillHimself) January 13, 2021
IMPEACHED AGAIN!

— bettemidler (@BetteMidler) January 13, 2021
The importance of 10 GOP House members voting to impeach is this: It shows that it's not about politics, it's about courage. The truth is there, for those with guts enough to say it and mean it. To the ten with those guts, your country salutes you.

— George Takei (@GeorgeTakei) January 13, 2021
What an exhausting, sickening, distracting waste of 4 years.

— billy eichner (@billyeichner) January 13, 2021
Happy Birthday @OfficialJLD! I hope you like the gift I got you from the House. ❤️🍸 2X

— Wanda Sykes (@iamwandasykes) January 13, 2021
Fuck it. Let's go for three.

— Michael Ian Black (@michaelianblack) January 13, 2021
Congrats to Trump on finally getting more votes than a Clinton

— Full Frontal (@FullFrontalSamB) January 13, 2021
I hope the sequel has a better ending than the first one. #Impeachment2

— Jodie Sweetin (@JodieSweetin) January 13, 2021
Mood when the President is being impeached AGAIN: pic.twitter.com/GMdylpbv7d

— Padma Lakshmi (@PadmaLakshmi) January 13, 2021
Trump has, in fact, been impeached, two more times than he has ever won the popular vote in any election.

— James Gunn (@JamesGunn) January 13, 2021
Impeached. Again. Bi-partisan.

— Jeffrey Wright (@jfreewright) January 13, 2021
Twice.

— Anthony Rapp Voted for Biden Black Lives Matter (@albinokid) January 13, 2021
Impeached twice!!! Jb

— John Barrowman MBE (@JohnBarrowman) January 13, 2021
Finally, the @gop begins to break the Mummy's Curse https://t.co/hUDkrAM3CM

— Denis O'Hare (@denisohare) January 13, 2021
Thank you @RepSpeier, and all of your colleagues who likewise voted for accountability. It matters. Democracy is worth it. Our republic is worth it. https://t.co/WV8VPmih39

— Sophia Bush (@SophiaBush) January 13, 2021
2X

— Michael Kelly (@michaeljkellyjr) January 13, 2021
IMPEACHED TWICE!

Donald J. Trump has finally made history. It only took 231 years and 275 days.

But he did it...

Donald Trump is the first President in the history of the United States to be impeached twice.

CONGRATULATIONS DONALD!

PASS IT ON.#ImpeachmentDay#KidVicious🇺🇸

— Kirk Acevedo🇺🇸 (@kirkacevedo) January 13, 2021
And 197 reps chanting #HailHydra https://t.co/qxB26GM37H

— Clark Gregg (@clarkgregg) January 13, 2021
Only the truth and nothing but the truth can squash the Big Lie @RefuseFascism

— ✌🏼rosanna arquette (@RoArquette) January 13, 2021
Olympic Gold Medalist Charged in Capitol Attack
Moments after Wednesday's vote, Senate majority leader Mitch McConnell rejected calls to summon Senators back to Washington early for the second impeachment trial, instead waiting until at their first regular meeting at the very earliest on January 19.
He claimed there was "simply no chance that a fair or serious trial" before the inauguration of Joe Biden on January 20.
"This is not a decision I am making; it is a fact," he said. "The President-Elect himself stated last week that his inauguration on January 20 is the 'quickest' path for any change in the occupant of the presidency."
Unlike the simple majority of the House, a two-thirds majority is needed in the Senate to convict Trump. This would require the support of several GOP Senators, many of whom have not ruled that out — including McConnell himself.
Source: Full Feed | Toofab.com https://toofab.com/2021/01/13/celebrities-react-to-trump-second-impeachment/