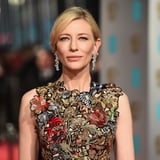 With all the iconic roles that Cate Blanchett has taken on over the years, it's hard to imagine how she has time to raise her four kids, but the "Disclaimer" actor and her producer husband of almost 25 years, Andrew Upton, have always made parenthood a key priority. With three sons - Dashiell, Roman, and Ignatius - and their daughter, Edith, the pair have their hands full. Blanchett previously opened up about the struggles of balancing her career with being a mom in a 2016 interview with the UK's Evening Standard.
"The film industry is no different from any other industry. It's a struggle for working parents," she told the outlet. "Whether you're making your second film or you're trying to get your first feature out, there's a time pressure. So anything that can afford you time, whether it's through childcare or getting it through to the second draft, and allows you to take the time to develop things slowly [has to be welcomed]."
In a 2020 interview Extra TV, she also said, " . . . I know myself as a working mother, who identifies as a feminist, that it's a constant juggle between following your personal, professional passion and trying to give yourself over to and serve your family." And somehow, Blanchett manages to do it all.
Read ahead for everything we know about Blanchett and Upton's four kids.
Dashiell John Upton
Blanchett and Upton's first child, Dashiell John Upton, was born on Dec. 3, 2001. Though the actor doesn't often speak about or make public appearances with her children for the sake of their privacy, during a May 2020 episode on "A Podcast of One's Own With Julia Gillard," she said her then-18-year-old was going to begin film school soon, though she didn't mention which institution he's attending.
Roman Robert Upton
Blanchett and Upton's second eldest son, Roman Robert Upton, was born on April 23, 2004. Roman has made a few rare red carpet appearances with his famous mom, like at the 2012 Helpmann Awards in Sydney and the 2018 SIHH trade show in Geneva, but much like his siblings, she keeps him out of the spotlight.
Ignatius Martin Upton
Born on April 13, 2008, Ignatius "Iggy" Martin Upton is Blanchett and Upton's youngest son and youngest biological child, and at just 6 days old, he made his big public debut with his mom at the Australia 2020 Summit, per People. Iggy also attended the 19th Annual Critics' Choice Movie Awards in 2014 and the "Ocean's 8" UK premiere in 2018, and he even landed a cameo in his mom's 2017 film "Thor: Ragnarok."
Edith Vivian Patricia Upton
In March 2015, Blanchett and Upton welcomed a newborn baby girl via adoption, who they named Edith Vivian Patricia Upton, People reported. During a November 2015 conversation with Women in the World's Tina Brown, Blanchett said the decision to adopt was one that she and her husband had been considering for 14 years before they finally brought Edith home. "I felt we had space, enough emotional room in our hearts and were privileged enough to have the capacity to have another child, so it wasn't about biology," she explained, per Daily Mail. "It wasn't about a desire to have a girl - the gender of the children was never particularly important to me." Though Edith has yet to hit the red carpet with her mom, we just know she'll impress when she does.
Source: POPSUGAR Celebrity https://www.popsugar.com/celebrity/how-many-kids-does-cate-blanchett-have-47980383