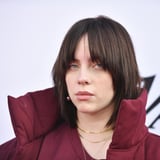 It looks like Billie Eilish is well on her way to attaining EGOT status! On Feb. 8, the seven-time Grammy-winning artist snagged her first-ever Oscar nomination for her song "No Time to Die," which is featured in the 2021 James Bond film of the same name. It's also the first Oscar nomination for Eilish's brother and creative partner, Finneas, who cowrote the tune.
Just hours later, Eilish reacted to her first-ever Oscar nomination. "nominated for an OSCAR 😭😭😭 thank you SO much to @theacademy for this nomination!! it was an absolute dream to write a song for a @007 film and i'm so honored that it's nominated. peak life experience. THANK YOU!!!"
Due to COVID-19 theater restrictions, "No Time to Die" was released a year and a half ahead of its accompanying film. In February 2020, the sister-brother duo discussed the making of "No Time to Die" in an interview with "Rolling Stone." "We wrote and recorded the Bond song on a tour bus in Texas," Finneas said. "We did certain songs on the album in hotel rooms. You know, that's kind of always been our philosophy: not letting the place that we are get in the way of making great music."
Eilish also shared that creating a song for a James Bond film was on the pair's musical wish list for years. "I remember at the beginning of last year we kind of told our whole team, 'Hey, if any Bond things come up, we want to be involved if we can possibly be,'" she recalled. "'Whatever we have to do we will do.'"
"No Time to Die" already won a Grammy Award for best song written for visual media, along with a Golden Globe for best original song. The 94th annual Academy Awards will be televised on Sunday, March 27, on ABC at 5 p.m. PT/8 p.m. ET. In the meantime, check out the full list of 2022 Oscar nominees.
Source: POPSUGAR Celebrity https://www.popsugar.com/entertainment/billie-eilish-first-oscar-nomination-for-no-time-to-die-song-48709109