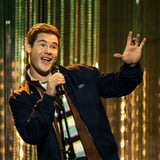 Adam DeVine would very much like to be excluded from the Adam Levine cheating allegations narrative. Mostly because he has nothing to do with it other than having a name that's similar to the Maroon 5 singer's.
Levine has been accused of being unfaithful to his pregnant wife, Behati Prinsloo, which has led to the Maroon 5 singer becoming a hot topic on the internet. Unfortunately for DeVine, an actor and comedian you might recognize from films like "Pitch Perfect," sloppy Google searches and hasty glances at tabloid headlines have led to him being confused with a man who happens to have a very similar name.
Apparently, the misdirected backlash has gotten so out of hand, that DeVine had to make a statement of his own on Instagram, clearing up his identity once and for all. "Just want to post this and say that my wife @chloebridges and I are doing great and going strong. I am not Adam Levine. He's a different guy and a worse singer," he joked on Friday.
"We are however naming our future baby Sumner," he wrote, referencing the 23-year-old Instagram model, Sumner Stroh, at the forefront of the cheating allegations, who claimed Levine asked to name his unborn child after her. For his part, Levine has denied the cheating allegations, but he did say he "crossed the line" in a statement posted on his Instagram story.
One thing everyone can be certain of is that DeVine has no role in this drama. While the situation continues to unfold for Levine, DeVine will be staying out of it… or at least just watching from the sidelines like the rest of us.
Source: POPSUGAR Celebrity https://www.popsugar.com/celebrity/adam-devine-adam-levine-cheating-48960255