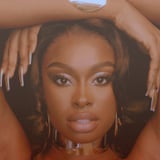 This Black History Month, we wanted to learn about the personal histories of women we admire - so we asked changemakers to tell us about a Black woman in their life who has been crucial in shaping who they are today.

In this installment, Coco Jones talks about her mom, whom she credits for where she is now. Jones is an actor you may recognize from her role as Hilary Banks on Peacock's "Bel-Air," and she's also an up-and-coming R&B star.

---
My mom, Javonda Jones - aka earth queen! - has been crucial to my journey in entertainment. She is the definition of selfless. She sacrificed her free time for her kids, to help them accomplish whatever their hearts desired. She figured it out when we didn't know what to do to get me to where I wanted to go.
She's shaped me in all the ways.
Without her, there is no Coco Jones, literally and figuratively. She chose my stage name, Coco Jones - like, come on!
But even more than that, her inspiration has helped me to be more patient in my own life. To have more empathy, to be a better businesswoman, and to think before speaking. I would love to emulate her selflessness, but whew lord, I don't know, she really goes there. I've learned from her that love is a sacrifice, but it's a great sacrifice.
She always helped me believe my dreams were realistic. She's shaped me in all the ways. In how I interact with the world and how confident I am in myself.
- As told to Lena Felton
Source: POPSUGAR Celebrity https://www.popsugar.com/celebrity/coco-jones-black-history-month-49071585