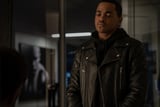 Season two of "Power Book II: Ghost" has been a complete whirlwind from start to finish. The final episode, which aired on Feb. 6, takes us on a roller-coaster ride with its many wild twists and turns, but one thing's for sure: things are even more screwed up than they were in season one.
One of the biggest shocks from the finale revolves around Diana (played by LaToya Tonodeo); her father, Lorenzo (Berto Colon); and the ripple effect from their actions that opens up a whole new can of worms. "It's just so much deception, and that's what happens when there's so many layers of lies," Tonodeo tells POPSUGAR. "Then people take matters into their own hands and things go haywire."
From Tariq's (Michael Rainey Jr.) trial to the Tejadas' family drama to more dead bodies turning up, it seems "Power Book II: Ghost"'s season two finale plants a lot of seeds for trouble up ahead. Some old characters resurface, others are tragically eliminated, and new plot lines for season three form. So if your head is still spinning from the episode, read ahead for a full breakdown.
Source: POPSUGAR Celebrity https://www.popsugar.com/entertainment/power-book-ii-ghost-season-2-finale-48705585