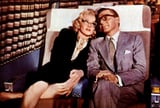 Marilyn Monroe is the original blond bombshell, and though she left this world far too early, the actor will live on forever in her films - and now, in onscreen portrayals of her, like by Ana de Armas in the upcoming movie "Blonde." (Though it should be noted that "Blonde" profiles a fictionalized version of the legendary Monroe.)
More than 50 years have gone by since her premature death at the age of 36 on Aug. 4, 1962, but her legacy still looms large (and no, we're not referring to the Monroe posters you hung in your freshman-year dorm room).
Born Norma Jeane Mortenson, Monroe rose to prominence because she could do it all - she charmed and wooed in her comedic parts, she wowed with musical stylings, and when she tired of fluffier gigs, she made Hollywood history by creating her own company, Marilyn Monroe Productions. It was through that company that she was able to take on more serious roles. It's hard to pick our favorite Monroe project (she appeared in 29 films in a little over a decade!), but we've narrowed down the list to her eight most iconic roles. While unfortunately, there are no Monroe movies currently available to stream on Netflix, scroll through to see which of the actor's most memorable turns made POPSUGAR's cut.
Source: POPSUGAR Celebrity https://www.popsugar.com/entertainment/Best-Marilyn-Monroe-Movies-44963228