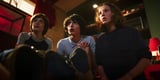 Secret lab experiments, monsters, romance - the Duffer brothers' beloved Netflix series really has it all. Even after three seasons, fans can't seem to get enough of witty dialogue and suspenseful plot of "Stranger Things." It's truly a one-of-a-kind show, but that doesn't mean that fans won't find any other series that'll delightfully flay their minds (you know, like the Mind Flayer).
"Stranger Things" hails from a long line of exceptional sci-fi television offerings. When it comes to the classics, David Lynch's iconic "Twin Peaks" probably comes to mind when you think of the Netflix hit. There's the intrigue of the central mystery, the charming small town, the dream logic, and the hodgepodge of genres. If you listen closely, the synth-laden theme songs even sound ever-so-slightly similar.
But "Twin Peaks" isn't the only classic that you'll love if you enjoy "Stranger Things." There's also no going wrong with tried-and-true sci-fi shows such as "Buffy the Vampire Slayer" and "The Twilight Zone." And we bet that Mike and the gang probably watch "The X-Files" and have a good laugh over how the monsters and government conspiracies hit so close to home!
While your temptation to rewatch "Stranger Things" may be stronger than Eleven's powers, don't hit the play button just yet. There's a slew of modern shows out there that would give any "Stranger Things" fan their fix for gruesome monsters. For example, for your fix of overly curious teens in small towns getting into all sorts of trouble, there's "Riverdale" and "Chilling Adventures of Sabrina."
Until "Stranger Things" season four makes its debut, here are other creepy, clever shows that will fill the Demogorgon-shaped hole in your heart. Whether you're into this Netflix title for its '80s aesthetic and sleepy-town setting or its sci-fi-horror genre blending, these shows like "Stranger Things" are sure to please fans of the series.
Source: POPSUGAR Celebrity https://www.popsugar.com/entertainment/TV-Shows-Like-Stranger-Things-44339918