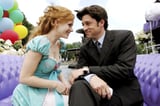 After 15 years of waiting, the sequel to the Disney film "Enchanted" - aptly named "Disenchanted" - will finally be released on Disney+ this year.
In 2007, the original "Enchanted" film took the typical princess film and flipped it on its head when the animated princess Giselle came out of her cartoon world of Andalasia and into the live-action city of New York. The movie provided complex satire about many tired princess film tropes: true love, fantasy, musical numbers, and the list goes on. The film exploded and is loved by critics and audiences alike.
The sequel has been in the works for an incredibly long time, but behind-the-scenes photos of Amy Adams and Patrick Dempsey filming "Disenchanted" have fans more excited than ever for the film, which is set to his Disney+ toward the end of the year, to come out. The film catches up with Giselle 10 years after "Enchanted" when she and her family move to a suburb called Monroeville where she confronts what true happiness means to her. When she wishes her life were like a perfect fairytale, she unwittingly sends the real world and her former home of Andalasia into a tailspin.
Here is a look back on what the cast was up to when the first film was released and how they are fairing now 15 years later.
Source: POPSUGAR Celebrity https://www.popsugar.com/entertainment/enchanted-cast-then-now-pictures-48784206