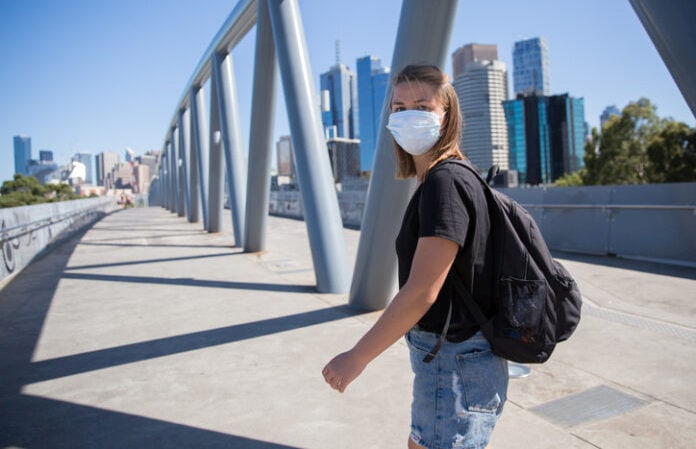 What is the significance of the re-imposed 'lockdown' in Victoria, and will it work? Experts respond.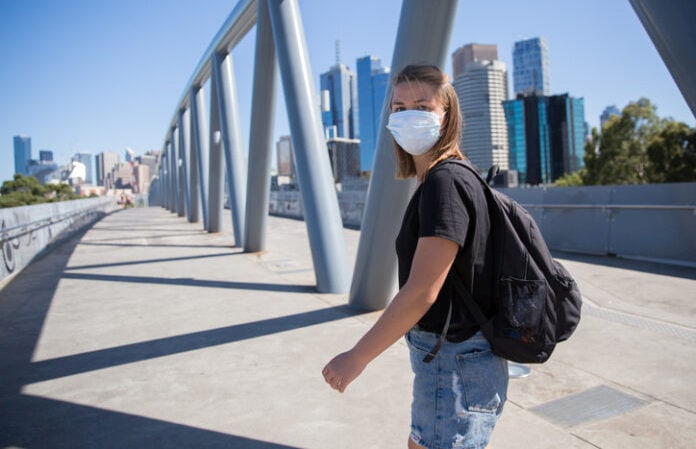 Victorian Premier Dan Andrews has reintroduced to metropolitan Melbourne stage 3 restrictions for the next 6 weeks amid growing cases of COVID-19. The restrictions, which will be in place across all metropolitan local government areas plus the Mitchell Shire, will begin from midnight tomorrow night and will see people unable to leave their homes except for work, education, care and food. It will also see food venues return to take away only. The restrictions include similar measures that were in place in Tasmania including a ban on movement between a primary and a secondary residence, and travelling out of your own area for recreation. Australian experts respond.
Dr Rob Grenfell is CSIRO's Health and Biosecurity Director.
"The problem we're facing is that the increase in cases across Melbourne now is the result of what happened about 10 days ago, due to the virus' long incubation period, and this roughly coincides with when restrictions were lifted.
One could argue we're still in the first wave because we've protracted it by suppressing the curve through lockdown measures earlier this year. However, this has given us the time to get our health services ready, prepare for increased hospitalisations and intensive care cases. Because of the delay in symptoms and disease manifesting, it may be another week before we see the corresponding increase in cases that require hospitalisation.
Historically, the New South Wales and Victorian state borders were closed during the 1919 Spanish Flu outbreak. We've been there before. As a country we need to close this down as much as is practically possible so we can reduce the infection across the rest of Australia. How effective these measures will be remains to be seen, but it will certainly help minimise further transmission in the community. The virus hot spots we're seeing now is something that we knew was coming, and it could easily be another part of the country or state in this position. We need to remain vigilant against this virus given how persistent it is in the environment.
————
Paul Glasziou is a Professor of Evidence-Based Practice at Bond University and the Director of the Institute for Evidence Based Healthcare at Bond.
"Though Victoria's rise in cases is very concerning, the stage 3 restrictions have worked previously to bring numbers down.  And Victoria is in a much better position to manage this spike than it was in March – with good testing, trained contact tracing staff, international border controls, and other public health infrastructure now in place. However, we should expect a lag of 5-10 days before numbers drop substantially, and a few weeks before good control returns."
————
Dr Alex Polyakov is a Senior Lecturer in the Department of Obstetrics and Gynaecology at The University of Melbourne and a Consultant Obstetrician, Gynaecologist and Fertility Specialist at the Reproductive Biology Unit at the Royal Women's Hospital in Melbourne.
"I do not believe that the current strategy will be enough to contain the outbreak in Victoria. Furthermore it is likely that despite border controls it will spread to other states. Once community transmission takes hold, it is almost impossible to control the spread with the currently implemented measures. The good news is that the health systems in Victoria and other states are sufficiently prepared to deal with the probable influx of symptomatic patients in the near future.
Lockdowns and movement restrictions will only be partially effective and further actions are required to minimise the spread of the virus. In my opinion, the most effective, and so far largely neglected strategy, is universal wearing of masks in public. This should be implemented immediately and will certainly enhance the current strategies. It was well understood and accepted by the scientific community and general public that complete elimination of the virus is not possible. "Flattening the curve" was always the aim and I feel that it was successfully achieved to allow the healthcare system to cope. The current outbreak in Victoria is but the first of many to come and we need to learn how to live with this virus until an effective vaccine or cure is found, which will take months and possibly years, if ever."
————
Professor Phillipa Hay is Chair of Mental Health at Western Sydney University.
"For people with mental health issues, the mantra of 'staying at home' may trigger elevated feelings of uncertainty, anxiety and panic. They will be feeling even more isolated that they would ordinarily, and this will likely lead to feelings of immense uncertainty and sadness."
————
Dr Margaret Heffernan O.A.M is an academic and behavioural researcher with expertise in cross-cultural communication and HPV vaccination in CALD communities at RMIT University, Melbourne.
"The unique challenge of a six-week lockdown of metropolitan Melbourne will test both urban and social resilience. The public can reasonably query – 'why so long'?; where is evidence that this period of time is effective in controlling the pandemic?; How will the Government recover the economic cost as a result of this social sanction?
The national communication plan initially provided ' timely, factual and consistent information' which in the short term encouraged the public to comply with and adopt behaviors to mitigate the spread of COVID-19, and whilst well-intentioned lacked the flexibility and  targeted communications as required.
In Victoria, 'message' and 'compassion' fatigue and lack of resilience among sectors of the population, compounded by contradictory messages from Government ("constrain social behaviours, but it is ok to mass protest") led to confusion and lack of trust in our mandated leaders.
With 38% of the Metropolitan Melbourne residents speaking a language other than English at home with disparate levels of language, media and health literacy, without the alleged inclusion of key stakeholders such as community leaders at the local level in the implementation of the communication strategy; with the amplification of 'the infodemic (or mis/disinfodemic) challenge  it is not surprising that the national communication plan did not sufficiently meet the needs of large numbers of people, vulnerable to infection due to dense living habitats.
Faced with the evolving uncertain and emergent nature of the COVID-19 threat the overall governance of the city is fundamental to urban resilience. The  abrupt  lockdown of habitats of our inner-city populations and allegations that  community leaders were not consulted to sufficiently educate their communities has fragmented this resilience, and deepened stigmatisation.
Governments have a responsibility to minimise  uncertainty. As Cheshmehzangi (2020) states, 'Education of resilience is as important as city operations… prioritis[ing] broad consultation to create a sense of share ownership in decision making'. With sanctions of a 6 week restriction the social mindset is ill-prepared for this lengthy prohibition. Key stakeholders led by  government now have a crucial role in the maintenance in supporting the societal and urban  resilience, to avoid uncontrollable social and economic dislocation well beyond the impact of COVID-19."
————
Professor Raina MacIntyre is Head of the Biosecurity Program at the Kirby Institute at the University of NSW. She is an expert in influenza and emerging infectious diseases.
"The situation is extremely serious, and we have seen outbreaks in a wider area over the past week, from north-west Melbourne, to inner Melbourne and even at the border in Albury-Wodonga. The surge in cases to 191 today despite the measures taken over the past week is worrying. It is possible there has been seeding of infection to other states, and silent epidemic growth which has not yet been detected. I would not be surprised to see epidemics detected in NSW and other states within the next few weeks. The situation we are in is more serious than late March, because we have community transmission, which is much harder to track than infection in returned travellers.
The Victorian government has done all the right things and made considered, difficult decisions which will help contain the growing epidemic.
It is not an option to take the Swedish option – that has been a failure, and they failed abjectly to achieve herd immunity, because they followed a pseudoscientific theory that was never achievable.

All they achieved was mass death, overwhelmed hospitals and reportedly, euthanasia of infected old and frail people.
Individuals should also do their bit for the country – it is easy to ignore the pandemic because we have been fortunate in Australia, but the reality is grave. People all over Australia must accept the gravity of the situation and play their part – that includes downloading the COVIDSafe App, maintaining physical distancing, wearing a face mask and getting tested if they think they may be infected or at risk. It's time we adopted community mask-wearing and provided people with positive and constructive messaging on using masks. In states that are not affected, it may make the difference between needing a lockdown versus not, in the near future.
We also have to protect the health systems and make sure our health workers are left standing to care for the sick. This has been one area we can do better. A large epidemic could overwhelm the health system and leave many nurses and doctors infected or even dead. One infected health worker could result in hundreds being quarantined and reduced workforce capacity."
————
Nikolai Petrovsky is a Professor in the College of Medicine and Public Health at Flinders University. He is also Research Director, Vaxine Pty Ltd.
"The border closure with NSW will do nothing to improve Victoria's case load but may reduce spread from Victoria to NSW. However there is no scientific evidence that blocking movement of people between two infected states reduces overall disease burden. Hence border closures remain a highly controversial issue in such cases.
It is a different story for border closures between states and/or countries that have no COVID-19 and those that do, as obviously a single infected case crossing the border could reintroduce the virus to an otherwise virus free community that consequently doesn't need to socially isolate. This might apply for example if allowing an open border between a virus-infected state such as Victoria and a virus free state such as South Australia – making closure of that border easier to support on a scientific basis. It is particularly relevant if both adjacent states wish to operate different levels of restrictions based on what they know about the virus in their population. Allowing free movement of people increases the uncertainty factor.
It takes 2-3 weeks just to see if the restrictions are having a major impact on cases loads, and a few more weeks after that to see suppression of virus spread to negligible levels. Hence from a practical and scientific perspective 6 weeks is likely to be close to the minimum period for an increase in restrictions to be fully effective. Of course the period of the restrictions may be able to be shorter if combined with other control measures such as intensive testing, quarantine of infected subjects, mask wearing, use of disinfectants and ultimately application of vaccines.
Each state is different in terms of amount of cases and level of virus spread and hence each state is likely to make decisions based on local data rather than just follow the lead of a badly affected state.
Ultimately, the COVID-19 outbreak will only be brought fully under control in Australia and globally with availability of an effective and safe vaccine. Our vaccine candidate is the first developed in the Southern hemisphere to enter human clinical trials last week, with a readout on the current trial expected within the next 2 months. With appropriate support there is no reason that a COVID-19 vaccine cannot be developed and made available before the end of this year. This could then be used to target hotspots such as those currently occurring in Victoria using a strategy of ring fencing to bring the outbreak under control. Indeed, as soon as the Phase 1 safety and immunogenicity data is shortly available there is no reason that our vaccine could not be used in an experimental setting by Victoria in just such a manner, with this ring fencing approach being taken in recent years to confirm the effectiveness of Ebola vaccines.
It is not true that there is no evidence of an effective coronavirus vaccine – there is a commercial vaccine against cat coronavirus, and our group and others have also demonstrated effective vaccines against SARS and MERS coronaviruses. Whilst all these other coronavirus vaccines have not yet been tested in humans, there is no scientific reason to believe they would not be equally effective in humans as they have already been shown to be in mice, ferrets, monkeys and alpacas (the model we used to show a MERS coronavirus vaccine could be highly effective). The Australian Department of Health needs to get briefed on the solid science that supports the effectiveness of coronavirus vaccines."
Nikolai is Research Director of Vaxine Pty Ltd which recently began clinical trials of a COVID-19 vaccine.
————
Matt Mason is a Lecturer in Nursing at the University of the Sunshine Coast.
"It is hard to say if this will be enough to contain Victoria's cases. The success of these measures will hinge on individuals personally following what is required of them, and government agencies making these clear for all. It appears that poor communication of these requirements and individuals, either knowingly or unknowingly, not following the required precautions have caused this increase in transmission.
Six weeks is a good place to start as we know that it will take 2 to 3 weeks to see if these actions limit or reduce community transmission. Once that is ascertained, changes in restrictions can be considered. Other jurisdictions should be carefully watching the situation in Victoria and planning for the possibility that they may see cases increasing. While they are seeing a stable situation it is reasonable for restrictions to ease given that importation of cases from Victorian hotspots should be limited. Regional Victoria should continue at the current level until it is shown that community transmission is limited to metropolitan Melbourne."
Source: Tasmanian Times https://tasmaniantimes.com/2020/07/reimpose-coronavirus-restrictions-victoria/#utm_source=rss&utm_medium=rss&utm_campaign=reimpose-coronavirus-restrictions-victoria