London's drag scene has never sounded so ocker yet looked so uniquely glamorous at the same time. There's a 'yeah mate' echoing from every stage in Soho and it's all down to a new squad on the block… the next genera…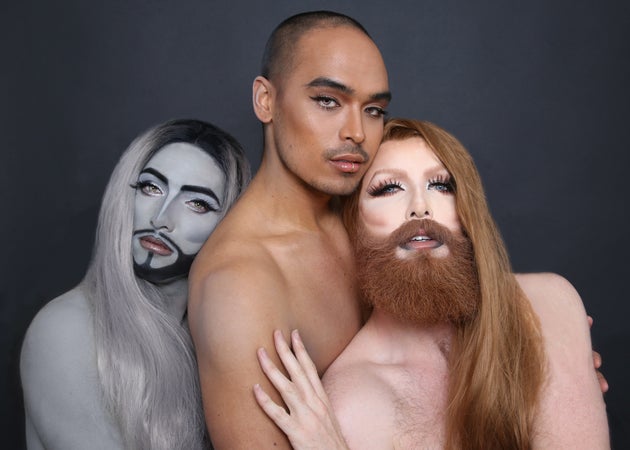 London's drag scene has never sounded so ocker yet looked so uniquely glamorous at the same time. There's a 'yeah mate' echoing from every stage in Soho and it's all down to a new squad on the block… the next generation of London (or shall we say global) queer superstars.
"Aussies have a great energy about them. I think it's the no fucks given attitude that is so refreshing," Australian drag queen Gingzilla said. "It breaks down barriers and the stiff upper lip pompousness."
But this new generation of drag doesn't conform to the expectation that the art has to be about exaggerated femininity.
This new generation of London drag has beards.
This new generation of London drag flaunts exquisite body paint.
And this new generation of London drag is all Australian.
Introducing S.Q.U.A.D: STRONG. QUEER. UNITED. AMAZING. DIVAS, a collective of non-binary performance artists who found their true identity after moving to the UK's capital from Australia.
Group members Cazeleōn, Gingzilla and Seann Miley Moore met at WAAPA (Western Australian Academy of Performing Art), the same institution that produced the likes of Hugh Jackman and Tim Minchin.
Sharing stories of adversities the group faced growing up as queer, mixed race and left-of-centre beings in the landscape of heteronormative "Down Under" is the aim of S.Q.U.A.D's movement. "Together we find strength from one another to be more fearless and live in our authenticity with the hope to inspire others who have ever felt like us," Cazeleōn told HuffPost Australia.
In the Aussie queer community I would see the terms "no fats, no fems, no Asians" and I was all these things. This is different in the UK.
A quick flick through YouTube shows just two videos between the group members have rocked up 12 million views collectively. The group uses its established platform to push its motto: "Embrace your Vibe, to find your tribe". Cazeleōn added: "We believe that the closer you can live in your truth the higher your frequency will be able to connect with others on the same vibration as you".
With all three group members visiting their mother country for the upcoming Sydney Gay and Lesbian Mardi Gras, HuffPost Australia sat down with S.Q.U.A.D to explore their vibe a little further...
Cazeleōn, you're first-generation Turkish Australian - tell us a bit about where you're from?
Cazeleōn: I am a bit of a nomad. I spent the first five years of my life in Turkey (where my family is from) then moved to Melbourne as a young child. English was my second language and I spent the majority of my childhood and adolescent years growing up in the western suburbs of Melbourne before moving to Perth at 18 to further my training and studies at WAAPA.
Ginge what about you?
Gingzilla: I grew up in Baulkham Hills, the Bible Belt of Sydney. "The only gay in the village" surrounded by all the bullies from my school... whoa is me. Quiet suburban area, nothing much going on except the local shopping centre.
When did you know you were gay?
Gingzilla: As soon as I had conscious thoughts, my loves. Remember the Wonder Years television show from the early 90's / late 80's. No?..... better give you a modern reference. I had Sarah Jessica Parker narrating my childhood.... "If I fantasise about Mr Troy, (my year 3 teacher) Who are the other kids going to marry? Spoiler alert.... I was always-the-celebrant-never-the-bride in the wedding game. Waaaaaaaa.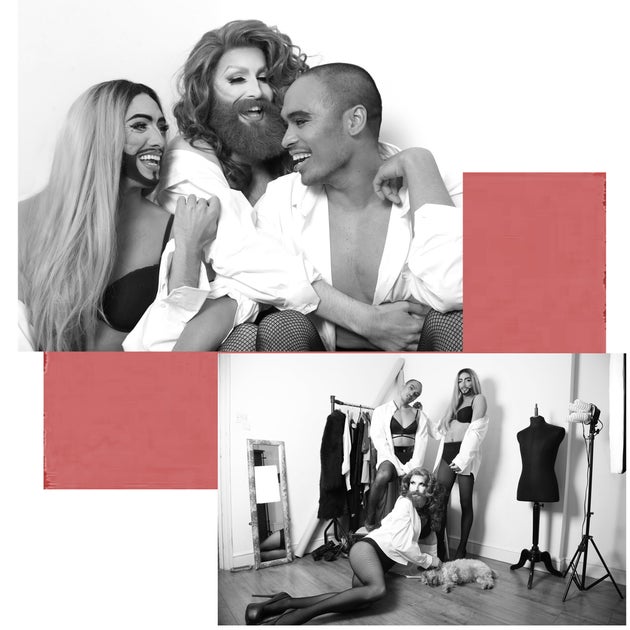 Any dramatic coming out stories?

Gingzilla: Oh yes... The major family one that's too epic for this article. I'll be writing a book about it. It involved an elaborate lie, the police, a missing persons report and a phone in a shoe. Suffice to say my family are the most loving supporting beings I could hope to be stuck with. They have always embraced me as I am no matter what!
Cazeleōn: Coming out during high school was deeply empowering. The universe gave me a perfect opportunity to settle the score with one of my biggest bullies - let's just say a pair of leg warmers and a rainbow leotard can go a long way.
How important was WAAPA to finding your true identity?

Gingzilla: Looking back I do feel that the musical theatre industry in Australia needs to have a hard look at how they nurture LGBTQIA+ talent. The toxic masculinity that was thrust upon me due to casting preferences was damaging. I quote, "if you wear a wedding ring the casting directors won't be able to presume you're gay". This was obviously before we got equal rights in Australia. Wasn't until years later that I found my tribe and released those binding behaviours.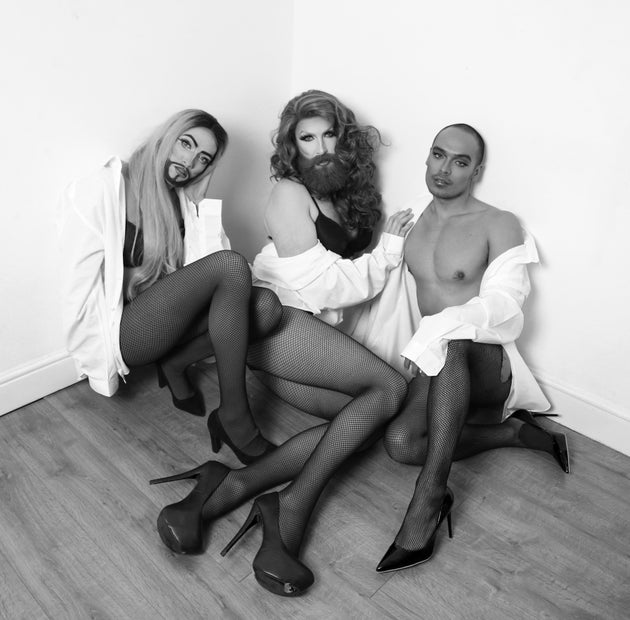 Seann: WAAPA was very important for my queer journey and helped me become confident in who I was/am. Especially when I played Angel Dumott Schunard, the queer drag performer in the musical RENT! She was free, fabulous, confident and sure of herself. She lived every day to her fullest. Playing characters like this truly made me question myself. I injected the qualities from the characters that I played into my own identity. Another moment was doing the monologue from A Chorus Line called Paul's Monologue - his stories really touched home. He comments on his oppression, his relationships at school, with his parents, and the industry - those are moments I related to. Theatre is powerful. It's crazy when you play a character and understand why they are the way they are - it triggers you to ask those exact questions about yourself and your identity.
Three years at WAAPA was almost like therapy.
Cazeleōn: WAAPA was an incredibly amazing and intense period of time in my life. More than anything it helped me find out who I am NOT rather than who I AM. The friendships I forged at my time there, however, have been an undeniably huge part of my journey of self acceptance and identity.
More than anything WAAPA helped me find out who I am NOT rather than who I AM.

Cazeleōn
Seann, what's the hardest thing about being a queer person of colour (QPOC)?
Seann: I guess, in the queer world growing up in Australia, especially on dating apps I would see the terms 'no fats, no fems, no Asians' ... and I was all these things. This is different in the UK. I feel that being back Down Under now, there is a high level of toxic masculinity in the community. There are queer fabulous spaces but very few and it is still muscle "masculine culture." My Tindr swipes not looking cute. With that said, I am a QPOC that fully embraces my feminine fashion flare and I'm surrounded by so much creativity and confidence from my peers and have met people who are open-minded and champion difference and uniqueness. It is hard but I'm past all the negativity.
Aussies seems to be running the queer space in London right now, why do you think that is?

Cazeleōn: I think the beautiful thing about London is that it is a such a creative melting pot and brings people from all around the world together in a safe space to explore and express themselves. It's amazing what one can do when they feel they have permission to be their authentic self and feel that their existence is not only valid but also seen. The queer spaces in London are incredibly diverse and full of talent. I believe that people (not just Aussies) thrive in these spaces and environments because it is so far from where they grew up. It's a tight-knit-but-welcoming community and one that stands together tall and proud.
What's next for the S.Q.U.A.D.?

Seann: After our very successfully sold out show last year at London Pride Festival, S.Q.U.A.D. will definitely be back! I'm pushing for a Halloween show this year, "HALLOKWEEN with SQUAD GOULZ" ha! I hope to be back all together at Perth Fringe next year.
Name something you would change about the LGBTQI community?

Cazeleōn: This has already slowly started to happen but I would love to see more inclusivity and diversity when it comes to the representation of our community in the media and within advertising. There are so many different types of bodies, genders and intersections of our community that don't get the recognition they deserve. Feeding into the sexual objectification of bodies is counterproductive to creating a community that is liberal, free and a rebellion of societies expectations.
Gingzilla: What would I change? Pride is every day... not just once a year.
Amen to that.
This interview has been edited for clarity and length.
This article is part of HuffPost's Proud Out Loud project, which profiles the next generation of LGBTQI change-makers from around the world.
Source: Huffington Post Australia Athena2 https://www.huffingtonpost.com.au/entry/proud-out-loud-squad-cazeleon-ginge-seann_au_5e431f47c5b61f8ad4e08204