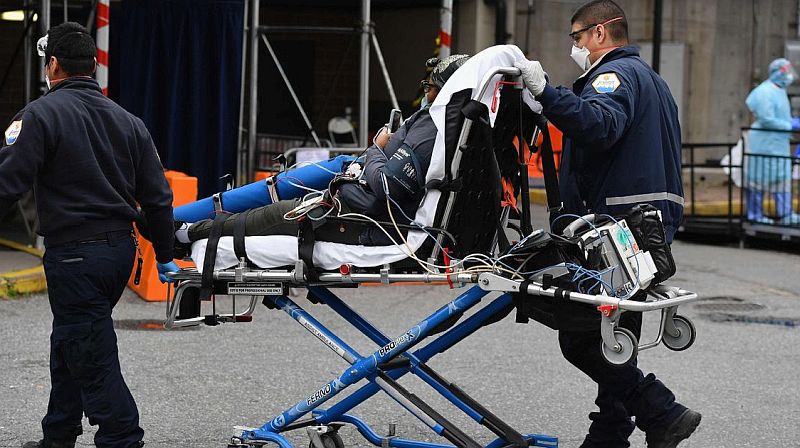 A tragedy. An apocalypse. A nightmare. A loss for words. The COVID-19 situation in New York is so bad that before I can finish typing this sentence, any statistics quoted will be out of date. By the end of this week, the Big Apple will have more cases than any other country in the world. […]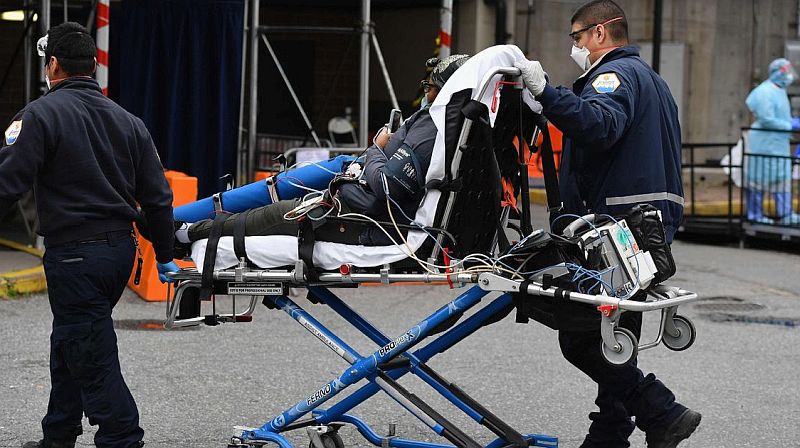 A tragedy. An apocalypse. A nightmare.
A loss for words.
The COVID-19 situation in New York is so bad that before I can finish typing this sentence, any statistics quoted will be out of date. By the end of this week, the Big Apple will have more cases than any other country in the world. Deaths are another matter, as the thread below explains. Make sure to read right to the end for the sting in the tail.
The explainer is New York City Council Member Mark Levine, a representative of the 7th District in Upper Manhattan since 2014. He is also currently Chair of Council Committee on Health. And as you would imagine, he has his hands full with coronavirus. Even his personal website has had a COVID-19 makeover. Here's how it looks today: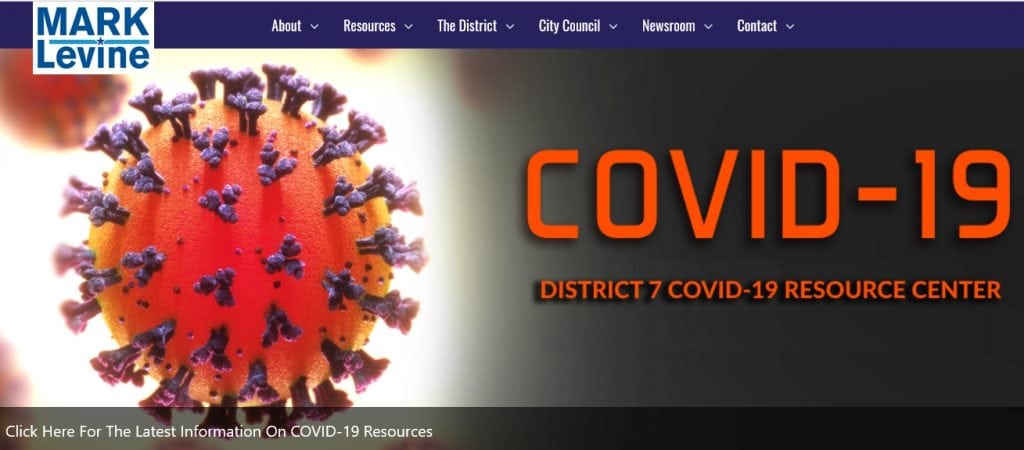 We'll now let Councillor Levine tell his story. He released it as a series of 13 Tweets on 6 April.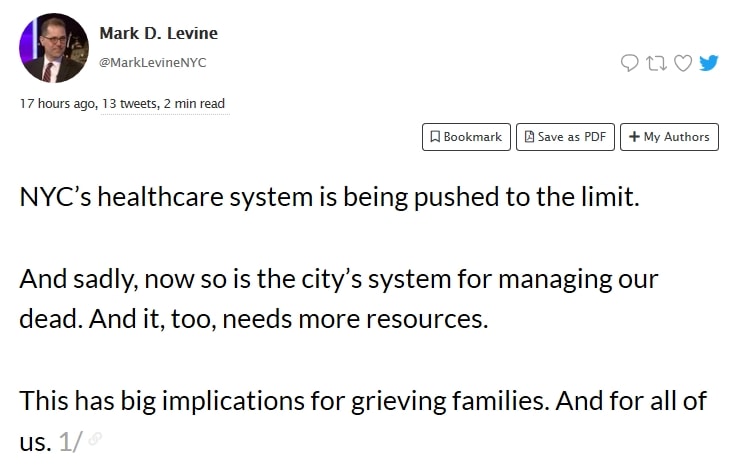 NYC's "city morgue" is the Office of the Chief Medical Examiner (OCME), which luckily is the best in the world.
But they are now dealing w/ the equivalent of an ongoing 9/11. And so are hospital morgues, funeral homes & cemeteries.
Every part of this system is now backed up. 2/
A typical hospital morgue might hold 15 bodies. Those are now all full. So OCME has sent out 80 refrigerated trailers to hospitals around the city. Each trailer can hold 100 bodies. These are now mostly full too. Some hospitals have had to add a 2nd or even a 3rd trailer. 3/
Grieving families report calling as many as half a dozen funeral homes and finding none that can handle their deceased loved ones.
Cemeteries are not able to handle the number of burial requests and are turning most down. 4/
It's not just deaths in hospitals which are up. On an average day before this crisis there were 20-25 deaths at home in NYC. Now in the midst of this pandemic the number is 200-215. *Every day*. 5/
Early on in this crisis we were able to swab people who died at home, and thus got a coronavirus reading. But those days are long gone. We simply don't have the testing capacity for the large numbers dying at home. 6/
Now only those few who had a test confirmation *before* dying are marked as victims of coronavirus on their death certificate. This almost certainly means we are undercounting the total number of victims of this pandemic. 7/
And still the number of bodies continues to increase. The freezers at OCME facilities in Manhattan and Brooklyn will soon be full. And then what? 8/
Soon we'll start "temporary interment". This likely will be done by using a NYC park for burials (yes you read that right). Trenches will be dug for 10 caskets in a line.
It will be done in a dignified, orderly–and temporary–manner. But it will be tough for NYers to take. 9/
The goal is to avoid scenes like those in Italy, where the military was forced to collect bodies from churches and even off the streets.
OCME is going to need much more staff to achieve that goal. 10/
Thankfully the Dept. of Defense and the NY National Guard have already sent teams, and volunteer medical examiners have come from around the country. But we are going to need much more help if we're going to avoid disaster. 11/
As New York City continues to appeal to the nation for help, we need to ask not just for doctors and nurses and respiratory therapists. We also need mortuary affairs staff. This is tough to talk about and maybe tough to ask for. But we have no choice. The stakes are too high. 12/
To recap: Nothing matters more in this crisis than saving the living. But we need to face the gruesome reality that we need more resources to manage our dead as well. Or the pain of this crisis will be compounded almost beyond comprehension. 13/13
*     *     *     *     *
Terrible stuff. But let's wind the clock back a month. Yeah, hindsight. But…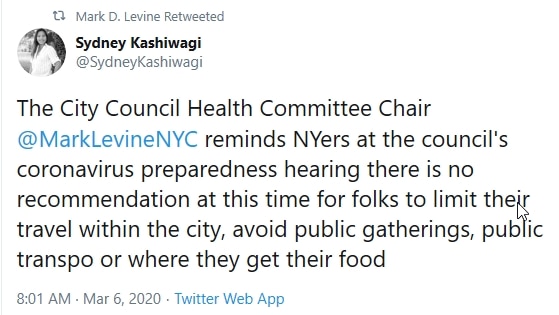 To put that into context, on the same day the World Health Organization reported that 98,000 cases had been identified worldwide, across 88 countries and territories. It also reported the lag between actual infection and appearance of symptoms – the serial interval – as about 5-6 days.
It also stated very clearly that was no vaccine, no cure, nor any realistically on the horizon. Surely the Council's Health Committee Chair should have been the one ringing every alarm bell he could find.
With Italy already at almost 4,000 cases and rising at 20% per day, plus outbreaks in other western countries, it was clearly a situation to be taken seriously. It was also fairly obvious that as a great melting pot with a huge number of air and sea links to numerous countries, that more cases were on the way to New York.
If you backtrack a little further, you find that Levine was incredibly dismissive of the potential transmission from contacts arriving from China.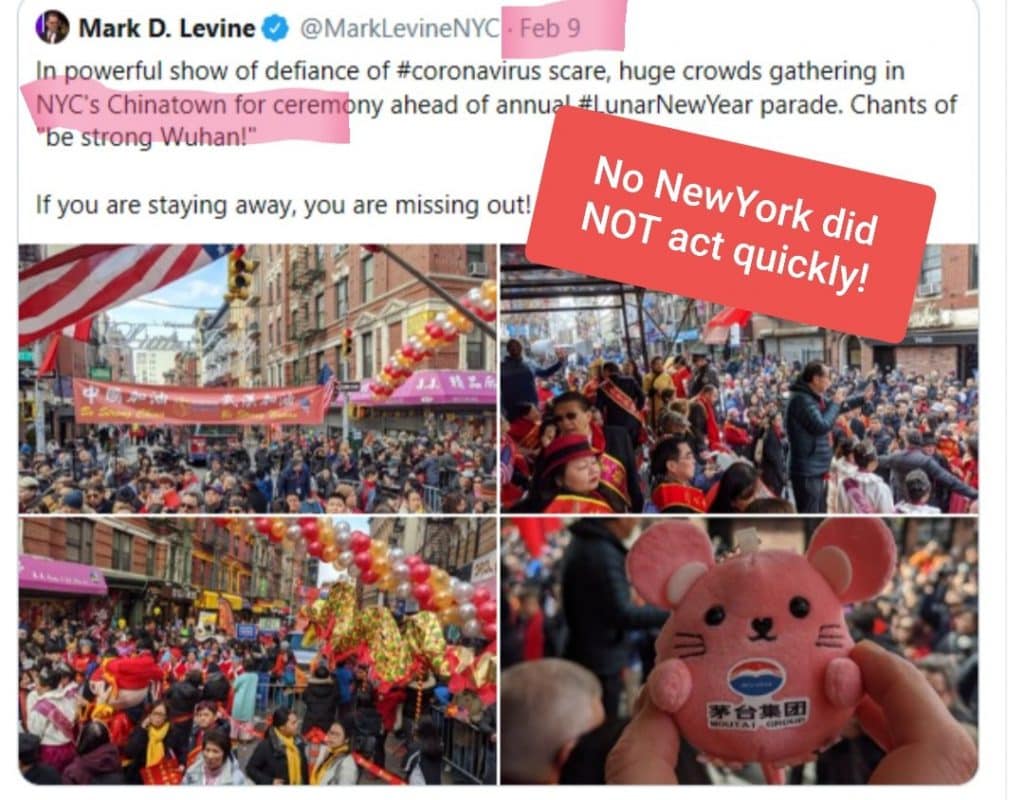 Ah, the 'coronavirus scare'.
It gives no satisfaction in this case to see a denier get their comeuppance. May the people of New York fare well in the face of this incredible adversity.
Both New York and Tasmania registered their first cases on the same day. As I write, we have 89 confirmed illnesses and New York has 131,830. The dead? 3 in Tasmania, and more in New York than the September 11 terrorist attacks. And counting, albeit badly.
For better or worse, life presents itself as a series of choices. Sometimes we may feel ill-equipped to make them. Where was your high-school unit about pandemics? Where was coronavirus, and all its havoc, on your 2020 calendar just two months ago?
Australia has its own what's-the-fuss-about flogs in Andrew Bolt, Alan Jones and the terminal misanthropes at the Institute of Public Affairs. Do not listen to a word they say. They have various agendas, but your wellbeing is not one of them.
Stay home, save lives.
---
This is an TT occasional column calling out public relations spin, egregious stunts and media manipulation. The 'news' doesn't just magically come into being, it is created. We want to lift the lid on some of the shenanigans that go on behind the scenes. Tips are welcome! Send your information in to submit@tasmaniantimes.com.
Source: Tasmanian Times https://tasmaniantimes.com/2020/04/the-big-rotten-apple/#utm_source=rss&utm_medium=rss&utm_campaign=the-big-rotten-apple