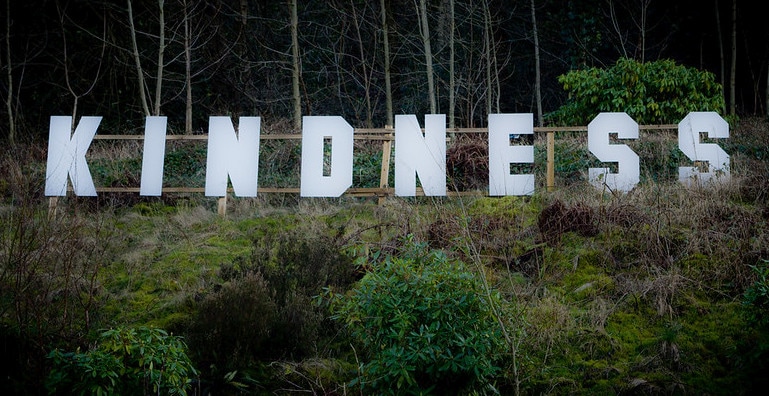 How can we help each other through this crisis?
That's the simple question. We want your answers and ideas.
We want an ongoing discussion about how we can stand together against a viral scourge that has already brought dramatic changes to our social and cultural landscape.
Tasmanian Times wants to help our share kindness rather than fear and panic (and the virus) during these times.
We want to offer our for-community resources as a hub for all, especially those vulnerable to the virus and those heavily affected already by its knock-on impacts.
We want your involvement in both planning and execution. So please contact us here – comments on below, or see our Contact page, or get in touch on social media: we are @tasmaniantimes on Facebook, Twitter and Instagram.
To start with, we have a couple of ideas of our own.
Buddy Up
Could we pair people, such as those who might be isolated and in-need with those who live nearby who can help? Lots of people might be self-isolating strictly, either under Department of Health instruction or other circumstances. Then there are – probably most of us still – who are now being careful about social distancing but can still be out and about.
Physical contact can be avoided and social distancing observed as items are dropped off for pick-up without contact, a welfare check can be made using social media or telephone channels, or a small errand or job can be done safely.
Picking up shopping
Urgent supplies (a roll of toilet paper)
A friendly phone call/message, or a wave over the fence
Dropping some books off
Picking up a parcel or mail if the person usually has items sent to a post box
Something else!
To start, please register on our list for those needing help. First name, suburb, street name but NOT number, type of vulnerability (age, disability, existing condition etc) and we'll publish the list and find ways of linking those people with those who can help.
Another way to spread kindness is to print out these helper postcards, shown here and also available at #viralkindness, and letter box drop in your area.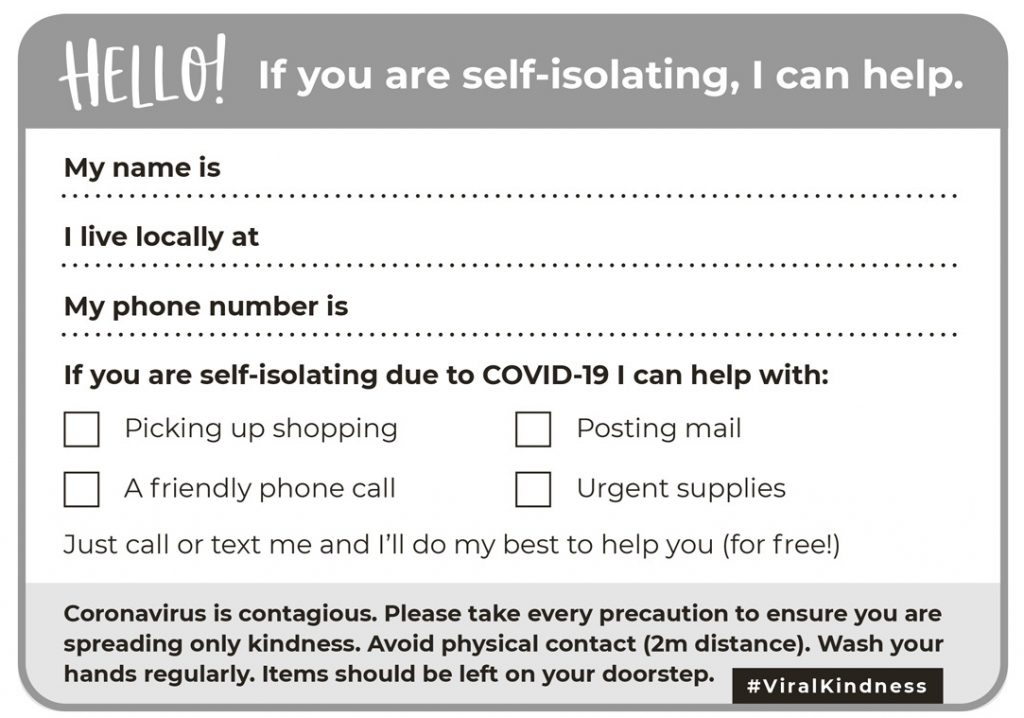 Free ads
We're going to offer some free ads here on the Tasmanian Times website!
Here's how it works. To be eligible for a free ad you should be:
a small business in Tasmania who needs help. We use the ATO definition of small business.
an organisation or individual with an idea, project or concrete action to help us through this crisis.
You'll need to supply us with an image that is 300 pixels horizontal x 250 pixels high, in .jpg format. Make it a nice one because we like pretty things

And you'll need to give us a web address that the ad can link to. That's it!
Send your request to manager@tasmaniantimes.com and we'll do the rest. Depending on work load, it may take a few days to get your ad up on our site; please be patient while help as many people as we can. Ads will run on the site until at least 30 June, regardless of how things pan out. After that, we'll give you an option to keep it up or review the situation.
Please give us ideas on how to improve these actions, and new, better ways to let Tasmanians share the kindness in these times. Together we can do it!
The post We're Here To Help appeared first on Tasmanian Times.
Source: Tasmanian Times https://tasmaniantimes.com/2020/03/were-here-to-help/#utm_source=rss&utm_medium=rss&utm_campaign=were-here-to-help