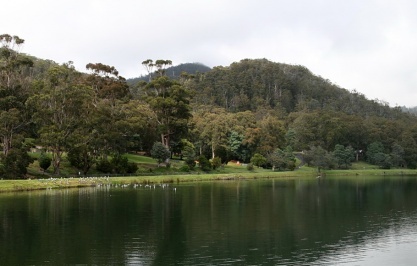 TasWater has reopened a section of walking track along the edge of the Upper Reservoir at the Waterworks Reserve.
The track had been closed so work crews can undertake drainage maintenance along the top side of the reservoir. The old drains now visible, date back to the 1950s, built to direct runoff carrying silt and leaf litter away from flowing into the Upper Reservoir which stores water for Hobart's water supply.
When initially constructed in the late 1880s, the Upper Reservoir's water source was the North West River. Now water is piped in from a range of sources including Lake Fenton in Mount Field National Park, Ridgeway Dam and at times, from the Bryn Estyn Water Treatment Plant.
To make sure the drains continue to operate as designed, TasWater has undertaken an extensive program of renovation. It has seen them cleared of silt and a build-up of debris from the surrounding bush. Parts of the drains now also lined with rock and bolstered by gabion cages with logs from locally felled trees installed across the drains to reduce erosion.
The Upper Reservoir site is part of the mountain reserve and contains many historically significant artefacts. Consultation with the City of Hobart and Heritage Tasmania has enabled TasWater to meet all the on-site heritage requirements. Vegetation adjacent to the drains disturbed by the repair work is also undergoing rehabilitation.
The Waterworks Reserve is vital to Hobart's water supply system as well as a popular recreational area, and we are confident the upgrade will help protect these qualities for decades to come. TasWater and the City of Hobart appreciate the patience of the community and especially walkers, while the work has progressed.
Source: Tasmanian Times https://tasmaniantimes.com/2020/07/waterworks-walking-track-reopens/#utm_source=rss&utm_medium=rss&utm_campaign=waterworks-walking-track-reopens