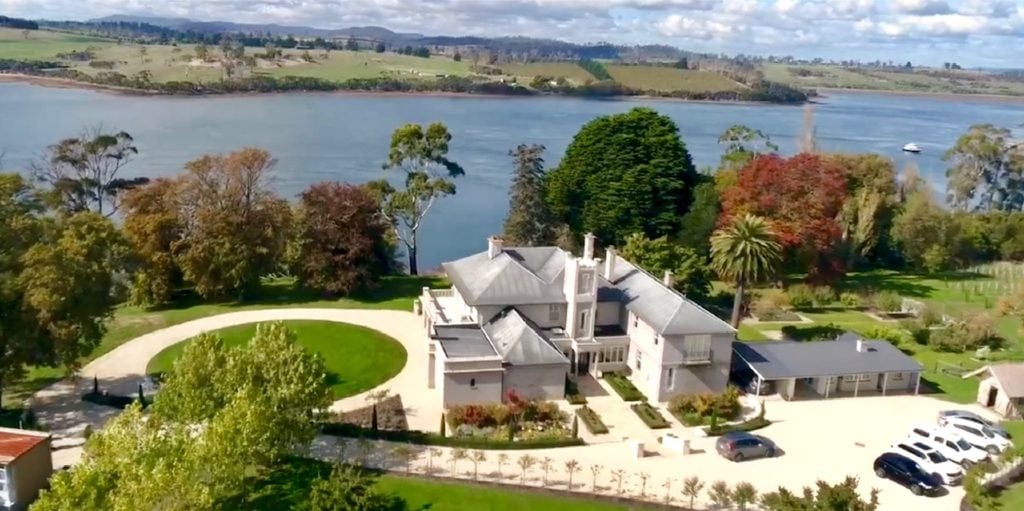 A profile of Waterton Hall wines, these days a showpiece in Tasmania's Tamar Valley. Though small, they have established style as one of their cornerstones.
The post Waterton Hall Wines: Adding Style to Rich Valley History appeared first on Tasmanian Times.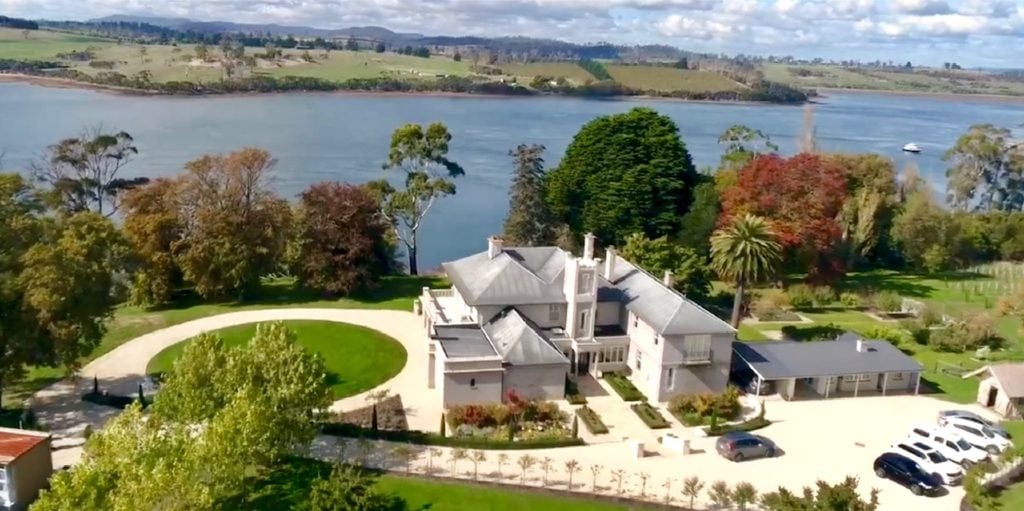 Renowned writer Gore Vidal was once asked to comment on his success as an award-winning novelist. He responded with characteristic bluntness that it was all due to a matter of style.
"Style is knowing who you are, what you want to say, and not giving a damn," declared the brash Californian.
Leave the well-travelled blacktop of Tasmania's Tamar Valley Wine Route to take in the historic riverbank setting of Rowella's Waterton Hall Wines and you might well assume the owners there have taken a leaf from the book of that late, great American.
Perhaps not quite so forcefully, but there's no disputing this tiny wine operation has been established with style as one of its cornerstones. Even Basil the vineyard labradoodle dresses up before clocking on.
The family-owned company sprang to life in 2015 when brother and sister John Carter and Susan Shannon – along with their spouses Belinda Evans Carter and David Shannon – purchased Waterton Hall and its 2.5ha vineyard from local couple Jennifer Baird and Peter Cameron.
Baird and Cameron had devoted 13 years to restoring their 1850s bluestone homestead, mixing full-time careers in geology and geophysics with the management and expansion of Riesling, Viognier and Shiraz plantings made by previous owners in the 1990s.
"Belinda and I live in Sydney, but we've had connections to Tasmania since 2004 when our company bought a 2800ha cattle property at Marrawah on the West Coast," says John Carter, a finance director with a bachelor's degree in property resource management from the University of South Australia.
"We sold the farm just prior to buying Waterton Hall. We wanted to move from being purely beef producers to having more involvement in agriculture and tourism. We also wanted to invest somewhere that was a bit closer to the airport. This is where we ended up. The property just happened to have a vineyard on it.
"My brother-in-law David is a former Nuffield Farming Scholar. He and Susan have a farm in the Barossa Valley that has been in his family since the 1850s. The fact is we're all pretty interested in growing stuff. We figured we could give this project a good crack, so we bought it."
The site had already shown its propensity for producing top quality, cool climate table wines. As early as 2008, Baird and Cameron secured a five-star 'outstanding winery' rating from respected author/critic James Halliday in his best-selling 2009 Australian Wine Companion.
At the 2014 Tasmanian Wine Show, the West Tamar couple won the Trophy for Best 2013 Vintage Wine with their Waterton Vineyards Riesling. The event's Trophy for Best Other Wine went to their wonderfully spicy but somewhat out-of-left-field 2012 Shiraz.
With purchase arrangements completed by the end of September 2015, Waterton Hall's new ownership began the ambitious task of putting into effect a business plan that would bring major changes to some of the last convict-built structures in northern Tasmania.
The property's homestead, for example, was originally a private residence. Then it passed into the hands of the Catholic Church almost a century later before being sold in 1996. Various past uses – chiefly as a girls' boarding school, a hostel for homeless youth and a retreat – provided the Carters and Shannons with all manner of renovation and restoration challenges.
Waterton Hall Today
These days Waterton Hall is a Tamar Valley showpiece, thanks in particular to the creative and professional expertise of owner/architect Dr Susan Shannon and owner/interior designer Belinda Evans Carter. Their restored convict-built barn is now a popular wedding venue and periodically doubles as a pop-up cellar door.
Cool climate wine production is capital-intensive, but that hasn't hindered the project's grape-growing and wine marketing. Since 2017, vineyard area has increased to 10 hectares, with significant upgrading of vital fencing, trellising and irrigation. Chardonnay and Pinot Noir have joined expanded plantings of Riesling, Viognier and Shiraz.
Thanks in part to astute vineyard management provided by Tom Mladenovic and Joy Lloyd, recent successes include show gold and a trophy for the 2017 Riesling and critical acclaim for 2016 and 2017 Shiraz. Award-winning wines now carry award-winning labels. Their design elements portray historic architectural features that catch the eye of observant vineyard visitors. Bold turquoise packaging – seldom seen on wine labels – was inspired by the homestead's stained-glass window construction.
Cutting-edge labelling and packaging is the handiwork of Sydney design agency Denomination. It also helped the company earn the coveted Design Agency of the Year moniker at the prestigious Harpers Wine & Spirit Design Awards held in the UK in 2017.
Now that's style for you.
Visits and tastings at Waterton Hall can be arranged by appointment. Telephone +61 (0) 417 834 781.
---
Hobart's Mark Smith wrote his first weekly wine column back in 1994. Now more than 1600 features and 25 years later, he continues to chart the successes of Tasmania's small scale, cool climate wine industry with regular contributions to some of Australia's leading industry publications.
---
PICK OF THE CROP

2018 Sharmans Riesling $25
Sharmans overlooks the North Esk River at Relbia, just outside Launceston. Its sun-drenched slopes are ideally suited to Riesling and this current release is beginning to build in intensity. Pale, aromatic, crisp and dry, citrus is clearly in the driver's seat. One of three gold medals in a strong class at the 2019 Royal Queensland Wine Show. www.sharmanswines.com.au

2018 Bay of Fires Pinot Gris $37
Whether it's quenching thirsts or partnering good food, Pinot Gris seldom shines brightly among wine buffs. It's often so dull. This 2018 wine from southern Tasmania is a rare exception, indeed it's a joy to drink. Richly flavoured and beautifully textured, there's pleasure at every pour – hinting of pear, nectarine and lime but with greater potency than any fresh fruit could deliver. Delicious. www.bayoffireswines.com.au

2018 Stargazer Pinot Noir $45
This is a very smart young Pinot Noir, sourced from Samantha Connew's 2019 Tasmanian Vineyard of the Year in the Coal River Valley. The Tea Tree site provides a dry, sun-baked home to Pinot Noir, making it difficult to rein in drying tannins that can rob wines of finesse. No such problem here, though. This is a very attractive, almost delicate wine that showcases the variety's compelling combination of red berry aromas and flavours. It should age gracefully. www.stargazerwine.com.au

2015 Grey Sands Malbec $45
Often regarded in many parts of France as a worthy blending grape, this variety rarely takes centre stage as a single wine. Ditto Australia until fairly recently, but its deep colour and massive flavours really appeal to red wine consumers looking for something different. And boy is this different. While its colour is impenetrable, the wine's flavours are surprisingly full yet soft – plummy but not jammy. Tannins are fine, allowing the wine to rise to challenges posed by rare Tasmanian lamb. www.greysands.com.au
The post Waterton Hall Wines: Adding Style to Rich Valley History appeared first on Tasmanian Times.
Source: Tasmanian Times https://tasmaniantimes.com/2020/01/waterton-hall-wines-style-rich-valley-history/#utm_source=rss&utm_medium=rss&utm_campaign=waterton-hall-wines-style-rich-valley-history