Premier warns cops will go 'door to door' to enforce COVID-19 limits
Published: (Updated: ) in Australian News by 1news.info.
Victorian Premier Daniel Andrews has re-imposed at-home restrictions after a new spike of coronavirus cases.
Victorian Premier Daniel Andrews has said authorities are willing to go "door to door" to enforce coronavirus restrictions after a spate of new infections.
The warning came as he announced at-home restrictions on gatherings would be re-imposed.
From midnight tomorrow until midnight on Sunday, July 12, gatherings in peoples' homes can include no more people than the residents and up to five guests.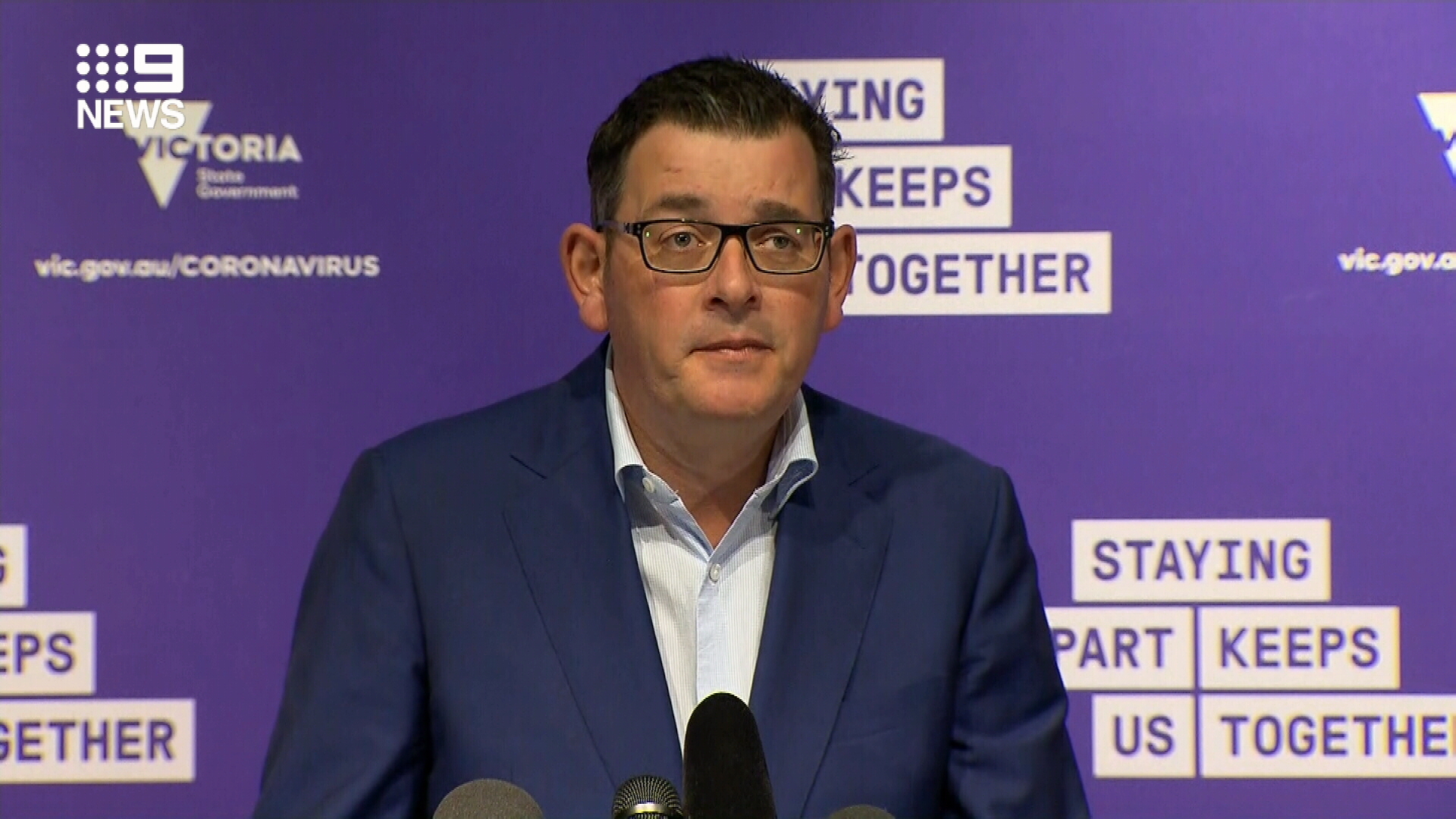 During the same period, public gatherings in uncontrolled outdoor spaces will be restricted to a maximum of 10 people.
And the planned expansion of pub, restaurant and cafe limits from 20 to 50 patrons has been deferred to the same period.
"I take no pleasure in having to impose that rule," Mr Andrews said.
Other first re-openings, such as that of gyms, from midnight tomorrow, will continue.
https://twitter.com/DanielAndrewsMP/status/1274201483559329792
Mr Andrews blamed family gatherings for the re-adoption of stricter restrictions.
"I'm frustrated by it, I'm disappointed by it," he said.
Mr Andrews claimed there had been cases of people attending large at-home gatherings even after being told to isolate or even testing positive.
Others had gone to work, or visited loved ones despite the same instructions from doctors.
"It is unacceptable that families anywhere in our state, just because they want this to be over, pretend that it is," Mr Andrews said.
"It is not over.
"Those one or two cases could become hundreds of thousands."
Mr Andrews said that after midnight tomorrow night, people who called police about gatherings that breached the updated restrictions would be "absolutely doing the right thing".
Victoria's COVID-19 tally is currently at 1817, a leap of 25 overnight.
It is the biggest spike in new cases in Victoria in more than a month.
Mr Andrews warned that it was possible that any coronavirus hotspots could re-enter lockdown.
But conversely, he said communities that showed no transmission could be re-opened "a little faster".
Some extra aid will be available for people who cannot work due to a positive coronavirus test or contact with an infected person.
Mr Andrews said the government would establish a hardship fund, which would provide a $1500 payment to anybody unable to work due to orders to isolate.
Victoria's chief medical officer Professor Brett Sutton admitted he was nervous about the new numbers, and that there was no "plan B" beyond people obeying the restrictions.
"We are absolutely at risk of a second peak, but we can get on top of it," he said.
Source: 9News https://www.9news.com.au/national/coronavirus-victoria-restrictions-re-imposed-after-new-covid-19-infections/15b591d1-fabe-48d7-97cc-8c95d32a4bb0