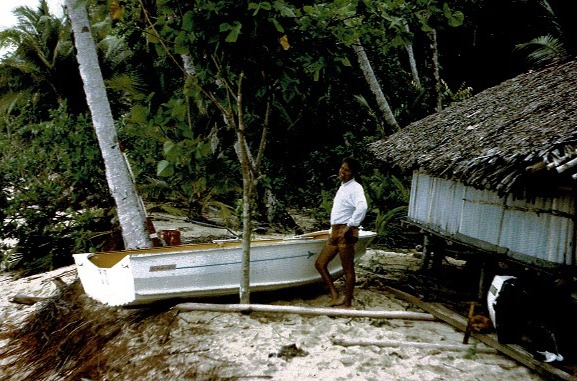 On Saturday morning my friend Richard Peters and Carl, our Public Works Department friend who lives at the Sergeant's Mess, set off for our usual weekend destination – Muschu Island. Muschu is a small island located six kilometres from Wewak on the northern coast of Papua New Guinea. White sand beaches and stunningly beautiful tropical […]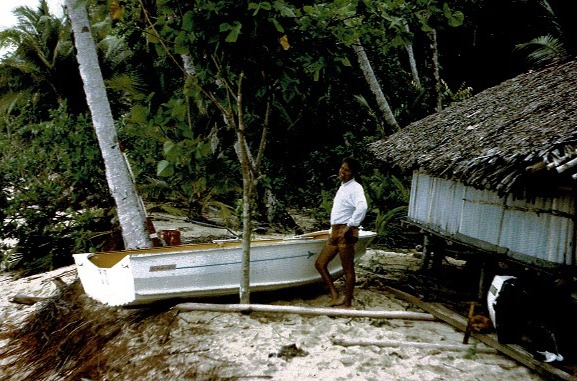 On Saturday morning my friend Richard Peters and Carl, our Public Works Department friend who lives at the Sergeant's Mess, set off for our usual weekend destination – Muschu Island.
Muschu is a small island located six kilometres from Wewak on the northern coast of Papua New Guinea. White sand beaches and stunningly beautiful tropical coral reefs, home to reef sharks and fish of all sizes, skirt the island.
Our destination is a historically significant bay on the southeastern side of the island near Cape Barabar where eight Australian soldiers landed on 11 April 1945. Their mission entitled Operation Copper was merely to undertake a reconnaissance.
Australian aircraft sent to bomb Japanese-occupied Wewak had often been fired upon as they looped over the ocean approaching their destination. The source of the anti-aircraft fire was a mystery as Army intelligence had not revealed enemy weaponry on any of the tiny islands in the vicinity of the Japanese stronghold. Operation Copper would determine whether a wider bombing campaign was required prior to the Australian Army invasion of Wewak. Of the eight soldiers who landed on Muschu only one survived.
After loading our provisions and diving equipment onto Carl's twelve-foot aluminum dinghy we hastened our course for Muschu.
Unusually for this time of the year a misty rain enveloped the Muschu Strait. As a consequence we didn't notice a lone fisherman, floppy hat drawn down over his eyes, until we passed nearby. The Battalion Commanding Officer. Aware of the Army rule that permission must be sought to venture more than 250 metres from shore Richard whispered, "He won't recognise us".
This morning, after receiving our daily dose of anti-malarial chloroquine tablets, Captain Dumont informed us he was acting under orders "from the top" and instructed all nine Sergeants to immediately attend the CO's office.
We stand at ease in front of the "big bloke" as his eyes dart up and down the row; clearly unsure of whom among us is guilty. Second from the end of the line I attempt to make myself as small as possible.
He points at Gerry. "What is your name?"
"Sergeant Green, from Queensland sir."
Asking the same question and with the same stone cold glare he works his way down the row, finally arriving at me. I volunteer my name. A lengthy pause; a knowing glare.
"And do you fish Sergeant?"
I answer in the affirmative with a broad smile.
"Aah, you love the sea. That explains it."
With looks of bewilderment the others glance sideways at me. Since Richard and I have usually skipped the Sergeant's Mess before the conscientious others return from Saturday morning duty, they are not privy to our offshore weekend excursions.
"Leaving the base via the ocean without authority is an offence for which you can be charged. Yesterday I caught fish. I'm in a good mood. I shall give you the benefit of the doubt Sergeant d'Venables. Let's just say it was an oversight on your part."
Why me? I wasn't alone – I was captured and held hostage by a madman from the PWD.
"A simple rule d'Venables – you will make a written application in triplicate to the OC of your Company. If he thinks fit he will send the application to the Regimental Sergeant Major. The RSM will make a recommendation to me."
The 'big bloke' glares at me again. "I will either throw your application in the bin or instruct your OC to permit the travel arrangements with or without conditions."
This Army is full of megalomaniacs.
"Is that clear?" again staring at me.
"Yes sir," three bags full sir!
*          *          *
Every Thursday night Richard and I spend two hours at the calaboose teaching prisoners the basics about their country and simple English.
"I am coming with you and Sergeant Peters to the jail tonight," announces Captain Dumont as I walk past his office. "I think it would demonstrate a strong commitment from the Australian Army if I am seen there."
Just before 7pm – the time we told the OC we would be leaving – Richard and I are first into the Army utility, crammed into the front. Captain Dumont arrives, glances inside the full cabin and magnanimously climbs onto the tray top.
"I hope he holds on tight Rich." Turning to the driver, "We are in a hurry tonight can you go fast please."
The road to the local civilian prison is rough. Seriously rough! Ten minutes down the road Captain Dumont is banging on the roof of the cabin, yelling something impossible to hear with the roar of the engine, the rattle of the machine, tyres thumping across corrugations, and his incessant banging. Indecipherable.
"He wants us to go faster," I instruct the driver. At which point he obediently pushes his foot hard on the accelerator.
"Why in the hell were you driving so fast?" Dumont wheezes as he alights from the truck. "I instructed you to slow down."
Richard utters a few words in response, "Err, we normally….", but my interruption finishes the sentence and announces the timely arrival of our class.
"Yes, get here much more quickly. Here are our students."
Right on cue about fifteen prisoners are marched out of their huts, through the heavily guarded gate in the barbed wire perimeter fence, towards the recreational area.
By way of introducing the stranger in our midst I announce, "Wantok, dispela mon i bikpela longlong."
I tilt my head in Captain Dumont's direction. Knowing that Dumont neither speaks nor understands Melanesian Pidgin I told the class he has a screw loose. He's crazy. There are peals of laughter from these uncomplicated people. Dumont smiles and nods approvingly.
He probably thinks they are overawed by his presence!
These prisoners are from the West Sepik District of Papua New Guinea. They have no understanding of the legal system that has them confined. Many are inside as a result of payback killings. A fellow tribesman has been killed, either deliberately or accidentally, entitling them to kill someone, anyone, from the village of the first offender. It's as simple as that. They have no idea they are potentially here for a long term but curse this strange legal system introduced by white man.
My experience in Papua New Guinea has been enormously interesting and rewarding. On my travels I shall take treasured memories, not the least of which has been my interaction with the simple 'innocent' villagers of this beautiful country.
---
Gordon d'Venables has been, inter alia, a teacher, soldier, farmhand, lawyer and businessman. As a lawyer he travelled extensively for international clients. His letters from various times and places around the globe (PNG, England, Ireland, France, USA, Saudi Arabia, Serbia, Iran and others) refer to some of his experiences.
GORDON D'VENABLES: Letter from Papua New Guinea – the Army.
GORDON D'VENABLES: Second Letter from PNG, 2nd Battalion Pacific Islands Regiment.
Source: Tasmanian Times https://tasmaniantimes.com/2020/04/third-letter-from-papua-new-guinea/#utm_source=rss&utm_medium=rss&utm_campaign=third-letter-from-papua-new-guinea