With the AFL men's game about to return for the 2020 season, we're proud to present this marvellous four-part series by Greg Cure on the golden age of Tasmanian football. Grab a pie and stay with us for this delightful footy journey of nostalgia, highlights and history lived large. Part 1 – from whence we […]
The post The Golden Age of Tasmanian Football & the 77-yard Drop Kick appeared first on Tasmanian Times.
With the AFL men's  game about to return for the 2020 season, we're proud to present this marvellous four-part series by Greg Cure on the golden age of Tasmanian football. Grab a pie and stay with us for this delightful footy journey of nostalgia, highlights and history lived large.
---
Part 1 – from whence we came
TFL high- water mark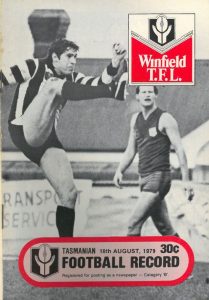 I was one of the record crowd at the TFL centenary grand final of 1979 between Clarence and Glenorchy. It was a brilliant game and the atmosphere was electric in the coliseum like North Hobart oval with victory to the underdogs Clarence. It marked the retirement of Tasmanian legend Peter Hudson, who with half a dozen majors did not disgrace himself. You could still drown yourself in heavy beer at the oval from the makeshift bars that were strategically placed around the ground. The little Ryde Street stand was packed as ever with the North Hobart faithful baying at the umpires. The friendly ghosts of Cannore and Lefroy induced football goodwill across the oval.
Many supporters had set out from surrounding pubs often with current or former footballers as licensees. It is abundantly clear Hudson's decision to return to Tasmania for the twilight of his career breathed life and interest into Southern Tasmanian football that might not otherwise have been there. Opposing fans went to watch him in the vain hope he would be held goal-less; his supporters to watch him average a phenomenal 7.5 goals a game.
Hats in the air!
I think whether we watched NTFA/TFL or NWFU football from around 1954 to 1964 we saw the best of Tasmanian football. It culminated in the rose, primrose and green beating the mighty VFL at York Park under the mercurial Stuart Spencer in 1960. It is said, in a time when most men wore hats, that they were thrown in the air in a joyful climax upon the final siren. Tassie football was so strong confident I didn't even have an AFL (then VFL) side that I supported. Supporting my local club Cooee was at the time enough for me.
The slights begin
The triangular nature of senior Tasmanian football was given a state-wide outlet through three major events: a state premiership, robust intra-state games (NWFU, TFL and NTFA) and the fact Tasmanian teams were selected, theoretically at least, on a non- discriminatory basis. In an endeavour to strengthen Tasmanian football a state-wide league with majority, but not absolute acceptance, was set up from 1986. Despite this Tasmania was dealt a humiliating affront in 1988 when it was excluded from section one of that year's bicentennial interstate carnival in Adelaide. Tasmania had always been considered one of the four traditional Australian rules states along with WA, SA and Victoria. This was as much a political or positioning move from the AFL, as a football power relativity issue.
In the late 1970s and early 1980s, the VFL was strategically interested in seeing a club based in Sydney, as part of a long-term plan to broaden the appeal of the game in Queensland and New South Wales and challenge the power of rugby league in those states. Football revenue was gradually shifting from gate receipts to television rights as its principal source. This was of course an adjunct to the transplanting of the South Melbourne AFL club into Sydney as the Sydney swans.
A temporary fightback
The slight of relegation was a cruel blow for Tasmanian football and a temporary fight back occurred in 1990. I was again part of the 18,651 spectators, the second biggest attendance ever to witness an interstate match in Tasmania, who attended North Hobart Oval on Sunday 24 June 1990 to see a magnificent Tasmanian 'state of origin' side 20.14 (134) defeat Victoria 14.17 (101). There was great euphoria after the final siren. The football Gods, it seemed, had not quite yet deserted Tasmania.
Storm clouds for Tasmanian football
An important backdrop for understanding the decline in Tasmania's football status is the VFL, decision to become a national ' mainland' competition, resulting in expansion beyond Victoria to other Australian states in the 1980s, culminating in its name change to the AFL in 1990. Cynically Tasmania with its small population was ignored in favour of 'Aussie rules-loving' areas like the Gold Coast! The NT another rich source of AFL talent was similarly ignored.
Three years later half that crowd of 18651 who attended North Hobart oval attended Bellerive Oval to see minnows Qld/NT defeat a Tasmanian team. Tasmanian football was beginning to lack national relevance.
Tasmanian football's strength for many years, its parochialism, was also its weakness. The state-wide league though having a promising beginning was not enough to save Tasmanian football. Clubs began to bicker with each other. Long established clubs were breaking up. Rural populations declining had a marked effect on some country competitions.
Institutions like the Huon Grand Final often attended by thousands, many attracted by the presence of a national football celebrity, collapsed. In this case the whole Huon Football association collapsed after 114 years in 1997; with that collapse went the annual Huon versus West Coast rotational series another colourful Tasmanian football institution. Some former strong clubs suffered serious decline, such as the once mighty Longford team, an early home for footy greats such as Michel Roach, Barry Lawrence and Terry Cashion, suffered some embarrassing defeats and slipped back to amateur ranks. It seemed Tasmanian football was going from bad to worse.
Tasmania and the VFL/AFL
Many Tasmanian stars were lured to the VFL from the mid-1950s as football like the rest of Australia recovered from the privations of World War Two. By now the VFL was the premier competition in Australian rules, even though many South &Western Australians and Tasmanians continued to disagree. Gradually the cream of talent from these States was lured to Melbourne, the two most famous and influential being Polly Farmer and Darrell Baldock.
Originally, perhaps to keep local competition strong, the Tasmanian Football League played hard ball on clearances and in 1955 refused clearances to Max Griffiths and Don Gale who wanted to play for South Melbourne and young Scottsdale star Athol Webb seeking a transfer to Melbourne. The clearance wrangle was particularly disappointing for Gale; it went on for several years and he was unable to ever play VFL football. Naturally embittered, he retired at the age of 27.
The era of clearance wrangles was an ugly stain on Australian Rules football. It was an era of talent scouts who scoured the country for suitable AFL players. Richmond even had a full-time recruiter in Tasmania with perhaps the most famous recruit from Tasmania being Royce Hart. However, many other Tasmanians were or are connected to Richmond: Michael Roach, Mathew Richardson, the Gale brothers and Jack Riewoldt.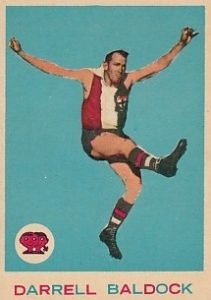 Richmond support in Tasmania over the last fifty years has been extraordinarily high. St Kilda although not an AFL powerhouse has five Tasmanians in its all-time greats team – Verdon Howell, Barry Lawrence, Ian Stewart (later also with Richmond) Darrell Baldock and Jim Ross. To this day support for St Kilda is disproportionately high in Tasmania.
A similar case could not be made for Melbourne populated from the 1950's with Tasmanian champions Athol Webb, Tassie Johnston, Peter Marquis; and although Stuart Spencer is often claimed as a Tasmanian, he was born in country Victoria. The recruitment of Peter Hudson to Hawthorn saw a rise in popularity for that team and other Tasmanians such as Norm Smith medallist Colin Robertson, Darrin Pritchard and Scott Wade subsequently joined the Hawk fold.
Since 2007 Hawthorn have played four games a year in Launceston further cementing their support and influence in Tasmanian football. From 2011 North Melbourne began playing 2 (now 3) matches at Bellerive oval, winning over many new supporters to that club, no doubt augmented by star forward Ben Brown being a Tasmanian. Naturally enough AFL powerhouses like Essendon, Carlton, Geelong and Collingwood with sprinklings of Tasmanians have large bases of Tasmanian supporters.
With no Tasmanian AFL team since the inception of a national league, and easy access to game through TV, has allowed Tasmanian supporters thirty years of attachment to a 'mainland' team, or in some cases to turn their backs on football altogether. AFL clubs have 90000 Tasmanian members.
This must provide some barrier in drumming up support for a mooted Tasmanian team for the national league. However, I believe the decisions about our AFL participation largely belong with younger generations, for they are the ones who will reap the benefits or suffer the consequences about decisions to put a Tasmanian team in the AFL.
A football voyage with my father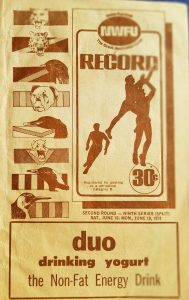 Life is full of regrets and one nagging regret I have is that I never spent enough time in my adult years with my late father. I look back at one weekend as I recall it was 1976 or 1977. I was home for a week at my parent's home in Burnie. On the Saturday Dad suggested we go to the football together. My father loved Australian Rules football. It was NWFU finals series and we went to a final at West Park. It was a return of over fifteen years for me to both West Park and NWFU football.
Neither of our sides Burnie or Cooee was playing yet I was to be given a special treat. We went into the bowels of the grandstand for afternoon tea prepared by, I hope I have the right title, the Cooee FC women's auxiliary. Here time must have stood still. For fifty cents we got a cup of tea, some sandwiches, a lamington and a butterfly cake. What value!
Although Dad was a case-hardened Burnie supporter, he knew the two ladies who served us. He politely referred to them as Mrs Streets and Mrs Hennessey. You see I had never had the afternoon tea in the bowels of the grandstand before. We went to the football as a family and Mum prepared food for us and a thermos of tea. A travelling rug was another an essential item that Mum brought. To have paid for afternoon tea would have been considered profligate.
The one luxury was the purchase of a football program, which as much as anything, would have been purchased because it equalled pocket money for some local youth. Dad would mark the goals and behinds meticulously in the minute columns provided in the program. When I went to the football without my parents, I would use my pocket money to purchase a saveloy from the kiosk cooked in an old copper and wrapped in white bread. I can still taste their wonderful flavour in my culinary imagination. Today's so called 'footy franks" are inedible in comparison.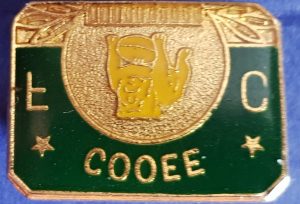 The next day was Sunday and Dad suggested we go to another final, this time at Devonport. East Devonport was playing and had been strengthened by the recruitment of former Carlton hardman Vin Waite. This time Dad had a car, because I can remember Dad taking me to the 1961 grand final by bus to Devonport as a thirteen-year-old to watch his beloved Burnie succumb to my side Cooee. As a mark of respect to my father I had to contain my unbridled glee at Cooee's maiden flag on the return bus trip. This match contained no Burnie sides. We clambered up the grandstand with a great view over this large oval lit by the warm early Spring sunshine.
The smell that comes from expended Boags beer barrels wafted faintly upwards. To the south with not a cloud in the sky the horizon was framed by the stunning western tiers and to the north the sunlight danced off nearby Bass Strait. I had turned back time Dad was taking me to the football! Like most North-west coast grounds it was 'girt' by a bike track. Waite was kicking booming left foot punt kicks from full back with an appreciative crowd gasping noisily at the spectre. It is a weekend I will never forget. Like pop songs, football matches leave markers of pleasant recall clinging to the recesses of memory to delightfully resurface at random times in one's life.
Family ties
AFL football with its complex arrangements around draft choices and free agents with never again produce football teams whose playing personnel are one hundred percent from the geographic area that club encompasses. A mooted AFL team located in Tasmania will not contain a full complement of Tasmanian players, as might have been the case with teams from the golden era of carnival football. Even at its zenith Tasmanian clubs' chief strategists, in an endeavour to produce premiership sides, imported VFL or VFA players whose careers were about to wane, but who still had serviceable football in their legs or great strategic acumen. John Coughlan to Wynyard, John Devine to North Hobart and Ron Kingston to Cooee were notable imports whose injection into Tasmanian football brought success to their adopted clubs.
Even the great Roy Cazaly, so passionately associated with Tasmanian football, was a Victorian. He played 221 games with City (NTFA), North Hobart and Newtown in the TFL. In the 1970's for a few seasons some NWFU clubs devised a concept of fly-in players, whereby Melbourne based players just flew in for the match with perhaps as little as an overnight stay and flew out again. Tasmanian football never needed a father-son rule; although not so numerous in contemporary football, family dynasties were once often the life blood of football teams all over Tasmania.
New Norfolk teams seemed always to feature a player from the Browning family (Roger, Tony, Barry), Latrobe a Jaffray, Scottsdale a Lethborg, Penguin a French and at Burnie-Cooee a Beaumont or a Hodgetts. There were large numbers of Hodgetts in the Ridgely farming district and one cricket team from that district had an entire eleven of players with the surname Hodgetts; it is even possible they may have replicated that feat with a football team!
On football names one can't forget the Strangs from Gormanston, and whilst Queenstown is famous for its gravel oval Gormanston had one too. The ground is still visible from the road that winds around Mt Lyell.
Tasmanian football genes are strong as evidenced by the number of champion footballers whose sons have shown great football promise as well. Peter Hudson's son Paul had careers with three AFL clubs, Alan 'Bull 'Richardson produced Richmond champion Mathew, Don Gale's two sons Brendon and Michel also played for Richmond, as did their grandfather Jack. Fitzroy champion Mick Conlan was the son of legendary Devonport centreman and all- Australian Neil Conlan.
---
Join us next week for Part 2 – Tasmanian Football Tall Tales and True
TAS AFL TEAM: AFL Taskforce Backs New Tas Club.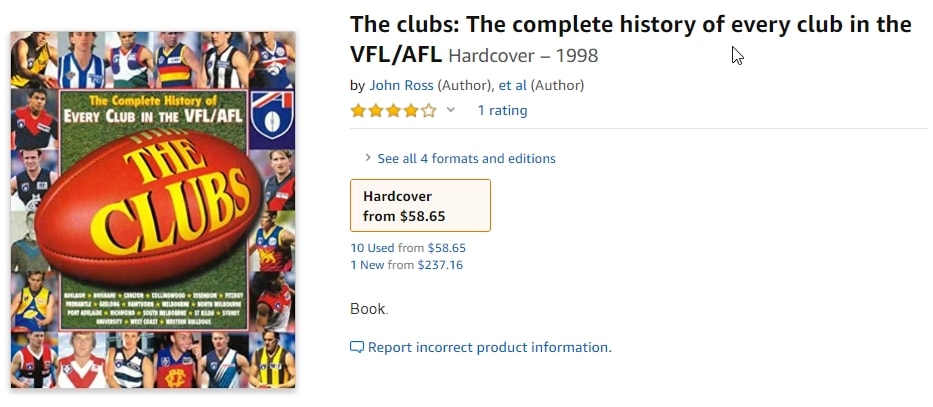 The post The Golden Age of Tasmanian Football & the 77-yard Drop Kick appeared first on Tasmanian Times.
Source: Tasmanian Times https://tasmaniantimes.com/2020/02/the-golden-age-of-tasmanian-football-the-77-yard-drop-kick/#utm_source=rss&utm_medium=rss&utm_campaign=the-golden-age-of-tasmanian-football-the-77-yard-drop-kick