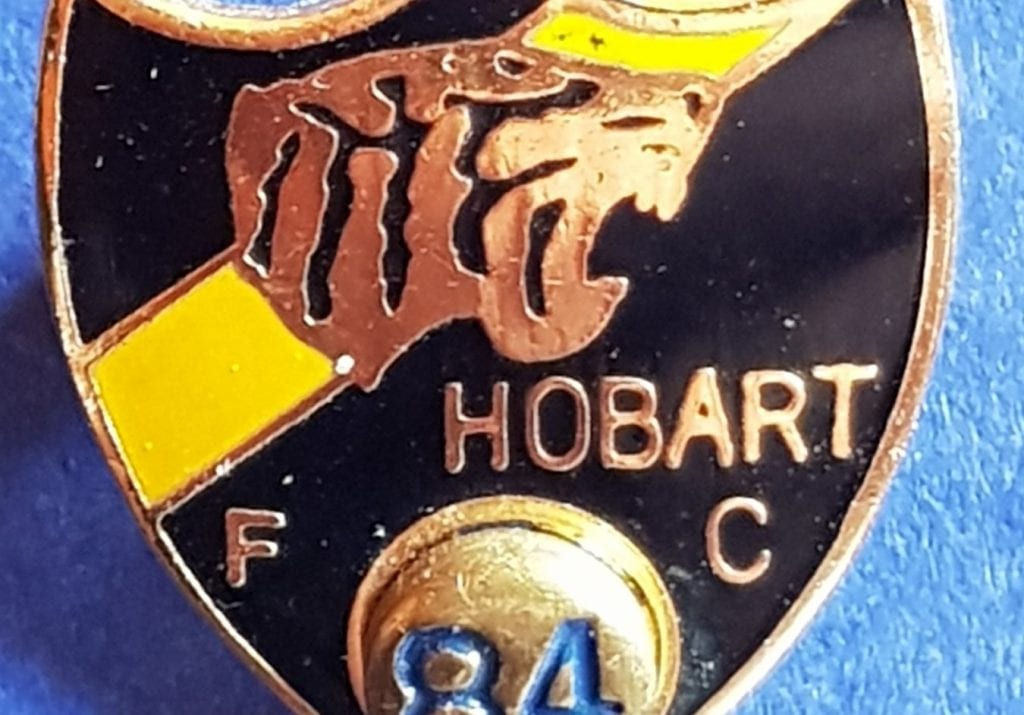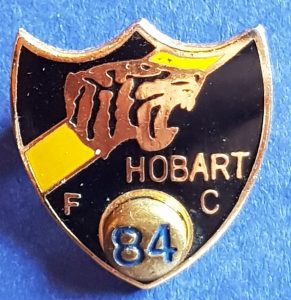 With the AFL men's  game about to return for the 2020 season, we're proud to present this marvellous four-part series by Greg Cure on the golden age of Tasmanian football.
Grab a pie and stay with us for this delightful footy journey of nostalgia, highlights and history lived large. Parts 3 and 4 will be published on the next Saturdays in March. Part 1 was published last week.
---
On Saturday 15 September 1973 Sandy Bay and Hobart football clubs played in one of the most remarkable grand finals ever.
Hobart Football Club was in the late 1950's to the mid 1960's a successful inner-city club and a TFL power. It was spear-headed by the triumvirate of Pascoe-Powell-Paine and augmented by star players such as Trevor Leo and Dave Sullivan. It was the original club of AFL greats such as Ian Stewart, Alistair Lynch, Paul Sproule and Scott Wade. It also launched the senior football career of current Brisbane Lions coach Chris Fagan. After this era the club went into decline. After a decade in Hobart and spoiled by watching the great era of NWFU football I decided to pick a TFL side to follow and that club was Hobart. It was enjoyable to watch Hobart play at the TCA and stay on for the greyhound races with those memorable 44-gallon drum fire pots!
In 1973 Sandy Bay football club the reigning premiers looked irresistible to win the flag that year having gone through the season undefeated. Hobart had had an underwhelming season and were an unworthy finalist. They scrapped through the first semi-final thanks to a last gasp score by club stalwart Kerry Wilson. A preliminary final victory saw them book a tilt at Sandy Bay in the grand final. No one gave them a chance the result was considered by all and sundry a fait accompli and flyers were being produced prior to the match with the words Sandy Bay Premiers 1973. After the first quarter, where Sandy Bay held a threadbare lead, the tigers were never headed and ably led by former Wynyard footballer Malcolm Bugg went on for a twenty-point victory.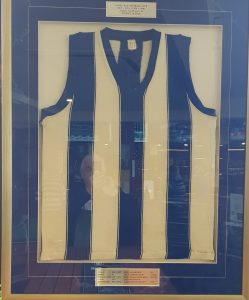 Veteran supporters and former players to this day cannot understand how this victory happened. I was in the former Travellers Rest Hotel on Sandy Bay Road, the major watering hole for the Sandy Bay Football Club (and now housing the gaming administration headquarters of the Wrest Point Casino), after the match and it was invaded by Hobart tiger supporters buoyed by their success and keen to rib Sandy Bay supporters who thought they had the '73 premiership in the bag.
The fate of both clubs in later years in many ways mimics the fate of Tasmanian football. Sandy Bay and Hobart were both victims of demographic changes and ground rationalisation. They both suffered major financial crises, major declines in their supporter base and threats of amalgamation. Hobart went into a form decline from 1992; whilst Sandy Bay's form decline dates from about 1987. In late 1997 the Sandy Bay Club was wound up. Hobart's playing licence was also withdrawn in 1997 but the club limped on into the Southern Football league carved out of the ashes of the former Southern Amateurs and Huon Football Association. Hobart enjoyed a brief hiatus in new Tasmanian State League from 2009-2013 but finances, lack of success and branding issues continued to plague them and they were forced to return to the SFL.
Due to the largesse of the Dr Syntax Hotel in Sandy Bay honour boards and other memorabilia of the former Sandy bay FC is affixed to the walls of that hotel. Among the items featured is a framed exhibit featuring Rod Olsson's jumper and a very early guernsey featuring the seagull motif. It's an exhibit filled at once with both joy and sadness.
West Park, Parklands High School and Noel Atkins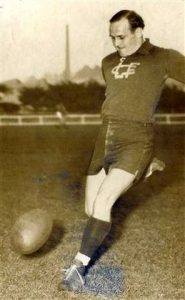 My first high school was Parklands High School which was originally adjacent to West Park Oval and we were able to use the oval for sports and football training. Our new headmaster was Noel Atkins who arrived at the school in the early sixties. Atkins as I remember had just retired after a wonderful football career starting with Hobart and as a natural leader, he coached both Launceston and later East Devonport. A natural mentor, Atkins would have had a strong influence on a young Darrel Baldock at East Devonport. Atkins represented all three associations NWFU, TFL and NTFA as well as representing his state. He may well have been the only player to achieve this feat. He is credited with making a remarkable contribution to King Island football, where he taught school as a young teacher. He was not the school football coach but one cold evening he took training. Although a rover he was strong and stocky in the mould of Bobby Skilton.
He was dressed in football regalia and sported an old East Devonport jumper with a white swan on the front. He checked our stops and had us engage in what he described as circle work. This is a drill where you move in continuous circles passing the football by hand and foot, exhorting a team mate to deliver the ball to you. Multiple balls were used. We were taught by coaches to kick flat, drop and torpedo punts and the drop and stab kick. He addressed us all as "son". He kicked on the run, low racking stab kicks that nearly cut you in half with its viscous back spin and his hand balls were lighting fast. It was still an era where the drop punt was only used as a substitute for drop and stab kicks in wet weather. The drop and stab kick were hard kicks to master and the risk of a mis-kick is too high for modern footballers and the skills around of the drop punt is so high in AFL that modern players kicking is far more accurate than players of the old drop kick era. However, I used to love watching Cooee full back "Brick "Loring lobbing huge drop kicks into the centre of West park after a point had been scored. He was the best exponent of the drop kick I ever saw; Penguin centre half back Barry Strange similarly for the torpedo punt.
Parklands High School moved to a new green fields site in 1963 and under Atkins it was a blueprint for free public education. Atkins devoted much of his free time to constructing the gardens and landscape of the virgin basalt soil. He encouraged education, sport and overall academic excellence. If a student made a state sporting team it filled Atkins with pride. He was strong on parent teacher relationships. He was eccentric with a wry sense of humour but a strong leader, mentor and advocate for education. He was tough too- this was a huge school full of tough working-class kids. His deputy head Don Lakin, a chain-smoking fanatical Ulverstone supporter, was almost the equal in building the new school. I found out later both men surreptitiously and without embarrassment to the student or their family helped out poor kids with uniforms books and equipment. Atkin's twin sons Simon and Paul both played AFL football.
West Park is my talisman oval. I still have a piece of its soil wrapped in Cooee green and gold streamers after a memorable Cooee victory. I found five pounds there encrusted in mud, a fortune in the mid 1950's. I turned it over to my father and it did is due diligence for six months at the police station, but with no claimants it found its way back to me in time for me to purchase a lion annual from Brickhill's newsagency. Later I found an as new Ross Faulkner football in a marshy area behind the main scoreboard area. A much-coveted item that lasted for enough years for the red colour to completely disappear. West Park has seen some great deeds in sports other than football and nothing as great as Danny Clarke's Burnie wheel victory in 1977. Yet just as special was that circle work with Noel Atkin's jarring hip and shoulder on me that cold winter evening at circle work and his exhortation" Move son, move. You're too slow!"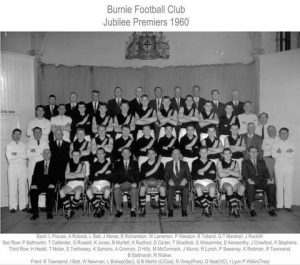 The 'Pulp' Team
The town of Burnie became a state-wide football powerhouse in the period 1958-1966 and in that period a Burnie side (Burnie, Cooee) won all senior premierships. This city went from a sleepy hamlet in the 1930's to perhaps Tasmania's most powerful football city in the early 1960's.
Burnie was fortunate to have a great pool of players due to the huge APPM paper mill (colloquially referred to as the Pulp) which opened in 1938 but expanded dramatically after the war. Employee numbers went from 730 just after the war to 3410 in 1960. Burnie was a small country town in 1936 with around 3000 but just after the war it had grown to 10000 and acres of rich farmland in the elevated parts of Burnie was converted to vast housing estates.
The vast industrial factory even created its own club, APPM, from 1945 until 1951 the club competed in the NWFU. Its 1945 debut season in the NWFU saw APPM claim its first ever premiership and four years later in 1949 it again tasted premiership success but after six seasons it left the NWFU. Another example on a lesser scale was the former Queenstown club Smelters, which incidentally was my workplace in the early 1970's
The 'Pulp' team inheritance continues to this day as a minor league club called South Burnie.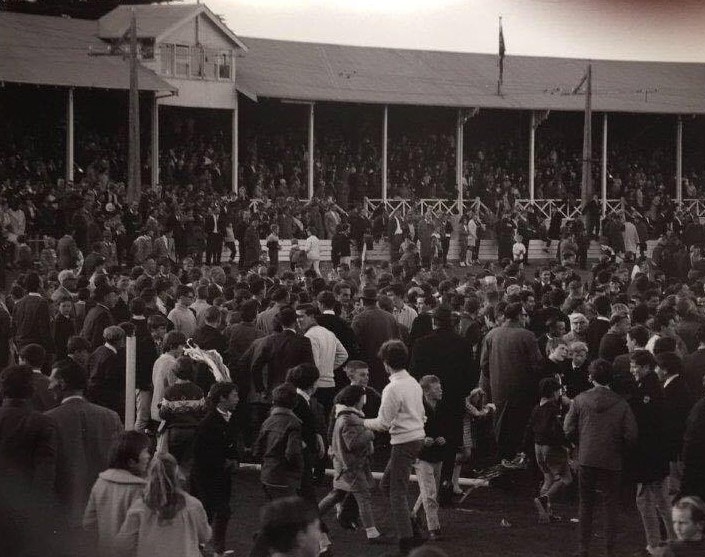 Wynyard and the goal post final.
Wynyard, despite having a great full forward for many years in Rhys London, were by and large an unsuccessful football club until they struck a golden patch in the late 1960's which saw them, as reigning NWFU premiers, play off at West Park Burnie for the State final in 1967. Their opponents were to be North Hobart. Many attribute that success to Victorian import John Coughlan. Much has been written about Coughlan, suffice to say he was a tough footballer with a colourful personality and a reasonable degree of tactical acumen.
Cer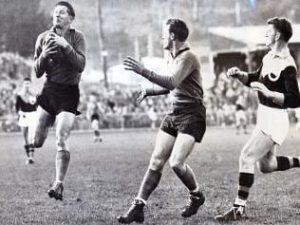 tain football clubs get daubed with a reputation for having unruly supporters – Millwall FC in the UK is one. Sometimes the reputation is not always well deserved and often attained by a very small and determined minority. Wynyard had such a reputation. All I can say is I did see a female Wynyard supporter attack an on-field umpire with a stiletto shoe and a vile tirade of expletives at West Park when I was very young. Yet I have a friend who was born and grew up in Wynyard who is exceedingly shy, well-educated and fair minded to a fault. He is a strong supporter of Wynyard FC. He was at the match.
Wynyard participated in one of the most infamous finals in Australian football history, whose aftermath still reverberates around the Australian football community to this day. So many accounts have been written about this match, many firsthand, that I can do little justice to recounting it, compared to many others. One thing I do know was playing West Park when playing in to or with a howling gale requires a special footballing knowledge.
In brief in the final minute of the game with scores tied Wynyard kicked a point to put them ahead, North Hobart kicking into the wind forced the ball forward and North Hobart full forward Dickie Collins adroitly got a metre or so clear just outside the goal square at the head of the pack and took a mark almost directly in front of goal. Then the siren sounded. This were events are contested North Hobart players believed Collins took the mark before the siren ; the Wynyard version of events articulated by wily captain-coach John Coughlan said that he had heard the siren and seen umpire Pilgrim raise his arms to signal the end of the game before the mark was taken, and he therefore believed the game was now over and therefore Wynyard had won by a point. My fair-minded friend whom I mentioned earlier was at the match. He is the only eye witness I have ever spoken too. He supports Coughlan's view of events, but with a faint twinkle in his eye!
A Wynyard player knocked the ball from Collins' hands shortly after the mark was taken, and Pilgrim awarded a ten-metre penalty to Collins, meaning in effect a shot on goal could not be missed. As Coughlan and others argued with the umpire about his decision thousands of Wynyard supporters invaded the ground. They effectively blocked Collins form taking his kick. The ground invasion got violent with many punches thrown and people felled to the ground. By now Wynyard supporters had pulled out the goal posts making it impossible for Collins to take his kick, even if a path could be cleared for him. As to who won the match that went through various committees and many options were proposed, many involving replays, however the final decision was not to award a State premiership that year. Collins smuggled the ball off the ground under his jumper patiently waiting to take his kick as the years ticked by.
As a quirky aside both opposing captains on the day, John Coughlan and John Devine were both later to become labor members in the Tasmanian parliament with some of their terms overlapping.
Tiger Dowling – the greatest Bulldog
One of the reasons many of us went to the football was to get into the Cooee rooms to hear Cooee stalwart Harold "tiger" Dowling give a half time address. There was a small section of fence behind the visitors change rooms at West Park where you could 'jump the fence' with impunity. Access to change rooms in that era was relatively easy. It was often a dilemma: should we have a kick on the ground at half time or go to the dressing rooms. It was a mysterious place. Steam from the showers taken by the second players, who had played the curtain raiser, still wafted around the change rooms. The distinct smell of eucalyptus oil, liniment and resin filled the air. Trainers rubbed down players, boot 'studders' repaired faulty stops or bandaged players ankles. Football boots were heavy and cumbersome in that era. Stops could wear down to sharp points by running onto the bike tracks that circled most NWFU grounds. Stops were always checked by umpires prior to the match. A long-forgotten ritual.
A few minutes before the siren blew to commence the second half Tiger still in a dressing gown worn over his football kit would call the players into a tight circle. Many had to extinguish cigarettes! He would begin slowly, methodically building his speech to a crescendo. He would manhandle roughly his own players. He was an exhilarating speaker. He could rouse players to great heights just by the power of his speech. He made sure he was first to the door and gave each of the eighteen players a pat on the back and further words of encouragement individually tailored for each player. He was a courageous player – the ultimate team man. He was not in one sense a champion player but if your team had eighteen tigers in its side, they would be unbeatable. He was the ultimate never say die player. A key reason I believe in the eventual success of Cooee was Tiger attracted players, players wanted to play for and with Tiger.
Tiger played in an era when footballers could play other sports. A good cricketer and top-flight cyclist, Tiger was the cycling caller for countless Burnie wheel races. He had his own inimitable humorous style. His call of the amazing Danny Clark victory in 1977 Burnie Wheel was legendary. I was lucky enough to witness the event.
* Tiger's call of the last lap or so is on YouTube. It's a timeless moment, so you need to see this:
In 1984 Tiger called his 20th consecutive Burnie Wheel, he passed away on in early January 2019.Tiger had won a best and fairest for Cooee, captained and captain- coached Cooee and played in four successful Cooee premierships.
The 'Doc'
Darrell Baldock may well have been the greatest ever Australian Rules footballer. In
1955 Baldock commenced his senior football career with East Devonport . He played four seasons with East Devonport and three with Latrobe before being recruited to St Kilda in 1962. Darrel Baldock dominated Coastal football in an era of champions. Yet he was to hold aloft a premiership cup for St Kilda before he was to hold an NWFU team cup aloft. Many believe he was the sole reason for St Kilda's only premiership win. He played in an era where both overt and covert violence where the norm and survived. He is reputed to have run through Melbourne hardman Ron Barassi. Such were his ball skills that he could run onto a football field at pace bouncing two footballs. Many good judges said had he pursued a cricket career he could have played for Australia.
Like Hawthorn great Michael Tuck after him he was a modest champion. I recently saw film of the leadup and aftermath of the historic St Kilda premiership win, with the Doc at training in his NWFU jumper and celebrating the premiership cup in an Collingwood jumper, he had swapped with an opponent after the final siren, humble to a fault. I once heard him interviewed on local ABC radio, when he would have been in his sixties, where he spoke in the most unassuming manner, preferring to talk about some of the great players that he had played with rather than himself. He was content to remain in Latrobe training racehorses. He had been a labor MHA and a Minister in the Tasmanian parliament.
When he returned back from St. Kilda he turned Latrobe in a football powerhouse. They won four premierships in a row with the Doc as captain- coach from 1969-72.
The 77-yard drop kick
There are many great rivalries in football: Carlton- Collingwood, Clarence-Glenorchy, South Australia – Victoria but none as fierce as Burnie versus Cooee, who played each other twice a year for the so-called the town premiership. As I recall the year was 1960 an era of Burnie dominance. Cooee was the poor relation, if you couldn't make the strong Burnie team you could almost certainly get a game with local "easy-beats" Cooee. All Cooee supporters dreamed of was beating Burnie but it seemed like a forlorn dream. By 1960 Cooee were on the improve and there was a feeling they were building a team that could beat Burnie, the current NWFU superpower.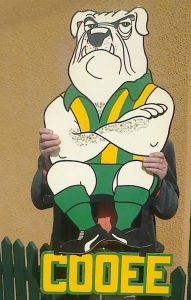 I was there with my parents for that fateful Cooee- Burnie game in 1960. After half-time I used to leave them, probably with a couple of my younger sisters in the main grandstand, and stand behind the town end goals to try and grab a mark or just return the ball after a goal or point had been kicked as kids are wont to do.
I thought I was about to see a fairy tale result for Cooee who were in front by a point or so when the siren rang. Champion Burnie ruckman Terry Shadbolt, who was part of the 1960 state team that beat Victoria has taken a mark before the siren blew. Shadbolt was so far from goal that I though he wouldn't even attempt a kick. However, he decided to chance his arm.
Dad who was a fair man when it came to sports, but very one-eyed Burnie supporter was coping a ribbing from some nearby Cooee supporters as it seemed in the dying minutes Cooee were finally going to beat Burnie. We got you finally or words to that effect were ringing in Dads ears, but he retorted "Shaddy hasn't had his kick yet "even though the siren went and Shadbolt was a huge distance from goal. Dad confided in me later he gave Shadbolt no chance of kicking the goal.
Now every time Burnie played there was a gentleman who sat alone behind the town end goals: he was always immaculately dressed who wore a Burnie scarf and badge. He has obviously suffered from polio as he had a leg iron and he had a slight speech impediment. All day long he would shout "have wong one, tigers" Meaning kick the ball long. Supporters in those days, as a general rule, didn't like long chains of handballs. My family as referred to the gentleman, in a kindly way, as "have a long one". Well I was positioned behind the town end goals as Shadbolt took his kick. Even though "have a long one" was, given the siren had blown, Shadbolt's only option, the gentleman yelled out predictably…have a wong one Shaddy. Then all I can remember was looking up and seeing this beautiful drop kick spin high above me heading through the two goal posts. I was flabbergasted for two reasons: first because I thought for the first time in many seasons the Bulldogs were going to win a town premiership and secondly this is the longest kick for goal I had ever seen. (perhaps Blights later goal at Princess Park after the siren equalled it!). I knew I was witnessing something great when people rushed with a tape to measure the distance of the kick straight after he kicked it. As an odd post scrip not much later, perhaps the next town premiership game, Cooee back pocket "Chook" Henderson, in an unscripted move forthe times followed Burnie rover Kevin Symons up the ground and kicked opportunist point in the dying seconds of the game to finally sink Burnie.
Barry Gossage
Few people will have heard of Barry Gossage outside the towns and hinterlands of Ulverstone and Penguin in northern Tasmania. He began his career as a wingman age 15 at Elizabeth Town in 1952. He was to play some 500 senior games with 9 clubs, spanning 28 years. Early in his career he was felled with hepatitis and was off work for 9 months. Around 1980 he was injured in a practice match and was paralysed for 17 days. He retired from football aged 43. He was an excellent runner and won several sprints, including the prestigious Latrobe gift. Barry's story is unique but there will similarly stories to his in all the traditional Australian rules playing states.
---
TASMANIAN TIMES:  The Golden Age of Tasmanian Football & the 77-yard Drop Kick.
The post Tasmanian Football – Tall Tales and True appeared first on Tasmanian Times.
Source: Tasmanian Times https://tasmaniantimes.com/2020/03/tasmanian-football-tall-tales-and-true/#utm_source=rss&utm_medium=rss&utm_campaign=tasmanian-football-tall-tales-and-true