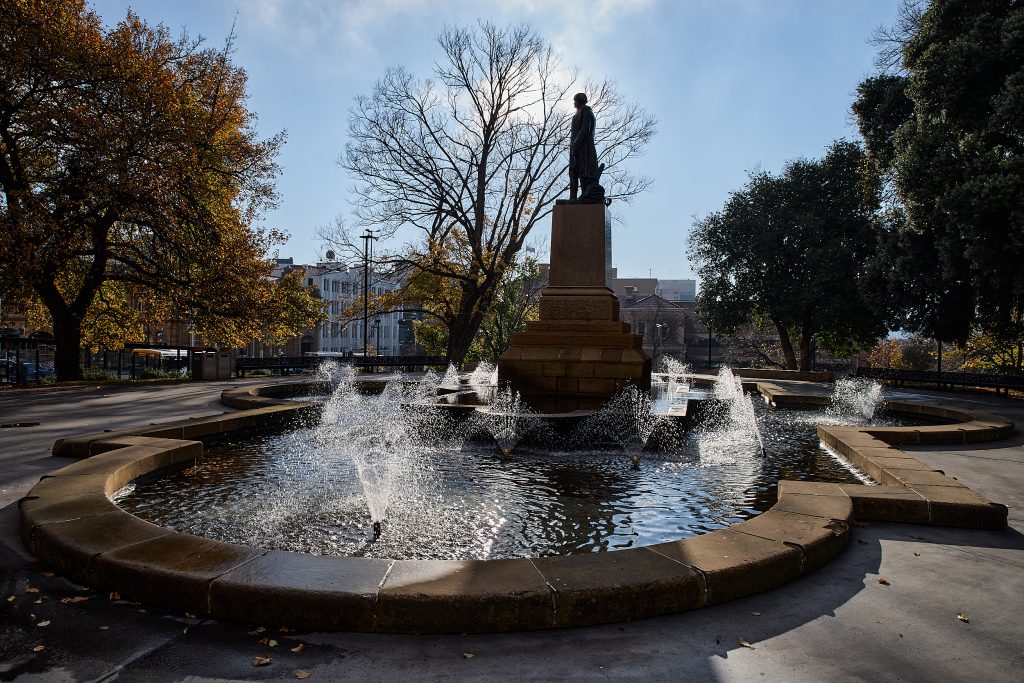 Franklin Square has long been a popular spot in Hobart's busy downtown area.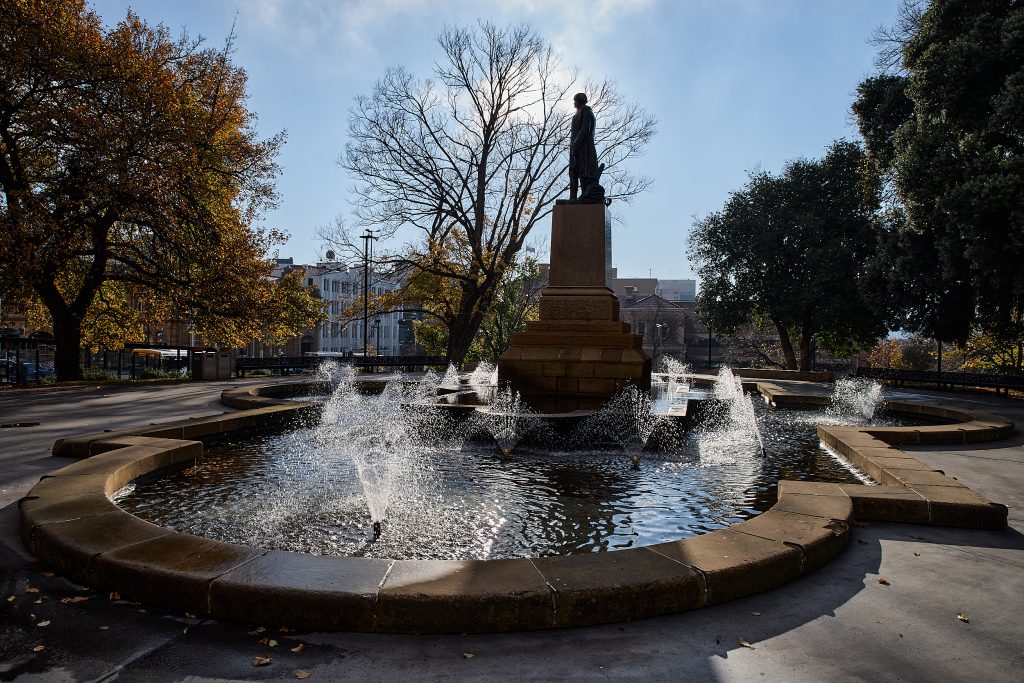 Franklin Square is a public space in the Hobart CBD. It's a popular place for workers at lunch time, and also serves as a forum venue for political rallies and other events. Like many urban plazas around the world, it is a mix of open space, decorative features and permanent furniture.
Namesake
The Square is named after Sir John Franklin (1786-1847), former Lieutenant-Governor of Van Diemen's Land and Arctic explorer. A statue of Franklin serves as its centrepiece.
History
In 1811, Governor Lachlan Macquarie laid out a large area (which included Franklin Square) and named it George's Square in honour of King George III. Macquarie intended it to be the site of a church, a court house, a town hall, a public market, and a main guard and public garrison parade area. The site was even the location of Tasmania's first Government House, constructed in 1817.
Regular musters were held at George's Square from 1817. The musters were segregated so that the number of colonists and convicts could be counted.
When convict transportation ceased in 1853, everyone started to relax. The former muster ground became a public park, and was called Franklin Square.
Colonists planted oaks in the park in 1863. Elders, elms, limes, and other European species were added later.
A new Supreme Court building was built on Franklin Square in 1860, facing Macquarie Street. The new building also accommodated the Executive Council. It also had rooms for the Governor to use. It is still in use as a court today.
To provide improved office space for public officials, extra buildings were constructed next to the Supreme Court during the 1880s. They now house the Department of Premier and Cabinet.
Franklin Square passed into the control of the Hobart City Council in 1923. The Council repaired the pond and stocked it with goldfish, placed cane baskets rubbish bins around the Square, put in new paths, and established new garden beds and lawn areas.
These improvements were ruined when, in 1942, air raid trenches were dug in the Square. But the Square was refurbished after the Second World War ended.
The multiple jet fountain was installed in 1964. The Square received a significant refurbishment in 2016 and subsequent minor upgrades.
Franklin Square remains a popular spot in the middle of the city. In fact, it is the only green space in the CBD north of Davey Street.
It is hemmed in by multi-lane roads, with bus stops lined up on two sides. They are likely to remain there for some time.
In recent years, Street Eats at Franko have enlivened the square on Friday nights during the warmer months with a food market and live entertainment.
*   *   *   *
Tas That Was is a column that includes:
anecdotes of life in Tasmania in the past;
historical photographs of locations in Tasmania; and/or
documentaries about locations in Tasmania.
If you have an anecdote or photograph you'd like to share with us, please send it to submit@tasmaniantimes.com.
Source: Tasmanian Times https://tasmaniantimes.com/2020/06/tas-that-was-franklin-square/#utm_source=rss&utm_medium=rss&utm_campaign=tas-that-was-franklin-square