A group of Tasmanian doctors are calling for a halt to Tarkine logging for environmental, business, health and economic reasons.
Open letter to Premier & Tasmanian state parliamentarians – Doctors for Health, Business & Jobs, 4 May 2020
impacts of native and old growth forest logging on health, business, jobs and environment
Logging and associated industries have long served a purpose. Harvesting of plantation timber is an important part of our economy. However, we feel it is now time to stop the logging of high conservation value forest (old growth and native forests).
In 2014, 356 000 hectares of Tasmanian forest known as 'future reserve land' (potentially to be designated as a world heritage area and/or National Park) were reclassified as 'Future Potential Production Forest'.
This means that with effect of April 2020, 356 000 hectares can be released for logging, a huge part of which is in the Tarkine.
The Tarkine is one of the most pristine forests in the world and is the largest temperate rainforest in Australia. Many areas have not seen fire for hundreds of years as they are high in moisture content, making them relatively fire-resistant.
We oppose further logging of high conservation value forest for the following reasons:
It jeopardises the health of Tasmanians as it will increase the risk of bushfires ('wet' rainforest is replaced by 'dry' forest). The scale of bushfires in Australia caused significant health problems around the country this year: exacerbations of lung and heart diseases, depression and other mental health problems caused by loss of human life, property, livestock, etc. Forests like the Tarkine have an intrinsic value for recreation, health and for wildlife.
It is bad for business. As we recently saw with bushfires on the mainland, it is difficult to trade if roads are closed, your workplace is destroyed by fire and the production of goods comes to a stand-still.
Jobs will be lost because sustainable industries such as nature-based tourism and bee keeping (leatherwood honey) will be compromised.
Logging in the Tarkine has negative consequences for the environment as it increases greenhouse gas emissions due to fire and reduces carbon storage. Huge amounts of carbon are stored in the forest ground with root and plant systems that have evolved over centuries. Regeneration of such logged areas will take many, many decades.
Forestry provides only about 1.5% of jobs in Tasmania but comes at an enormous cost to tax payers, who pay millions of dollars to make up for losses made by forestry every year. According to accountant John Lawrence, Forestry Tasmania has logged at a big loss for many years (with an average of $65 million in losses every year; see https://www.theguardian.com/profile/john-lawrence).
This money subsidising an economically unsustainable industry could be used to retrain people for new jobs. There would be plenty of new job opportunities (e.g. in tourism, adventure sports, renewable energies, flow-on businesses such as hospitality and retail, weed management, National Park management etc.).
An excellent example of this is Derby, an ex-mining town in North Eastern Tasmania that was completely revived by mountain biking. Derby is now a mountain biking mecca, and business has boomed to accommodate the influx of sports enthusiasts from all over the country.
Nobody working in forestry should lose their job if there is the political will for change. The Tarkine should be our equivalent to Kakadu or the Daintree and would be a remarkable asset if we properly protect it as a national park. The potential for jobs and business well into the future would be huge.
One could say we have what the rest of the world has lost but wants to see. We can make it work for our economy, create jobs in profitable sustainable industries and benefit our health and the environment.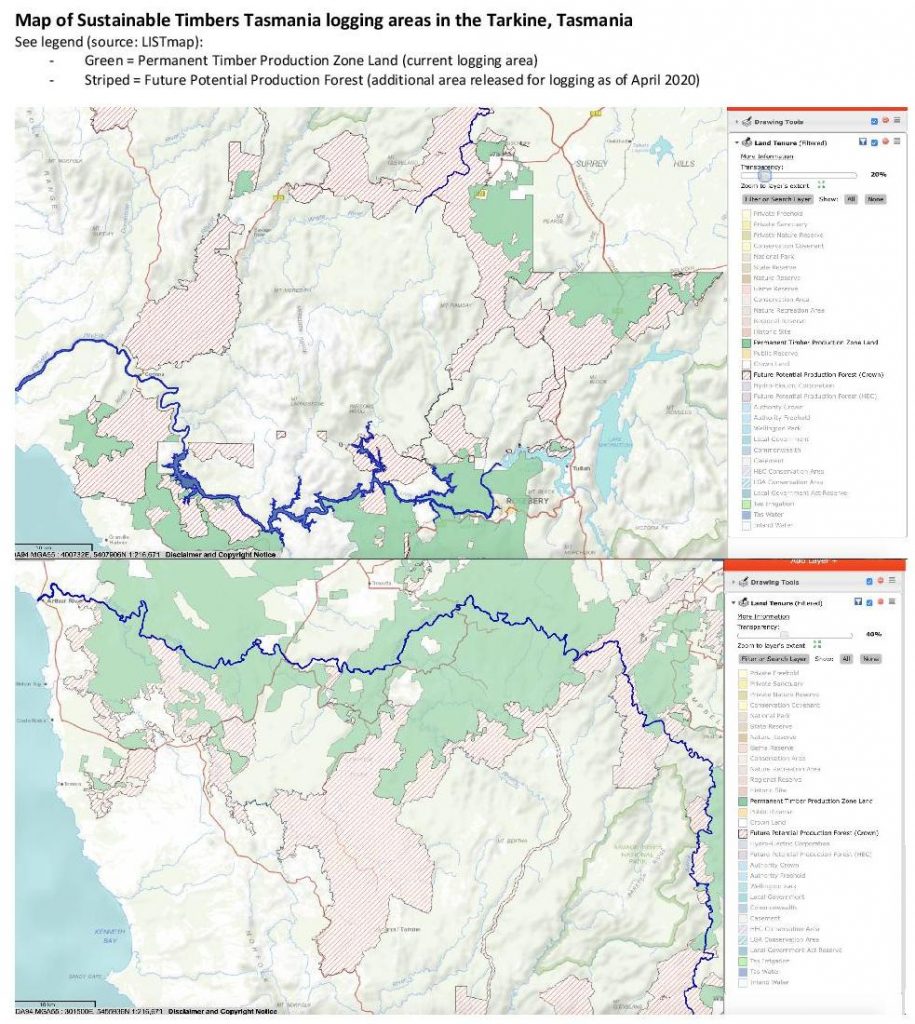 Signatories
Dr Christine Barstad

Dr Darren Briggs

General Practitioner

Emergency Docto

r

Ulverstone 

Latrobe

 

 

Dr Nerrelie Cann

Dr Debra Chandler

General Practitioner

General Practitioner

Ulverstone

Burnie

 

 

Dr George Chandler

Dr Justin Chipman.

General Practitioner

General Paractioner

Burnie 

Penguin.

 

 

Dr Stefan Delitzsch 

Dr Emil Djakic

General Practitioner 

General Practitioner

Ulverstone

Ulverstone

 

 

Dr David Dry 

Dr Ian Emmett

General Practitioner 

General Practitioner

Ulverstone

Ulverstone.

 

 

Dr Bruno Fernandini
Dr John Fisher
General Practice Registrar
General Practitioner

Burnie

Ulverstone

 

 

Dr Champa

 Jinadasa

Dr Margret Oetterli

General Practitioner

General Practitioner 

Devonport

Devonport

 

 

Dr Esmat Rahel

Dr Deepthi Ramasinghe

General Practitioner

General Practitioner

Ulverstone

Devonport

 

 

Dr Elisabeth Robin

Dr Saminda Rubasinghe

General Practitioner

General Practitioner

Ulverstone

Devonport

 

 

Dr Lizzi Shires

Dr Diane Webster

General Practitioner

General Practitioner

Ulverstone

Ulverstone

 

 

Dr Maduranga Wickramasinghe

Dr Sooriya Wijewardena

General Practitioner
General Practice Registrar
Devonport
Ulverstone
Dr Yilin Zhang

General Practice Registrar

 

Ulverstone
---


Media release – Cassy O'Connor MP | Greens Leader and Forests spokesperson, 4 May 2020
North West Doctors' Forest Protection Calls Must be Central to COVID-19 Recovery Plan
The plea from 23 GP's, registrars, and emergency doctors to protect Tasmania's high conservation value forests should be heeded by all Members of Parliament, but most particularly the Premier and his Resources Minister.
In an open letter sent to Tasmania's lawmakers, doctors from the state's North West have clearly laid out how forest protection is a critical consideration, and opportunity, for Tasmania's recovery from COVID-19.
These committed local doctors know more than anyone the importance of healthy communities.
Protecting Tasmania's carbon rich forests promotes physical and mental health, and environmental health. On the other hand, the process of commercial logging increases the risk of bushfires, which are not only a direct threat to life but also exacerbate other chronic health conditions.
356,000 hectares of carbon rich, high conservation value forests, set aside under the Tasmanian Forest Agreement, are now under threat from the Liberals and the mendicants in the logging industry.
The protection of these forests is integral to the health and wellbeing of future generations of Tasmanians.
It's obvious that logging these forests would be a climate crime, but it would also be a social and economic folly.
As we plan for the post-corona world, we must be focussed on the triple bottom line. Rebuilding a healthy and resilient Tasmania will require a holistic view of our community, economy and nature, and recognise the climate emergency as the central consideration.
A recovering tourism industry needs a healthy takayna/Tarkine, not clearfell devastation undermining our unique brand. Leatherwood honey producers have been holding on after bushfire devastation, but are now worried they'll be thrown under the bus for the sake of patently unnecessary forest destruction.
As the Premier plans his 'roadmap to recovery', we urge him to listen to these brave North West doctors and act to protect this island's globally significant wilderness and high conservation value forests.
---
MEDIA RELEASES: Forestry – Back to Normal?
Source: Tasmanian Times https://tasmaniantimes.com/2020/05/stop-tarkine-logging-open-letter-to-premier/#utm_source=rss&utm_medium=rss&utm_campaign=stop-tarkine-logging-open-letter-to-premier