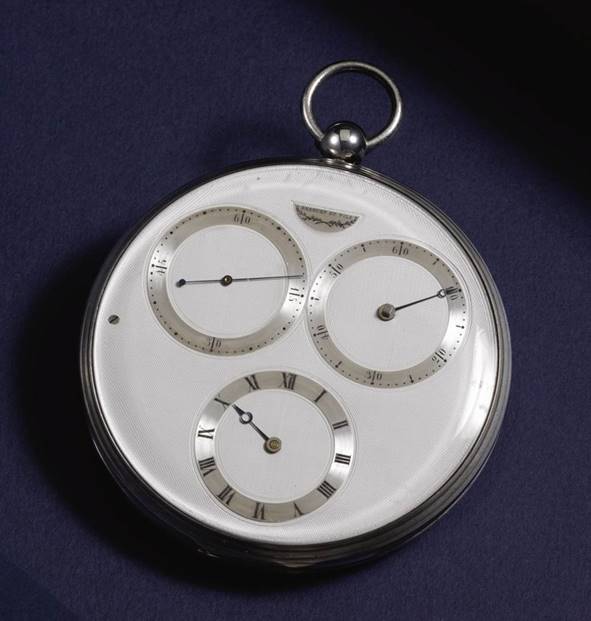 Image courtesy Sothebys. AN IMPORTANT OVER-SIZED SILVER OPEN-FACED SIX-MINUTE TOURBILLON WATCH WITH PETO'S CROSS DETENT CHRONOMETER ESCAPEMENT, REGULATOR. Watch No. 2574, Case N0. 287, 'GARDE-TEMPS À TOURBILLON' SOLD TO LE GÉNÉRAL THOMAS BRISBANE ON 23 FEBRUARY 1816 FOR 2,000 FRANCS Sir Thomas Brisbane, Founder of Australian Science Last night […]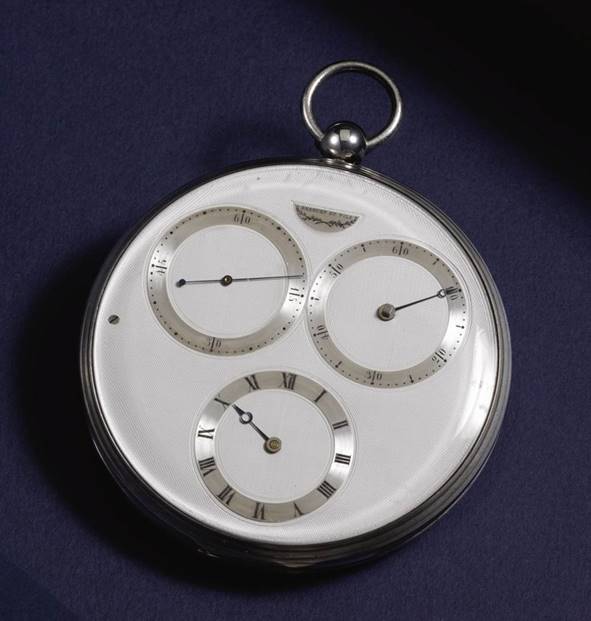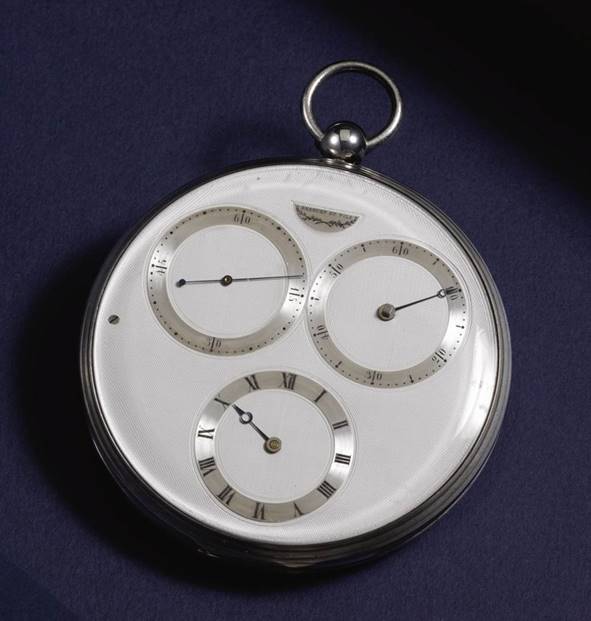 Image courtesy Sothebys.
AN IMPORTANT OVER-SIZED SILVER OPEN-FACED SIX-MINUTE TOURBILLON WATCH WITH PETO'S CROSS DETENT CHRONOMETER ESCAPEMENT, REGULATOR.
Watch No. 2574, Case N0. 287, 'GARDE-TEMPS À TOURBILLON' SOLD TO LE GÉNÉRAL THOMAS BRISBANE ON 23 FEBRUARY 1816 FOR 2,000 FRANCS
Sir Thomas Brisbane, Founder of Australian Science
Last night for the second time I tried to purchase the Brisbane observatory chronometer brought to Australia by Sir Thomas Brisbane in 1821 when he set up his own private observatory at Paramatta. Brisbane brought with him his clockmaker Robertson and his astronomer Rumker to observe and chart the stars in the southern hemisphere, submitting his important catalogue on return. He won the Gold Medal of the Royal Astronomical Society in 1828 for the Brisbane Catalogue of 7,385 stars of the southern hemisphere published in 1835.
I wrote an article 'Observatories in Australia 1788-1830' published in The Australasian Antique Collector in 1979 on the subject of Brisbane and his instruments:
Sir John Herschel, during the presentation of the Gold Medal called Brisbane 'the founder of Australian Science'. With the departure of Brisbane in November 1825, the observatory was run by Rumker, who was appointed by Governor Darling as first Government Astronomer. Rumker left for England in 1829 to induce the Royal Society to print his astronomical observations made at the observatory.
On Brisbane's return to England, he sold his instruments to the Colony and in a letter to Earl Bathurst written in London in August, 1826, he states:
I do myself the honour to transmit to your Lordship the copy of an address, laid before me by the Council of New South Wales, before I quitted that Colony, requesting that I would leave behind me my Astronomical apparatus and consent to receive an indemnification from His Majesty's Government… The valuation of them is herewith annexed, which is stated much lower than what I originally paid for them; and I beg to remark that, as they are in a most efficient state of performance… This apparatus was only possessed by me for private recreation… Four Astronomical Clocks, best description, by Breguet, Hardy, Barraud and Grimaldi 490.00 Mural circle by Troughton 200.00 Transit Instr. 5 1/2 do. 105.00 Repeating Circle 16in (Reichenbach) 130.00 Equat'I Telescope, etc. (Banks) 60.00 French do. 42.00 Declination instrument, complete, by Dollond 30.00 Inclination do. Gemby, Paris 42.00 Borda's Pendulum, complete for determining the figure of the Earth 85.00 Magnetic transit by Jecker, Paris 15.00 2 Mountain Barometers by Troughton 11.00 Observatory Barometer and four Thermometers 10.00 Pair 18in Globes, London 19.00 Levelling Telescope, complete 12.00 Astronomical books, etc. 353 13 0 TOTAL £1,614 13 0.
The instruments were duly purchased.

By 1847, due to the dilapidated state of the observatory, the instruments and books were virtually rotting.
The Grimaldi astronomical clock, having been removed from the observatory to the entrance hall of Old Government House, has subsequently vanished, as has the Barraud. By the end of 1848 the instruments had been packed up and Governor Fitzroy, writing to Earl Grey, suggested that: 'the proper steps might be taken for selling to the best advantage certain instruments belonging to the observatory at Parramatta… but in my opinion, there would be no competition here for the purchase of the large instruments'. It would appear from contemporary correspondence that these large instruments, the meridian circle, transit instrument, mural circle and the repeating circle were returned to England, leaving the two regulators by Breguet and Hardy.
In fact all the instruments remained in the colony and still survive in the present observatory on Observatory Hill, which was completed in 1858 as Sydney's third observatory. The two regulators by Breguet and Hardy have now been in Australia for over 150 years and have kept time for the Colony for at least 50 years. Their present dilapidated (and disgraceful) condition surely warrants attention, for, apart from the Packer Cabinet at Old Government House, the Macquarie Chairs and the Hyde Park Race Trophy, we have nothing here that predates them in the applied arts with an Australian history.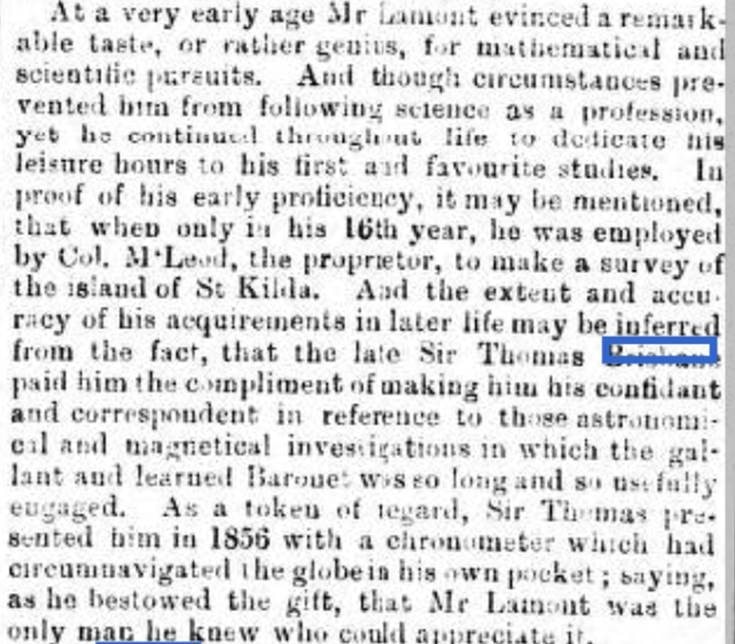 The Breguet watch returned to Scotland with Brisbane and was given to his bank Manager Colin Lamont of the Union Bank in Greenock, who with his father had been involved in scientific matters on the west coast of Scotland for many years. On Lamont's death the gift is recorded in his obituary.
My first attempt to purchase this superb instrument was in the Atwood sale in part of the contents of his Time Museum in Chicago in December 1986 on behalf of the late Kerry Packer when it sold for US$231,000. I knew the watch by repute having been purchased from the late Charles Allix in the early 1960's when my father expressed interest.
This time in conjunction with the great London watch dealer George Somlo and on behalf of an international client I gave it a second shot.
I received this morning by email:
We gave it a good go but were only the under bidder on the Breguet. We bid SF420,000 & it sold for SF450,000 +comm. Since we missed out on that one we had a go on the Dent. We bid SF320,000 as nobody even put in a bid at the beginning then it accelerated to SF 650,000 +comm. Obviously COVID has not affected the prices. Anything good is still worth buying.
George
This is a great object with a unique Australian history and should have been acquired by our National Gallery in Canberra, who might care to comment.
---
John Hawkins was born and educated in England and now calls Tasmania home. He is the author of 'Australian Silver 1800–1900' and 'Thomas Cole and Victorian Clockmaking' and 'The Hawkins Zoomorphic Collection' as well as 'The Al Tajir Collection of Silver and Gold' and nearly 100 articles on the Australian Decorative Arts. He is a Past President and Life Member of The Australian Art & Antique Dealers Association. John has lived in Australia for 50 years.
Source: Tasmanian Times https://tasmaniantimes.com/2020/06/thomas-brisbane-founder-of-australian-science/#utm_source=rss&utm_medium=rss&utm_campaign=thomas-brisbane-founder-of-australian-science