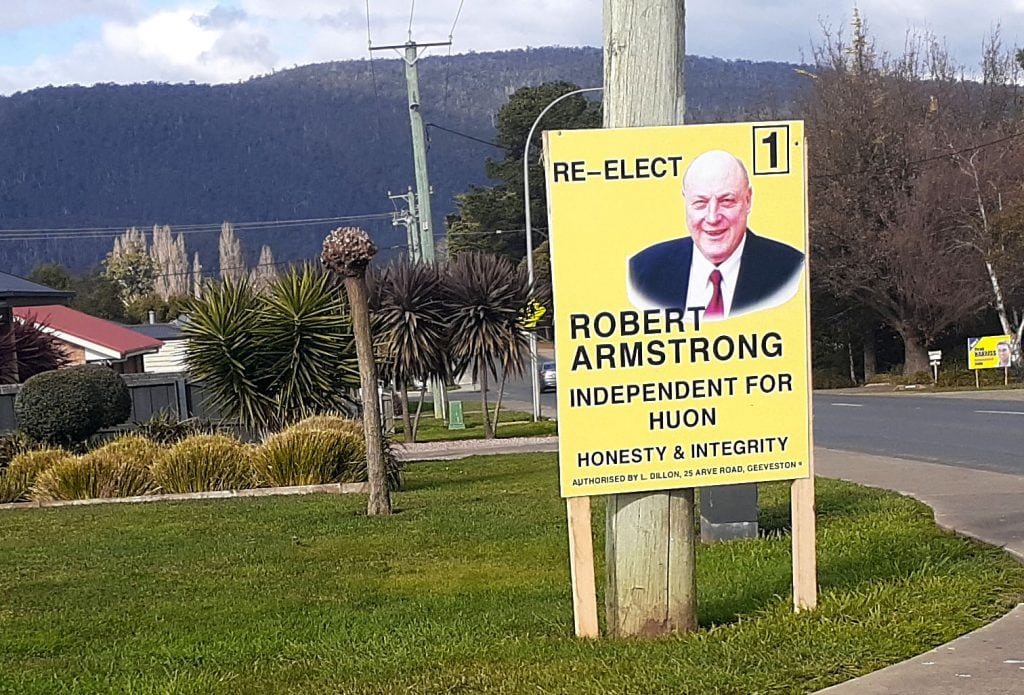 Despite pocketing about a million dollars for his 6 years in the LegCo, Member for Huon Robert Armstrong can't tell us what he's been doing.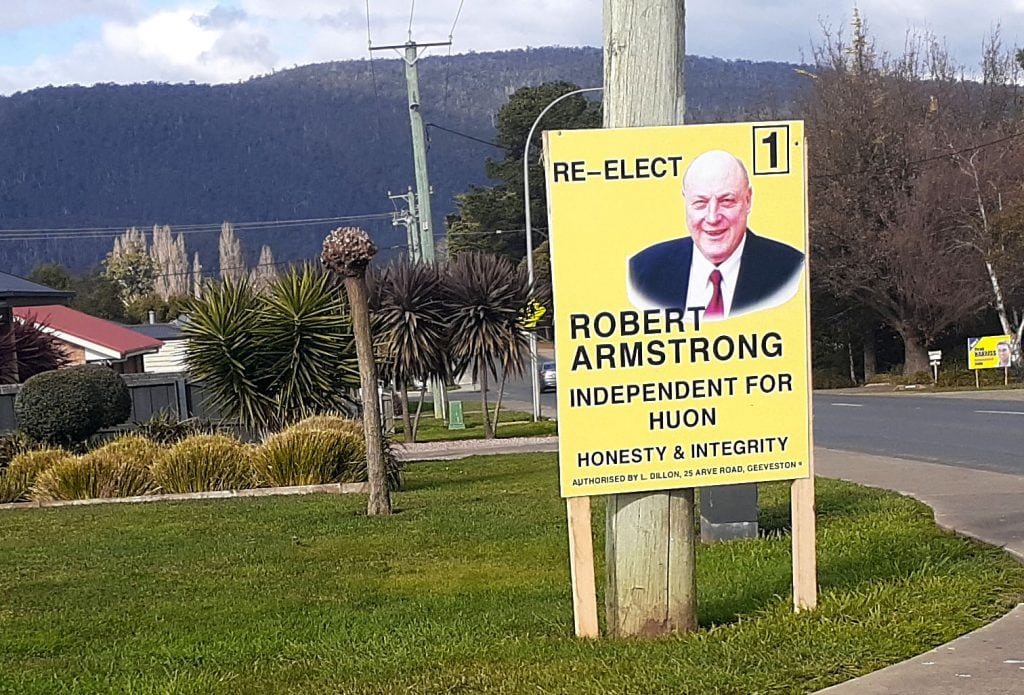 "I am sure he will find much support among members and enjoy his time here as he works hard for his constituents," said Rosemary Armitage MLC in Parliament 28 May 2014 to welcome the new Member for Huon, Robert Armstrong.
Mention was made earlier of the Legislative Council being a retirement home for old mayors and deputy mayors.
Taxpayers who are on the hook for the Member's annual package of some $200,000* can only hope that Armstrong did not consider the Legislative Council to be a place to retire.
Given Armstrong is throwing his hat in the ring for another term, a win could well see him sitting in the LegCo until he turns 74 … well and truly fulfilling John Howard's view of working into your seventies.
Despite claiming to be an independent, Armstrong has supported the Liberal Government on almost every Bill and Amendment since 2014. Tasmanian Times even asked him if he wished to deny it. There were other things we asked as well. We think a sitting member who seeks re-election should have their record closely examined.
On 22 June 2020 Armstrong replied to our request: "Thanks for your email. I would be happy to discuss the information you have requested. Can you please ring me to organise a mutually acceptable time to meet."
So I did, only to discover Parliament was about to sit. Armstrong said he would contact me in the next week to arrange a suitable time for a meeting, but that did not happen.
With time running out, and an election looming, I went back for another attempt with a shorter list of just three questions hoping to make the process easier for our elected Member. I also suggested it would be difficult to discuss these questions over a coffee and that a written response would be the best outcome to assist in a TT article about his previous term in office.
What amendments have you moved to improve the effectiveness and efficiency of legislation before the Upper House during your 6 year term? And what were the amendments?
You are advertising the importance of having independents in the Upper House. How many bills have you voted on during your 6 year term? And how many of those bills have you voted against the government and why?
Why should voters re-elect you for another 6 year term, given there are a number of experienced and highly qualified candidates standing for the seat of Huon, including independents?
Armstrong again faltered. He wrote back: "I have just submitted my information request to the Chief Editor and have no further contribution to make to the Tasmanian Times." He was referring to a different set of questions which we put to all Huon LegCo candidates.
As noted above, we feel the sitting member needs to defend his record, if indeed he has one.
When Andy Waterhouse interviewed Armstrong on his Grapevine program 3 July 2020, he welcomed Armstrong as his guest and referred to his 'theme' of 'integrity and honesty'.
Waterhouse continued, albeit with a clumsy question:
"As an elected member what achievements … what roles … you know, what is part of the structure …  the nuts and bolts of being an elected member?"
Armstrong chose to focus only on the last few words of Waterhouse's question:
"We review that legislation – we got three choices; (sic) we can either accept that legislation, pass it, and then it becomes … becomes legislation to be enacted, we can refuse, reject it … then the legislation is dead and buried; or we can amend it."
"And that's why you need to have the independents in there so it gets the proper scrutiny that it should do, because otherwise, like I said, it could become a rubber stamp if the same power as in government and then it comes up to the Upper House and their got the numbers there (sic), there's not the scrutiny that needs to be done, and the Upper House is a house of review."
"It is." said Waterhouse, who then went on to ask about the road to Cockle Creek.
Following the almost 15-minute chit chat there were no questions of comments on what Armstrong has achieved in the past six years. There was a question about Armstrong's view on the Huon Highway developments at Sandfly , the COVID crisis, and a Dorothy Dixer about the recent Code of Conduct malarkey which provided an opportunity for Armstrong to speak out about a frivolous case of mints and his allegations of the costs to ratepayers.
But what about his achievements in the past 6 years?
In the lead up to this election, why would the Member for Huon not wish to tell all about his past successes? Why would he not tell us about his wins in the Legislative Council, his proud moments, his achievements? Most of all, tell us all why he should be elected for a second term of six years?
Why has Armstrong chosen to only focus on the most obvious and generic motherhood statements of health, youth services, public transport, infrastructure, education and the environment?
All this avoidance by Armstrong reminded me of an email I sent to his office 17 May 2018.
This followed a HuonFM radio interview between Cr Mike Wilson and former Cr Sue Clark who were again running for Council and they praised Armstrong. After the radio interview there were letters to the Editor in the Huon News. One questioning the actions of former Mayor Armstrong and his role to play in the $4m loss to the Huon Valley Council; and in the following week, another written by one of his Councillor mates praising Armstrong for his achievements as Mayor.
I wrote to Armstrong: "As a newcomer to the Huon Valley it was with interest I read a list of your many achievements as listed in a letter to the Editor of the Huon News this week. It is now four years since you were elected to the Upper House as an independent for the seat of Huon and I am keen to learn more about your ongoing work for the Huon region. Can I request of you please a list of your parliamentary achievements and influence since being elected?
Armstrong did respond telling me there was so much he had achieved, and that there is so much work he does behind the scenes that he simply could not put it all in writing … so he suggested a coffee.
The coffee meeting did not happen.
So there we have it: Armstrong is a serial dud on coffee dates, meeting constituents and responding to scrutiny of his record.
Footnote
During my research I did enquire with the Legislative Council what are the minimum qualifications to be an MLC, or is there a job specification. The person I spoke with thought that was a good question and something the people should know. It turns out, unlike almost any employment role in life, the bare minimum requirements are rather ordinary.
Constitution Act 1934 – section 14. To be elected as a Member, a person must:
be an elector, or be entitled to have his/her name placed on the roll for a Legislative Council division; and
have resided in Tasmania for 5 years at any one time; or
resided in Tasmania for 2 years immediately preceding his/her nomination.
Persons ineligible for nomination section 76. A person is ineligible to be nominated as a candidate for a Council election if the person
is a member of the House of Assembly or for another Council division; or
is a candidate for election in another division of either House for which the writ has not been returned; or
is a member of the Parliament of the Commonwealth.
* Parliamentary Salaries, Superannuation and Allowances Act 2012 (the 2012 Act). Base salary is $133,560 pa paid to each member of parliament, plus $39,035 electorate allowance for Huon, plus $15,613 car allowance, plus telecommunications, expenses, travel away from home and all plus CPI increases.
---
Geoffrey Swan is a resident and ratepayer in the Huon Valley. Since 2015 he has regularly attended Ordinary Meetings of Council and has actively participated in public question time. Swan observed the dysfunction of the former sacked Council that resulted in a Board of Inquiry and an in place administrator for two years. He is currently of the view the outcomes of the BOI are not being adhered to and once again the Huon Valley has another Council demonstrating ongoing dysfunction, and also issues of leadership.
---
TASMANIAN TIMES: Huon LegCo Election – Candidate Profiles.
Source: Tasmanian Times https://tasmaniantimes.com/2020/07/robert-armstrong-mlc-what-achievements/#utm_source=rss&utm_medium=rss&utm_campaign=robert-armstrong-mlc-what-achievements