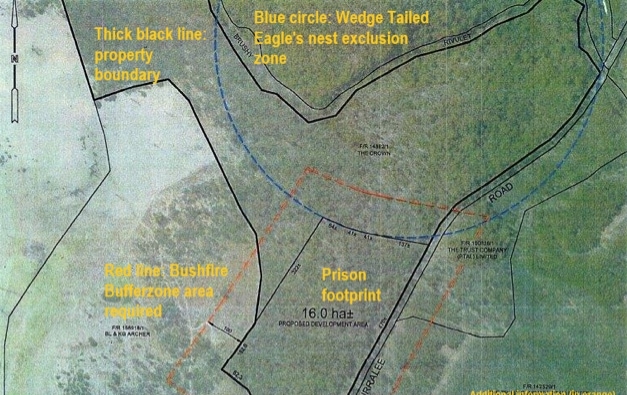 Media release – Concerned Residents Opposed to the Westbury Prison Site (CROWPS), 4 August 2020 Government Plans to Use Neighbouring Properties for Bushfire Buffer Zone The Tasmanian Government has seriously blundered the location of the proposed new site for the Northern Regional Prison as they need to use neighbouring farm properties and part of the […]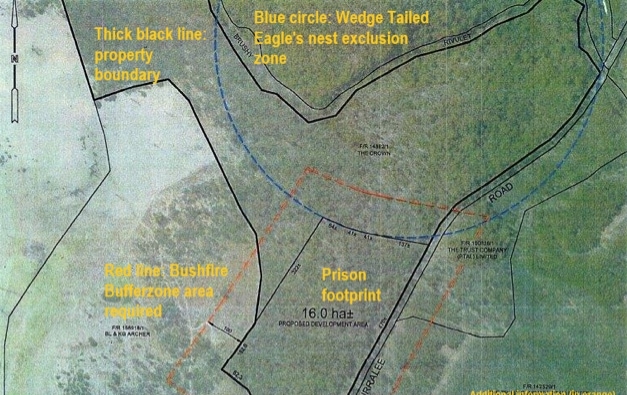 Media release – Concerned Residents Opposed to the Westbury Prison Site (CROWPS), 4 August 2020
Government Plans to Use Neighbouring Properties for Bushfire Buffer Zone
The Tasmanian Government has seriously blundered the location of the proposed new site for the Northern Regional Prison as they need to use neighbouring farm properties and part of the Birralee Road to accommodate their bushfire buffer zone.
The attached map was provided by the Department of Justice to members of CROWPS at their first meeting held on 1 July 2020­­. CROWPS members were astounded to learn from the map that the Tasmanian Government has the audacity to lay claim to 100m bushfire buffer zone on neighbouring properties without any form of communication with landowners.
Equally as disturbing, the proposed area for the 100m bushfire buffer zone already strays into the 500m exclusion zone that surrounds the vulnerable Wedge-tailed Eagles' nest. According to the Department of Agriculture, Water and Environment website, there are only 220 known breeding pairs of this endangered species left in Tasmania.
When asked about the bushfire buffer zone, Mr Dale Webster, Deputy Secretary, Corporate, Strategy and Policy of the Department of Justice, said:
"we would have to enter into a Part Five Agreement with the landowner to create that bushfire management hazard zone, but if the land owner said no then we wouldn't be able to take that into account."
If adjoining property owners do not agree to the 100m bushfire buffer zone being placed on their property, is the Tasmanian Government seriously considering straying into the 500m exclusion zone for the Wedge-tailed Eagles' nest? This would be a further encroachment on the Wedge-tailed Eagles' nest and other threatened and endangered flora and fauna within the Brushy Rivulet Crown Reserve.
The Department of Justice assured Tasmanians that the prison footprint would only require 16ha as shown on the map. How can the prison footprint of 16ha also accommodate the 100m bushfire buffer zone? A simple calculation shows the bushfire buffer zone is approximately an additional 19.5ha. This means that the actual footprint required for the proposed prison is more than doubled.
The Tasmanian Government is simply misleading the Tasmanian people on the impact of the proposed prison on the site and the surrounding neighbours by the deliberate omission of the bushfire buffer zone in the calculations of the actual footprint required. Clearly the Tasmanian Government has not done their research prior to the announcement on 18 June 2020 of the proposed new site and this is yet another blunder in the Tasmanian Governments attempt for a 'quick fix' location for a Northern Regional Prison.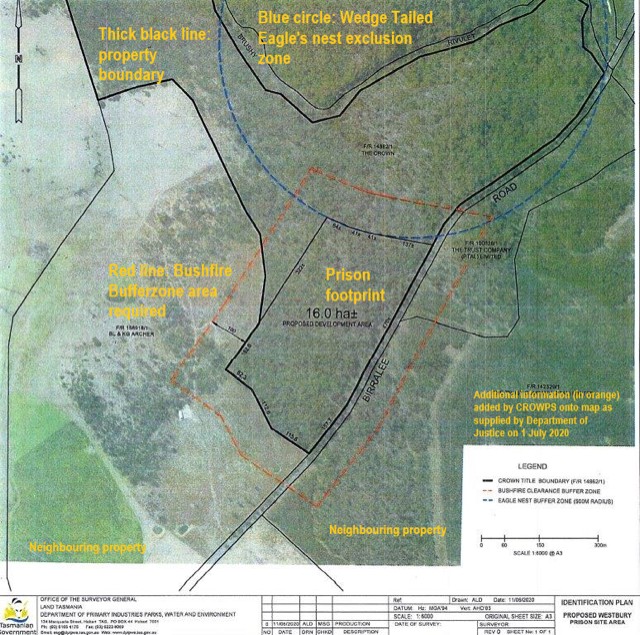 Source: Tasmanian Times https://tasmaniantimes.com/2020/08/prison-use-neighbouring-properties-bushfire-buffer/#utm_source=rss&utm_medium=rss&utm_campaign=prison-use-neighbouring-properties-bushfire-buffer