Prince Harry's Old Comments About The Throne Suddenly Feel So Relevant
3 min read
<div data-aria-label="Video" data-provider="vidible" data-published="2020-01-10T06:01:14+00:00" data-videovertical="" data-placeholder="//img.vidible.tv/prod/2020-01/08/5e162d4f27f25f76c8bb787e/5e162d70b0f8f717ac4dde6a_o_U_v1.png?w=1440&h=900&q=60"></div><div><p>Though <a role="link" href="https://www.huffingtonpost.com.au/news/prince-harry/">Prince Harry</a> and <a href="https://www.huffingtonpost.com.au/news/meghan-markle/" data-rapid-parsed="slk">Meghan Markle</a>'s announcement that they were <a href="https://www.huffingtonpost.com.au/entry/royal-family-locked-in-crisis-talks-workable-solution-meghan-harry_au_5e17956ac5b6640ec3d15da0?utm_hp_ref=au-homepage">stepping back</a> as "senior" members of the royal family came as a shock to many on Wednesday, Harry's frustration with The Firm goes back years. </p><p>While some, like Princess Diana's former royal chef Darren McGrady, <a href="https://www.huffpost.com/entry/princess-diana-personal-chef-meghan-markle_n_5e1692ddc5b61f701949102c" target="_blank" rel="noopener noreferrer">blamed Meghan for Harry's decision to leave</a>, the Duke of Sussex has routinely expressed his disdain for the difficulties that come with being born a royal. In a candid interview with <a href="https://www.newsweek.com/2017/06/30/prince-harry-depression-diana-death-why-world-needs-magic-627833.html" target="_blank" rel="noopener noreferrer">Newsweek</a> in 2017, Harry spoke about struggling with his status. </p></div><!-- start relEntries --><div><h3>Related...</h3><ul><li><a href="https://www.huffingtonpost.com.au/entry/meghan-markle-prince-harry-senior-royals_au_5e1640dac5b600960c5f28af?ncid=other_huffpostre_pqylmel2bk8&utm_campaign=related_articles" aria-label="Prince Harry, Meghan Markle Announce Decision To 'Step Back' As Senior Royals"> Prince Harry, Meghan Markle Announce Decision To 'Step Back' As Senior Royals </a></li><li><a href="https://www.huffingtonpost.com.au/entry/buckingham-palace-meghan-markle-prince-harry-statement_au_5e1643a3c5b6b32c72bc75d4?ncid=other_huffpostre_pqylmel2bk8&utm_campaign=related_articles" aria-label="Buckingham Palace Reacts To Harry and Meghan Stepping Down"> Buckingham Palace Reacts To Harry and Meghan Stepping Down </a></li><li><a href="https://www.huffingtonpost.com.au/entry/are-harry-meghan-actually-going-to-be-financially-independent_au_5e178755c5b650c621db71f7?ncid=other_huffpostre_pqylmel2bk8&utm_campaign=related_articles" aria-label="Are Harry And Meghan Actually Going To Be 'Financially Independent?'"> Are Harry And Meghan Actually Going To Be 'Financially Independent?' </a></li><li><a href="https://www.huffingtonpost.com.au/entry/prince-harry-prince-william-dispute_au_5e1654d1c5b61f701948c15e?ncid=other_huffpostre_pqylmel2bk8&utm_campaign=related_articles" aria-label="Friend Gives Details On Prince Harry's 'Family Dispute' With Prince William"> Friend Gives Details On Prince Harry's 'Family Dispute' With Prince William </a></li><li><a href="https://www.huffingtonpost.com.au/entry/royal-family-locked-in-crisis-talks-workable-solution-meghan-harry_au_5e17956ac5b6640ec3d15da0?ncid=other_huffpostre_pqylmel2bk8&utm_campaign=related_articles" aria-label="Royals In Crisis Talks Over Harry And Meghan As Queen Demands 'Workable Solution'"> Royals In Crisis Talks Over Harry And Meghan As Queen Demands 'Workable Solution' </a></li><li><a href="https://www.huffingtonpost.com.au/entry/madame-tussauds-removes-harry-and-meghan-figures_au_5e1788f4c5b650c621db76d4?ncid=other_huffpostre_pqylmel2bk8&utm_campaign=related_articles" aria-label="Madame Tussauds Removes Harry And Meghan Figures From Display"> Madame Tussauds Removes Harry And Meghan Figures From Display </a></li><li><a href="https://www.huffingtonpost.com.au/entry/why-black-people-think-racism-drove-meghan-and-harry-to-quit_au_5e17886bc5b6da971d12d540?ncid=other_huffpostre_pqylmel2bk8&utm_campaign=related_articles" aria-label="Why Black People Think Racism Drove Meghan And Harry To Quit The Royal Family"> Why Black People Think Racism Drove Meghan And Harry To Quit The Royal Family </a></li></ul></div><!-- end relEntries --><div><p>"My mother died when I was very young. I didn't want to be in the position I was in, but I eventually pulled my head out of the sand, started listening to people and decided to use my role for good," he said at the time. "I sometimes still feel I am living in a goldfish bowl, but I now manage it better." </p><p>He also admitted that no one in the royal family <a href="https://www.huffpost.com/entry/prince-harry-reveals-no-one-in-the-royal-family-wants-to-be-king-or-queen_n_594bc98be4b0a3a837bd76e8" target="_blank" rel="noopener noreferrer">actually wants the throne,</a> saying that those in power are doing it "for the greater good of the people." </p><div><p>"Is there any one of the royal family who wants to be king or queen? I don't think so, but we will carry out our duties at the right time," he said. But he still felt that the people still desire the "magic" of the royals, saying that "The British public and the whole world need institutions like it." </p></div></div><img src="https://img.huffingtonpost.com/asset/5e1769d8240000d6355a56bf.jpeg?cache=PR1vxgoZju&ops=scalefit_630_noupscale" alt="The Duke of Sussex visits the laboratory as he tours The Institute of Translational Medicine at Queen Elizabeth Hospital, in Birmingham on March 4, 2019." data-caption="The Duke of Sussex visits the laboratory as he tours The Institute of Translational Medicine at Queen Elizabeth Hospital, in Birmingham on March 4, 2019." data-credit="POOL New / Reuters" data-credit-link-back=""><div><div><p>He also said at the time that he wanted "to make something of my life" as senior member of the royal family while the focus was still on him.</p><p>"I feel there is just a smallish window when people are interested in me before [William's children] take over, and I've got to make the most of it," he said. </p><p>The comment about living in a goldfish bowl echoed sentiments the prince expressed during a chat with <a href="http://www.telegraph.co.uk/news/2017/04/16/prince-harry-sought-counselling-death-mother-led-two-years-total/" target="_blank" rel="noopener noreferrer">The Telegraph</a> in April 2017. </p><div><p>"I have probably been very close to a complete breakdown on numerous occasions when all sorts of grief and sort of lies and misconceptions and everything are coming to you from every angle," he said at the time. </p><p>The Duke and Duchess of Sussex announced Wednesday that they will be moving into a new role within the royal family after "many months of reflection and internal discussions." </p><p>It appears Harry and Meghan have been planning the move for a long time, as they registered for their new website ― which announced their plans for the future ― back in March of 2019. They also filed for a trademark for their new foundation with the UK's Intellectual Property Office <a href="https://trademarks.ipo.gov.uk/ipo-tmcase/page/Results/1/UK00003408521" target="_blank" rel="noopener noreferrer">back in June</a>, though it was published on December 19, 2019. </p></div></div></div><div><blockquote data-instgrm-permalink="https://www.instagram.com/p/B7EaGS_Jpb9/?utm_source=ig_embed&utm_campaign=loading" data-instgrm-captioned data-instgrm-version="12"><div><a href="https://www.instagram.com/p/B7EaGS_Jpb9/?utm_source=ig_embed&utm_campaign=loading" target="_blank" rel="noopener noreferrer"><div><div></div><div><div></div><div></div></div></div><div></div><div></div><div><div> View this post on Instagram</div></div><div></div><div><div><div></div><div></div><div></div></div><div><div></div><div></div></div><div><div></div><div></div><div></div></div></div><div><div></div><div></div></div></a><p><a href="https://www.instagram.com/p/B7EaGS_Jpb9/?utm_source=ig_embed&utm_campaign=loading" target="_blank" rel="noopener noreferrer">A post shared by The Duke and Duchess of Sussex (@sussexroyal)</a> on Jan 8, 2020 at 10:33am PST</p></div></blockquote></div><div></div><section><h5></h5><div></div></section>
Though Prince Harry and Meghan Markle's announcement that they were stepping back as "senior" members of the royal family came as a shock to many on Wednesday, Harry's frustration with The Firm goes back years.
While some, like Princess Diana's former royal chef Darren McGrady, blamed Meghan for Harry's decision to leave, the Duke of Sussex has routinely expressed his disdain for the difficulties that come with being born a royal. In a candid interview with Newsweek in 2017, Harry spoke about struggling with his status.
"My mother died when I was very young. I didn't want to be in the position I was in, but I eventually pulled my head out of the sand, started listening to people and decided to use my role for good," he said at the time. "I sometimes still feel I am living in a goldfish bowl, but I now manage it better."
He also admitted that no one in the royal family actually wants the throne, saying that those in power are doing it "for the greater good of the people."
"Is there any one of the royal family who wants to be king or queen? I don't think so, but we will carry out our duties at the right time," he said. But he still felt that the people still desire the "magic" of the royals, saying that "The British public and the whole world need institutions like it."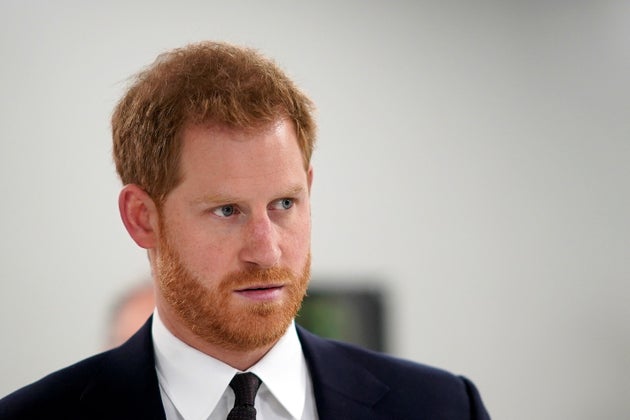 He also said at the time that he wanted "to make something of my life" as senior member of the royal family while the focus was still on him.
"I feel there is just a smallish window when people are interested in me before [William's children] take over, and I've got to make the most of it," he said.
The comment about living in a goldfish bowl echoed sentiments the prince expressed during a chat with The Telegraph in April 2017.
"I have probably been very close to a complete breakdown on numerous occasions when all sorts of grief and sort of lies and misconceptions and everything are coming to you from every angle," he said at the time.
The Duke and Duchess of Sussex announced Wednesday that they will be moving into a new role within the royal family after "many months of reflection and internal discussions."
It appears Harry and Meghan have been planning the move for a long time, as they registered for their new website ― which announced their plans for the future ― back in March of 2019. They also filed for a trademark for their new foundation with the UK's Intellectual Property Office back in June, though it was published on December 19, 2019.
Source: Huffington Post Australia Athena2 https://www.huffingtonpost.com.au/entry/prince-harry-frustrated-royal-life_au_5e1810bbc5b650c621dc2853