More than 143,000 people were vaccinated, "a fantastic number", Premier Gladys Berejiklian said.
New South Wales has recorded 882 new COVID-19 cases and two more deaths, as the long-awaited plan for students to return to schools was revealed.
More than 143,000 people were vaccinated, which is "a fantastic number", Premier Gladys Berejiklian said.
A total of 118,000 tests were conducted.
READ MORE: ATAGI recommends vaccine for children over 12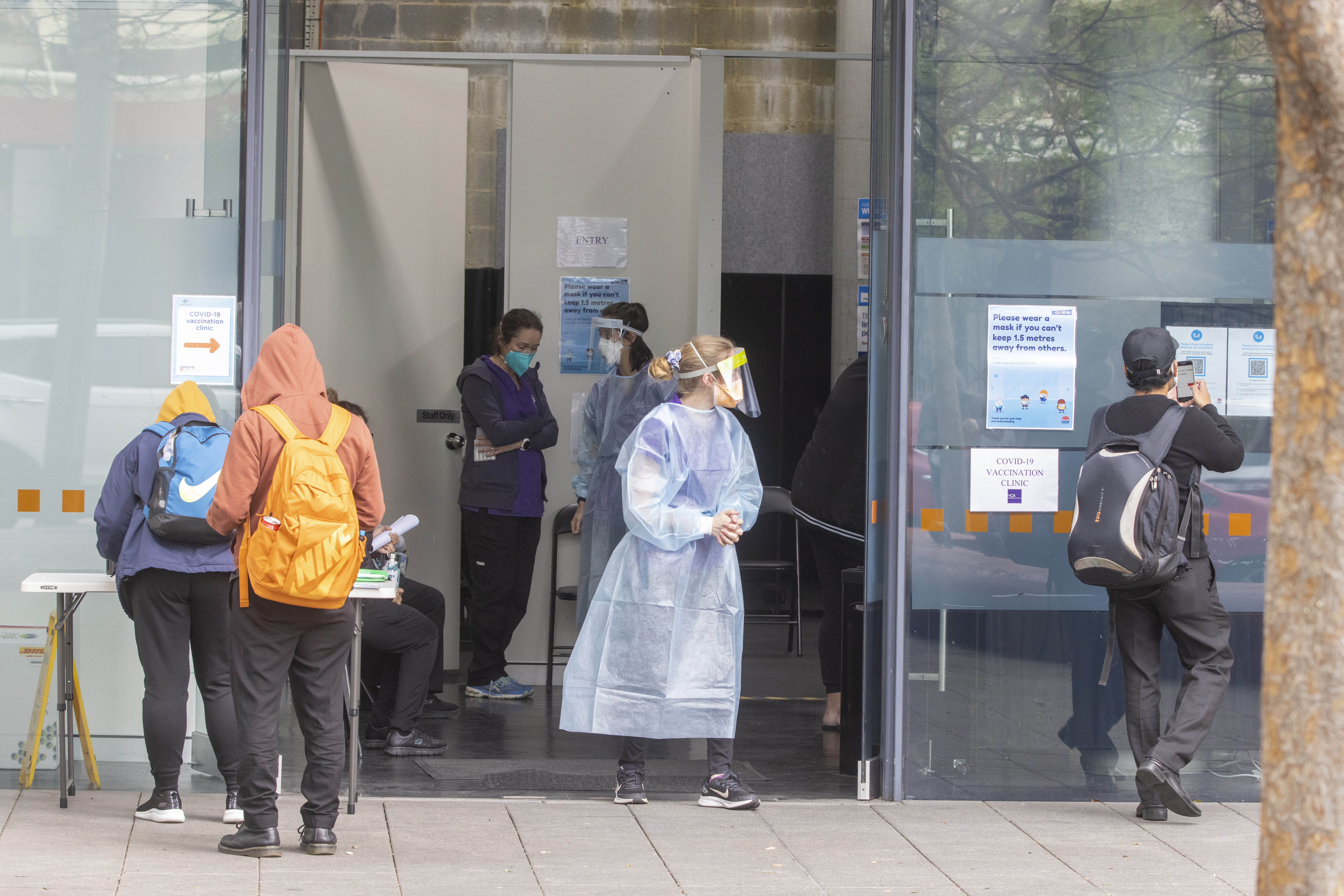 A man in his 60s and a man in his 90s were the latest to die, with each having had received one dose of the vaccine, and both having underlying health conditions.
NSW Deputy Chief Health Officer Dr Marianne Gale said the younger man died at Nepean Hospital in western Sydney, after he was infected there earlier this month.
The death marks the third death linked to the outbreak at the hospital.
The older man, from western Sydney, died at Concord Hospital after catching the virus at Canterbury Hospital.
He is now the fifth death linked to the outbreak there.
Ms Berejiklian said that the Camden and Penrith LGAs could become LGAs of concern if high case numbers in those areas continued.
She said people in those LGAs should be "extra careful" about abiding by the lockdown rules.
"Continue to do the right thing, make sure you come forward and get vaccinated to ensure that you can continue the way that you are in the foreseeable future," she said.
More than 80 per cent of NSW's new cases continue to come from western and south-western Sydney.
Amid ongoing criticism over the state's handling of the current outbreak, Ms Berejiklian has said the NSW COVID-19 management strategy is working despite high new case numbers.
"The rate of hospitalisation has still been relatively low and the mortality rate has been relatively low, compared to other outbreaks in Australia, so that gives us heart that our strategy is definitely working," she said.
"The Doherty report actually says once you hit 70 per cent double dose (vaccinations), you don't even need to focus on the number of cases so much, but really the rates of hospitalisation and we are starting to make that mind change in NSW."
Face-to-face learning in schools returns from October 25
Students will return to schools from October 25, Ms Berejiklian has announced, with HSC exams being pushed back to November 9.
Face-to-face learning will start from the end of October, in a staggered return with kindergarten and Year One classes starting first.
"We are asking for everybody who works on a school campus to be vaccinated by November 8," Ms Berejiklian said.
"A large proportion of teachers are already vaccinated but we are calling out for anybody, to any teacher, who is not vaccinated to get vaccinated."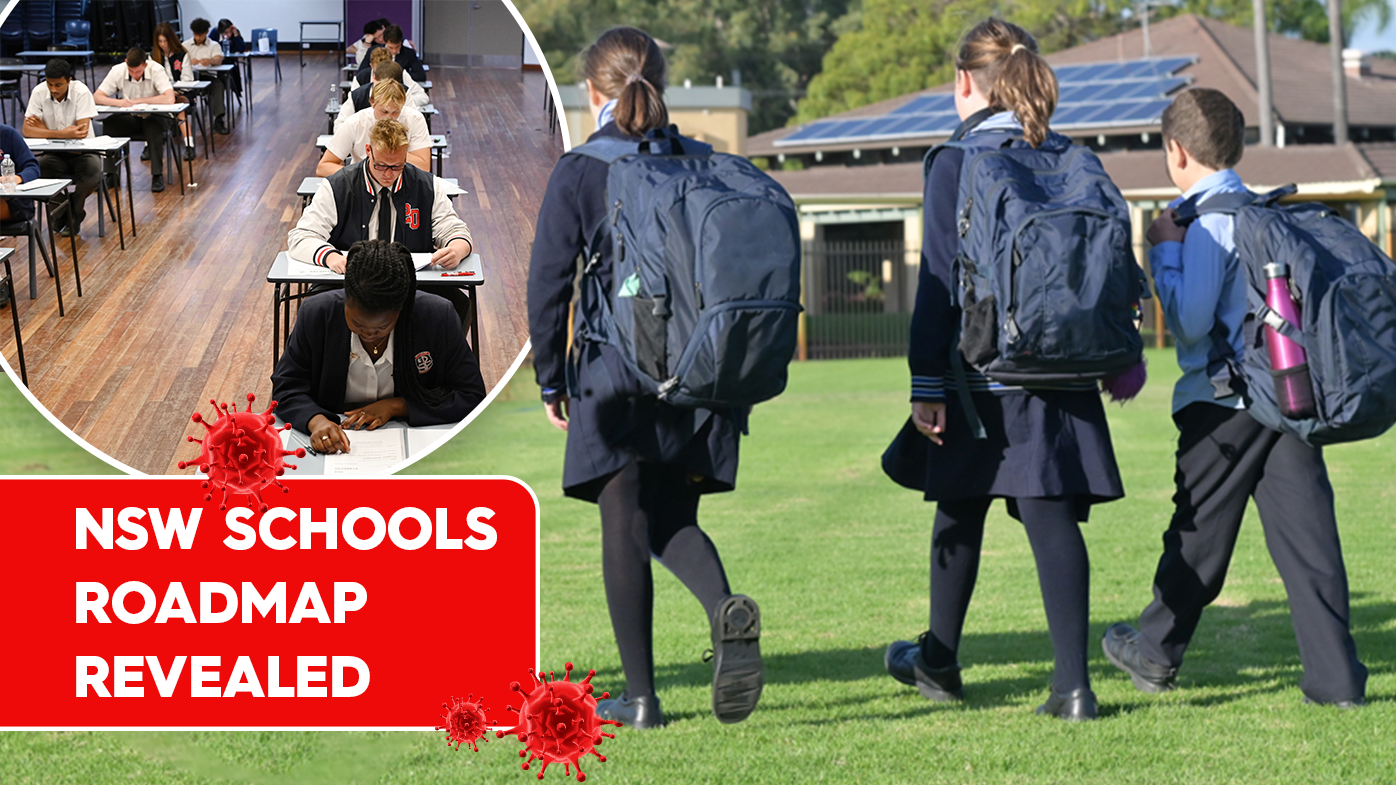 READ MORE: The return-to-schools plan explained
There will be a special vaccination day for teachers on September 6.
Ms Berejiklian also said schools in any area of NSW that exited lockdown before October 25 would return to face-to-face learning "automatically".
Education Minister Sarah Mitchell has said that the government had designed a "clear roadmap" to get students back in classrooms.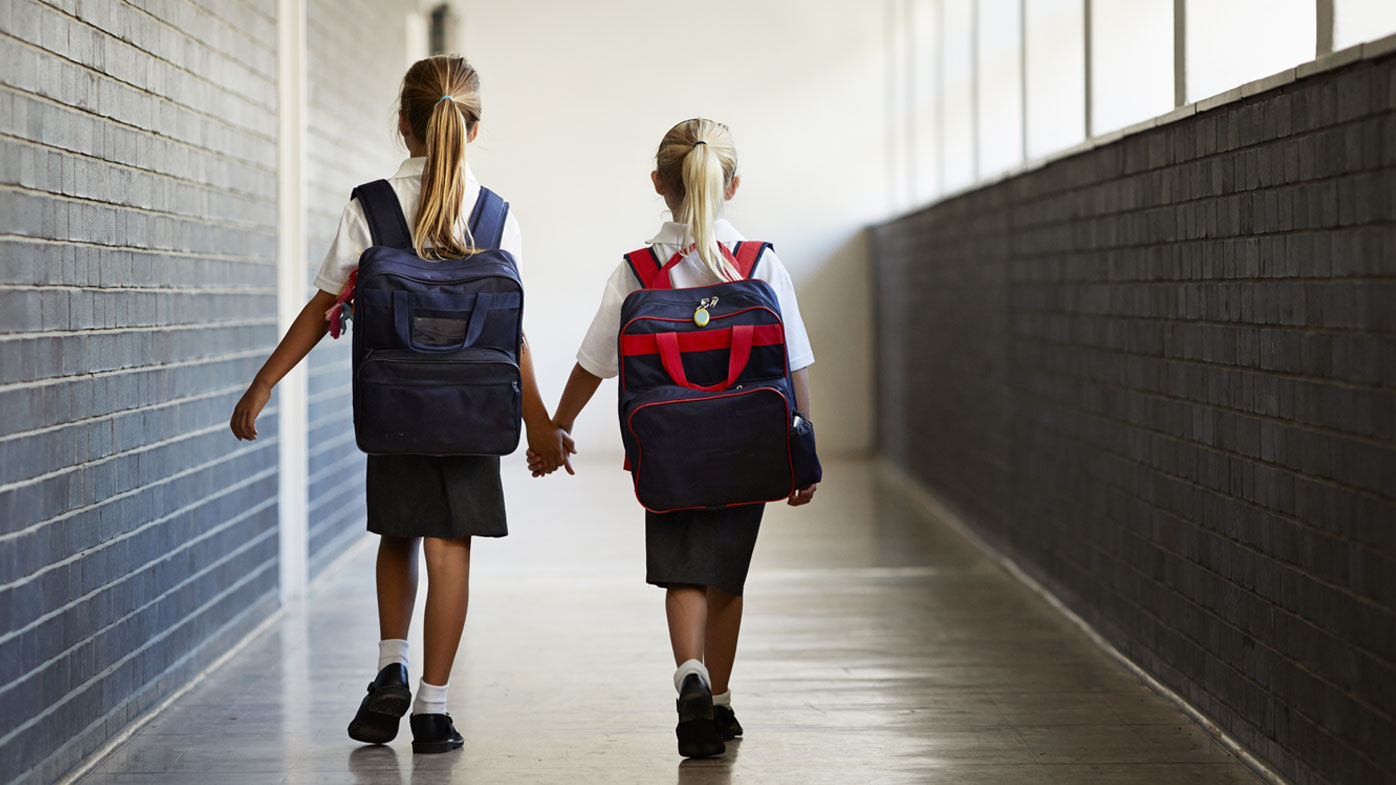 "So as the premier said, we will be starting to see students return to the classroom from the 25 October, it will be a staggered return, it's in line with how we expect to see increasing vaccination rates in our community," she said.
Ms Mitchell said "strict COVID settings" would apply and for the rest of term three, learning from home will continue.
"But from term four, from October 25, our kindergarten and our Year One students will return to the classroom," Ms Mitchell said.
"We will also allow for Year 12 students to come back in a greater way than they are now, obviously at the moment there is a limited return for Year 12 students, they can attend school for up to two hours a day.
"But from October 25 we will be able to increase that and that is particularly important, to give those HSC students more time with their teachers face-to-face before the exams began.
From November 1, Year Two, Year Six and Year 11 students will be welcomed back, and from November 8, all remaining year groups will be back in the classrooms.
Masks compulsory for high schoolers, advised for primary students
As part of the return to school plans, students will be under level three restrictions, which will involve minimal mixing and no extra adults on campus.
There will be no assemblies and large gatherings, while mask-wearing will be compulsory for all staff and all high school students.
Primary school students are also advised to wear masks.
Year 12 students will not miss out on university offers despite the delayed HSC exams, Ms Mitchell added.
READ MORE: Man with COVID-19 dies after contracting virus at Sydney hospital
She said a new timetable for exams would be released in September.
"We expect that means the results will come out in mid-January, but the university sector has been consulted, and are able to accommodate those changes," Ms Mitchell said.
"And that means any Year 12 student who wants to go to university will be able to be offered a place, in line with previous years."
Ms Mitchell also said that existing measures were in place to deal with "illness and misadventure" in the event an HSC student was unable to attend an exam.
"Any particular student on the day of their exams who cannot attend because they are unwell, if they are impacted by being a COVID close contact, there are already procedures in place to help those people in terms of the assessment," she said.
"We did that last year and we do it when there are bushfires or natural events and there are good mechanisms in place."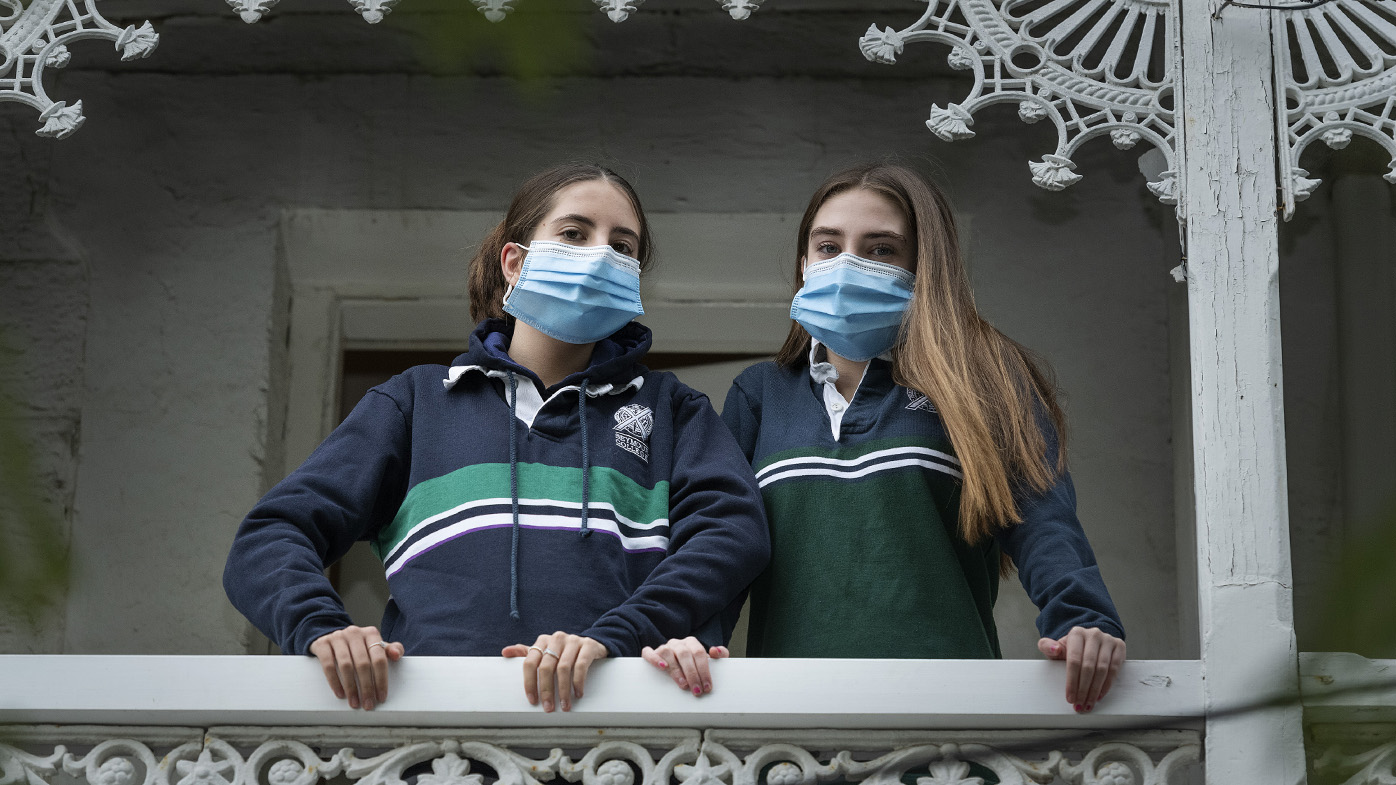 Premier urges parents to vaccinate children aged 12 and over
Ms Berejiklian has hailed the recommendation of the Pfizer vaccine for children aged 12 to 15, urging parents who wanted to make a booking to do so.
"What we'd also love, when it is available, is more vaccine because children under 18 only get Pfizer," she said.
"Clearly, we are planning to accommodate those students and I understand mid-September is when we expect most parents to be able to make those bookings in earnest and in a reasonable timeframe."
Asked what her position was on children who wanted to get vaccinated against their parents' wishes, Ms Berejiklian said she wanted to see rates "as high as possible."
"We would never tell parents what to do, but obviously the safety of their children is a matter for them, and we will have more health advice to provide in relation to that," she said.
"In relation to adolescents 16 years and over, I think there is no question that we encourage them to get their hands on a vaccine and get vaccinated."
Anti-vax teachers on agenda
Ms Berejiklian said the NSW government was "working through" the issues surrounding any teachers who refused to get the COVID-19 vaccine.
Vaccination will be mandatory for school teachers from November 9.
"There are issues and challenges we will work through, but I'm so encouraged by the survey response Minister Mitchell spoke about, where 70 per cent of our teaching force have had at least one dose," Ms Berejiklian said.
"Teachers are doing it tough with enormous responsibilities, but everybody appreciates that when you are in contact daily with children, what is more important than protecting our children in every which way?"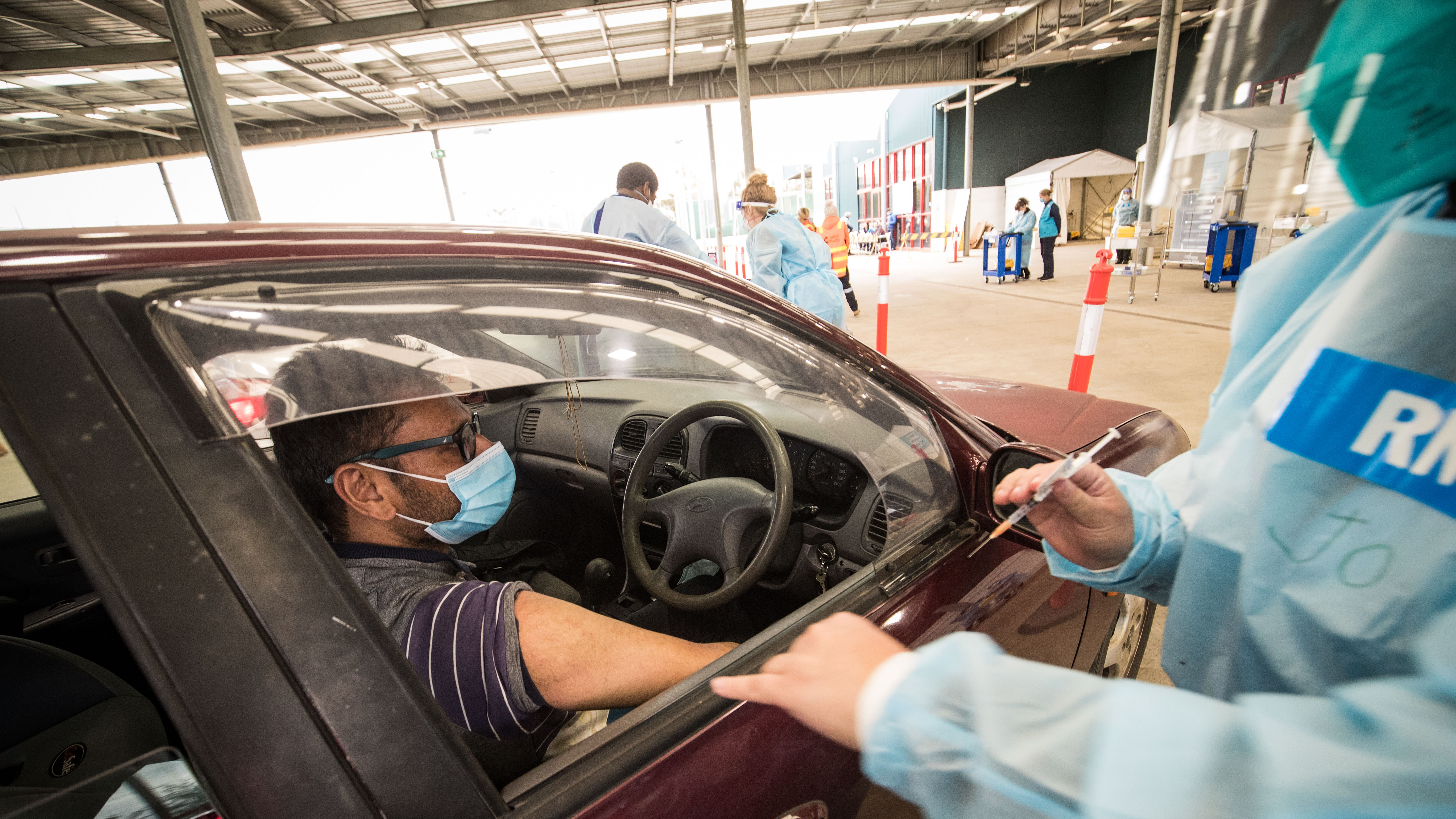 New auto-messages to relieve stress on health service
Dr Gale has confirmed NSW health authorities have implemented an auto-messaging system for people who test positive to COVID-19.
"Clearly the growth in cases has been a challenge and it has been a stress on our services," she said.
"Both for the teams who conduct the contact tracing to contact cases to call them, and for our clinical teams."
From last week, whenever somebody tests positive to COVID-19, they will receive an automated text message that advises them of that result, of the need to stay in isolation, and tells them to contact their household contacts.
The messages also provide information, and gives people a number to call if they need assistance.
READ MORE: How to prove you've had your COVID-19 vaccinations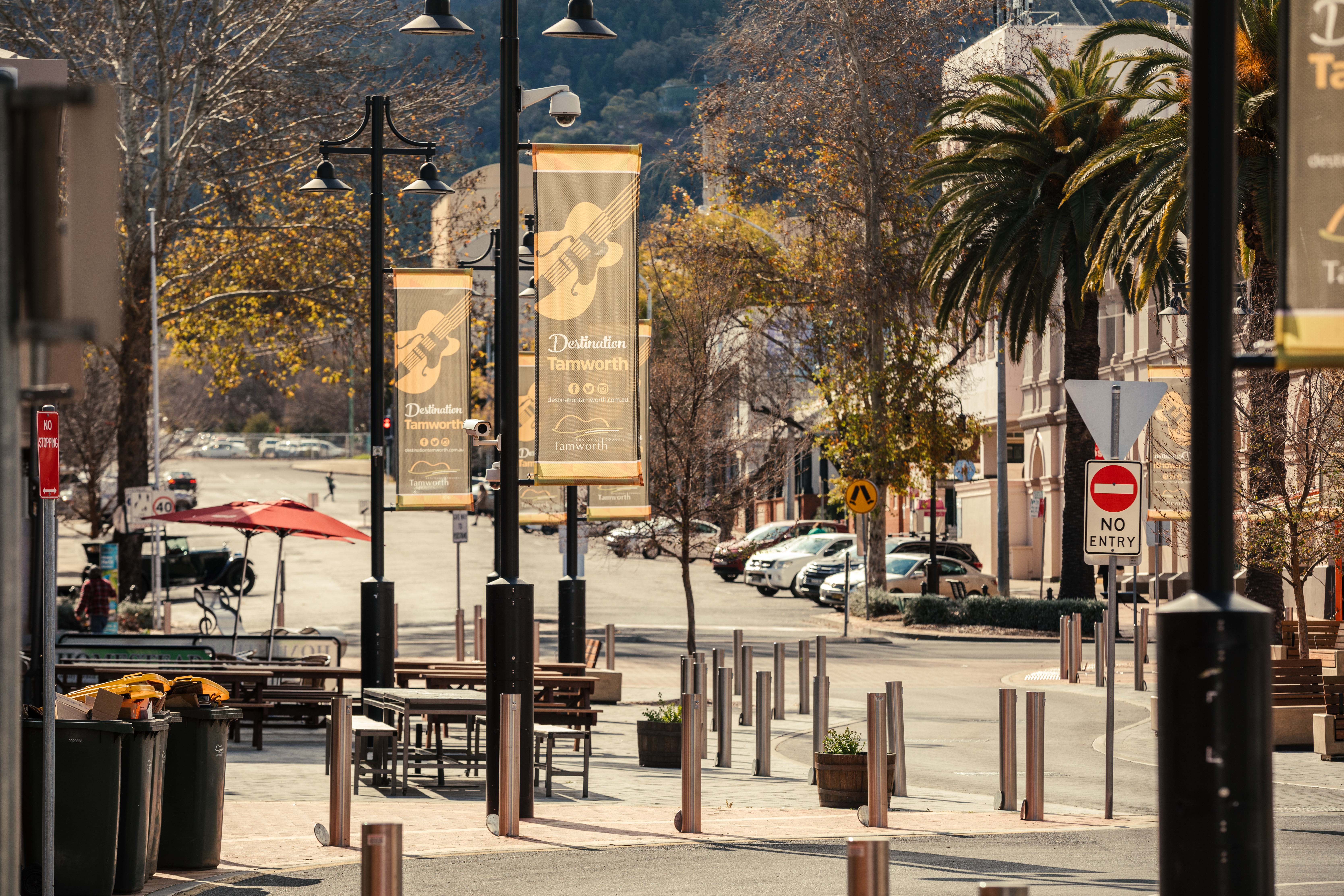 Lockdown to remain in regions
Ms Berejiklian has called on the Queensland Government to consider lifting border restrictions for northern NSW, despite those areas remaining among the statewide lockdown.
"It is their decision but as has been highlighted, the Northern Rivers and northern border communities in NSW haven't had any cases of COVID-19 for a long time," Ms Berejiklian said.
"Pleasingly, we have worked well with the Victorian government in terms of that point there, but if the Queensland Government could consider the virus risk and the ability of people in those communities to come in and out safely … I encourage them to look favourably on those people doing it tough."
However, Ms Berejiklian defended her decision to keep those areas in lockdown.
"During a pandemic, all of us have to forgo our liberty and what we enjoy doing to keep everybody safe, and that is what we are asking all our communities to do," she said.
Deputy Premier John Barilaro said opening up the lockdown "community by community" in the regions would only risk a resurgent outbreak.
Regional NSW is currently in lockdown for at least two more weeks.
"No community is an island," Mr Barilaro said.
"So we will look at a regional approach, if there is a chance in two weeks to look at a broader region but we know we are confident with health advice and we can open, of course we'll give that consideration."
COVID-19 has also since been found in sewage in the regional NSW areas of Tamworth, Merimbula, Picton and Nyngan, where health authorities were not aware of any existing cases.
Source: 9News https://www.9news.com.au/national/coronavirus-nsw-update-latest-covid-19-case-numbers-schools-return-trial-of-industries-reopening/09779998-e4fc-43ca-bf3e-10edeaf2f7b1