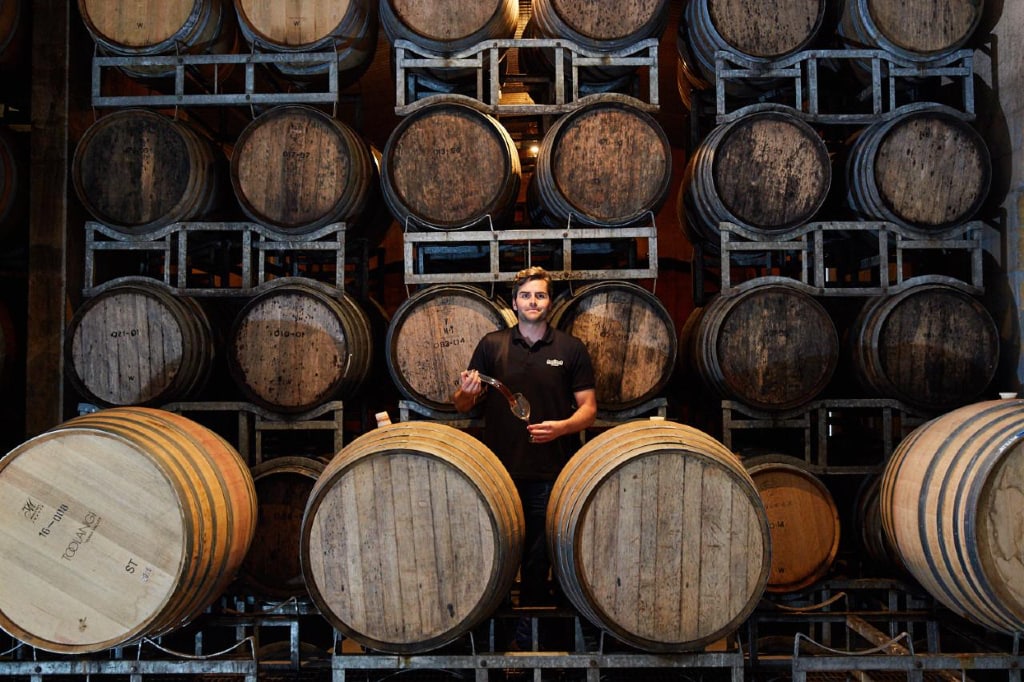 Tasmanian Pinot Noir.
It's become one of the success stories of the state's cool climate wine industry, and it's not hard to see why when you taste the Pinot Noirs that collected trophies and gold medals at the recent Tasmanian Wine Show.
Rich and vibrant in colour, they stand out from their mainland peers by virtue of their expressive aromas, fine texture, great balance and superb length of flavour. Indeed, some pundits will tell you they can spot a good Tasmanian Pinot Noir at ten paces.
That wasn't always the case. Many of those being grown and made in the State in the early 1990s seemed overly fragile and delicate. And if they weren't being mistaken for young Rosé wines, they were often noticeably acidic and needed the companionship of a plate of good food for best enjoyment.
Just exactly what we'll see in the Pinot Noirs of 2020 is yet to be settled. But if there's anyone in Tasmania's north-east that's more informed about them than most it's Pipers Brook Vineyard's Luke Whittle. A passionate Pinot-phile for as long as he's been drinking wine, he is the man with his name on the back of Pipers Brook Vineyard's 2018 Estate Pinot Noir. Last year, the wine turned in gold medal performances at two major capital city wine shows – the Sydney Royal Wine Show and Tasmania's Royal Hobart Show.
This year will see the New Zealand-trained chief winemaker working his way through his sixth vintage on Pipers Brook's hallowed red soils. He arrived to process the 2015 harvest and returned to a full-time company position the following season, determined to pursue his passion for cool climate wines while enhancing the reputation of one of Tasmania's most iconic wine labels.
Looking back over his past five years, Whittle says it was the perfect time for him to join the 45-year-old company. Purchased by Belgian-owned Kreglinger Wine Estates in 2003, Pipers Brook Vineyard was in need of an ambitious program of vineyard redevelopment to restore the company to its former glory. The man given the task was highly respected Victorian viticulturist and cool climate specialist, Ray Guerin.
"Working as our consultant, Ray has been really fundamental to ensuring Pipers Brook is set up for success into the future," Whittle explains.
"Back in 2016, we had quite a lot of vines that were under-performing due to old age or disease pressures. Each year, we were getting consistently low yields from them, and the quality of the Chardonnay and Pinot Noir that we were looking to use in our Estate-labelled wines often wasn't up to standard. If the quality had been better, we'd have been prepared to put up with low yields. That just wasn't possible on a handful of our vineyard blocks."
Whittle says the company's production base nowadays is somewhere between 170ha and 175ha of vines. Its handful of discrete vineyard sites are located in Tasmania's north-east and in the Tamar Valley. When Whittle signed on as senior winemaker in 2016, their total vineyard area was closer to 180ha.
"The majority of vineyard changes took place between the 2016 and 2017 vintages, and we've been reaping the benefits ever since," Whittle continues.
"While some vines were removed completely, others underwent changes to vineyard infrastructure and vine architecture. Spur-pruning on a number of blocks was replaced by cane-pruning. Our vineyard workforce has also devoted a lot of time and resources to improving leaf canopies. Previously some of our oldest Chardonnay had been prone to both sunburn and botrytis bunch rot in a single season. Those vines had to go."
Company viticulturists Fred Strachan and Kym Ayliffe have been charged with the responsibility of putting Guerin's bold rejuvenation plan into action, and they haven't let the team down. Among the highlights of the recent Tasmanian Wine Show was the Trophy for Best 2019 Vintage Wine awarded to Pipers Brook Vineyard's Ninth Island Riesling, an entry-level wine often retailing below $20 in the Tasmanian market.
"Since our vineyard rejuvenation program was put into effect, each vintage has given us better and better quality fruit," Whittle says.
"We're now seeing the fruit flavours we're looking for developing a little earlier and more consistently than we saw in the past. That's allowed us to pick exactly when we wanted to, rather than have seasonal conditions decide for us. Right now, we're on track for a pretty normal vintage, time-wise. It should also be another high quality one, due to plenty of summer sunshine and slightly lower than average vine yields."
Let's all drink to that.
DIARY DATES
On February 22-23, the Tasmanian Wine Festival will be held at Hobart's iconic Royal Tasmanian Botanical Gardens. This new outdoor event will showcase top wines from around 20 participating vineyards. Sample fab food along with local and interstate live music and entertainment. Tickets from $25 for each 4-hour session Saturday; $25 per 5-hour session Sunday. See www.taswinefest.com.au
On February 23, from 10:30am to 4:30pm, Ulverstone's ANZAC Park plays host to Festival in the Park, a major celebration of lifestyle, food, wine, art and entertainment from Tasmania's North West Coast. Visit www.festivalinthepark.org.au
On February 29-March 1, vineyards in southern and eastern Tasmania hold their annual Open Vineyards Weekend. Many sites not normally open to the public will welcome visitors with tastings, food and entertainment. These vary from site to site. For all details, see openvineyards.wine or facebook.com/openvineyards
---
Hobart's Mark Smith wrote his first weekly wine column back in 1994. Now more than 1600 features and 25 years later, he continues to chart the successes of Tasmania's small scale, cool climate wine industry with regular contributions to some of Australia's leading industry publications.
---
PICK OF THE CROP

Mark gives you his honest opinions about the best wines available right now from Tasmania's wine makers.
2019 Bell & Gong Sauvignon Blanc $30
Bell & Gong is a small family operation located outside Longford in Tasmania's north. Owners Frances and Simon Francis have a passion for Pinot Noir, so each vintage they purchase small quantities of Sauvignon Blanc from a top-performing site at Relbia, near Launceston. Their 2019 wine is shy and retiring in colour and aroma, but its bright passionfruit and lime flavours dance across the palate. That deliciousness rang the judges' bells at the 2020 Tasmanian Wine Show, earning the wine a gold medal in a fiercely contested class of entries. www.bellandgong.com

2018 Freycinet Wineglass Bay Sauvignon Blanc $27
Freycinet on Tasmania's East Coast has an enviable record for top-notch sparkling, Riesling and Pinot Noir. The vineyard's sunny location not far from Bicheno also appears well suited to Sauvignon Blanc. This is the second vintage in a row that winemaker Claudio Radenti has fashioned a very potent dry white with a distinct European feel to it. Put that down to astute use of barrel fermentation and ripe fruit characters that track smoothly across a long citrus/tropical palate. Beguiling and very more-ish. www.freycinetvineyard.com.au

2018 Bangor Captain Spotswood Pinot Noir $34
Wow, the Dunbabin family's early drinking Pinot Noir deserves a trophy for affordability to complete its Tasmanian Wine Show trifecta. It's very smart indeed. The region's signature red fruit aromas leap from the glass. Those are soon joined by juicy black cherry and red berry flavours that display a real fleetness of foot. Maturation in old oak provides structure without overt tannins to disturb the wine's intrinsic balance and appeal as a current drinker. It's a versatile performer at the table, so be as daring as you like. What's to lose? www.bangorshed.com.au

2018 Puddleduck Pinot Noir $48
Jackie and Darren Brown's Puddleduck Vineyard between Cambridge and Richmond has been drawing visitors to its bright, welcoming cellar door for almost two decades. The site basks in Coal River Valley sunshine each growing season, so the Pinot Noirs here display typical regional characteristics, including rich dark hues and black cherry fruit aroma and flavours. A hint of pepper spice completes the picture and will draw tourist numbers by the carload. Good stuff. Available only at cellar door. Look for the roadside banners. www.puddlduckvineyards.com.au
The post Pipers Invests in Vineyard Riches appeared first on Tasmanian Times.
Source: Tasmanian Times https://tasmaniantimes.com/2020/02/pipers-invests-in-vineyard-riches/#utm_source=rss&utm_medium=rss&utm_campaign=pipers-invests-in-vineyard-riches