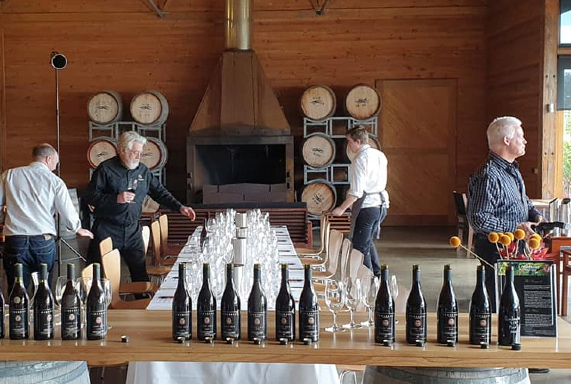 Once known as the granary of Australia, Tasmania's Coal River Valley is developing an enviable international reputation for the quality of its cool climate wines. That's hardly surprising, given the valley's abundant summer sunshine, long dry autumns and world-class viticulture being practised by its growing number of vineyard owners and operators. Yet, as remarkable as […]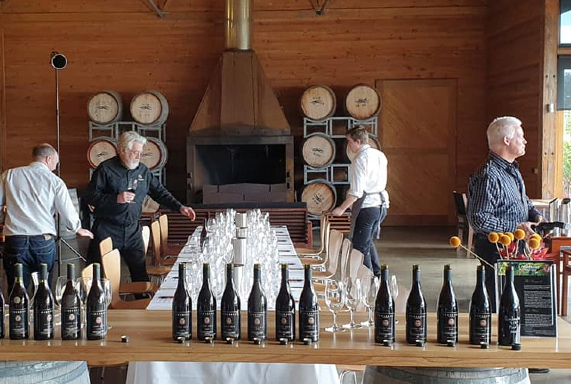 Once known as the granary of Australia, Tasmania's Coal River Valley is developing an enviable international reputation for the quality of its cool climate wines.
That's hardly surprising, given the valley's abundant summer sunshine, long dry autumns and world-class viticulture being practised by its growing number of vineyard owners and operators.
Yet, as remarkable as it may seem nowadays, this small wine industry sub-region in the state's south was once considered unsuitable for grape-growing. Indeed, viticulture on the island more generally was actively discouraged by Tasmania's Department of Agriculture well into the 1960s.
It's been 40 years since Coal River Valley winegrowers Peter McKay and Damon Hawker began their Pembroke Estate Vineyard. Even the merest hint of those disparaging industry predictions brings a wry smile to each of their faces.
"We began our partnership in September 1980," Hawker told the dozen or so participants in last week's tasting of 23 different vintages of Pembroke Pinot Noir.
"We started out by actually doing some trial work with the Department of Agriculture.
We planted all sorts of things in our vineyard – Siegerrebe, Chasselas – you name it, we had it. Eventually, we ended up converting all 1.3 hectares to Pinot Noir.
"Why Pinot Noir? Having heard so many times we'd never get our grapes to ripen properly, we decided we'd hedge our bets. We thought if we couldn't get our Pinot Noir to ripen for red table wine, we could always pick early and make sparkling wine instead."

"Today, this valley is producing some of the best cool climate wines in the world," McKay chimed in.
The four decades-long family partnership is certainly unique within the context of the Tasmanian industry. McKay and Hawker have a life-long friendship that dates back to 1959 and their earliest days together as young, knockabout schoolkids.
Born and raised at Cambridge, McKay says his valley connections began in the first half of the 19th century with the arrival of convict William McKay. The petty criminal from Scotland may not have been a successful pickpocket but he was an ambitious 17-year-old, keen to get ahead in the wild colonial days of Van Diemen's Land.

By 1848, he had gained his freedom and created sufficient wealth to purchase the 1560-acre Richmond Road property of ferry entrepreneur, John Petchey. Known as Uplands as well as Petchey Estate, it became home for six generations of McKays. By the early 20th century, the site had become a valley focal point for annual ploughing competitions.
Pembroke's two hours of retrospection at Frogmore Creek Cambridge provided a welcome and instructive opportunity for key industry players to unravel the 40-year history of viticulture in the district.
Even today, few places on the planet can produce cool climate Pinot Noir that is truly varietal in nature and genuinely consistent in wine style and quality. For the most part, you can attribute that to the challenges associated with finding suitable vineyard sites that have growing seasons long enough, cool enough and dry enough to allow wine grapes to develop true expressions of the variety.
Issues relating to soil type, vineyard aspect, clonal selection, canopy management and crop yield all serve to confound the hapless grower. And having a mind-boggling array of processing options to draw upon doesn't make the job any easier for seasoned winemakers either.
"Pembroke was among my first clients when I returned to Tasmania to start my contract winemaking business," recalled retired industry figurehead, Andrew Hood.
"I rarely get the chance to re-taste those very early wines. Pembroke was one of my first Pinot Noir vineyards, and it was an exciting time in the industry. I had no previous experience making Tasmanian wine, so it was also a little bit scary. There were very few people you could call upon to give good advice in the vineyard or in the winery."
"Looking back over the history of Tasmanian wine more generally, it's pretty remarkable to think this State had one of the first commercial Pinot Noir vineyards anywhere in Australia, and that was back in the 1820s," noted Bream Creek Vineyard's Fred Peacock.
The 2018 Gourmet Traveller Wine Viticulturist of the Year added that while Tasmanian Pinot Noir growers and winemakers have learned a lot over the past 40 years, the variety's occasionally wayward responses to seasonal factors can still set producer pulse rates soaring whenever harvest draws near.
"The ideal growing conditions leading up to vintage 2001 helped create really beautiful wines," Peacock added.
"Meanwhile, in early 2004, most growers across the state found themselves carrying huge crops of Pinot Noir they realised they were going to have difficulty ripening if January's rainfall continued and the weather cooled during late summer. Those that didn't carry out the drastic bunch-thinning that was required got caught out really badly. Some vineyards took ages to harvest their Pinot and the resulting wines were often very light-bodied and really green and unripe in flavour."
The retrospective nature of Pembroke's tasting highlighted some of Hood and Peacock's earliest observations on Coal River Valley Pinot Noir – that the wines there often display subtle but characteristic minty/eucalypt aromas and flavours, in addition to hallmark notes of cherry and dark plum.
"I remember identifying that character very early on in my winemaking here," Hood explained.
"I've often likened it to the smell of sassafras leaves, which I've always found really attractive. It's often criticised when found in Pinot Noir. But I think it gives these wines a lovely forest floor or rain forest character that is truly Tasmanian, and also allows them to age really beautifully over a long time."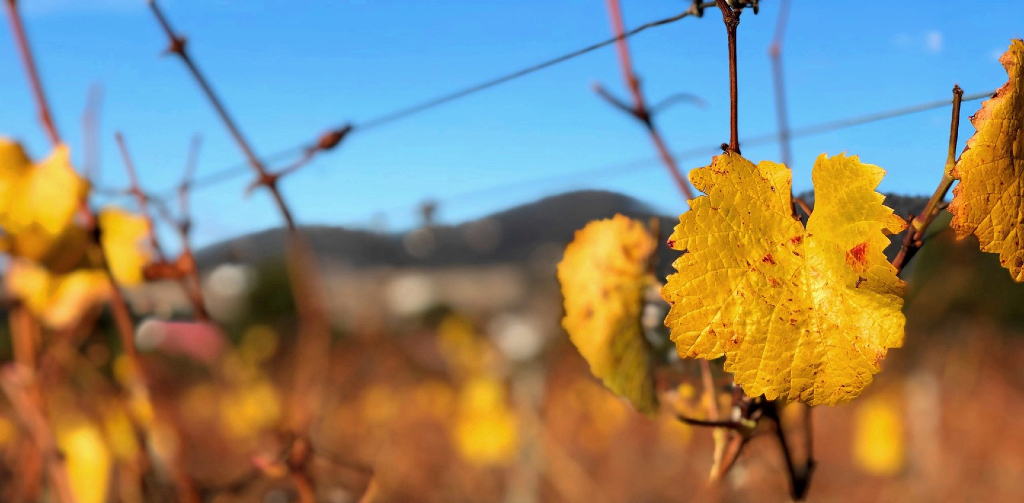 Climate change effects
The horrific fire storms in California and the Pacific Northwest states of Oregon and Washington during the past month have prompted US scientists and citizenry alike to assert that climate change is real and is already at work on their landscapes.
The nature of recent climate change effects in Tasmania were not lost on those assessing 30 years of wine production at Pembroke Estate's pocket handkerchief site outside Hobart. Industry veterans like Fred Peacock and Andrew Hood have both observed small but significant changes in viticulture across the State.
The man from Bream Creek says cooler seasons nowadays are nowhere near as extreme as they were 15 or 20 years ago. Warmer seasons on the East Coast are also more frequent and result in Riesling there being harvested two weeks earlier than was typical for the variety in the 1990s.
"My experiences of the Coal River Valley indicate that picking dates at Pembroke Estate and other vineyards are now two, sometimes three weeks earlier than they were in the past," Hood stated.
"That means ripening Pinot Noir in particular is much more reliable, with wine quality not only better but more consistent."
There's no doubting the significant positive effects Pembroke Estate has experienced during its first three decades. The tasting's best wines were from the recent warm vintages of 2019 and 2018. Even the 2020 Pinot Noir is evolving very nicely in barrel despite its less than ideal growing conditions in the Coal River Valley.
The best aged wines – the 1990, 1998, 2001 and 2006 – were all products of vintages preceded by warm January and February months and sunny, low rainfall autumns.
---
Hobart's Mark Smith wrote his first weekly wine column back in 1994. Now more than 1700 features and 25 years later, he continues to chart the successes of Tasmania's small scale, cool climate wine industry with regular contributions to some of Australia's leading industry publications.
---
PICK OF THE CROP

Mark gives you his honest opinions about the best wines available right now from Tasmania's wine makers.
2018 Bellwether Ant Riesling $34
Talented Coonawarra winemaker Sue Bell has been sourcing fruit from Tasmanian vineyards for two decades now and has superb understanding of what it takes to make the region's wines really hum. Bellwether's Ant label is part of her climate change range. Ants move when the weather changes, she notes. This Tamar Valley wine really is a mover and shaker too – crisp, lithe and ever so refreshing on its own or with Tasmanian oysters straight from the shell. Its vibrancy and intensity suggest a long cellaring life, and amen to that. My kind of Riesling. Delicious. www.bellwetherwines.com.au

2019 Spring Vale Pinot Gris $30
Spring Vale on the state's east coast is the site of one of Tasmania's most popular cellar doors. Warm and sunlit, its vineyard is kept well ventilated by frequent sea breezes, with Pinot Gris appearing to respond especially well to the growing conditions. Visitors love this rich, round, aromatic wine after it has spent its requisite few months in old oak puncheons. Its spicy, pear-like fruit has engaging quince characters that add layers of texture and a certain opulence to the style. A crowd pleaser that can carry the heat of a good curry dish. www.springvalewines.com

2017 Gala Estate Black Label Chardonnay $65
It seems only yesterday Gala Estate was established by Cranbrook's Greenhill family, north of Swansea. In reality, it was planted back in 2009 and had already worked up a full head of steam with award winning wine releases by the mid-teens. This stylish, barrel-fermented Chardonnay from the excellent 2017 vintage is no show pony, however. It wins you over with subtlety and intriguing complexity. Its lemon/lemon curd characters have a touch of nectarine to them as they flow gently across the palate. Elements of new oak are well disguised, adding more to texture than flavour. Neat.

2017 Dalrymple Coal River Valley Pinot Noir $64
South Australia's Hill-Smith family has become one of Tasmania's major industry players with substantial investments in Jansz sparkling and a range of vineyard sites purposely managed for the production of top-notch Pinot Noir. Peter Caldwell is a dab hand with the quirky red variety, having made excellent wines in New Zealand two decades ago. This 2017 wine from a site near Penna has attractive red and blueberry fruit, along with regional spice notes to gently draw attention to it. A nice flow of flavour ends with fine ripe tannin and good natural acidity. Roast duck ready. www.dalrymplevineyards.com.au
---
ADVERTISEMENT   –   ADVERTISEMENT   –   ADVERTISEMENT
Source: Tasmanian Times https://tasmaniantimes.com/2020/09/pembroke-pinot/#utm_source=rss&utm_medium=rss&utm_campaign=pembroke-pinot