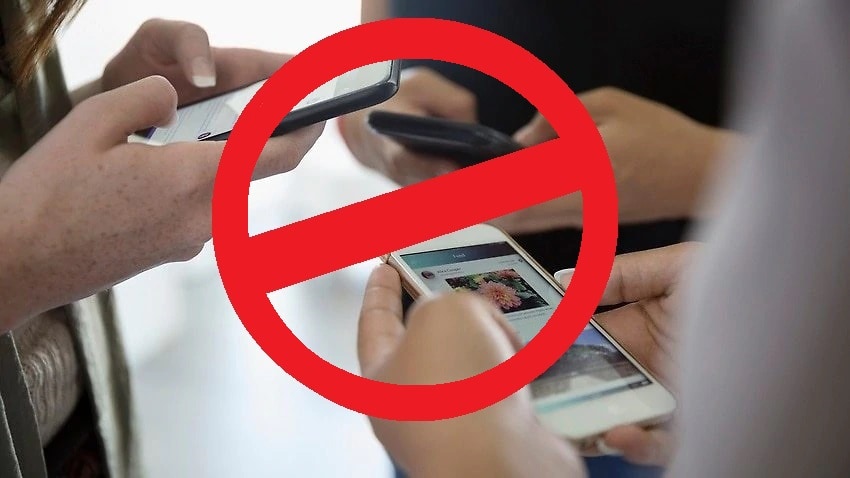 Tasmanian Times spoke to Labor's Shadow Minister for Education, Josh Willie, about the mobile phone ban. Do you ever use your mobile phone to find information and learn new things? The Tasmanian Government announced late last year that all Department run schools will enforce a statewide policy to stop students using mobile phones during school […]
The post Out Out Damned Phone! – Schools Ban Mobiles, Part 1 appeared first on Tasmanian Times.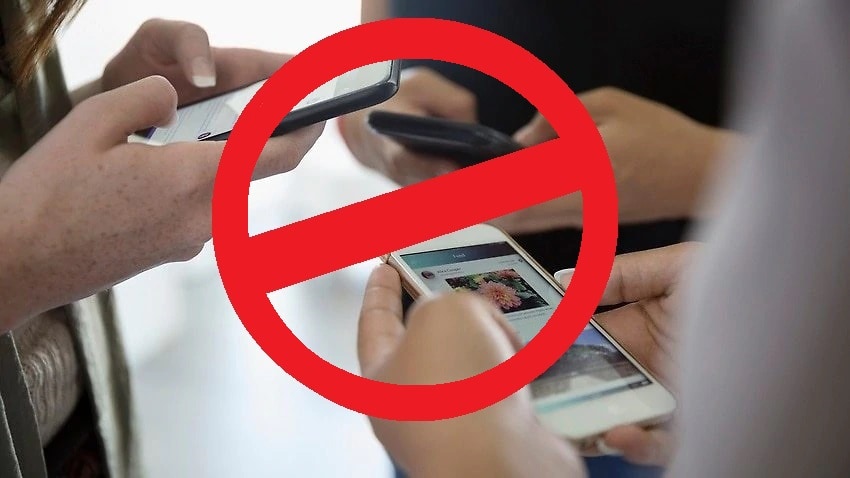 Tasmanian Times spoke to Labor's Shadow Minister for Education, Josh Willie, about the mobile phone ban.
---
Do you ever use your mobile phone to find information and learn new things?
The Tasmanian Government announced late last year that all Department run schools will enforce a statewide policy to stop students using mobile phones during school hours.
What has prompted the Department of Education (DoE) and Minister for Education, Jeremy Rockliff, to take this action against mobile phones in public schools?
According to the DoE media release, "Mobile phones will be banned during school hours at Tasmanian government schools in a bid to reduce distraction in the classroom and encourage greater student interaction in the schoolyard."
The federal push and state intentions to ban mobile phones in schools has seen some support from the community, based on observations of online news comment threads. Many can see the positive elements to a ban on mobile phones in school situations, but consideration need to be made in terms of educational outcomes and individual responsibility. Wrapping children in cotton wool is a solution, however not necessarily the best one. From one perspective, it appears that this is just another strategy in the toolkit of the government to influence the lives of young people.
After observing the initial reactions around what the mobile phone ban meant, it was clear that from the perspective of schools and parents that the ban was a good thing. Many schools had already taken steps to restrict students' personal mobile use during school hours, so for these schools the changes will not be radical.
The internet is not short of calling for the removal of mobile phones and information communication technology (ICT) – i.e. iPads in schools. Many schools and states across Australia including Victoria, Western Australia, and New South Wales (primary schools) are also banning mobile phones during school time from 2020 onward.
Student insights
I took the opportunity last December to ask a few school-age children what they thought of the proposed ban of mobile phones in schools. Here are some of the responses from students between the ages of 13 & 15 years of age from the Burnie-Wynyard region on the northwest coast (23 respondents):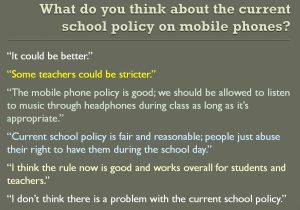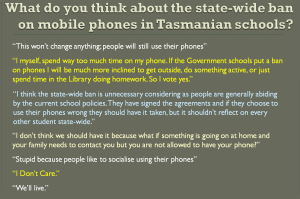 Whilst this is a small sample of the views of young people, it may warrant further consultation for students, teachers, and school staff around suitable protocols to manage mobile phone usage.
Main arguments for mobile phones in schools
Students can use it to research online information when no other device is available – ICT is not the only way to research and learn. Many schools have reasonable ratios of devices to students. There will be a few exceptions, but in general this is becoming less.
Students have greater autonomy and flexibility over contacting parents during school hours – A typical response might be that the student can go to the office and call home. Considerations include: changing nature of communication from text/social media etc. or their parent/guardian may not be able to take calls at work or may simply not be available. The student is taking greater responsibility for keeping parents informed.
Can enhance learning for students of ALL abilities – Student would generally be funded for any technical equipment needed Considerations may include students who fall outside of the funding model, who have learning difficulties or needing greater support to access what the class is doing through digital technology, where appropriate.
Main arguments against mobile phones in schools and possible counterarguments
Too much cyber bullying – Cyber bullying will not necessarily stop just because students do not have access to phones during school hours. Cyber bullying can happen at any time outside of these hours.
Uncontrolled access to inappropriate content – As long as ICT is used in schools, some young people will do their utmost to circumvent the internet roadblocks. The intentions of some young people are often at odds with their educators, despite a school's best effort. Controlling access does not equal prevention.
We never had phones when I was at school, why do we need them now? – The world has changed in the last 10-20 years. Smartphones are our new reality for many villages, towns, and cities. Young people ought to be able to participate in the world they live in, which includes the technology of the time. In times gone past, did people argue that young people should learn without books because they spend too much time reading literature not relevant to the school curriculum, or that there were not many books available to the general public in previous generations? New inventions and technologies are increasingly added to human societies.
It is too hard for the teacher to teach – Is this finally the education revolution we've been waiting for? The chance to discard the unnecessary and obsolete role of the teacher, where the children rise to the challenge and regain autonomy over their learning. The teacher incorporates new technologies at will, yet, as soon as enough students can bring their own self-managed portable device (primarily without the teacher or school's network oversight), suddenly this becomes too hard.
Students can use it to listen to music – Music 'these days' is trash! Okay so you want to listen to music, but can you work/study with music? How is listening to music constantly preparing you for different workplaces? Considerations might include the learning negatives of listening to music as compared to listening to music as an educational outcome in and of itself or using it to self-regulate for students who have sensory issues or anger management challenges.
Main arguments for tech in education and possible responses
Keep up with the times – Why does everyone need to keep up, and what if we do not want to? Do we have any say?
Vital learning tool – Vital for a society that thinks ICT is important, but what if we reject its importance?
Solve problems using technology – the world will always have problems. ICT can create more problems than it solves, the industrial revolution is a perfect example. Industrialisation has led to great innovation globally, but also created some global challenges.
Main arguments against technology in education and possible responses
Distracting from 'real' education – What is a 'real education'?
Many Waldorf Steiner Schools say no to ICT before secondary schooling – What is so sacred about childhood that is disrupted by ICT? What about other digital technologies?
Just use a book! – Books are great, and primary schools do books really well as sources of information, stories, etc. However, high school, college, and university involve greater preparations for a workforce that uses ICT, and thus a greater emphasis placed on ICT. Despite this trend, high school students still use books and primary school students have considerable access to ICT. This does not justify ICT in the first place, but is an argument after the fact of introducing ICT into civilian life.
Too much time on video games and ICT at home, students need respite – Is this the case for all young people? A one-size fits all approach may prevent many or even all students from becoming ICT literate, which is a major Department of Education priority at both the state and federal levels of government.
Anti-digital technology – Obviously not against all technology and most are not living in the stone ages, so what is the issue with digital tech in particular?
Silicon Valley (US centre for innovative technology companies, California) parents do not give children tech – Have they learnt something that the rest of the lay-society has yet to discover or put in to practice? Or does innovation come from those on the fringes of society? *(Further reading at the end of the article.)
Banning mobile phones is an excuse for some teachers in order not to update their teaching pedagogy or content knowledge to meet the demands of a rapidly shifting student cohort, who are spending a great portion of their time using a mobile phone. There will always be those resisting technological change, but individual teachers cannot undo the momentum of this change. It is also a school-wide excuse, because it significantly disrupts the power relationships between staff and students, thereby breaking down the order and control that families, government, and general public expect schools to uphold.
Young people already have the ongoing baggage of not meeting socio-cultural expectations, regardless of shifts in society's thinking. Elderly people, indeed adults in general will (probably) always look at youth as unlearned and needing discipline or tough love. This is especially for those who take risk-taking and anti-social behaviour further than present social expectations.
Schools are the system that allows all adults to be productive members of the labour force, rather than solely primary caregivers / homesteaders, doubling as training subsequent generations to fall into the same system of national and global economic efficiency.
Despite all of the rhetoric around person-centred learning, the weight of this basic function for society to operate effectively in its present form means that students are simply a unit in this macroeconomic agenda. Any substantial threat to this operation, regardless of the educational potential, is quickly covered, excluded or dismissed. For all students to start self-directing en masse (i.e. away from traditional roles in the national economy), would result in a massive crisis for this system. Thus, the mobile phone is a threat to the government's idea of teaching and learning, where schools and teachers maintain control of the student's behaviour, and the curriculum that they access. This may be in stark contrast with educators and school principals, and further research would be insightful.
Phones aside, students are always at different stages in their learning across the curriculum. Teachers and school staff are always undertaking extreme differentiation to cater for all abilities in the inclusive model of education. This takes time, thought, and vast resources. In many situations, coupled with appropriate human and environmental supports, planning for all abilities can require ICT components, and placing limits on ICT devices may construe placing limits on the young people that do genuinely benefit from flexible ICT use.
In Part 2, I look further into the school and educational context.
---
Codie Hutchison is a Tasmanian teacher fascinated by discussing ideas, whether it is politics, education, philosophy, local issues, or just something that someone is passionate about.
Further Reading
https://www.businessinsider.com.au/silicon-valley-parents-raising-their-kids-tech-free-red-flag-2018-2?r=US&IR=T
https://www.nytimes.com/2018/10/26/style/phones-children-silicon-valley.html
https://www.washingtonpost.com/lifestyle/2018/12/27/how-much-screentime-debate-all-parents-are-just-trying-figure-it-out/
https://thriveglobal.com/stories/silicon-valley-execs-are-wary-of-the-devices-they-created/
The post Out Out Damned Phone! – Schools Ban Mobiles, Part 1 appeared first on Tasmanian Times.
Source: Tasmanian Times https://tasmaniantimes.com/2020/01/schools-ban-mobiles-part-1/#utm_source=rss&utm_medium=rss&utm_campaign=schools-ban-mobiles-part-1