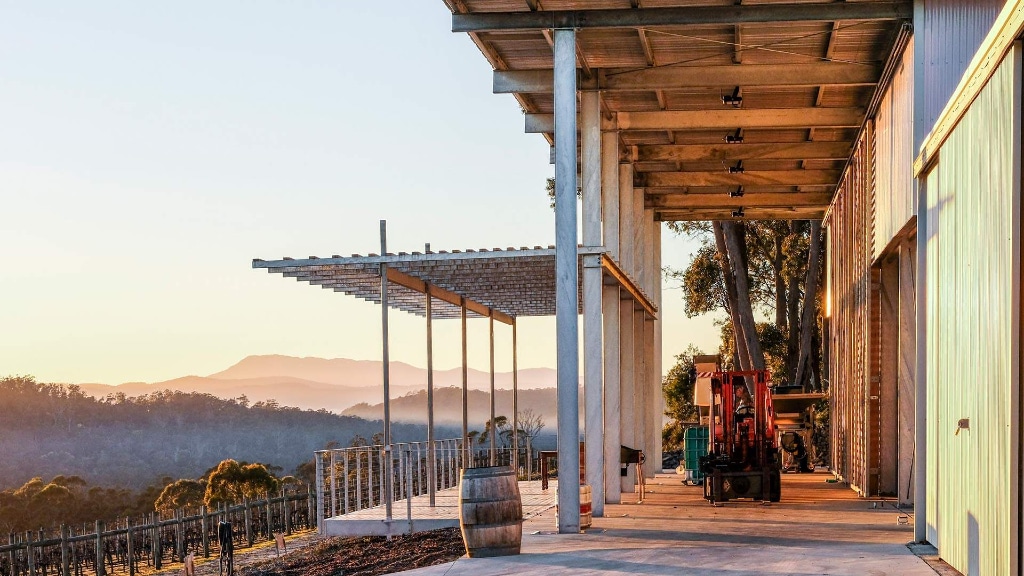 Moores Hill Estate is demonstrating that the sun can do more than just ripen grapes.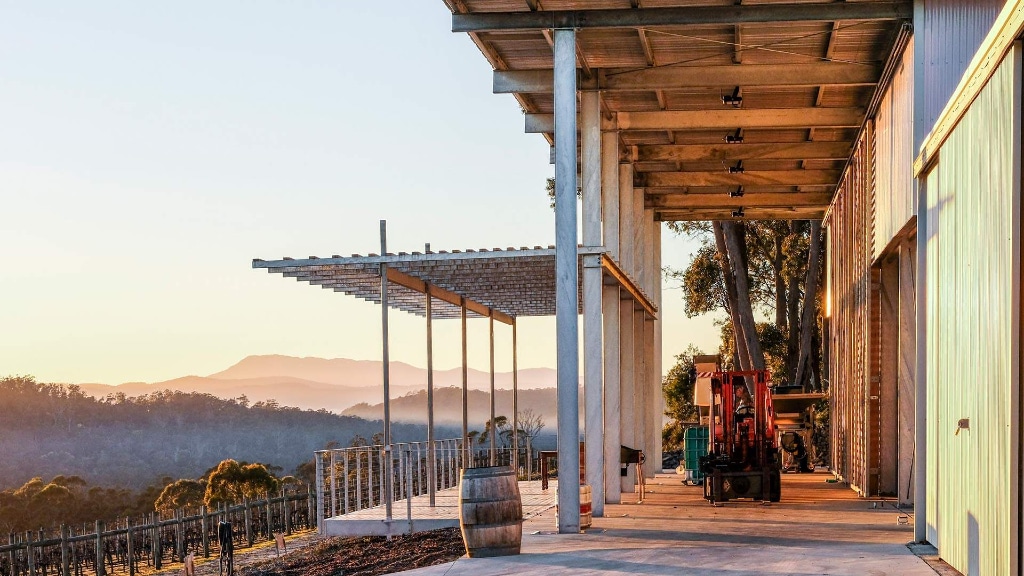 When you're a winemaker who's just spent recent months working 12 or more hours a day, seven days a week, it can be hard to sum up how vintage turned out this year.
Much of it passes as an unbroken sequence of grapes in, money out.
Pausing to reflect on World Environment Day – June 5 – Moores Hill Estate winemaker Julian Allport says vintage 2020 marked four years of making wine powered by the sun at his company's off-grid winery in the Tamar Valley.
"Job done," he muses.
"We've had no regrets when it comes to our commitment to solar energy. It's saved us around $15,000 a year in electricity costs. The system will have paid for itself by the end of 2021."
Allport and co-owners Fiona Weller and Tim and Sheena High represent a growing number of Australian wineries that are investing in renewable energy in order to reduce operating costs and their carbon footprints.
The Adelaide-trained winemaker says electricity consumption accounts for around 40 percent of all winery expenditure.
According to Australia's Climate Council, 2017 was watershed year for renewable energy, with more capacity being added globally than in any other year.
"Coincidentally, it was the year we began our off-grid project," Allport explains.
"We didn't set out to build a solar-powered winery. We just wanted to build a big shed where we could do small batch winemaking and take better control of our production. Our focus was on improving wine quality and reducing the costs of doing business. But the quote we received for a contractor to dig through our 7ha vineyard and connect the planned winery to a power pole down the road turned out to be eye-watering.
"We looked at our numbers and then talked with other winemakers about how much power they used. We reckoned solar energy set-up costs would require 20 percent more financial investment than conventional three-phase power. But without ongoing power bills, we figured the payback period would be only five years. Decision made."
The owners then contacted locally-based architect and design professional Joel Fletcher. His Simplicity Studio was given the brief to provide detailed plans for a functional, no-frills 100-tonne capacity winery to be erected on the Sidmouth site. d2 Spaces and Mode Electrical were commissioned to build the facility and install its 30kW array of solar panels and 100kWh of battery storage.
To enhance the winery's sustainability credentials, additional design features allow rain water to be collected from the roof and used throughout the building. A closed loop system treats subsequent waste water that is then settled and dispersed into nearby bushland.
Construction marked some significant company milestones. For Allport and Weller, it provided opportunity to celebrate the 20th anniversary of their vineyard being planted. For Tim and Sheena High of Native Point Wines, it marked the start of an exciting new business partnership with the Moores Hill couple.
The off-grid winery opened in time for vintage 2017.
Its cutting-edge design and inherent sustainability met with a raft of local and national awards. In September 2017, the Australian Society of Viticulture and Oenology (ASVO) named Allport one of four finalists in its prestigious national award for ASVO Winemaker of the Year. The following month, the facility won the 'Innovative Process' award at the 2017 Innovative Tasmania Awards.
A ground-breaking project for the Tasmanian wine industry at large, the winery is not without shortcomings, Allport concedes.
"The only real drawback is that the winery isn't connected to the electricity grid owned by TasNetworks," he says.
"We can't export excess power back to the state grid. But we can send it to our cellar door and that allows us to offset our electricity costs there. If we were to make any further investments, doubling our storage battery capacity would provide added flexibility."
Allport believes Australians in general are frustrated that renewable energy isn't being used more widely around the country.

"In terms of harvesting energy from the sun, crikey, if you can do it in northern Tasmania, you can do it just about anywhere," he says.
"Sure, there are some days when we might need to schedule our heating and/or cooling operations to suit the weather, but it's no different in the vineyard. If we need to go outside and prune and the forecast is for four or five days of wet weather, we just won't prune. We'll devote that week to something else. As sure as night follows day, you know it's not going to be long before you see more favourable weather again. We don't need many hours of sunlight to fully charge our batteries.
"Choosing to make wine sustainably isn't a matter of political ideology for us. It just makes sense. If a small business like ours can benefit from it, imagine what could happen on a larger scale."
Cellar door tastings resume
Moores Hill Estate will resume vineyard cellar door tastings this weekend, from 10am-5pm each day.
The Tamar Valley site is among the many Tasmanian vineyard cellar doors that will begin welcoming visitors in response to the State Government's relaxation of its COVID-19 Stage 2 restrictions.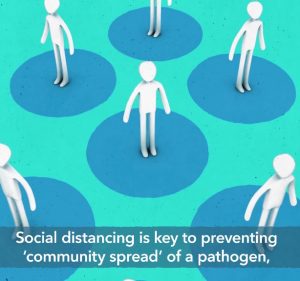 Tastings will take the form of a seated service, in line with new national cellar door re-opening protocols published by Australian Grape & Wine.
Australian Grape & Wine is Australia's national association of grape and wine producers. It represents the interests of the 5,000-plus grape growers and more than 2,500 winemakers that work across Australia. The new protocols are contained in an 11-page document that has been developed in consultation with state-based wine organisations, including Wine Tasmania.
Further information in relation to business restrictions across the state can be accessed from the Tasmanian government's coronavirus webpages. Their advice is to remember to maintain social distancing and download the Australian government's COVIDSafe phone app.
Enjoy wine in moderation.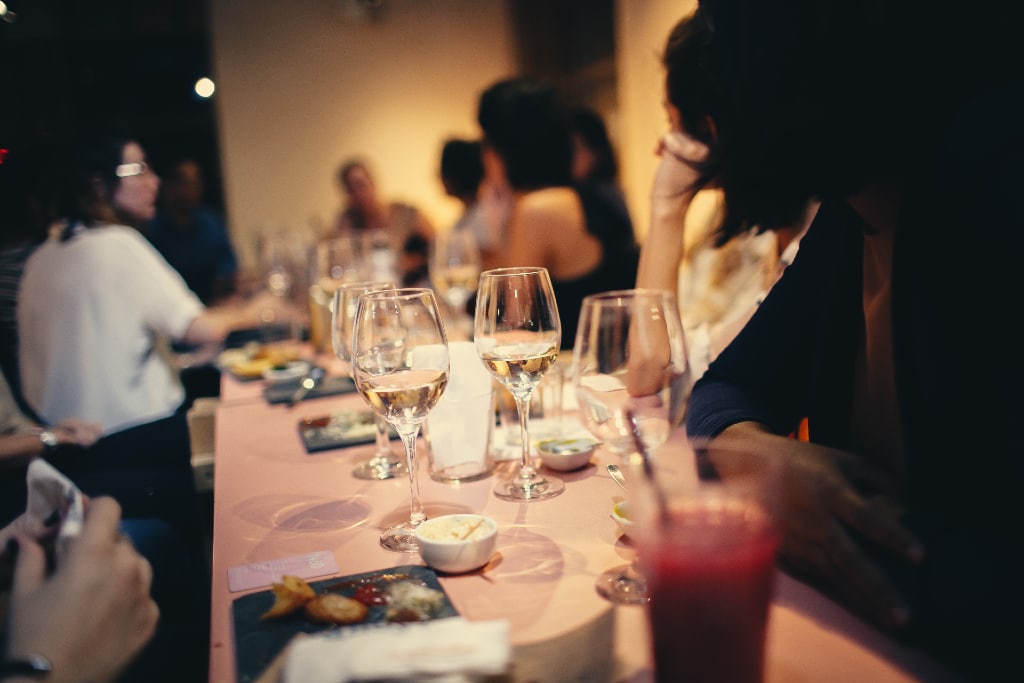 ---
Hobart's Mark Smith wrote his first weekly wine column back in 1994. Now more than 1700 features and 25 years later, he continues to chart the successes of Tasmania's small scale, cool climate wine industry with regular contributions to some of Australia's leading industry publications.
---
PICK OF THE CROP
Mark gives you his honest opinions about the best wines available right now from Tasmania's wine makers.

NV Moores Hill Sekt Sparkling Riesling $35
Inspired by his late friend Vaughn Dell at Sinapius Wines, Julian Allport has taken a classic northern European wine style and given it a Tassie tweak to create this single vineyard sparkling. It's made from Riesling, fully-ripened and clearly varietal in aroma and flavour – a party animal with a staid demeanour. The wine showcases the generous nature of the valley's top-performing white grape, adding a gentle spritz and modest sweetness to floral notes and apply lime/citrus characters. Engaging and well-made. www.mooreshill.com.au

2017 Freycinet Vineyard Chardonnay $38
What a pleasure it is to be able to purchase and enjoy a quality-driven barrel-fermented Chardonnay that has already taken its first few steps on a long path to aged perfection. Claudio Radenti has a talent for making elegant, statuesque Chardonnays that evolve slowly in the cellar. Freycinet's 2010 was a deserved trophy winner at this year's Tasmanian Wine Show. The 2017, with its gunflint and stone fruit elements now offering a window to the future, should display similar complexity in another decade if you're patient. Great price. www.freycinetvineyard.com.au

2018 Mapleton Pinot Noir $40
The Laing family's Mapleton wines are sourced from a mix of new and established plantings at three sites at Tea Tree in the Coal River Valley. This gold medal winner from the 2020 Tasmanian Wine Show displays a little more finesse than is typical for Pinots from around these parts. Yes, the opulent dark cherry characters with a hint of plum are there, though the tannins are finer and the acidity more beguiling in this youngster. The wine has a wonderful juiciness to give enjoyment right now, but do try cellaring a few. www.mapletonvineyard.com.au

2018 Home Hill Estate Pinot Noir $48
Ranelagh's Home Hill has been a stellar producer of Tasmanian Pinot Noir for well over a decade, with its Kelly's Reserve label playing a flagship role. This strikingly delicious release under the Estate banner appears to have sailed past its sibling at some point in its early history. Somehow, it's a little more elegant and a little smoother in drinking. It's just a matter of degree, however, for both wines are very classy indeed. They may well swap roles further on in their journeys to maturity, but most consumers will have every cause to believe the 2018 Estate is one of the best value Pinots around at the moment. www.homehillwines.com.au
---
ADVERTISEMENT   –   ADVERTISEMENT   –   ADVERTISEMENT
long weekend special!
This weekend we are offering an exclusive 20% OFF 6-PACKS & DOZENS to celebrate the queen's birthday long weekend. Customers simply need to apply coupon code LONGFOR20 at checkout to benefit from this discount. From Friday 12.01am to Monday 8 June 2020, 11.59pm or while stocks last.

Source: Tasmanian Times https://tasmaniantimes.com/2020/06/off-grid-on-trend/#utm_source=rss&utm_medium=rss&utm_campaign=off-grid-on-trend