This morning, in his first remarks since being appointed as premier, Mr Perrottet acknowledged the "difficulty" of recent days.
Dominic Perrottet has officially been sworn in as the 46th Premier of New South Wales.
Mr Perrottet was elected as the Liberal leader this morning in a party room ballot following the abrupt resignation of outgoing Premier Gladys Berejiklian on Friday.
The Governor of NSW, the honourable Margaret Beazley, swore in Mr Perrottet this afternoon in a ceremony at Government House.
READ MORE: What you need to know about Dominic Perrottet, NSW's new premier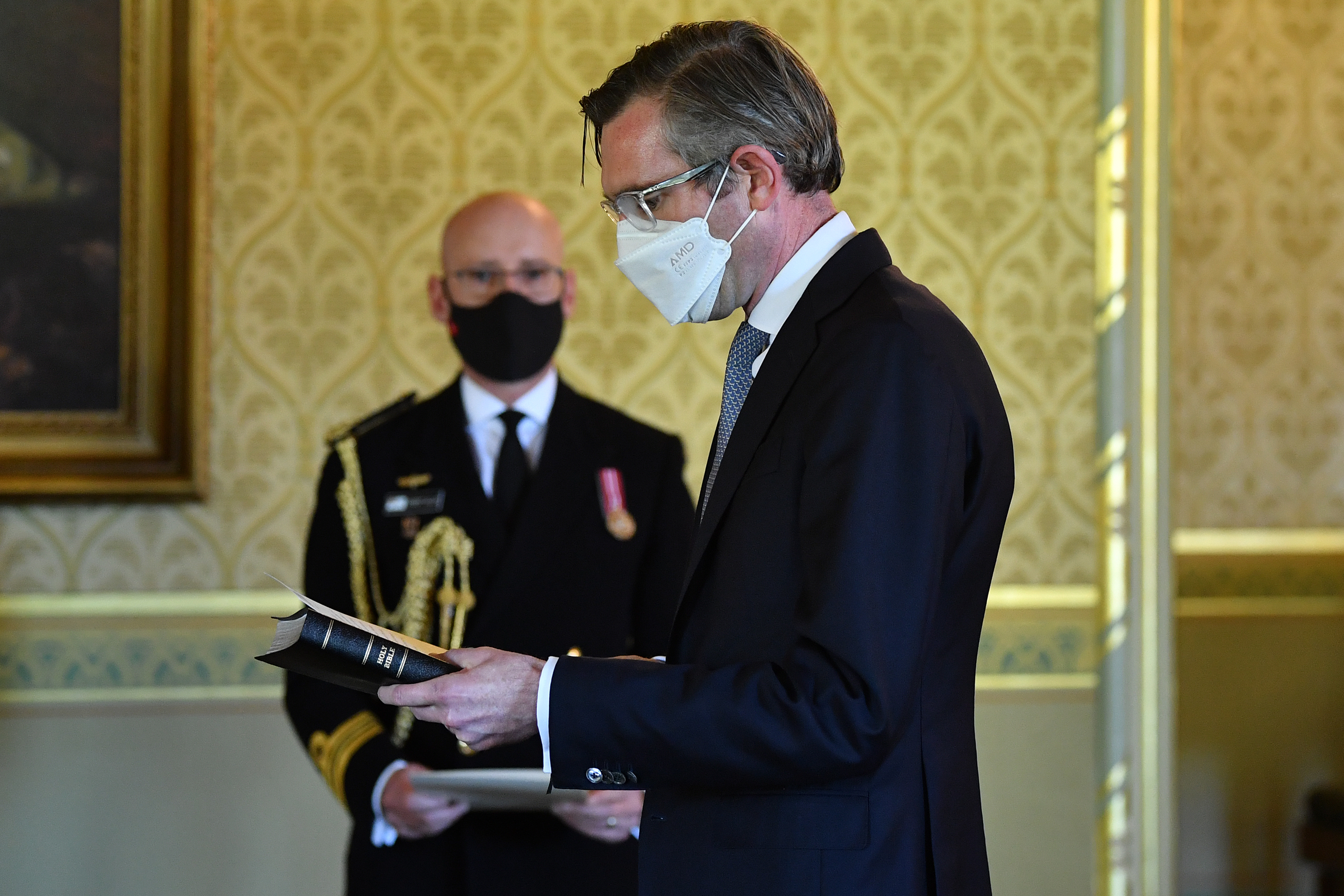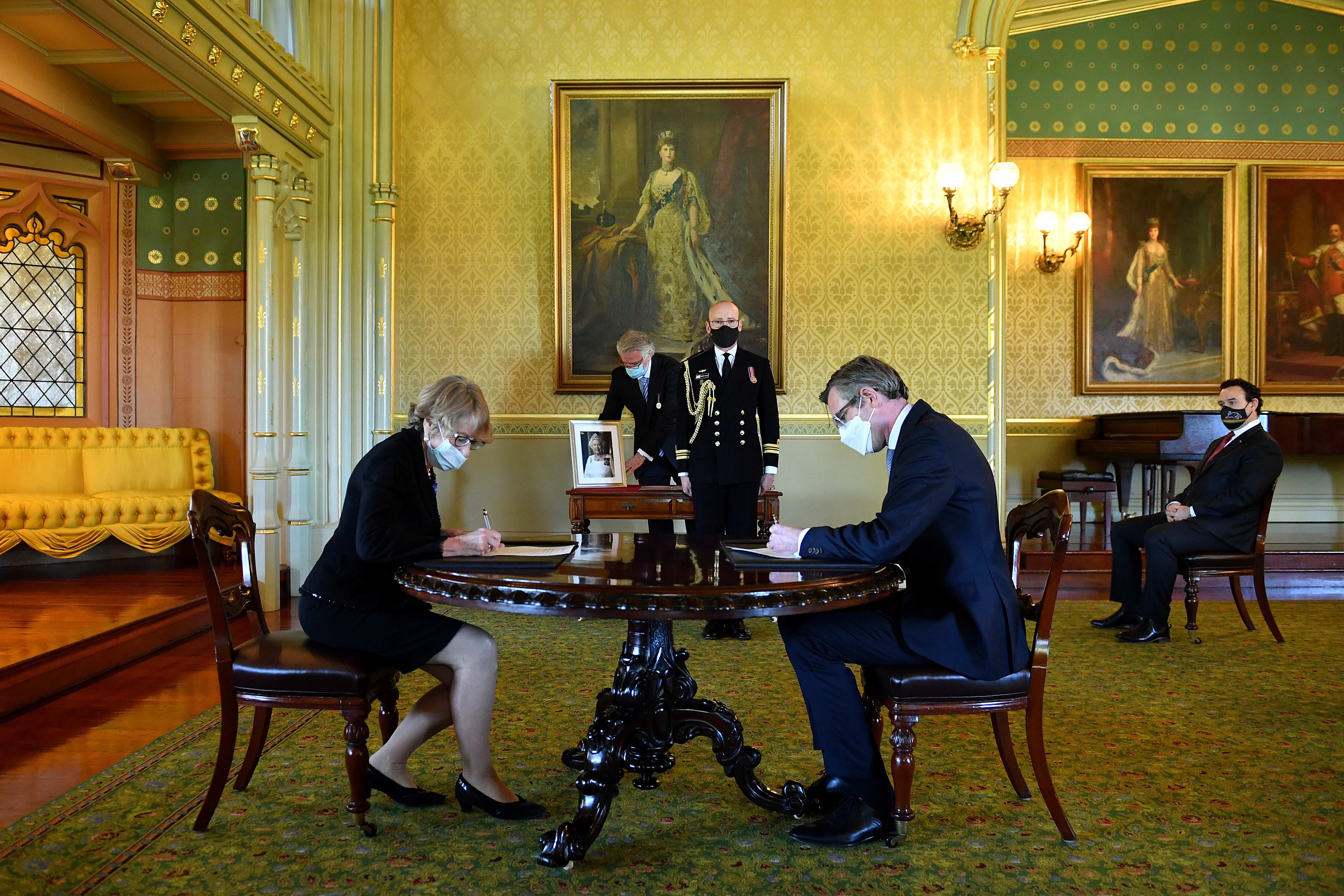 Stuart Ayres was sworn in as Deputy Premier, and Matt Kean as Treasurer and Minister for the Environment.
Prime Minister Scott Morrison has congratulated Mr Perrottet, saying: "I know the commitment and dedication he will bring to his new role, and the energy he will invest in continuing to deliver for NSW."
Earlier today, Mr Perrottet said "a new chapter" is beginning for the state.
The incoming NSW Premier also confirmed there would be no cabinet reshuffle and that "freedom day" is still likely to go ahead as planned on October 11 despite speculation he was considering bringing that date forward.
In his first remarks since winning the ballot, Mr Perrottet acknowledged the "difficulty" of recent days and praised his predecessor Ms Berejiklian.
READ MORE: Dominic Perrottet will be NSW's next premier. What now?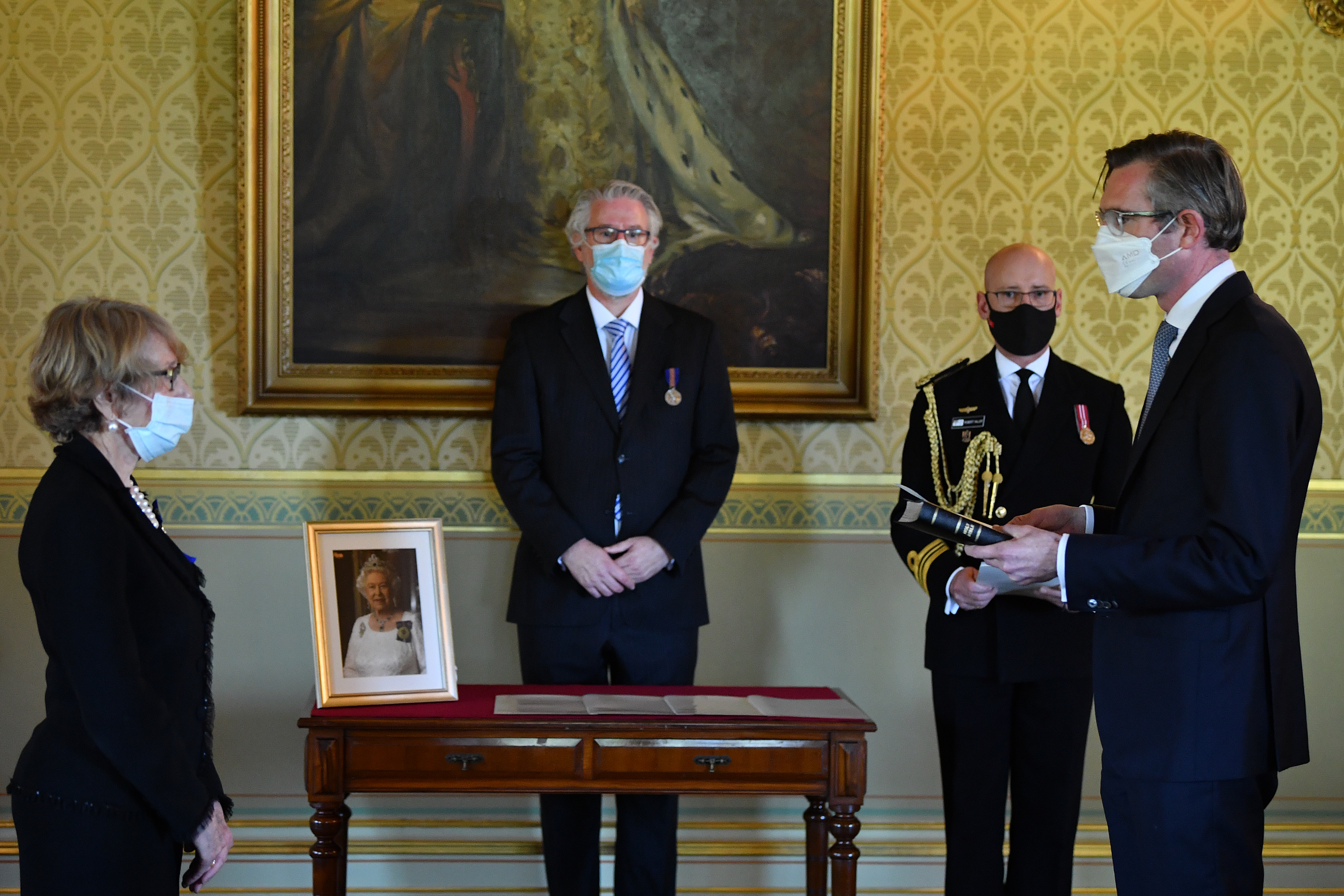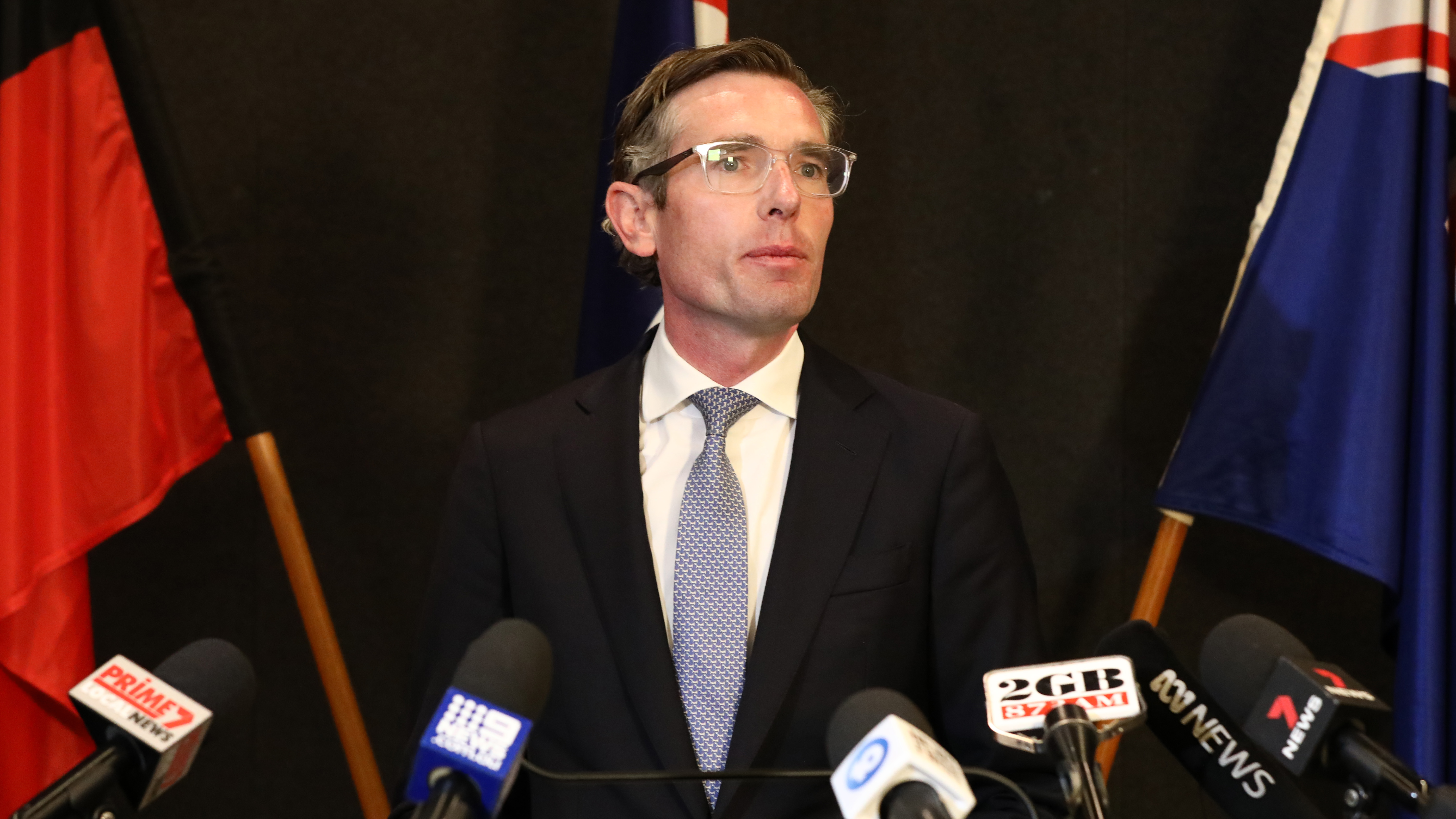 "Everyone would agree that her hard work, tireless dedication and total commitment to her job was second to none," he said.
"She has been an inspiring role model for many, especially women and migrant communities, and that is just one of the reasons why I believe there has been such an outpouring of support over the last few days."
https://twitter.com/WesternWilson9/status/1445228246174294018
Ms Berejiklian resigned from Parliament on Friday after it was revealed she was facing an ICAC investigation.
In today's party room ballot Mr Perrottet received 39 votes, while fellow challenger, Planning Minister Rob Stokes, received five.
Government whip Adam Crouch also announced that Jobs Minister Stuart Ayres was elected the deputy Liberal leader.
READ MORE: What you need to know about Dominic Perrottet, NSW's new premier
https://twitter.com/cokeefe9/status/1445167646513631234?ref_src=twsrc%5Etfw
Mr Perrottet congratulated Mr Ayres, calling him a "fighter for Western Sydney".
He also laid out the incoming government's earliest steps, which would be focused largely on the COVID-19 pandemic and minimising the disruption of a change in government.
"Our first priority will be to continue the plan that we have started: keeping people safe, opening up the economy, and securing our recovery," he said.
"There will be no cabinet reshuffle until we're through this challenge. Our team will bring the energy, the experience to get our state safely open again, and then take it to the next level."
https://omny.fm/shows/the-9news-lunch-podcast/oct-5-a-new-premier-a-new-covid-record-and-startli/embed?style=cover
He said Matt Kean, currently Environment Minister, would ultimately take over the Treasury portfolio.
"We will work through those other arrangements, but ultimately, my commitment today is that we will keep the team in place through summer," he said.
However, he also signalled an apparent change in approach.
"Up until now, all of our Liberal premiers have been infrastructure premiers, building roads, rail, schools and hospitals for communities right across our state, and that will not change with me," he said.
"But I will also be a family Premier, focusing on how we can make life better for working families, living the Liberal values of opportunity, aspiration and hard work."
Member for Bathurst Paul Toole announced this morning he will be in the running to become the new Deputy Premier of NSW.
'Freedom day' not coming forward - yet
Mr Perrottet said it is likely NSW will reopen on Monday, as per the original roadmap.
It had been speculated that Mr Perrottet could bring the date forward to Friday – and although that has not been ruled out, it appears unlikely.
"What I commit to doing is this afternoon, after the swearing-in, I will sit down with (Health Minister Brad Hazzard) and the health team, alongside Minister Ayres and members of the Crisis Cabinet, to have a discussion in relation to the roadmap," he said.
"But obviously, this is early days and we have done so well and my intention at this stage is that that day will remain on Monday for next week, but there are a number of issues that need to be looked at, and obviously, help is our number one priority right now."
https://twitter.com/RobStokesMP/status/1445178956324376576?ref_src=twsrc%5Etfw
Mr Perrottet signalled he would fight hard on GST reform – on which issue he has previously clashed with Western Australia Premier Mark McGowan – and on stamp duty.
He called housing affordability a "generational" crisis.
"We are facing a challenge when it comes to generational equity where many young people today cannot get the keys to their very first home," he said.
"And we have a duty to ensure that generations that come after us have greater opportunity and prosperity than we have, and in order to do that, reform is key."
On GST, he said it was crucial that the Federal Government not remove the no-worse-off clause.
"This is about fighting for our state. (Mr McGowan) fights for his state, but my job is to represent the people of NSW," he said.
https://twitter.com/Fi_Willan/status/1445194806213234695?ref_src=twsrc%5Etfw
"And when it comes to GST and some of those issues which are coming to a head, I'm not going to stand by and have NSW worse off because, whilst there might not be that much public interest in GST reform, it's GST that pays for our schools and our hospitals and our nurses and our teachers and our police officers."
Regarding an upcoming assisted dying bill, Mr Perrottet indicated he would offer a conscience vote to MPs.
"I think, in the main, conscience votes bring out the best in our parliaments," he said.
"There is respect from both sides in relation to people's views. And that's incredibly important. These are difficult, sensitive, and challenging issues."
Premier to serve 'all of NSW'
Mr Perrottet has said his Christian faith would assist in his ability to serve a "diverse" state.
"I am very proud of the fact that I have a strong Christian faith," he said.
"Does that in any way take away my capacity to serve as Premier? Well, I do not think so, and I think it is a sad thing that some people do.
"But I think people right across our state, in the main, believe in freedom of religion and freedom of the opportunity to serve in public life regardless of what your ethnic background is what your religious values are."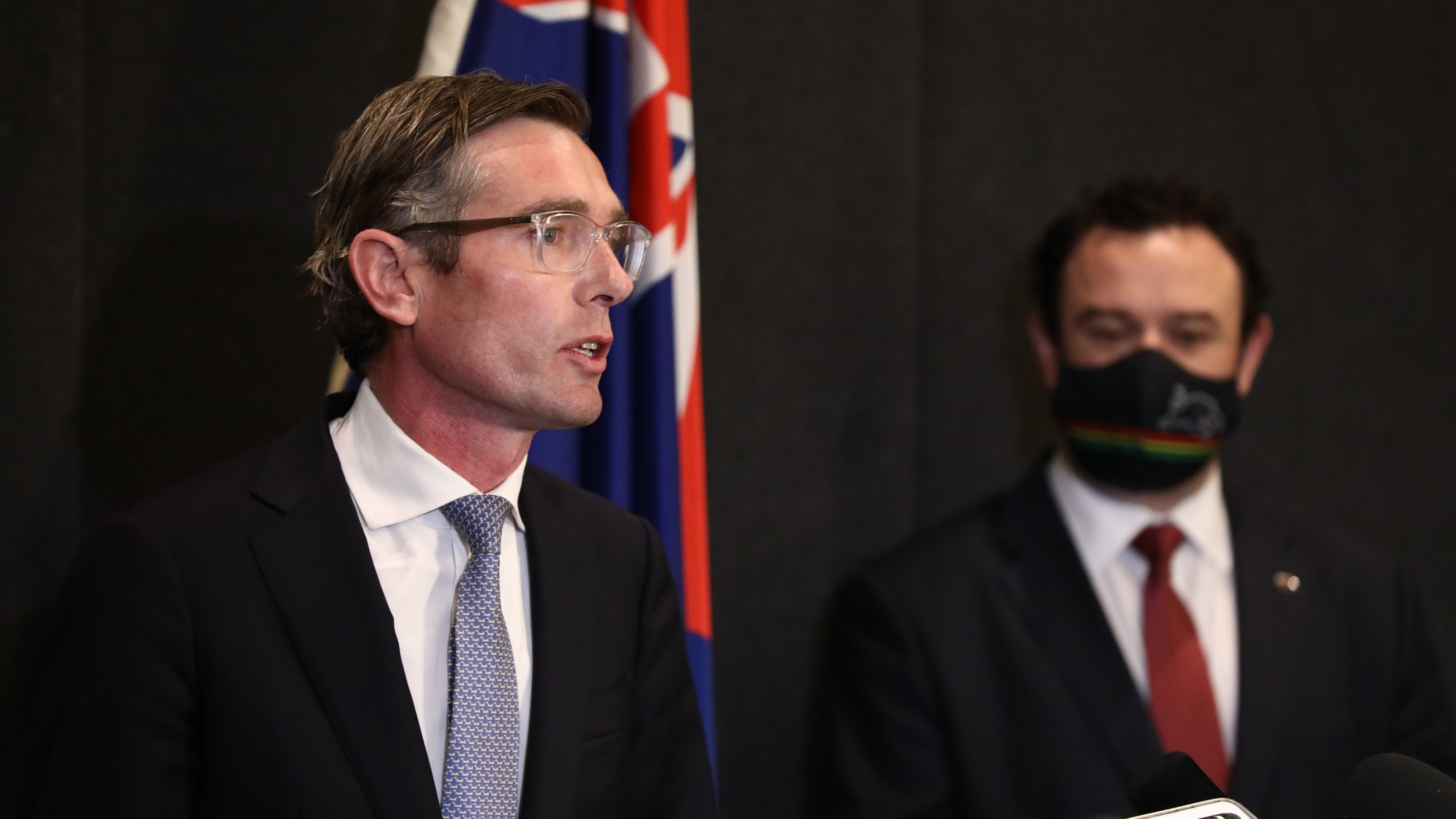 Mr Perrottet is from the conservative wing of the NSW Liberals, but said he would serve "every single person" in the state.
The father of six also admitted that balancing his work and family commitments would be "demanding".
"Being a father, like being a mother, when you have got family commitments, balancing work and family life is a challenge for every single person right across the state," he said.
"I think what I might lose in time I gain in perspective, and everyone has their attributes, everyone has their strengths and weaknesses, and I am no different to that, but one thing I do know is that I have a very strong team around me."
Perrottet the 'emphatic' victor
Mr Stokes said MPs had "chosen emphatically" to support Mr Perrottet, whom he congratulated.
"Democracy is the winner," he said.
"Dom Perrottet will be a magnificent premier and he has my undivided loyalty and support.
"And I will use every ounce of strength in my body to make sure that he is re-elected as Premier in NSW when we go to the polls in 2023."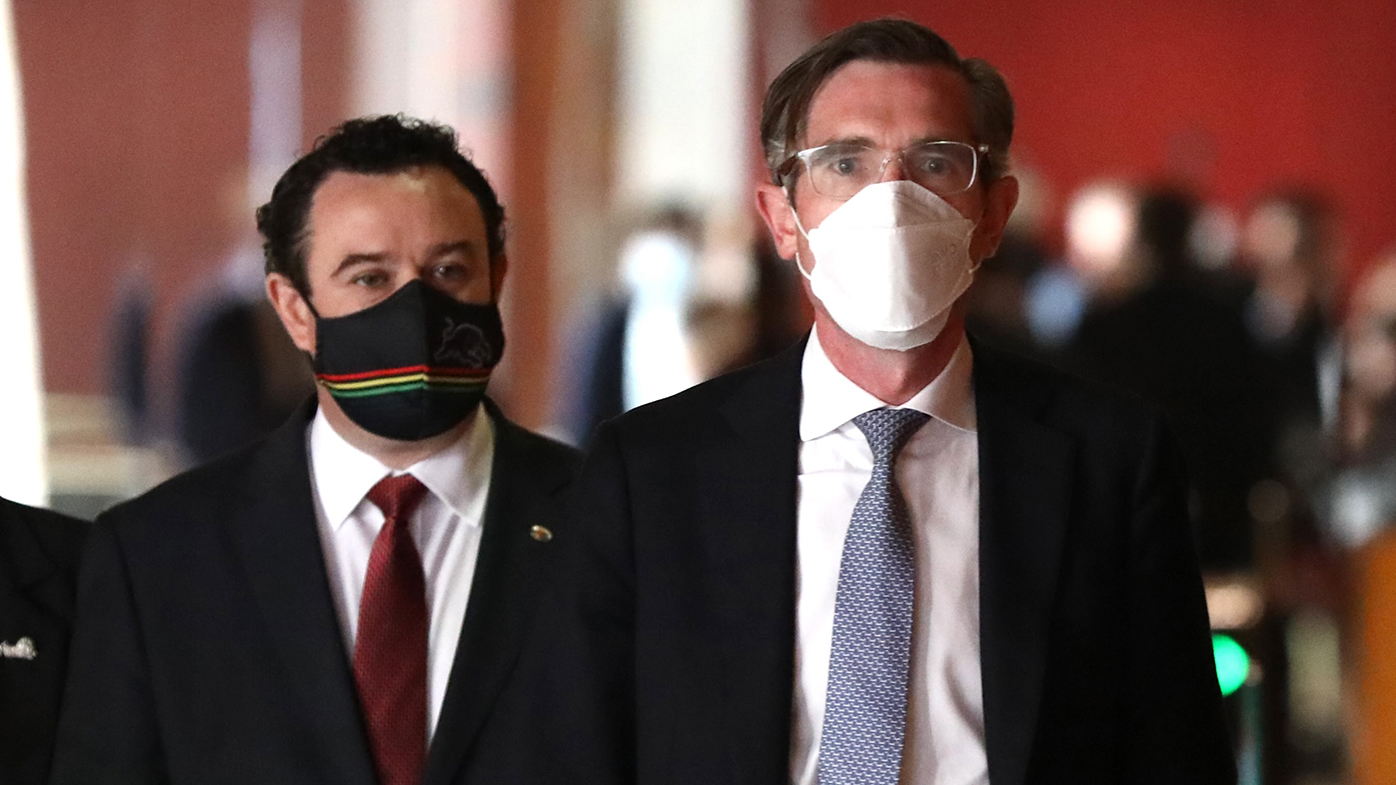 LIVE UPDATES: NSW 'freedom day' could be brought forward
Mr Stokes earlier said he had chosen to run for the leadership to provide a genuine choice for MPs.
Regarding the state's ongoing COVID-19 outbreak, 9News reporter Chris O'Keefe said health officials would find Mr Perrottet to be a less "cautious" leader than Ms Berejiklian.
"The information I have is he will seriously consider bringing forward freedom day to NSW to this Friday," he said.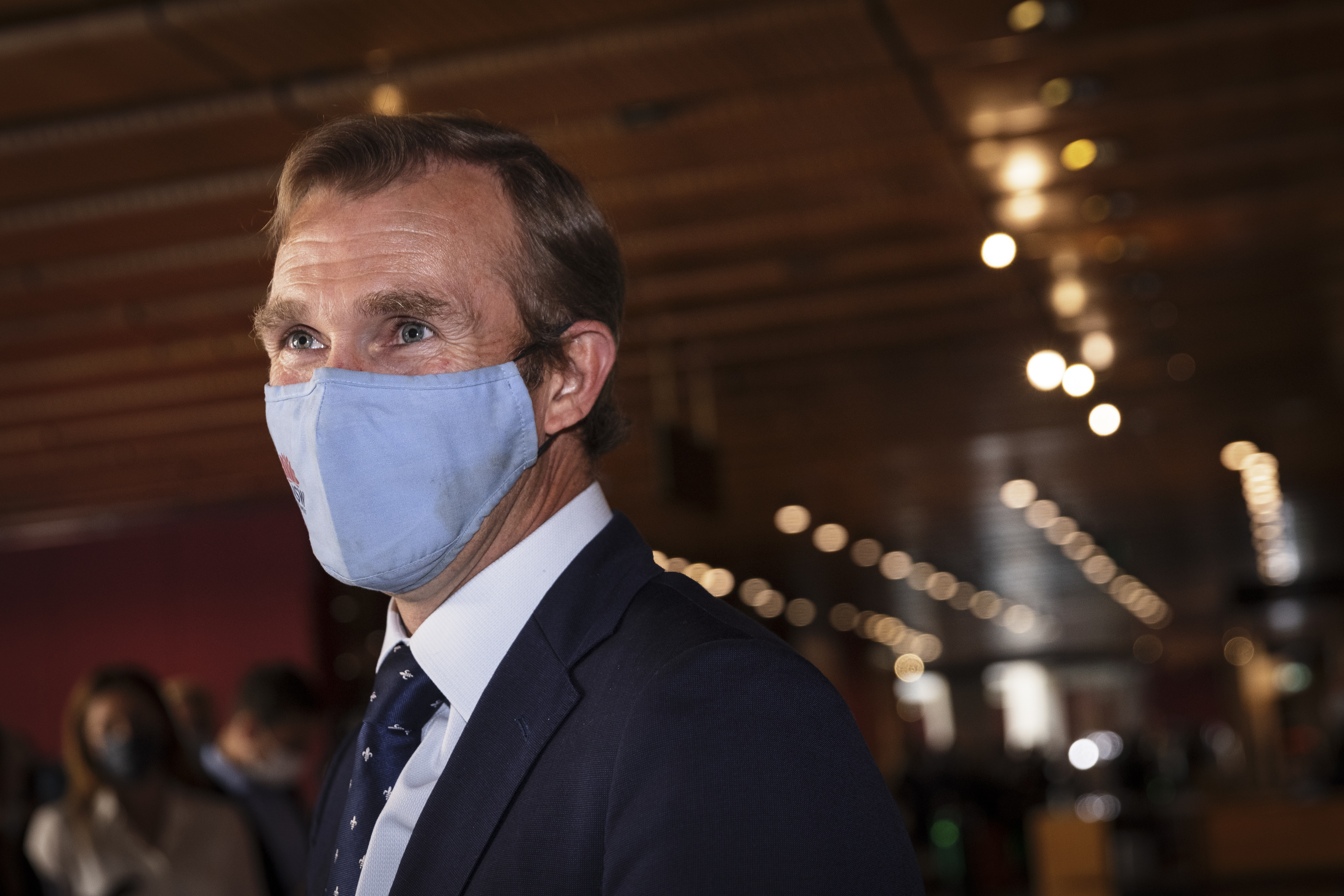 https://twitter.com/lizziedaniels/status/1445158694660894728
"Pubs will open, you will be allowed to have people around to your home this Friday. He will sit down with the health official sometime this week to formalise that, but it could be the first order of business."
O'Keefe said Mr Perrottet had been "pushing to open" in the background for some time.
The new premier will face numerous challenges in NSW, with a changing of the political guard underway as the state prepares to emerge from widespread COVID-19 lockdowns.
READ MORE: Constance didn't want to 'dog a mate' in NSW Premier race
Deputy Premier John Barilaro has also announced his resignation, which will be made official tomorrow, sparking a leadership contest for the Nationals.
And Transport Minister Andrew Constance has said he will be leaving state politics for a run at a federal seat.
READ MORE: NSW Deputy Premier announces resignation, rules out federal tilt
Mr Perrottet's early months on the job will be marked by by-elections, a Cabinet reshuffle, an untested deputy, and delicate negotiations with other states and territories on borders as NSW's vaccination rates edge higher.
https://twitter.com/WesternWilson9/status/1445176582193115140
Source: 9News https://www.9news.com.au/national/nsw-premier-liberal-ballot-dominic-perrottet-rob-stokes-who-will-be-state-leader/ace130e5-3c50-4e70-91e4-33442019ddaf