A NSW high school is closed today as authorities try to piece together the movements of a Year 11 student who tested positive for coronavirus.
The mother of the NSW high school student who contracted coronavirus worked at the same hospital where a doctor also tested positive.
Epping Boys High School in Sydney's north-west has been closed today while health bosses investigate.
The 16-year-old year 11 student was confirmed last night to have contracted the virus.
Meanwhile, a second staff member at the Macquarie Park nursing home, also in the north west, of Sydney, where a 95-year-old died after catching the virus, has also tested positive.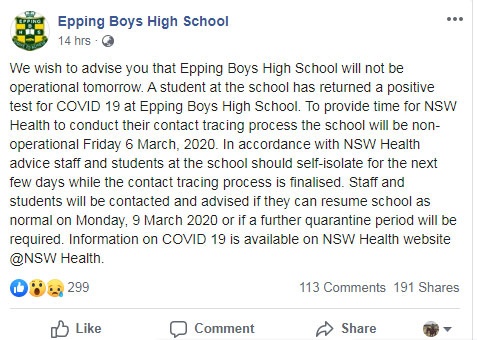 There have now been two staff members and four residents diagnosed at the home.
Meanwhile, 17 children from Banksia Cottage childcare centre at Macquarie Park have been cleared.
The group of children visited Dorothy Henderson Lodge on February 24 as part of a childcare excursion.
READ MORE: Coronavirus: Qantas cancels more flights
School closed
NSW Health Minister Brad Hazzard told Today the decision to close the Epping school was the right one and said experts are now working to establish who the student has come into contact with.
He said tracing the boy's movements was "like a police investigation".
"In the end, the decision was taken, which I am absolutely convinced is the right decision, that the school should shut at least for today and then we have today and the weekend to work through this young fella's contacts," Mr Hazzard said.
"It's like a police investigation - working out who he's been in touch with and make sure we can track them and do the testing on them to try to do what we can for containment, although it's getting much harder."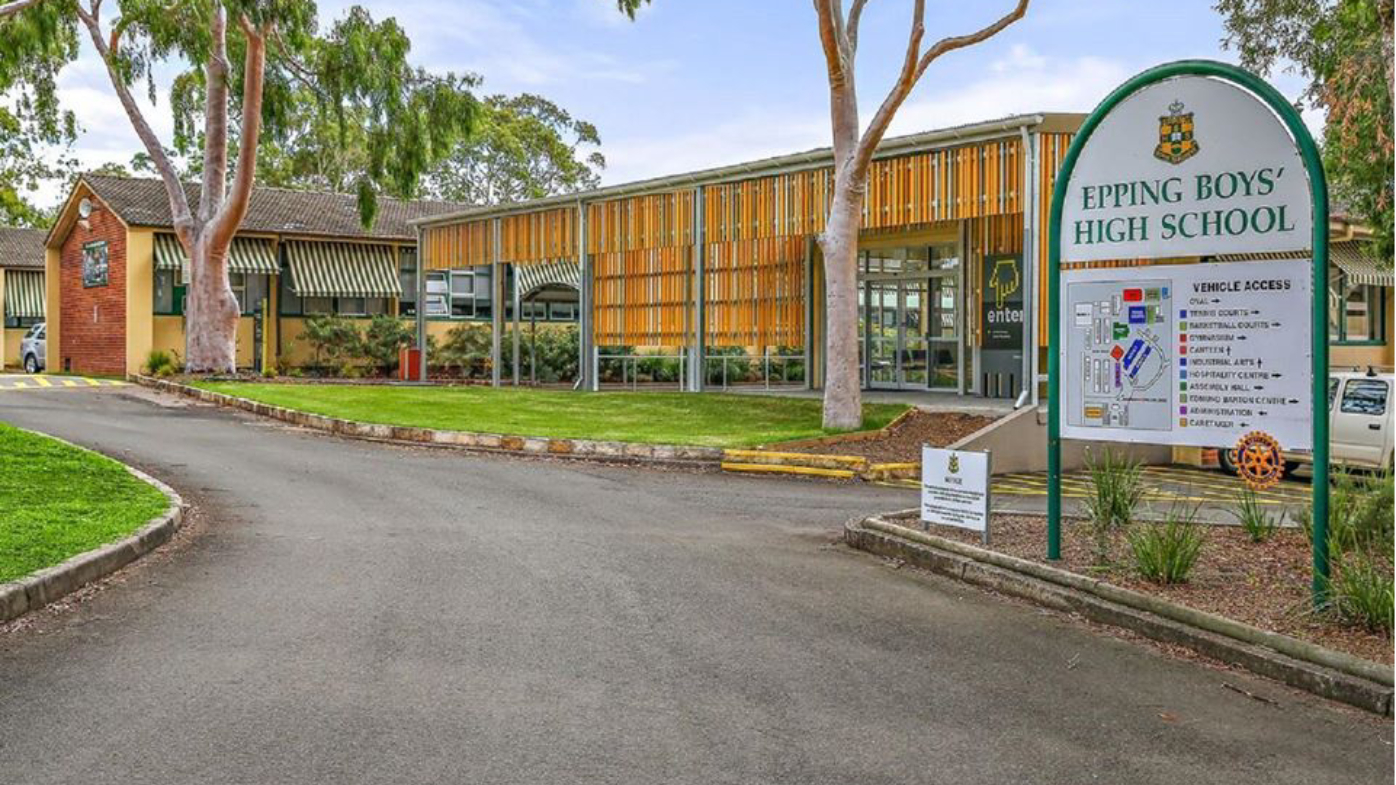 A post by the school on Facebook told student to "self-isolate for a few days" while investigations are completed.
The student's mother had been in contact with the 53-year-old doctor, who works at Ryde Hospital.
The teenager is well but there are concerns it was passed on through the parent from the hospital.
NSW Chief Medical Officer Dr Kerri Chant, said investigations are also under way to determine if the teen could have contracted the virus in any other way.
READ MORE: Coronavirus: Myths busted
"We obviously have to investigate all scenarios, including that scenario, but also scenarios that the child has come into contact through a different mechanism," she said.
Dr Chant said nobody is at risk at the hospital, with staff isolated.
READ MORE: Coronavirus hygiene: The best way to wash your hands
All but one person who attended a conference with the doctor have now been cleared, with the final delegate not yet located.
"Ryde Hospital has taken extensive action and I can confirm there's daily contact with all of the staff that have been put into home isolation and if there is any diagnosis I'll let people know," she said.
Decision to come on school
Health bosses said it is possible the affected school may be closed for longer.
"We will discuss all of the information and make a decision, Dr Chant, said.
"Having this day off and the fact it's a Friday does give us time."
A decision to close the school today was "very precautionary," NSW Premier Gladys Berejiklian said.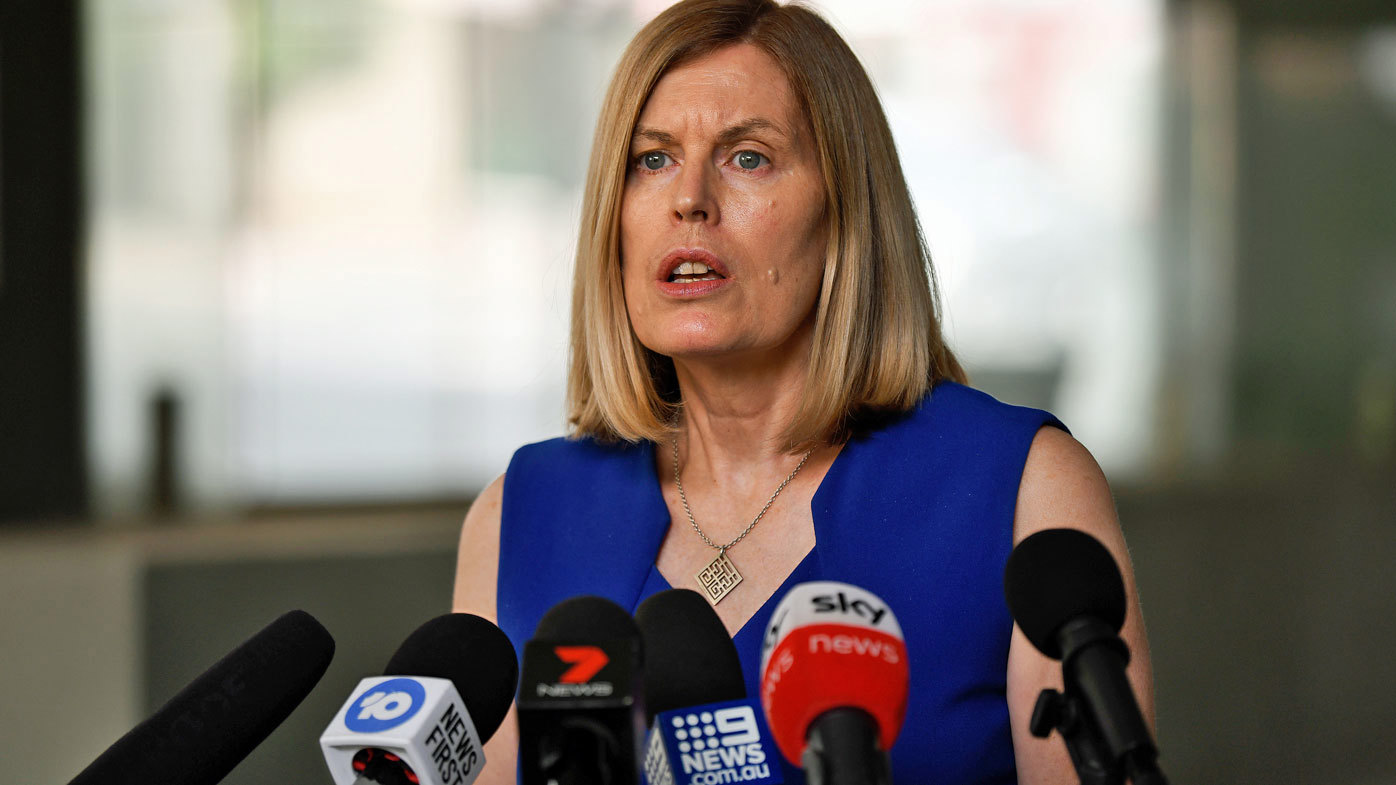 "We appreciate that for many people in the community it is a very concerning time but we also say, please put things into perspective," she said.
READ MORE: Coronavirus: Who is most at risk broken down by age, gender and health
The school said on Facebook it will update staff and students on Monday.
Canterbury Hospital case
A woman diagnosed with the illness on March 4 after travelling from Iran has told health officials she worked at Canterbury Hospital in the city's south west on February 25 and March 3.
A total of 28 other staff there have now also been advised about isolation and are being tested.
In brings the total to 26 people from NSW have been diagnosed with COVID-19.
That includes a Goulburn man who returned from Singapore and travelled to Darwin.
The number is up from about nine confirmed cases last week.
Mr Hazzard appealed to the NSW community to remain calm.
"This is not a time for panic. 80 per cent of all people who get this virus get it very, very mildly. Just like a very mild cold or flu. So don't panic. Don't be unnecessarily worried about it. Just be cautious."
If you are unwell call ahead before visiting your GP or call healthdirect for advice on 1800 022 222.
GPs can arrange for COVID-19 testing, or if you are very unwell, you can also call ahead before attending your local emergency department for assessment.
– Reported with AAP.
Source: 9News https://www.9news.com.au/national/coronavirus-australia-nsw-high-school-closed-after-student-tests-positive-to-covid19/b4de57d3-71af-4890-bc66-9464453fb717