Sydney suburbs are being evacuated and over 100,000 are without power but authorities are warning the worst could be still to come.
Thousands of people are being told to evacuate across Sydney tonight amid potentially life-threatening flash flooding and torrential rainfall.
Emergency services are being inundated with calls as gale-force winds bring down huge trees, blocking roads and damaging power lines.
Utility companies were on Sunday rushing to turn the lights back on for around 140,000 customers left without power as of 10pm AEDT.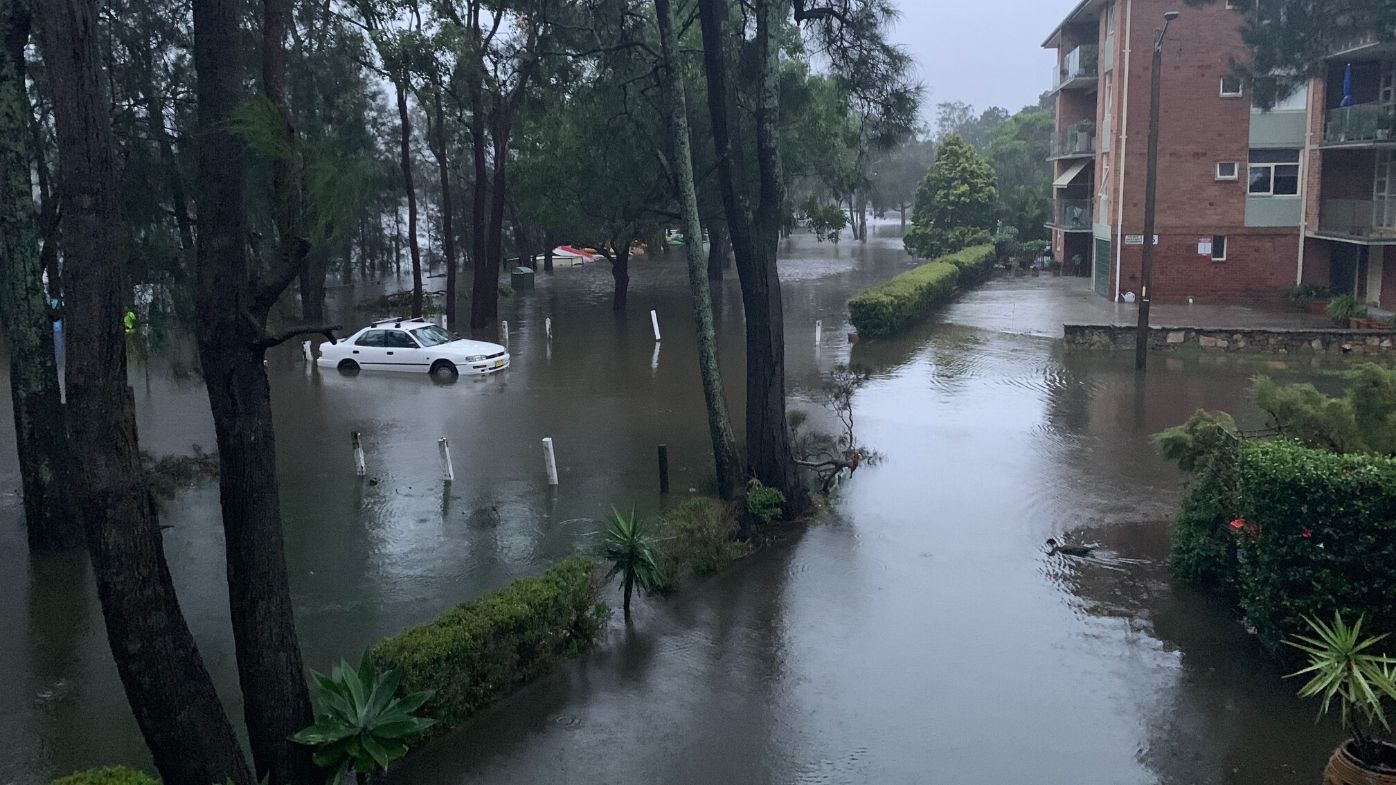 "This wet and windy weather is really wreaking havoc on our roads today, with paramedics responding to five car accidents every hour since Friday night," NSW Ambulance spokesman Giles Buchanan said on Sunday afternoon.
"We've responded to multiple trees that had fallen onto cars, trees into houses and units, and people trapped in cars in floodwaters."
NSW Maritime says a number of boats have been sunk by the turbulent conditions at sea, as monster waves were recorded off the coast of Sydney - the highest, 13.9 metres.
In the low-lying Northern Beaches suburb of Narrabeen, residents have been urged to take their pets and get out before 10.30pm - the State Emergency Service warning those left behind will be trapped without power and water and may not be able to be rescued.
Narrabeen Lagoon has already burst its banks, sending water gushing into the surrounding streets, with Pittwater Road - the only way out - soon to be cut off.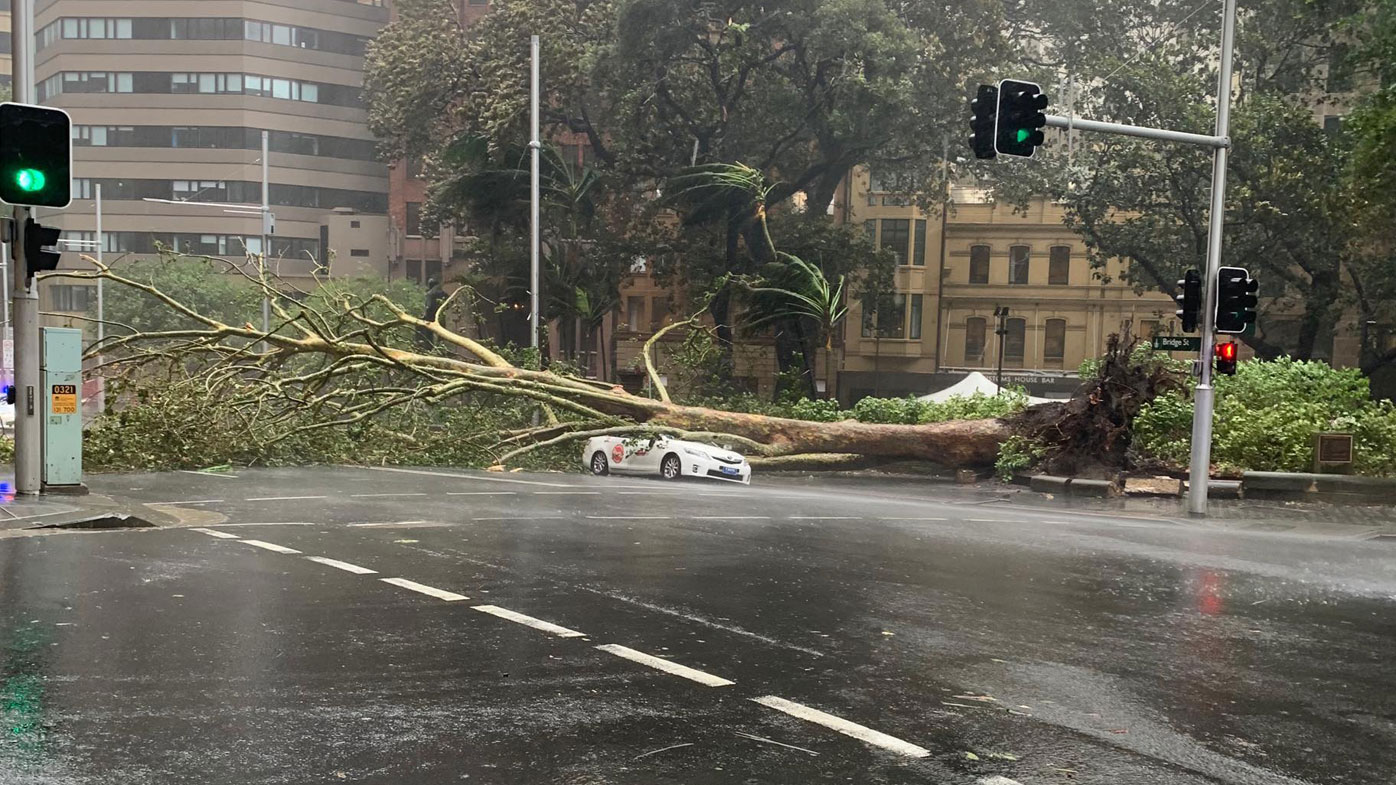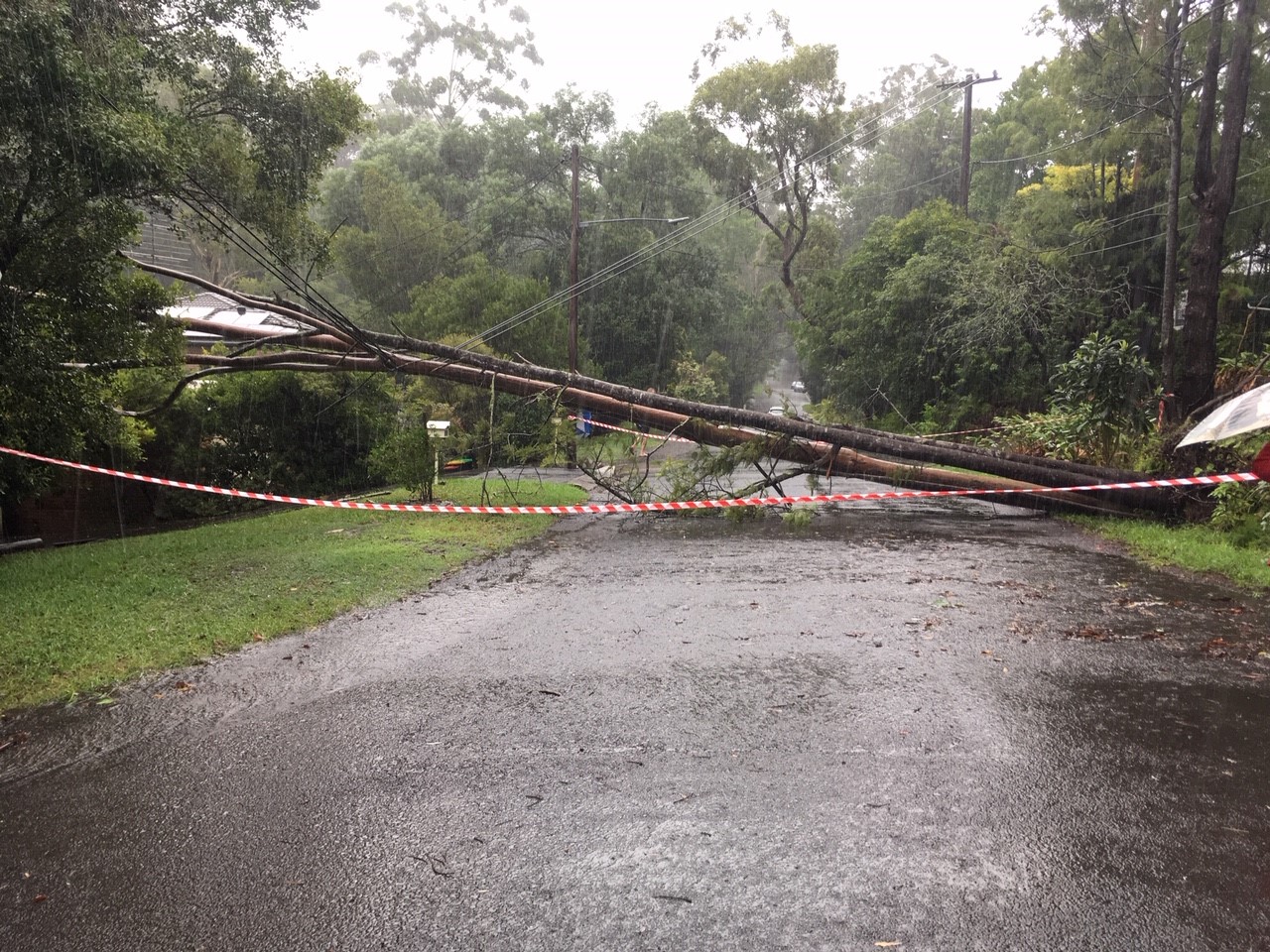 Residents have also been told to evacuate the south-west Sydney suburbs of Moorebank, Chipping Norton and Milperra, as floodwaters over three metres threaten to cut off evacuation routes.
At 9pm, another urgent evacuation order was issued by the SES for residents in the Pitt Town Bottoms area near Richmond to leave their homes by midnight.
Four people were hospitalised on Sunday afternoon after a tree fell on their car in the Sydney CBD.
A 16-year-old boy has been taken to hospital with suspected broken ribs after he was trapped between debris in waist-deep water for two hours in the Hunter region.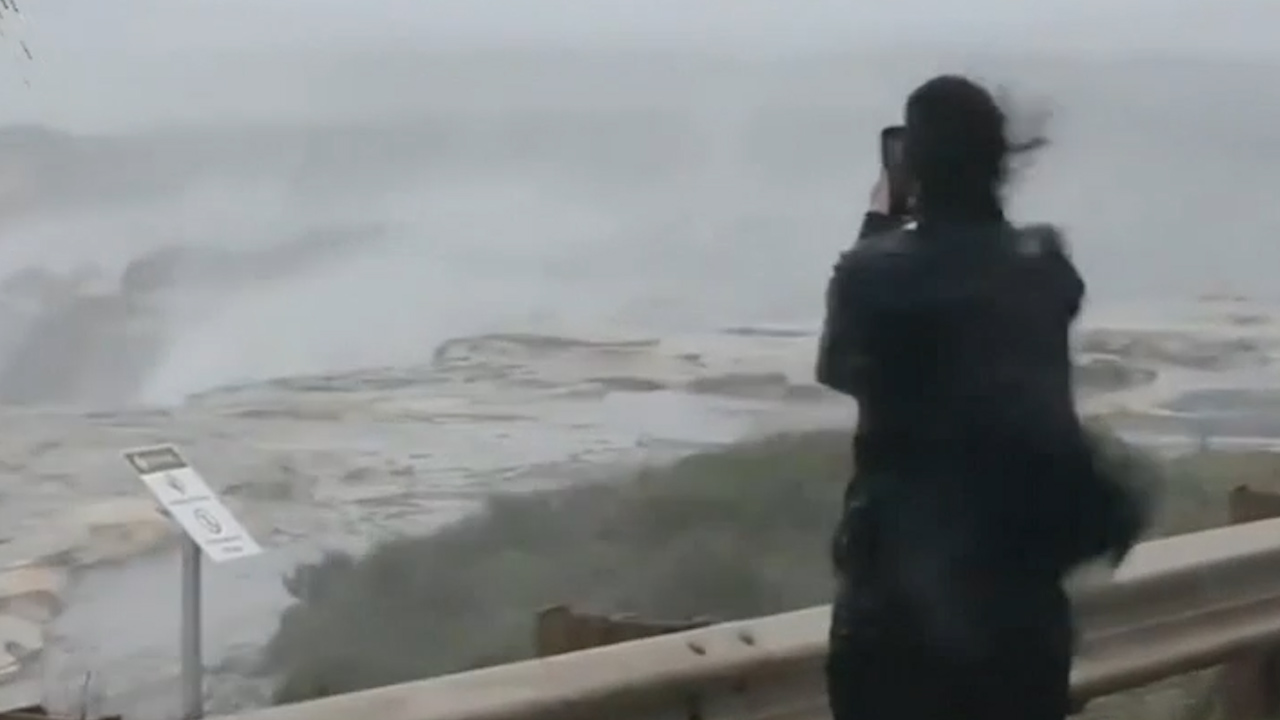 The teen was rescued by emergency services after falling into Allyn River while canoeing at about 9am on Sunday.
Utility company Ausgrid says more than 113,000 customers have lost electricity across Sydney, the Central Coast and Newcastle.
The company also said more than 2400 electrical hazards have been sparked by the wild weather, including fallen power poles, electricity lines, trees across roads and flash flooding.
Endeavour Energy earlier said a further 26,000 customers are without power in Sydney, the Blue Mountains and Southern Highlands regions.
"Crews are reporting extensive damage after very strong winds brought down power lines in many areas," Endeavour Energy said.
A severe weather warning was issued on Sunday for the entire coast of NSW, and will remain in place on Monday.
https://twitter.com/bethan_yeoman/status/1226282216314982405?ref_src=twsrc%5Etfw
Flooding is also impacting some electrical substations and, in some instances, preventing electricians from accessing areas to restore power.
"AusGrid crews will continue to work around the clock to make these areas safe and return power to customers as soon as possible," the electricity suppler said in a statement.
"Customers should stay safe and be prepared that outages may continue into tonight and tomorrow."
In Leura, a large landslide undermined a railway line and sparked fears of a collapse, prompting extensive delays on the network.
Commuters report being trapped on trains between stations for up to an hour as crews worked to assess the damage.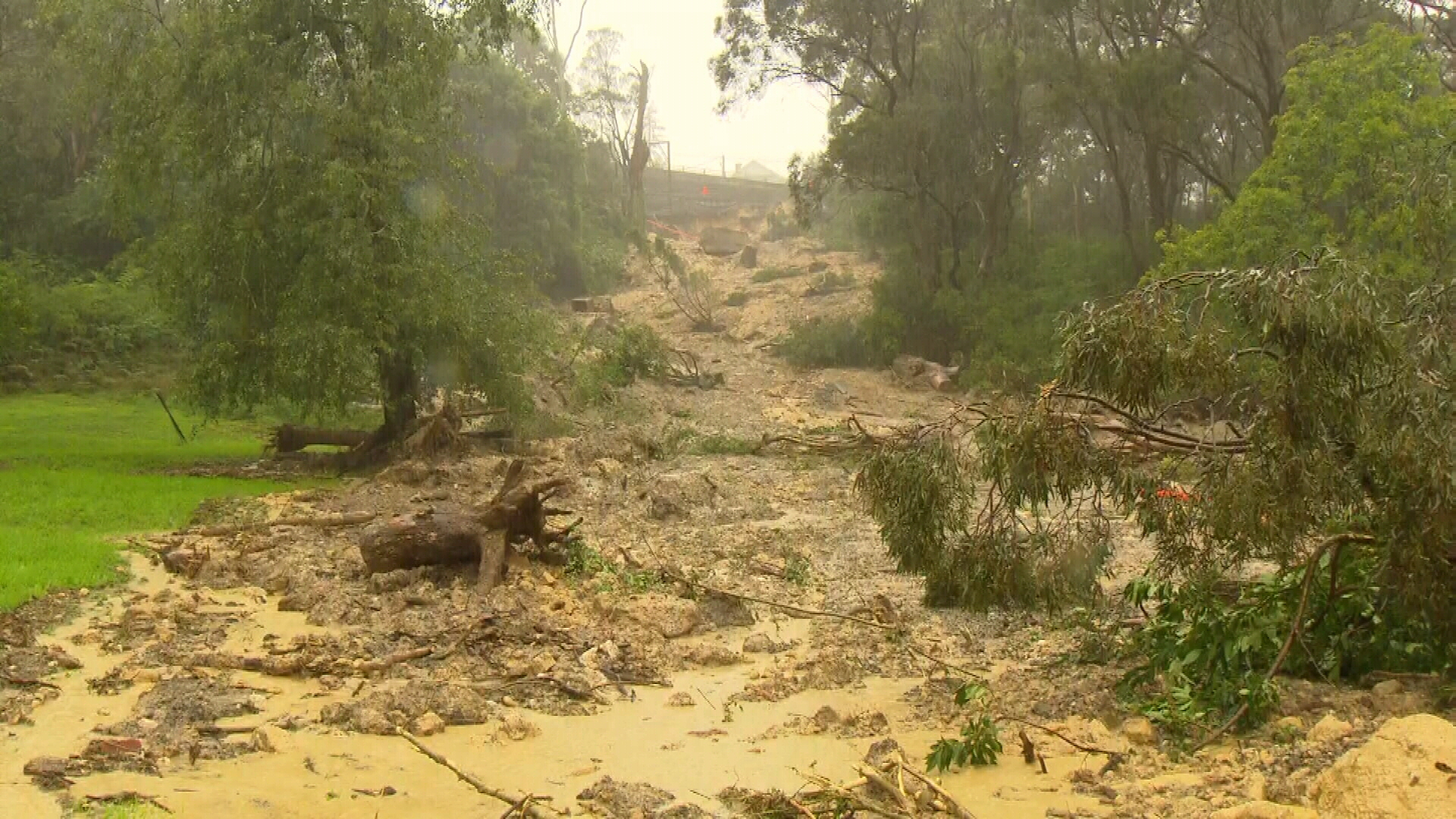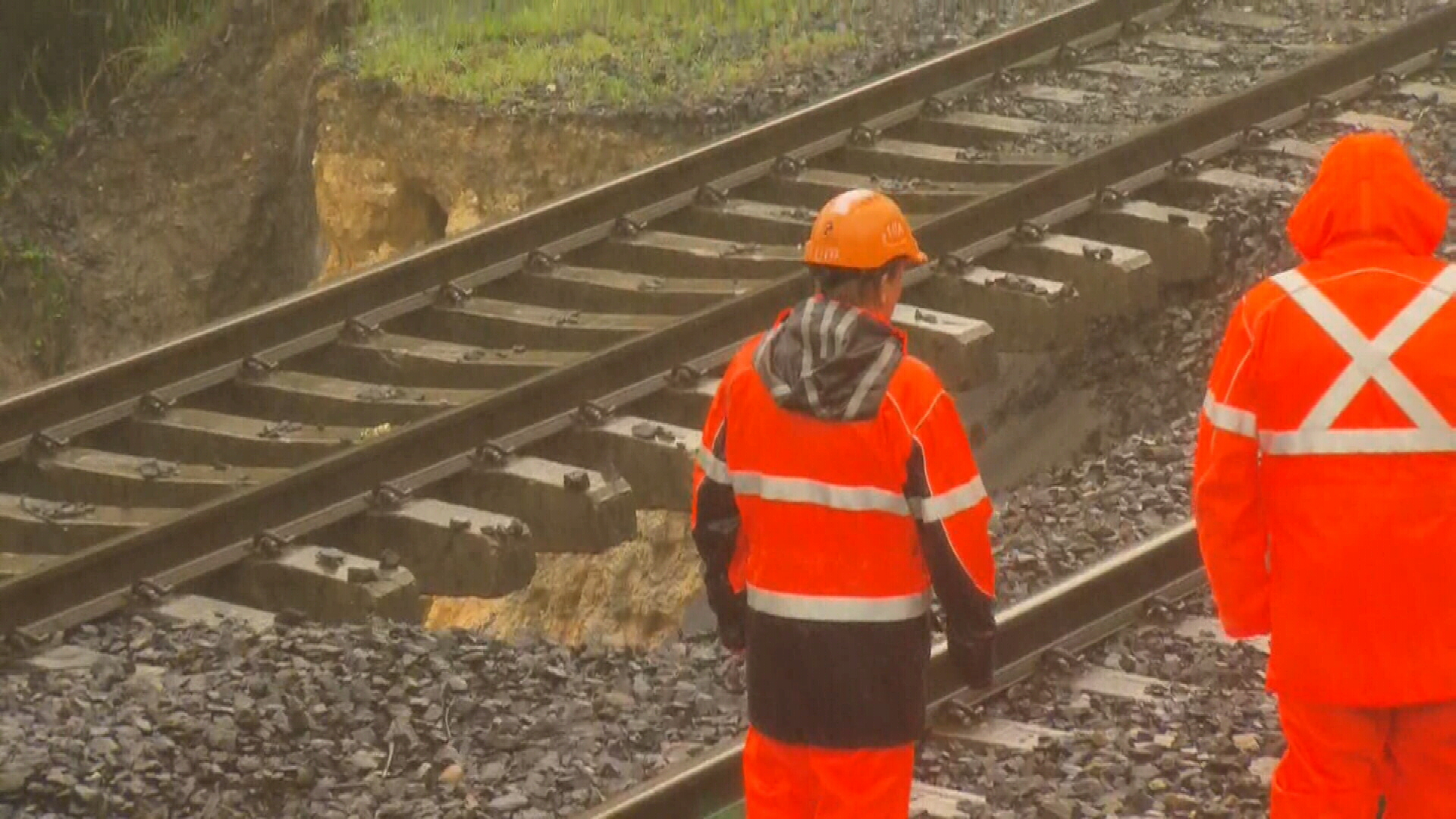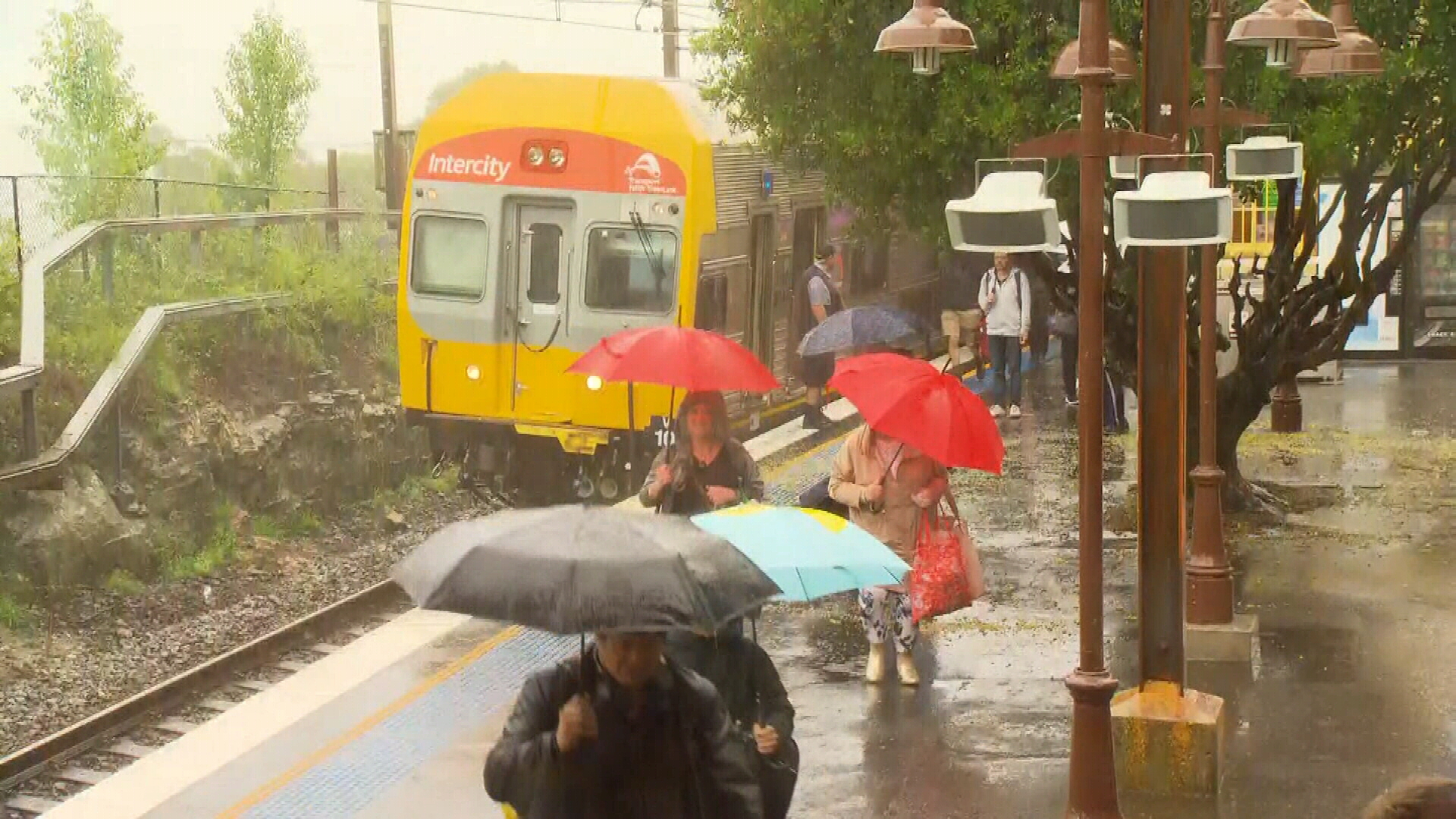 The Northern Rivers woke to extensive flooding in some parts this morning, including in Byron Bay where more than 400mm has fallen since Wednesday.
Cudgera Creek, on the Far North Coast, recorded 320 millimetres of rain in the period between 9am Saturday and 4am Sunday.
https://twitter.com/Ausgrid/status/1226349185173086210?ref_src=twsrc%5Etfw
In the same period Tweed Heads recorded 235mm, Comboyne Public School recorded 189mm, Wentworth Falls recorded 155mm, and Ballina recorded 140mm.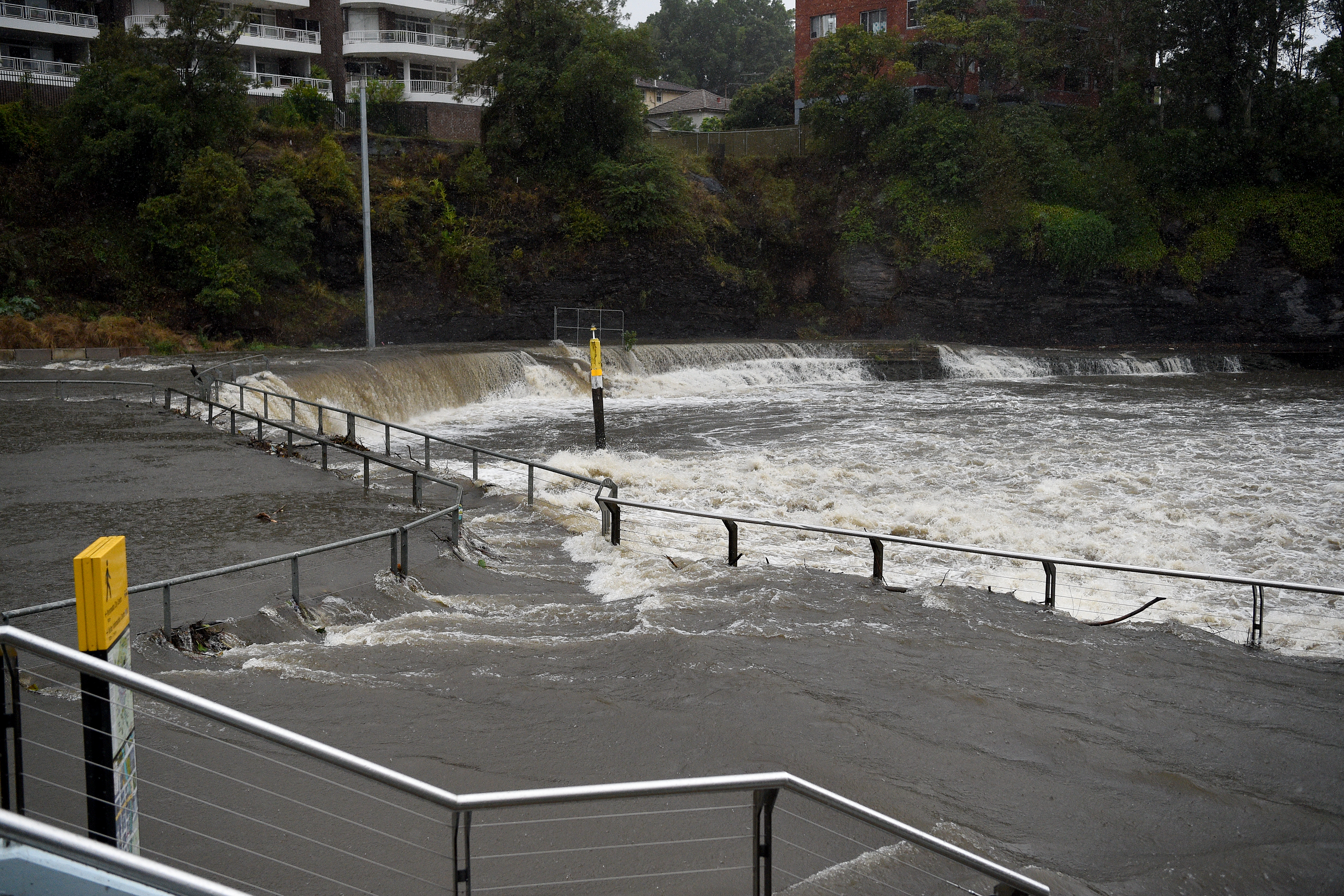 South East Queensland is also expecting more heavy rain with the Gold Coast and Brisbane forecast to receive up to 100mm today.
Though welcome news for drought- and fire-ravaged areas, the amount of heavy rain is causing flash flooding, including in the regional Queensland town of Dalby.
Meanwhile, the NSW Government has also released a list of more than 50 schools across the state that will be temporarily closed on Monday as a result of the flooding.
The closures span across NSW state, independent and Catholic schools.
Foolishness putting emergency services at risk
Authorities are begging drivers to use common sense and avoid taking risks on the road.
Volunteers have responded to at least 26 flood rescues, mostly involving motorists who drove into floodwaters.
According to the SES, six flood rescues were performed in the Grafton area overnight.
One family was rescued by the Rural Fire Service via helicopter after flood waters cut them off leaving them isolated in a car.
In Nimbin, two women were forced to abandon their car when it appeared to sink in waist-deep water.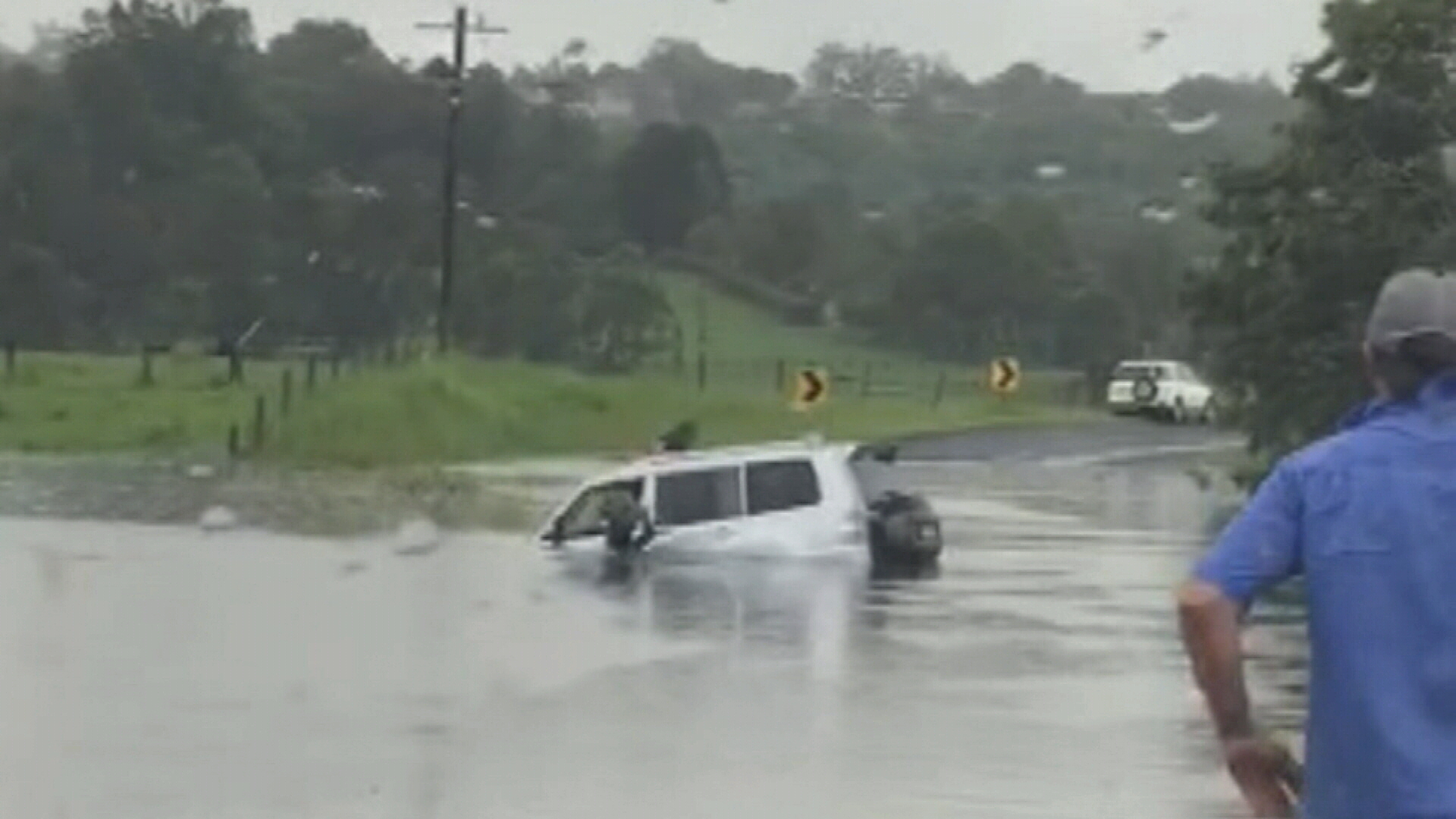 Deputy State Emergency Operations Controller, Assistant Commissioner Karen Webb, said police had responded to several incidents of people taking unnecessary risks.
"I'm disappointed that I need to remind people to act responsibly and not to take risks in these types of conditions, especially when around floodwaters," Assistant Commissioner Webb said.
She referenced a video posted online of a man driving his jetski past a McDonald's down a flooded street in Tuggerah on the Central Coast, saying it was "so reckless I can barely comprehend it".
She said Queensland police and bystanders had put their lives at risk to rescue five men whose fishing boat capsized as they tried to navigate in the dark to go fishing. None of the men were wearing life jackets.
And a 15-year-old boy has suspected broken ribs after becoming trapped by debris while fishing in the Allynbrook River.
"The teen was in the water for almost two hours before specialist SES officers were able to free him and safely return him to the riverbank," she said.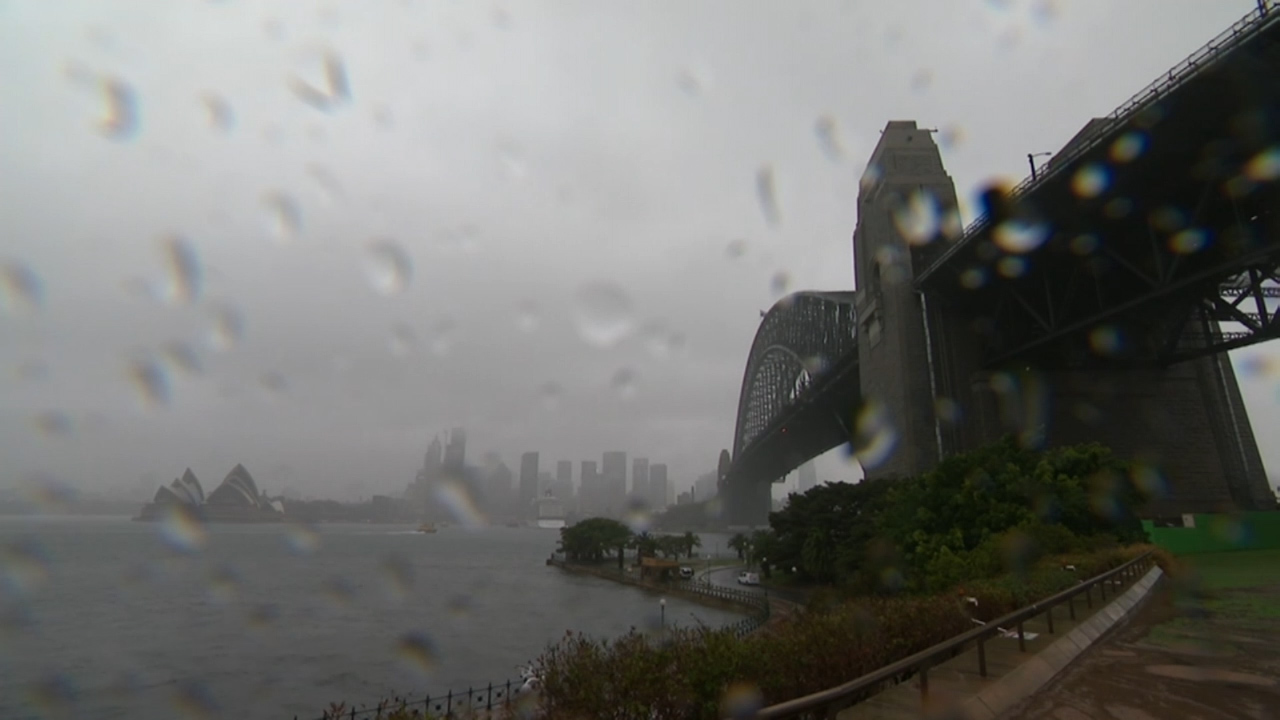 The SES has responded to 3253 calls for help across the state since just after 4.30pm on Tuesday.
NSW SES commissioner Carlene York urged those in low-lying areas to plan ahead.
"Now is the time to plan how you will protect your family and property from flood," Ms York said in a statement.
"Never drive, ride or walk through floodwaters. It's too dangerous – and you never know how deep the floodwaters are, the condition of the road or how fast the water is flowing.
"Please keep clear of drains, creeks and causeways and if you are in a flood-prone area avoid parking vehicles in low-lying areas."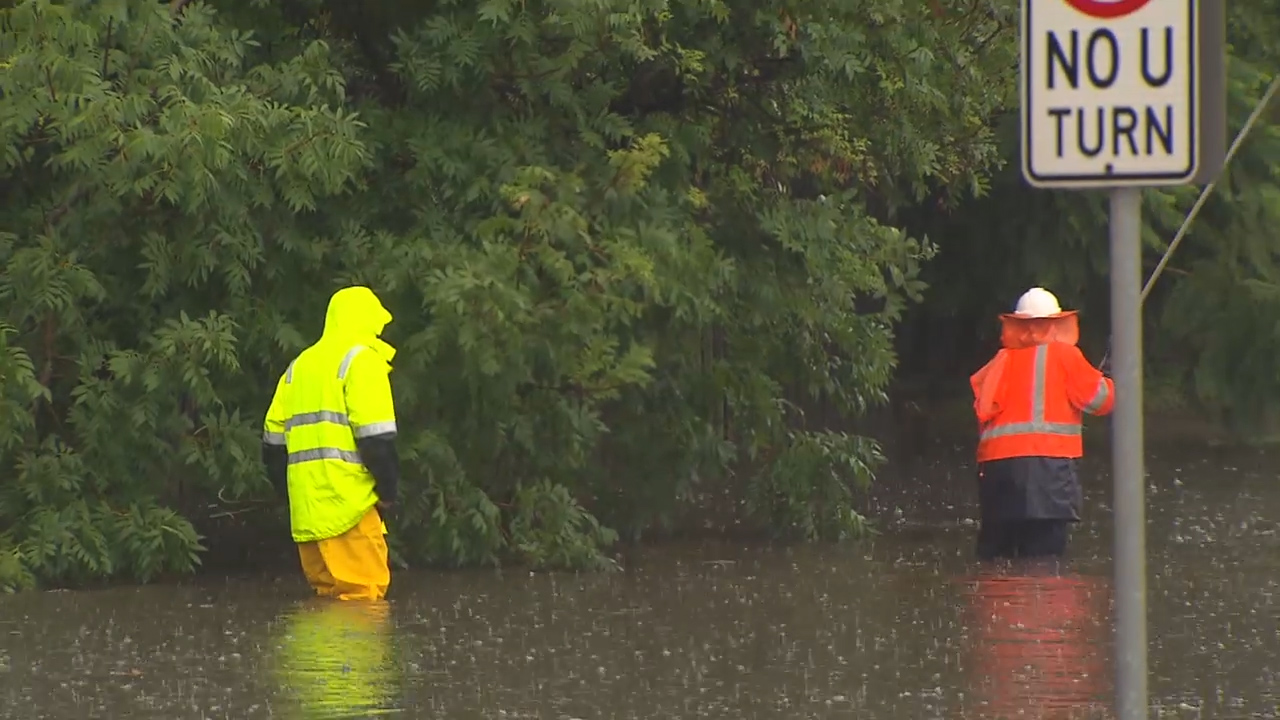 BoM has issued minor flood warnings for the Bellinger River, Hastings River, Georges River, Tuggerah Lake, Paroo River, Weir River and the Cooks River.
A minor to moderate flood warning is also in place for the Manning and Gloucester rivers, the Hawkesbury, Nepean and Colo rivers, the Orara River, and a moderate flood warning for the Macintyre River.
An initial minor flood warning is in place for the Tweed River, Wallis Lake and the Camden Haven River.
With the fire-affected South Coast lashed by heavy rain from last night onward, the BoM warned that the burned-out landscape and loss of vegetation had left it vulnerable to landslips.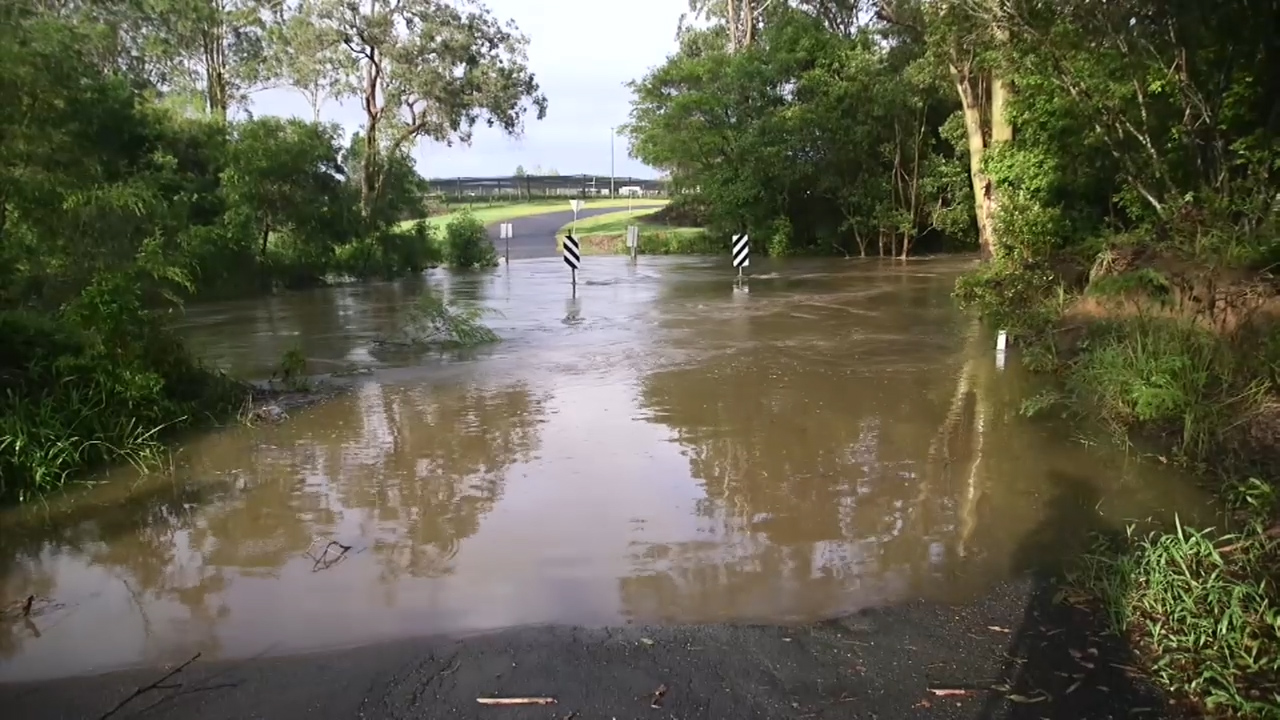 Source: 9News https://www.9news.com.au/national/sydney-rain-city-drenched-in-most-rain-in-a-year/03153bf2-fe46-447a-9a9e-afa779a74146