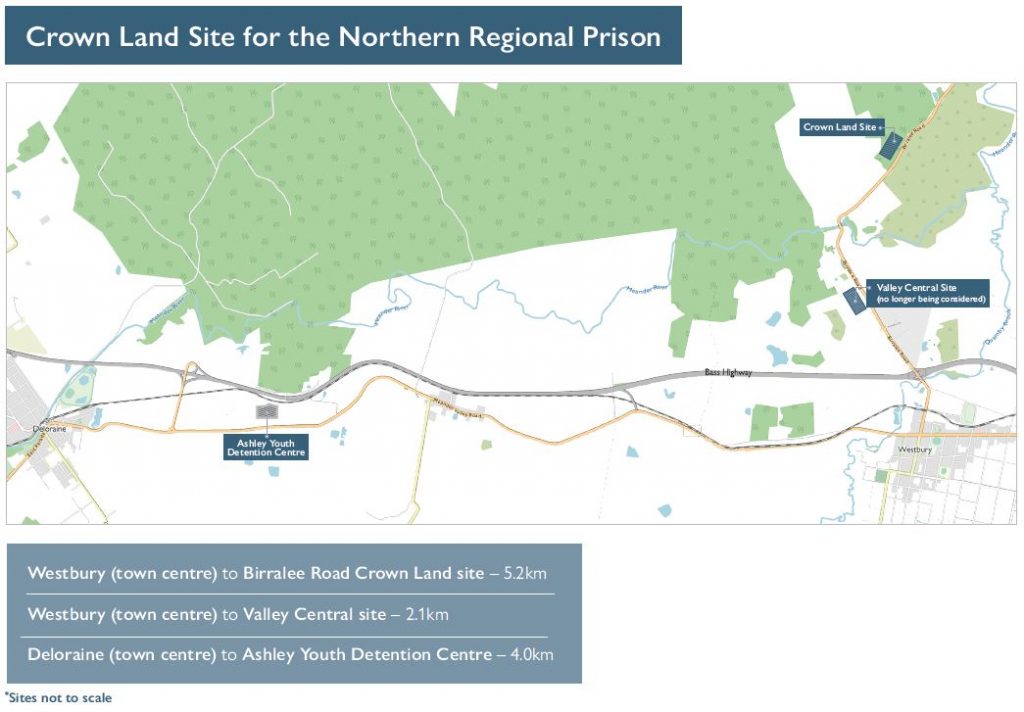 The Tasmanian government is committed to a Birralee Road site near Westbury for the new Northern Regional Prison.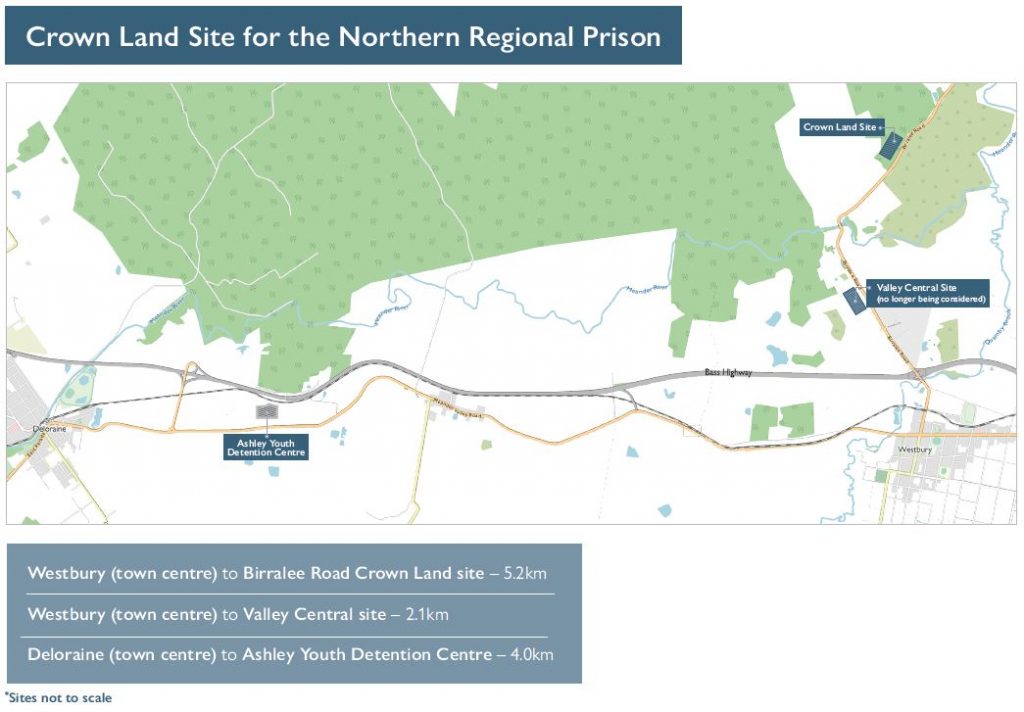 The Tasmanian government has confirmed a site near Westbury for the proposed $270 million Northern Regional Prison.
This site is on crown land at Brushy Rivulet on Birralee Road 5.2 kilometres from the Westbury town centre. It is not the government's previously suggested site closer to the town centre.
"To be clear, the Government will not be pursuing the previous preferred site," said Minister for Corrections Elise Archer.
She said the project was necessary "to address the challenges facing the state's correctional system."
The Minister claimed the project will support more than 1000 jobs – around 700 construction and then 300 in prison operations – and deliver an economic boost of $500 million to the region, citing the "recently completed and independently conducted Social and Economic Impacts Study." She said it is clear from the study that there are some who "support the benefits the new prison brings to the region while others are not in support of the site."
The study indicated, claimed the Minister, that a number of respondents indicated their level of support for the Northern Regional Prison would increase if their issues and concerns were being addressed (42.7 per cent of the phone respondents and 45.4 per cent of the mail-out respondents).
Concerns have been raised by Westbury Region Against the Prison and opposition and cross-bench parties in relation to the study's methodology, and the general secrecy around the study, as reported in Tasmanian Times earlier this year.
The SEIS telephone survey of the Westbury postcode area included calls to a random selection of 333 residents. Respondents were asked to rate their level of support for the proposal with 39.1 per cent supporting or strongly supporting it and 43.9 per cent either opposing or strongly opposing it, while 17 per cent indicated they felt neutral. The mail survey produced a different result, with more people in favour of the project than against.
"Many indicated that they would prefer a different location, further away from the Westbury town centre," said Archer. "In addition, some businesses in the Valley Central industrial precinct had some concerns with the location. A suggestion from numerous meetings with businesses and community members revealed that many would prefer a site further away from the town centre.
She said preliminary analysis of this Crown land site had been undertaken while further, more detailed work on-site will now progress.
"I thank the residents of the Westbury and broader Meander Valley community for their valuable feedback and participation in the extensive consultation process. We will now undertake further due diligence of this new site over coming weeks, as well as talking to local landholders and engaging the local community."
The full study is available here.
THIS ARTICLE WILL BE UPDATED WITH FURTHER RESPONSES TO THE ANNOUNCEMENT WHEN RECEIVED.
Source: Tasmanian Times https://tasmaniantimes.com/2020/06/northern-prison-site-confirmed-for-westbury/#utm_source=rss&utm_medium=rss&utm_campaign=northern-prison-site-confirmed-for-westbury