Mural Honours Emergency Services
1 min read
<p><img width="1000" height="537" src="https://tasmaniantimes.com/wp-content/uploads/2020/02/emergency_services_Mural_TasWater.jpg" alt=""></p> <p>A new mural on a water reservoir has been unveiled at Kingston. Over four days, artists totally revitalised the Glen Hall Reservoir with a show of appreciation for Tasmanian emergency service crews and volunteers. The artwork is visible from the Huon Highway just south of the Summerleas Road intersection. The mural also colourfully displays emergency […]</p> <p>The post <a rel="nofollow" href="https://tasmaniantimes.com/2020/02/mural-honours-emergency-services/">Mural Honours Emergency Services</a> appeared first on <a rel="nofollow" href="https://tasmaniantimes.com/">Tasmanian Times</a>.</p>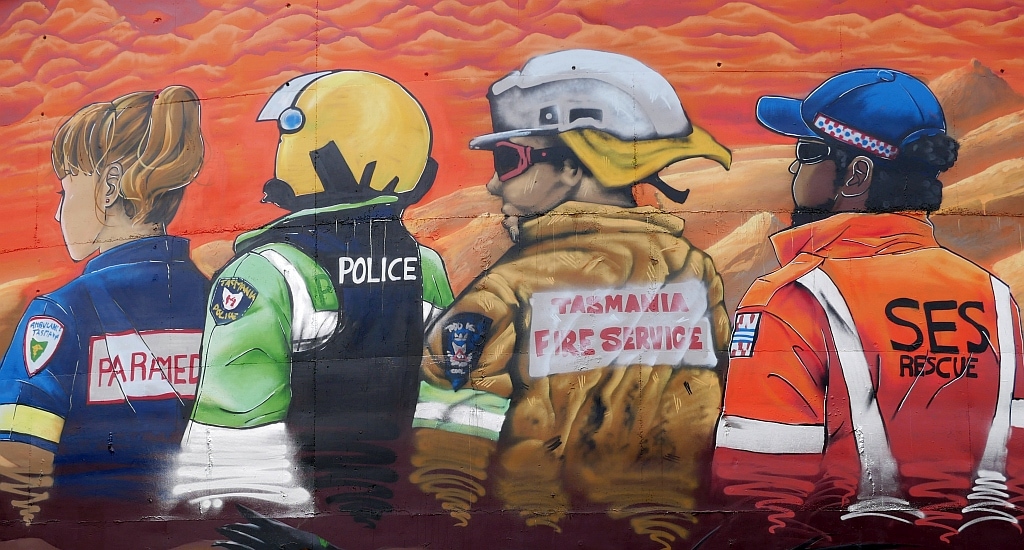 A new mural on a water reservoir has been unveiled at Kingston.
Over four days, artists totally revitalised the Glen Hall Reservoir with a show of appreciation for Tasmanian emergency service crews and volunteers. The artwork is visible from the Huon Highway just south of the Summerleas Road intersection.
The mural also colourfully displays emergency service equipment, paintings of the first responders themselves and a depiction of the devastation caused by bushfire.
Artist, Todd Jacobson said this decoration is a much-needed tribute to all the great people who have been dedicating themselves to looking after the community. "I hope this mural will serve as a reminder of the colossal efforts made by everyone involved and recognise the great losses many have suffered," he said.
"I'm glad I've had the chance to bring this artwork to life," Todd added.
A spokesperson for TasWater said with all the bushfires and other emergencies that have occurred over summer, it's a good time to give a shout out to those who are always there to help. "The message is simple – a much deserved, thank you, and it's there for all to see."
The post Mural Honours Emergency Services appeared first on Tasmanian Times.
Source: Tasmanian Times https://tasmaniantimes.com/2020/02/mural-honours-emergency-services/#utm_source=rss&utm_medium=rss&utm_campaign=mural-honours-emergency-services