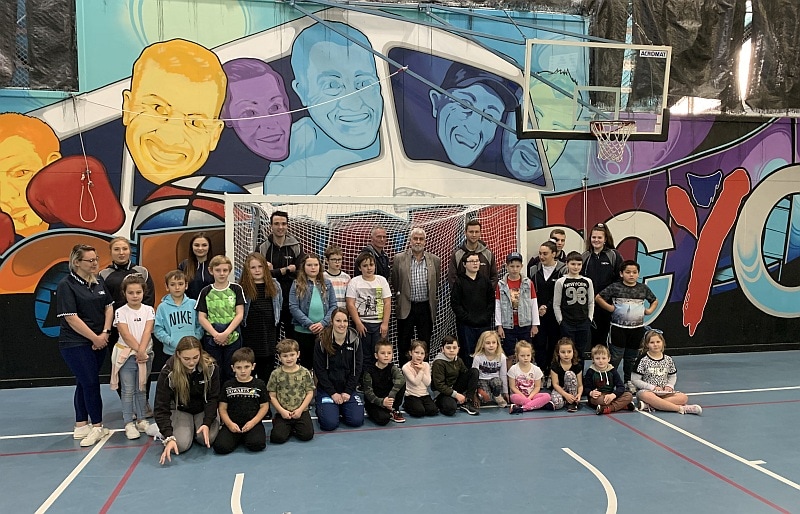 A program to engage disadvantaged and at-risk young people in the Bridgewater/Gagebrook area is a recipient of major support in this year's round of MyState Foundation (MSF) grants.
MSF is providing grants to 17 community organisations who will receive a total of more than $150,000, with an emphasis on assisting disadvantaged and vulnerable young Tasmanians.
The Bridgewater Police & Citizens Youth Club (PCYC) grant will assist in funding a 'Back to Life Sports Program' providing equipment and specialist sports coaching for small groups, fitness activities and personalised training.
The funding will provide equipment that enables existing PCYC specialised personnel to rapidly engage an existing client base while using available facilities at Bridgewater. The grant will enable the refurbishment of the current gym space and the purchase of equipment needed for engagement activities.
The Bridgewater PCYC supports some 2,000 young people each year, many of whom are identified as disengaged or at risk. The 'Back to Life Sports Program' aims to re-engage with local youth and give participants personal growth and development opportunities, combined with improved schooling/vocational outcomes.
MSF Chairman, Bob Gordon said the Bridgewater PCYC grant was a prime example of the benefits of providing financial assistance to community organisations, particularly at this time.
"As a result of the impact of COVID-19, many not-for-profits have struggled, with both donations and volunteers taking a massive hit, as well as an increasing need for support services, food relief, domestic assistance and the like," he said.
He believed that this round of grant funding has come at a time where there is 'a real and immediate need' within the community.
Bridgewater PCYC Manager Justin Abrahams said the grant had come at exactly the right time and would greatly assist in the re-engagement of young people who had seen their sporting activities curtailed by the COVID-19 restrictions.
Back to Life Sports will build on the club's existing complement of skilled instructors, personal trainers and coaches as Bridgewater PCYC resumes normal activities," he said.
The program will operate over 40 weeks, predominantly during school terms and work in conjunction with partnership programs to ensure longer term beneficial outcomes for the local community.
"This program is extremely important in our community and it would not have been possible without the support of MSF," Abrahams said.
Grant Details
| | | | |
| --- | --- | --- | --- |
| Recipient | Amount | Name of program | Program details/funding purpose |
| Bridgewater PCYC | $10,000.00 | Back to Life – Sports | The Back to Life- Sports Program targets youths ordinarily identified as disengaged and at risk, providing equipment and specialised coaching who are expected to demonstrate an increased level of need and risk. |
| The Smith Family | $10,000.00 | Learning for Life | The Learning for Life Program provides emotional, practical and financial support to help disadvantaged children and young people with their education. |
| CatholicCare Tasmania | $9,140.00 | Inspire@HOME | Inspire@Home is a literacy and numeracy program which caters to young people who are living in OOHC (out-of-home care) through TRC (Therapeutic Residential Care) and SCP (Special Care Package), crisis accommodation through AK, and semi-supported living through the InspirePods. |
| The Shepherd Centre – for Deaf Children | $10,000.00 | A Listening Ear | The program will provide specialist telehealth support for deaf children and their families in Tasmania. |
| Riding for the Disabled Inc St Helens | $5,000.00 | Relocation of Centre | The grant funding will allow RDA St Helens to relocate to a suitable venue to continue their programs which have a major impact on improving the quality of life for many at-risk youth. |
| Camp Quality Limited | $9,000.00 | Weekend Family Camps | The funding will allow the delivery of two family camps in Tasmania, providing young participants with a vital break from their cancer treatments. |
| ParaQuad Association of Tasmania | $8,690.00 | Powerchair Sports Program | The Powerchair Sports Program allows young people using electric wheelchairs to participate in a sporting activity which is competitive, rewarding and safe. |
| Brave Foundation | $10,000.00 | Supporting Expecting and Parenting Teens Program (SEPT) | The SEPT program allows young expecting and parenting teens the opportunity to continue their education throughout pregnancy and parenting and return to education or workforce participation. |
| St Vincent de Paul Tasmania | $10,000.00 | Youth Hub | The Youth Hub program will aim to build life skills, develop personal growth and financial literacy for disengaged and disadvantaged young people. |
| Redkite | $9,090.91 | Cancer Journey Program | Redkite's Cancer Journey Program will ensure youth (0-18 years) and their families receive emotional and practical support to manage the consequences of cancer and its ongoing effects, from hospital to home. |
| Variety The Children's Charity Tent 78 Tasmania Inc | $10,000.00 | Creative Arts Program | Variety Creative Arts Program provides children a developmentally appropriate means for self-expression and will enable children to process their experiences in ways which facilitate positive change. |
| Canteen | $9,090.91 | Explore | The EXPLORE program connects young people with similar experiences and develops their foundational emotional competence to equip them with the skills needed to face the challenges of life and their cancer experiences. |
| Fight Cancer Foundation Limited | $2,868.14 | Supporting Babies, Children & Young People | John Opie House supports families from around Tasmania who must relocate to Hobart for medical treatment. |
| Dooloomai Youth Project inc | $10,000.00 | North West Schools Program | The Bush Adventure Therapy program offers participants the opportunity to explore their identities, relationships, skills and behaviours through adventurous activities, group relationships and time in the natural environment. |
| Young Life Australia | $10,000.00 | Youth Flare | The Youth Flare program will provide a safe, vibrant and fun place for young people to gather for a meal, games and activities, and engage in weekly presentations addressing key issues that young people face today. |
| Cystic Fibrosis | $10,000.00 | CF Breathe Easy | The program's goal is to ensure Tasmanians living with CF have access to vital, required medical equipment to support their quality of life. |
| Kingston Beach Surf Life Saving Club | $8,786.36 | Lifesavers without Limits – CALD Aquatic Safety & Development Program | The program targets newly arrived migrant youth aged between 16-25 years & provides them with skills such as identifying hazards when in and around the water & emergency procedures to enable them to participate safely in aquatic activities. |
Source: Tasmanian Times https://tasmaniantimes.com/2020/07/msf-150k-supports-tas-youth/#utm_source=rss&utm_medium=rss&utm_campaign=msf-150k-supports-tas-youth