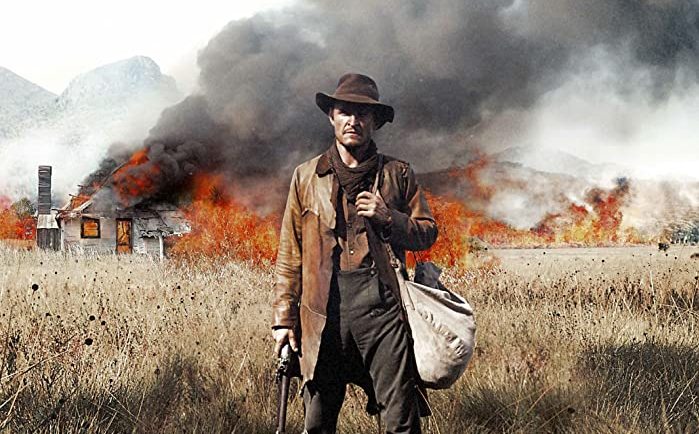 Englishman Michael Howe had a brief and brutal bushranging career in Van Diemen's Land.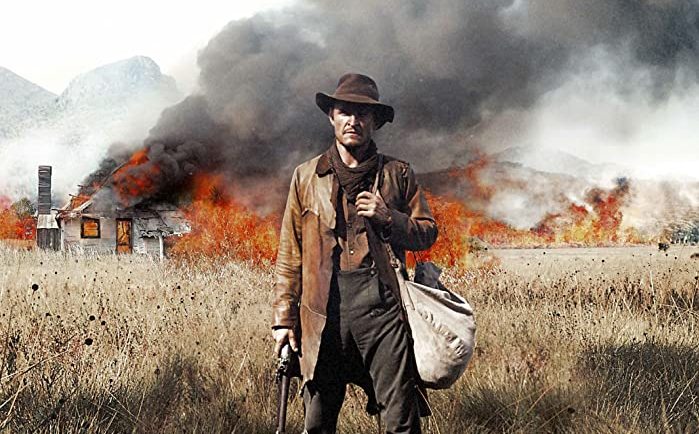 "The bush-rangers of Van Diemen's Land generally consist of men accused of crimes, or of prisoners escaped from gaol, who, retiring to the forests and intricate passes amongst the mountains, often contrive for a long time to elude the vigilance of their pursuers. But they invariably pay the forfeit of their temerity, being either shot in the woods by their pursuers, murdered by their confederates, or executed upon the gallows." – Edward Curr, Michael Howe, the Last and Worst of the Bushrangers
Michael Howe was a bushranger who operated in Van Diemen's Land during the 1810s. He was a very powerful man of middle height, and was known to be both cunning and callous.
Early life of Michael Howe
Howe was born in Yorkshire, England, in 1787. He worked on a merchant vessel for two years before joining the navy.
In 1806 he joined the army, but eventually deserted.
On 31 July 1811, Howe was sentenced to transportation for seven years for 'robbing a miller on a highway'.
He arrived in Van Diemen's Land in October 1812, and was assigned to a merchant named John Ingle.
Early bushranging career
Howe absconded in 1813. He took to the bush as joint leader of a group of twenty-nine convict escapees and army deserters.
In May 1814, the authorities said that if bushrangers turned themselves in by the following December, they would be offered amnesty. This encouraged many of Howe's gang to give themselves up. Despite this, Howe had managed to recruit new members by March 1815.
The gang soon attacked a public servant named Adolarius Humphrey at Pittwater and ransacked his property.
Howe and his gang would use violence against those who opposed them. This induced some settlers to secretly help them in the hope that their property would be spared. Lieutenant-Governor Thomas Davey then declared martial law, which had some effect in subduing the gang until it was banned six months later by Governor Lachlan Macquarie.
The 'lieutenant governor of the Woods'
From 1816, Howe called himself the 'lieutenant governor of the Woods'. He also wrote provocative letters addressed to Thomas Davey.
The gang eventually moved to the north of Van Diemen's Land and became even more aggressive.
On one occasion the gang fired a volley through the windows of a house in which soldiers were stationed, and fellow bushranger John Whitehead was killed by the return fire. Before death, Whitehead begged Howe to cut off his head, and take it, so that it couldn't be taken by his pursuers, and used as evidence to claim the offered reward. Howe complied with the request.
Howe then became the leader of the bushrangers, and although two of the gang were caught and executed, many robberies ensued.
Howe decided to leave his own gang in March 1817.
The offer of a conditional pardon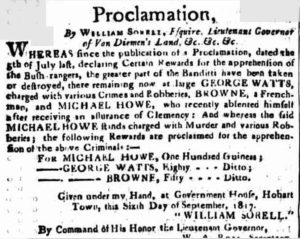 Soon after Howe left the gang, Lieutenant-Governor William Sorell offered him a conditional pardon for all his offences, except murder. He said he would also ask the Crown to be merciful when trying him for murder.
The catch was that Howe had to help bring his former gang to justice. Howe agreed to do this, and set out with some soldiers to find the gang. However the expedition failed because of the inexperience of the soldiers.
Howe subsequently returned and waited for Lachlan Macquarie to make a decision about his pardon. He heard a false report in September 1817 that his pardon had been refused and decided to run away.
Death
Howe hid himself in a remote hut on the Shannon River* up in the central plateau of Tasmania, but when the authorities issued a £105 reward for his capture, he fled once again and kept to remote areas. On 21 October 1818, though, he was cornered near his hut and clubbed to death.
He was described as follows:
Howe was of athletic make; he wore at the time of his death a dress made of kangaroo skins, had an extraordinary long beard, and presented altogether a terrific appearance. His face, perhaps in some degree from associating with it the recollection of his crimes, exhibited strong marks of a murderer.

During his long career of guilt, he was never known to perform one humane act. His body was interred on the spot where he fell; his head was brought to Hobart Town, and suffered to be seen by the people, to whom the end of this monster afforded an inconceivable degree of satisfaction.
Legacy
A gully on the Derwent River and a marsh near Oatlands are named after Howe.
His story was recounted by William Sorell's secretary, Thomas Wells, in an 1818 pamphlet titled Michael Howe, the Last and Worst of the Bushrangers. It is the first work of general literature printed in Australia. You can read a copy here.
Michael Howe's story was the basis for the movie The Outlaw Michael Howe, made in Australia and released in 2013.
* It is said that Howe started writing in a kangaroo-skin diary with blood while hiding at the hut.
Source: Tasmanian Times https://tasmaniantimes.com/2020/08/michael-howe-biography/#utm_source=rss&utm_medium=rss&utm_campaign=michael-howe-biography